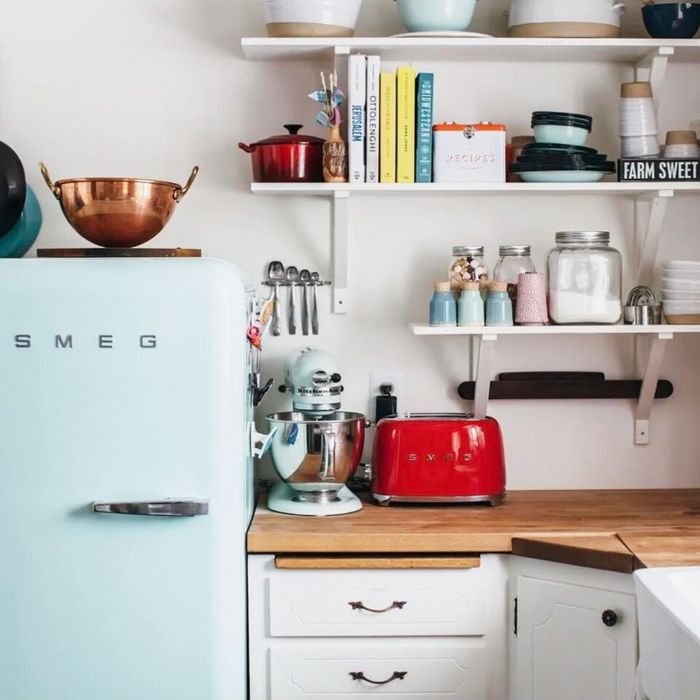 A closer look at Yeh's farmhouse kitchen.
Photo: Molly Yeh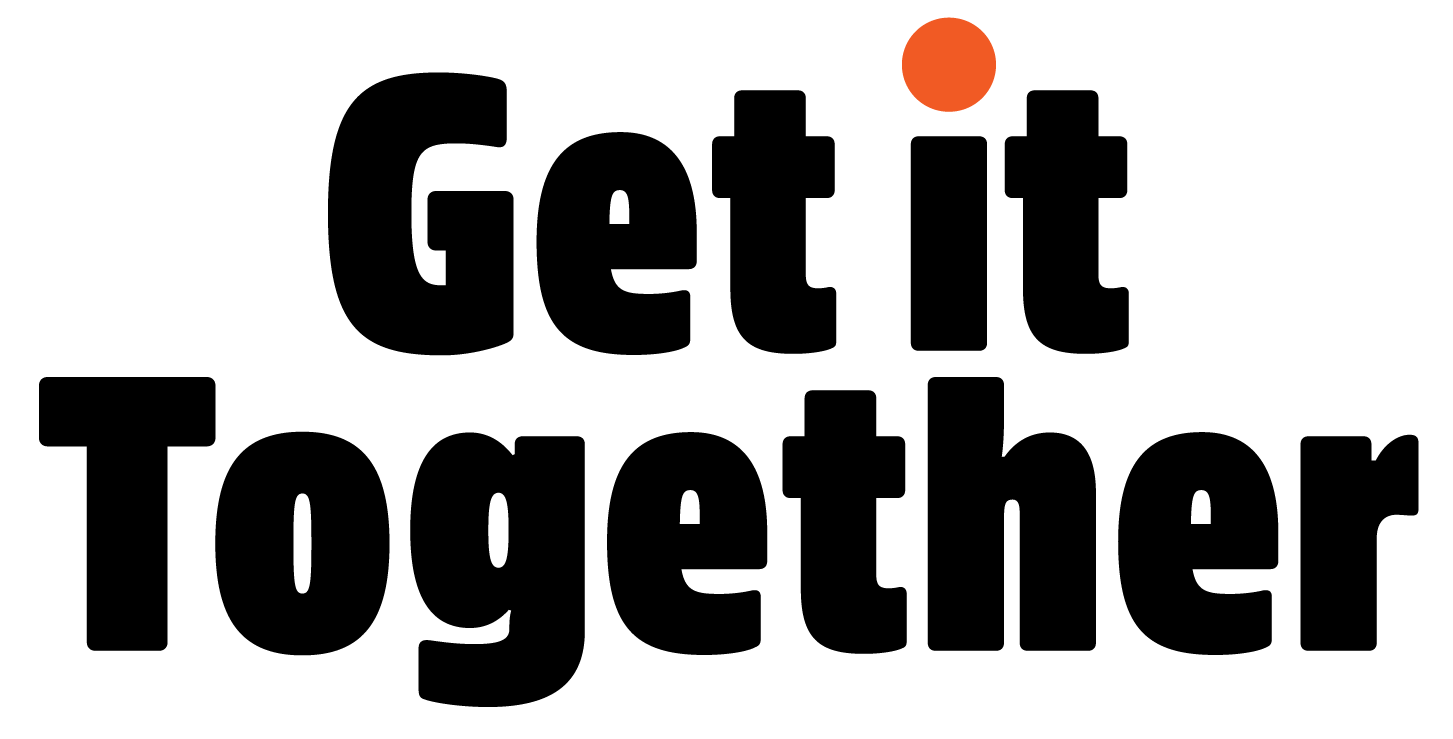 It's nearly spring, which means it's nearly the season of cleaning and organization. There's something particularly alarming about emerging from the winter doldrums to find that your home is a dusty, cluttered mess. To help you (and us) with sprucing up and restoring order, we're talking to professionals and experts this week all about the best tricks and tools.
If you're 1 of the over 279,000 people who follow Molly Yeh on Instagram or read her blog, My Name Is Yeh, you've gotten a peek at her beautifully organized kitchen, tucked away in a generations-old farmhouse on the North Dakota–Minnesota border where her husband is an actual farmer. "It was purely influenced by Pinterest, and my lofty goals of having all my grains and all of my flours and all of my sugars in cute little Ball jars," says Yeh, author of the award-winning cookbook Molly on the Range and, more recently, a Short Stack Editions book all about yogurt. "But the moment I had to start refilling them, I was kind of like, 'Screw this.'"
The truth is that the pots, pans, bowls, and kitchen appliances you regularly see on Yeh's Instagram represent only a small fraction of her cooking gear. "We have a second living room that, right now, is the prop room, and it's just covered in shelves with pots and pans. It's not the ideal way to store everything, but at this point, our house is bursting at the seams." The stuff she uses every day — like her go-to Staub cast-iron pots and Le Creuset skillets, a couple of small metal pots, and "one stack of everyday plates and bowls" — stays in the kitchen, where she cooks and bakes daily. (When I called her, she was mid-recipe, trying to re-create a recipe for a mint-olive-oil cake that she tasted on a recent trip to Los Angeles. In an Instagram story from earlier in the day, she described the green-cake mess as "Kermit guts.") But other than that, she says, "if it's something I'm just going to use for one recipe, or for one special dish, I'll keep it in my prop room and bring it out."
So to understand how Yeh keeps her kitchen looking picture-perfect without forgoing function, and keeps track of all of the kitchen gear in her house, I asked the cookbook author and food blogger to show me what's in her kitchen and share some of her best kitchen organization ideas.
"That is a Lodge skillet, that's the black one, and underneath it is this limited-edition Le Creuset. This skillet came out, and I saw a picture of it, and I was like, 'I need that immediately.' Everything in my kitchen needs to be extremely sturdy because I'm going to use the fuck out of it. No cheap things that might break make it past a few weeks in my kitchen. So if it's sturdy, it can come into my kitchen. And if it's sturdy, and it looks cool, then that is the ultimate piece of kitchenware for me. I love things that are a pop of color and that are heavy-duty and that will live up to being used multiple times a day. So that turquoise piece is super fun because it's unique, and it looks fun on the wall and on my stove and in Instagrams. And I always think it's going to fall down, but my husband, who hung the hook, swears that it is a very sturdy hook; it's going to be fine."
"Those are handmade spice canisters. It was a line that Vitrified Studio did for West Elm. The ones that are up, I believe are nutmeg, cinnamon, and clove. There's red pepper and paprika in the set. She does custom ones, too, so eventually I want to order a custom set with za'atar and sumac and maybe harissa — other spices I use a lot. They're hand-stamped with the words on them."
"A lot of my spices and grains and stuff are in deli containers from the WebstaurantStore. I order them in bulk; they're like a dollar for a million. I store my leftovers in them, too, and if I accidentally forget about a leftover, and it's disgusting, you don't feel bad throwing them away. Or if guests come over and I want to send them home with leftovers, then I can just give them a forget-about deli container, and they don't have to worry about getting it back to me. We had this huge bin of Tupperware containers, and we could never find lids, and finally, like two months ago, we cleaned it out completely, and now we only use these deli containers with the same lid, and our life, in that corner of the house, is so much more relaxed now."
"It's in a little hand-carved vase that I believe is from Carey Nershi, her dad hand-carves wood, and in them are some little cake bunting flags that were made by my friend in Fargo, and they're made out of vintage shirts, the little flags. Whenever I travel, whenever I see a cooking store, I just have to go in and see what types of cute little pops of color will fit in my suitcase. My biggest collection is sprinkles and cookie cutters and cake-decorating items, so they're just things that I'm always on the hunt for. And there's no end to the amount of cookie cutters I will make room for in my house. I have a drawer and a bin, and some other random ones lying about. I have these big Rubbermaid six-gallon tubs. Those I also get from the WebstaurantStore, and they're good for storage. I have my cookie cutters in one, I have some grains in other ones, and you can store soup in them. They're very durable. But they're ugly, so I don't like putting them on my open shelving. Tubs are the best."
Editor's note: These are not the exact tubs that Yeh uses, but they are a similar size.
"I use my KitchenAid all the time. My mom gave me this KitchenAid, and that is another example of something that's very solid and sturdy and does the job on a daily basis, but is also pistachio-colored and fun to look at. Same thing with the Smeg toaster."
"I love my Cuisinart. The last Cuisinart that I had was my mom's, so it was decades old, and the stick part that activates the machine was made out of plastic, and it broke. So when I got this new one, I saw it was metal, and I was like, 'Oh, great. This will last forever.' And it does. The biggest test that my Cuisinart gets is when I make almond butter. I make a marzipan butter, which is blanched almonds and sugar, essentially. But it has to blend for, like, 20 minutes, and in that time, the Cuisinart gets really hot, and you think it's going to take off into outer space. But it does the job! That's how you know it's a keeper."
"The copper bowl is Mauviel. I use it for whipping egg whites, and it's become my favorite arm workout: whipping egg whites by hand. And the shape just really lends itself well to long periods of whisking."
"For a while, when we first moved in, there was this huge, old refrigerator that was almond-colored, and I hated it, and anytime that I would take pictures in my kitchen, I would try to only take pictures of the shelves and just ignore the refrigerator. So that left me limited space to take pictures with, and I kept seeing Smegs online and in pictures, though, and they're so beautiful. We kept the old, ugly refrigerator. That's in the prop room now. It's the same sort of system as my dishes. It stores a lot of lesser-used ingredients, and then the Smeg in my kitchen stores all of the things, like eggs and butter and yogurt and hot sauce, that I use on a very regular basis. If I didn't work with food every day, or maybe if I lived in a city, I think the Smeg would be the perfect size, but because I'm actually cooking every day, I need to have that second fridge. And we have a deep freezer. We have a second freezer also, in our garage."
"The light-blue dishes are enamelware, and then the ceramic ones are Farmhouse Pottery. Actually, the enamel are from Farmhouse Pottery also. They're super sturdy. We use our enamelware plates for something like pizza night, where we don't need to use forks and knives on them, and we don't have to worry about scratching them up. I use the little enamelware bowls anytime I'm separating eggs, or if I need a bowl for my compost or my trash on the counter. I just use one of those. But as far as mixing stuff, I'll use the ceramic bowls, so I don't have to worry about scratching them."
"Even if it's a new cookbook that I really, really love, but it's very niche, those are the ones I usually take to bed and I have next to my nightstand — not the ones that I keep out in the kitchen, the ones I'm always looking at. Right now, there are two Ottolenghi books up there. Anna Jones's Modern Way to Cook, that's a book I open up all the time. Amy Thielen's Midwestern Table has a pizza-crust recipe that we make almost every Friday."
"Then with the recipe box, I have recipes in there that might not be from a book, or they might be from online that I've printed out, and they're also recipes that I use all the time. My go-to sugar-cookie recipe is in there; there's a bibimbap recipe in there that we make all the time. And just random recipe cards that we get from friends. People still do that around here, I didn't know. My stepmom gave me the recipe box. I think she might've gotten it from Paper Source."
Editor's note: This exact recipe tin is no longer available, but this one from Jot & Mark is similar in colorful, vintage style, and function.
The Strategist is designed to surface the most useful, expert recommendations for things to buy across the vast e-commerce landscape. Some of our latest conquests include the best dining room decor items, coffee makers, knife sets, Japanese coffee brewer, charcoal water filter, and drinking glasses for water and more. We update links when possible, but note that deals can expire and all prices are subject to change.
Every editorial product is independently selected. If you buy something through our links, New York may earn an affiliate commission.