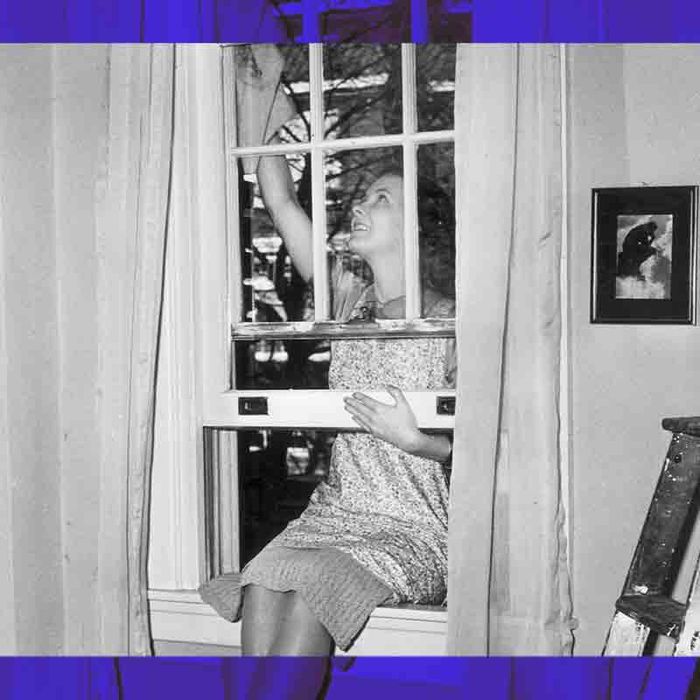 The apartment where my wife and child and I live faces a major avenue, with heavy truck traffic. This means that the windows get not just dirty, but filthy. I wash them once or twice a year, which is not often enough, and it is a tiresome and disgusting job. The first swipe of a soapy rag pulls off a huge amount of black grit, and because it comes from exhaust, it smears. I worked out a whole process to deal with the mess, wherein each window gets swabbed down three times, once with sudsy water, then twice with spray cleaner.
Many years ago, in another apartment, I tried an entirely different way of cleaning my grubby windows: a product called Glass Wax, which came in a can rather than a spray bottle and was creamy, like brass polish. You smeared a thin layer over the window and let it dry, as if you were waxing a car, and then wiped it off in single strokes with a clean towel.
Last summer, after our apartment was painted and I didn't want to besmirch the windowsills yet again, something caused me to look up Glass Wax. Turns out that (a) it had been discontinued some years ago, with internet rumors suggesting that it contained some semi-toxic ingredient; (b) it had become a cult item, with unopened pink-and-red cans offered for surprising sums on eBay; and (c) the product has been reformulated (presumably less poisonously) and reintroduced by a company called Gel-Gloss. I gave it a whirl.
It is fantastic: better than I remembered it to be. One wipe and everything — everything — comes off the glass. Because the product is thick, it also stays put, instead of dripping all over the place. (The smell isn't the greatest, but of course you have to have your windows open anyway.) It takes me a fraction of the time and energy to do this onerous job now, one pass instead of three, and it's far less messy, which may plausibly coax me to do it more often. I cleaned the windows in our bedroom the other day, and the next morning, my wife caught me staring out at the streakless blue sky, embarrassingly proud of my work.
Speaking of retro cleaners, Lestoil is a tried-and-true favorite of writer Carson Griffith, whose mother introduced the product to her: "Nothing — not Tide to Go stain-remover pens, Shout Triple-Acting Stain Remover, good old-fashioned Clorox — had the same stain-removing power as Lestoil. The frat sludge remained on the bottom of my jeans; the wine stains on the front of my shirt; the mud splatters on my tennis whites. My only hope to remain somewhat presentable between keg parties and study sessions was my mother's original go-to. Here's a pro tip: Lestoil works wonders even when you don't have time to do laundry. Rubbing some of that caramel-colored oil on a stain can get rid of it without a wash."