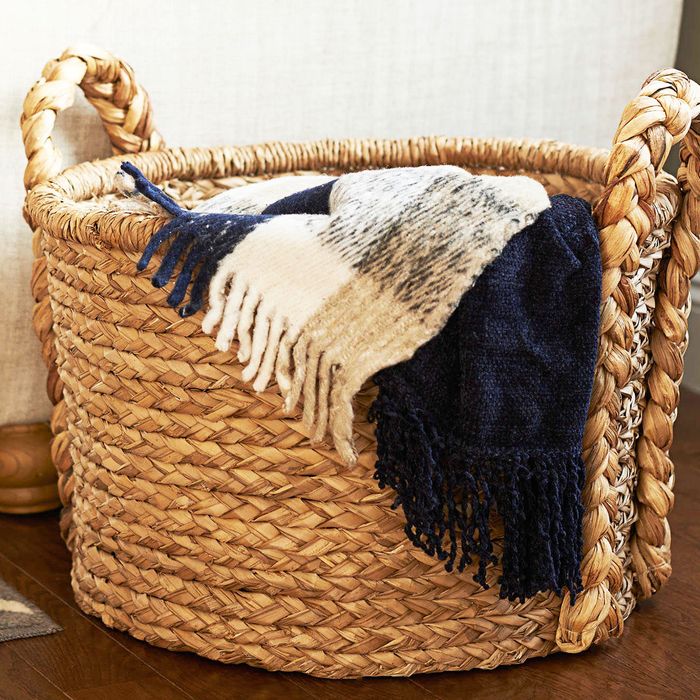 The only way I can remember to keep my apartment organized is to give every item its own home. I realize this is barely a life hack, because in most cases, it's blindingly obvious where things belong. Coats go in the closet, books stack on shelves, pots and pans get hung up on a pegboard in the kitchen. But there's always some stuff that doesn't have a clear place to go, and that's where I get tripped up, sometimes literally. Without a spot to call home, shoes pile up in my foyer, causing minor traffic jams in the morning, and magazines often take over my kitchen table.
This is where a good wicker storage basket can come in handy. It's an organizing tip I picked up from some professionals, while learning about their favorite storage bins. Laura Cattano is one such fan, and she likes using "beautiful open baskets," especially for toys. The beauty of these baskets is that they don't look like storage, and, as Cattano says, "If someone walks in, they just see a basket, a beautiful basket instead of the toys." But I've extended her logic to whatever else I might be trying to corral.
So those shoes that were blocking my way can now be kept in a basket that sits in the corner, away from the front door, and those magazines can be stashed away in a stylish holder underneath the table. Even my spare rolls of toilet paper are stacked up in a woven basket in my bathroom, a more stylish option than keeping them in the original packaging.
And wicker's a uniquely versatile material, usually neutral in color, so it fits into most decorating schemes. However, you can also find wicker that's dyed to match whatever colors you're working with. It's also having something of a moment right now, what with basket-shaped bags showing up on runways and the basket-looking Cult Gaia purse taking over Instagram. To help you get on trend and organize your stuff, here are 23 practical and pretty straw, jute, rattan, or wicker storage baskets for every room in your house.
Small, open baskets also make handsome catchalls and organizers, especially when they're as colorful as this one (which also happens to be on sale at Spring).
This set of three woven baskets, with dark wood handles, could be used to organize your vanity or the knick-knacks on your bathroom counters.