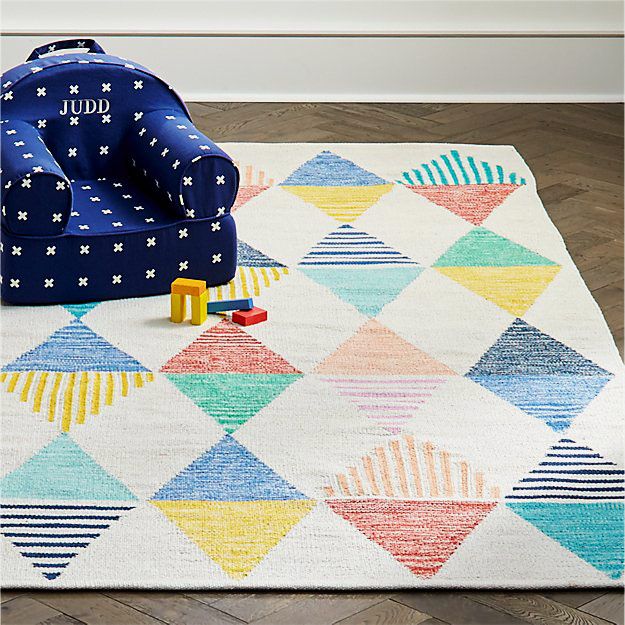 Photo: Courtesy of the retailer
When decorating a nursery, certain must-have pieces of furniture (cribs, changing tables, glider rockers) and even décor (mobiles, baby blankets, stuffed animals) come to mind. But there are less obvious things, like rugs, that can make just as powerful of an aesthetic impact on the space. "Whenever we design a kids' space, adding a rug is always a great option to break up the area and create comfort," says Tammy Price, of Los Angeles-based studio Fragments Identity.
When it comes to choosing a rug for a nursery, material and weave are important details to consider, according to interior designer Naomi Alon, from Little Crown Interiors in Orange County, California. That's because, in children's rooms, "one of the biggest issues is going to be staining," so Alon told us she "usually tries to find materials that are going to be relatively easy to clean but also soft," like poly blends and wool — the latter being a material recommended many of the other designers we spoke to. In addition to picking a stain-resistant material, Alon adds that rugs with bold prints can also be a great choice for spaces prone to accidental spills. "Pattern is also a great way to hide the stains that can't be cleaned out," she says. And don't confine yourself to rugs designed specifically for the babies' or kids' rooms either (if taken care of, the rug in your nursery could be the same one your child uses in his or her "big kid" room). "Most of my clients want a more sophisticated look, as the overly juvenile look isn't as popular anymore," Alon notes. To find the best rugs for nurseries, kids' rooms, and playrooms, we spoke to 16 interior designers and stylish parents about their favorites. Below are their picks, which include shag, monochromatic, antique-style, and graphic rugs, ones with versatile geometric patterns, and more than a couple that aren't from the kids' section.
Best shag rugs for nurseries
Lisa Janvrin, founder of YouthfulNest, an online interior-design service for nurseries and children's rooms, calls Kroma Carpets' machine-washable faux-fur rugs the "it" rugs of baby rooms. "Every baby and child brand and beyond seems to have their own version [of the faux-sheepskin rug], but the Kroma Carpet version is such a great price point," she says. The fact that they're machine-washable, stain-resistant, and easy to wipe is crucial, as "parents are typically passionate about keeping the nursery clean and safe for their baby." Janvrin loves the cloud, star, and moon shapes in particular, adding that she's used them in all types of décor schemes, including modern, boho, and Nordic. She notes that their affordability and range of shapes and colors make them great for layering, too. Alon also likes to layer Kroma's washable rugs on carpet or larger area rugs. She says that they're great for putting down on a "high-traffic spot or a reading nook, or anywhere you know your kid is going to spend a lot of time," as "they're super soft and then you can just throw them in the washer if you need to."