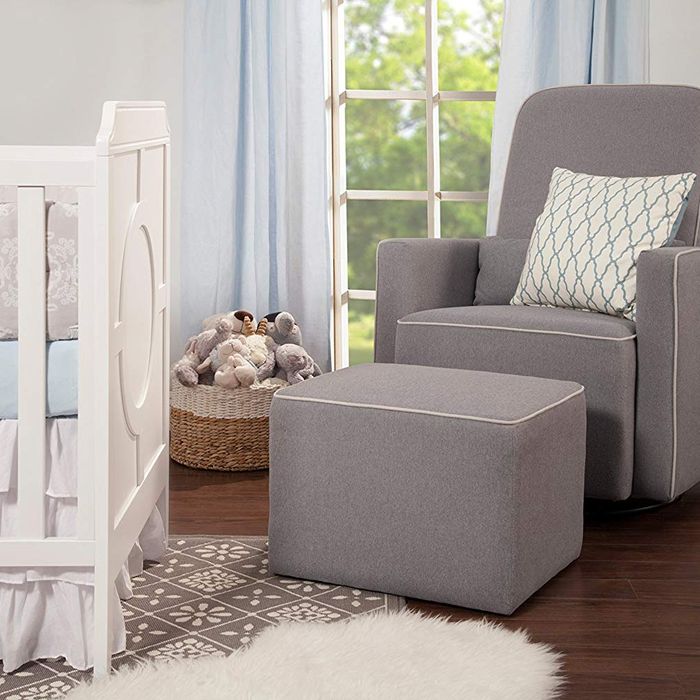 Photo: Courtesy of retailer
If anything can turn a midnight feeding into a (somewhat) luxurious experience, it's the right glider rocker. As opposed to traditional rocking chairs, gliders have seats that move forward and backward, with some models even made to swivel or recline. Generally, they offer a smoother, more comfortable ride. "The key to a good glider is that it's comfortable enough to play host to constant late-night feedings and endless rocking sessions (often coupled with podcast-listening or mindless Instagram scrolling)," says Ariane Goldman, the founder of maternitywear line HATCH Collection. To find the best glider rockers, we spoke to Goldman and seven other baby-gear experts and parents. Below, their ten favorites, which cover almost every décor style and budget.
Best overall glider rocker
No glider rockers we heard about were mentioned more than the Luca, which came recommended by four experts we spoke to. It's from Canada-based company Monte, which was founded in 2005 by two designers turned parents who wanted to create elevated — but functional — nursery furniture after they had a kid of their own. Ashlee Neuman, a senior editor at The Bump, told us the Luna glider and its included ottoman are great for parents with limited space because of the pieces' relatively narrow size. The glider also has many features designed for serious comfort: "Its arm height is made to offer ergonomic support while you feed your baby, and its high back provides proper headrest, plus it comes with a matching lumbar pillow to cushion your lower back, neck, or elbow," Neuman explains. While you can spend less on gliders without ottomans, Goldman says bundles like this do have their benefits: "An ottoman turns gliding into a more luxurious ride, and it's just more comfortable when you can prop up your feet." Another nice thing about the Luna, according to Micaela Birmingham of parenting website Scary Mommy, is that "it looks cool enough to use elsewhere in your place once you're done using it in the nursery." If the price seems a stretch, dad Daniel Gordon notes that buying from Monte means investing in a piece that's built to last. "We splurged on a Monte glider, and we've used that chair almost every day for over six years and counting. We added a second kid, spilled a bunch of stuff on it, climbed on it, wrestled on it — but somehow the chair still looks brand-new. It's a comfortable, attractive, well-made product."
If you don't think you need the ottoman, you can save by just buying the glider itself from Crate & Barrel. If you want the whole setup, you can get it at 2Modern.
Best (less-expensive) glider rocker
While Neuman is a big fan of the Monte Luna, she also told us about this glider rocker–and-ottoman set that she says "can't be beat in terms of the most bang for your buck." As far as looks, she thinks the DaVinci Olive Upholstered Swivel Glider has "clean, simple lines that are perfect for any modern baby room." And when it comes to function, Neuman notes that the glider has a high back and lumbar pillow, as well as a sturdy base that glides forward and backward and swivels 360 degrees. Sandra Gordon, who reviews baby gear on her blog Baby Products Mom, adds that this chair — like the Luna and others on our list — benefits from having an upholstered glider mechanism, which not only makes the furniture nicer to look at, but also "safer if you have a toddler in the house, because there's no way your toddler can get their fingers caught in the glider mechanism."
Best reclining glider rocker
This glider from Pottery Barn Kids also received two recommendations. One was from Birmingham, who calls out a detail the previous two gliders lack: It can recline as well as rock forward and backward. "It swivels, it reclines, and it's going to hold up your head and keep you cozy when you need it most," she promises. Sandra Gordon is its other fan; in addition to being functional, she adds that the chair is "available in zillions of great colors," making it easy to customize to your room's décor.
Best reclining glider rocker (from Monte)