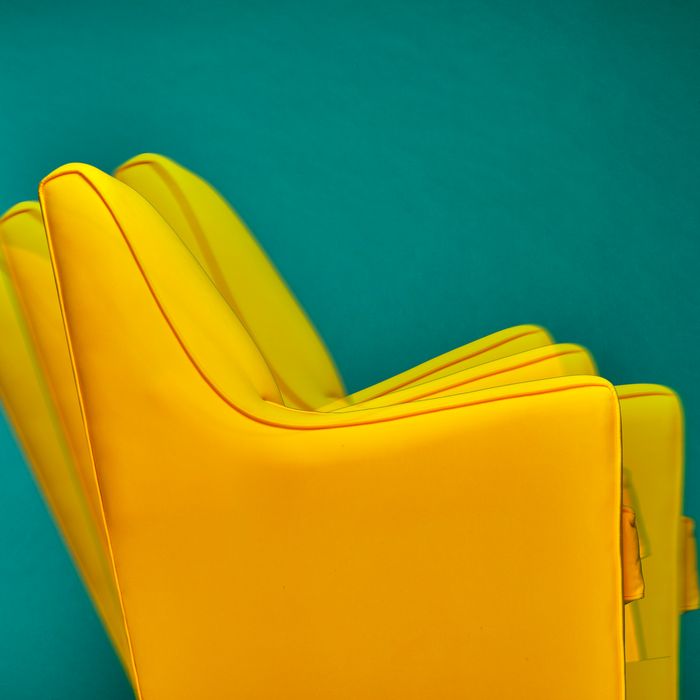 If anything can turn a midnight feeding into a (somewhat) luxurious experience, it's the right glider rocker. As opposed to traditional rocking chairs, gliders have seats that move forward and backward, with some models even made to swivel or recline. Generally, they offer a smoother, more comfortable ride. "The key to a good glider is that it's comfortable enough to play host to constant late-night feedings and endless rocking sessions (often coupled with podcast-listening or mindless Instagram scrolling)," says Ariane Goldman, the founder of maternitywear line HATCH Collection. To find the best glider rockers, I spoke to Goldman and 11 other baby-gear experts and parents. And as a mom of two young kids myself, I included my personal pick (and review) as well. Below are our 12 favorites — plus a couple rocking chairs for good measure — which cover almost every décor style and budget.
At its most basic, a glider chair rocks back and forth using a smooth gliding motion. Some of these chairs swivel, allowing you to turn around 360 degrees (though not all chairs offer 360-degree rotation). For the ultimate comfort experience, a few gliders even recline so you can put up your feet, lean back, and enjoy a rocking motion, all at the same time. I've included two rocking chairs for those who prefer a simpler motion.
For chairs that don't recline, an ottoman is often included or can be bought separately so that you can still kick up your feet if you so desire. Many of these models come with lumbar pillows, which, speaking from personal experience, actually make sitting in one for extended periods of time — when you're feeding on demand or dealing with a baby that just won't sleep — that much more comfortable. While only two of the chairs below are water-repellent and stain-resistant, those are two other features to look out for in something you'll be spending a lot of time feeding in and will inevitably spill on.
Many of these chairs come in at least two color options, with several of them offering total customization, from the type and color of fabric to trim to base options and more.
Finally, because we're dealing with a piece of furniture that's often used with a newborn, many of these chairs are GREENGUARD Gold Certified, which means that a product "has been tested and scientifically proven to have low chemical emissions," according to UL, the global independent safety science company that provides this certification. In other words, "It's guaranteed to give off only low levels of volatile organic compounds, or VOCs," so you can rest knowing that you and your baby are not breathing in harmful chemicals.
Best overall glider rocker
Movement: Gliding base, with optional swivel | Accessories: Lumbar pillow, optional gliding ottoman | Style: Customizable/made to order | Safety: GREENGUARD Gold Certified
No glider rockers we heard about were mentioned more than the Luca, which came recommended by four experts we spoke to — plus Strategist senior editor Winnie Yang, who has used it with all three of her children. It's from Canada-based company Monte, which was founded in 2005 by two designers turned parents who wanted to create elevated — but functional — nursery furniture after they had a kid of their own. Ashlee Neuman, content director at the Bump, told us the Luca glider and its included ottoman are great for parents with limited space because of the pieces' relatively narrow size. The glider has many features designed for serious comfort: "Its arm height is made to offer ergonomic support while you feed your baby, and its high back provides proper headrest, plus it comes with a matching lumbar pillow to cushion your lower back, neck, or elbow," Neuman explains. While you can spend less on gliders without ottomans, Goldman says bundles like this do have their benefits: "An ottoman turns gliding into a more luxurious ride, and it's just more comfortable when you can prop up your feet." Another nice thing about the Luca, according to Micaela Birmingham of parenting website Scary Mommy, is that "it looks cool enough to use elsewhere in your place once you're done using it in the nursery."
If the price seems a stretch, dad Daniel Gordon notes that buying from Monte means investing in a piece that's built to last. "We splurged on a Monte glider, and we've used that chair almost every day for over six years and counting. We added a second kid, spilled a bunch of stuff on it, climbed on it, wrestled on it — but somehow the chair still looks brand-new. It's a comfortable, attractive, well-made product." And Yang, who bought it secondhand when she had her first child and has now owned it for over seven years, agrees. Not only has it helped her rock three babies to sleep, "it has been a comfortable spot for pumping milk, has gone through two moves, and has been beaten up by two dogs and a cat (who all love to sleep in it), but most importantly, it cleans up really well," she says. Her glider is upholstered in microfiber, which she says is easy to wipe off "many stains" from, and when she got it professionally deep-cleaned recently, "it looked good as new afterward." As for its construction and mechanics, "the gliding and reclining action are still smooth after all these years, and the cushions are still in great shape and aren't sagging or worn anywhere." It's made to order and comes with nearly three dozen fabric and piping options, and you can even choose from four different wood finishes for the base. The optional ottoman also glides and costs $495.
Best (less-expensive) overall glider rocker
Movement: 360-degree swivel | Accessories: Ottoman and lumbar pillow | Style: Four colors | Safety: GREENGUARD Gold Certified
While Neuman is a big fan of the Monte Luca, she told us about this glider rocker–and–ottoman set that she says "can't be beat in terms of the most bang for your buck." As far as looks, she thinks the DaVinci Olive Upholstered Swivel Glider has "clean, simple lines that are perfect for any modern baby room." And when it comes to function, Neuman notes that the glider has a high back and lumbar pillow, as well as a sturdy base that glides forward and backward and swivels 360 degrees. Sandra Gordon, who reviews baby gear on her blog Baby Products Mom, adds that this chair — like the Luca and others on our list — benefits from having an upholstered glider mechanism, which not only makes the furniture nicer to look at but "safer if you have a toddler in the house, because there's no way your toddler can get their fingers caught in the glider mechanism."
Best reclining glider rocker
Movement: Recliner, with optional swivel | Accesories: Lumbar pillow | Style: Customizable/made to order | Safety: GREENGUARD Gold Certified
While the Monte Luca rocker that leads this list doesn't recline, the brand's Grano glider does. Actor and dad Mike Colter told us it was the best thing he bought for himself during the pandemic. "My daughter was about 15 months old at the start of quarantine. Putting her down each night was tough," Colter says. "This chair has been a game changer. From soothing, to rocking, to reclining, it really does it all." David Jacobs, the owner of Brooklyn-based children's store Mini Jake, told us the Grano is one of the most popular gliders among his parent clientele, too, thanks to thoughtful details like its hidden reclining mechanism, lumbar pillow, and high back that provides additional spine and neck support. Like the Monte Luca chair, it's made to order and comes with dozens of fabric and piping options, as well as the option to add a swiveling metal base for $200 more (otherwise, it comes with a wooden base that is stationary).
Best (less-expensive) reclining glider rocker that swivels
Movement: Recliner, 360-degree swivel | Accesories: Lumbar pillow | Style: Four colors | Safety: GREENGUARD Gold Certified
If you're looking for a more affordable glider that reclines (and doesn't include a bulky ottoman), consider DaVinci's Piper chair, which I personally own and love. Like DaVinci's Olive chair above, it's got a similar silhouette, is exceptionally sturdy, and swivels 360 degrees. It's one of the most comfortable chairs in the house, and I spent many sleepless nights nursing both of my kids in it. Now that they're 4 and 1, respectively, it has become a reading chair — both for reading with the children and solo grown-up reading. After four-plus years of constant use with both kids, it still looks new. The gray upholstery doesn't hold on to stains, and I've never even had to spot-clean it. There's no sagging, either. One thing I will note is that it's a pretty big chair (there are sleeker-looking ones on this list), but for how durable and comfortable it is, you can't beat its value.
Best (electronic) reclining glider rocker


Movement: Electric recliner, 270-degree swivel | Accessories: Lumbar pillow, USB charging port | Style: Three colors | Safety: GREENGUARD Gold Certified
Neuman's favorite reclining glider is a bit higher-tech, with an electric recliner button that means you have even less of a chance of waking the baby if you decide to prop your feet up. "High tech meets high comfort in this state-of-the-art nursery chair," she says, noting that the chair can swivel up to 270 degrees. "There's even a built-in USB charging port, so you can recharge your mind, body, and electronics all at once," she adds. The Kiwi is a favorite of the Tot Squad's Jennifer Saxton, who appreciates its modern design (I happen to think its wingback style makes it among the prettiest of chairs on this list) and calls out the electric recline function that "silently and seamlessly leans back without a jolt." Plus, she adds, "It beautifully rocks and rotates and is wide enough for me to do story time with both girls on my lap."
Best wingback glider rocker
Movement: 360-degree swivel, Ottoman included | Accessories: Lumbar pillow and ottoman | Style: 3 colors | Safety: GREENGUARD Gold Certified; Water-repellant and stain-resistant
If you like the look of Babyletto's Kiwi chair but don't necessarily need the fancy electric recliner functionality, consider the brand's Toco chair, which Babylist gear editor Jennifer LaBracio recommends. "It's really stylish and it has a small footprint so it's great for small spaces, but doesn't sacrifice comfort," she says. While it doesn't recline, it includes a stationary ottoman, so you can still put your feet up. Plus, it's made from water-repellant and stain-resistant fabric.
Best (less-expensive) wingback glider rocker with storage ottoman
Movement: 360-degree swivel | Accessories: Storage ottoman and lumbar pillow | Style: Four colors | Safety: GREENGUARD Gold Certified; Water-repellant and stain-resistant
For something slightly less expensive but just as stylish, LaBracio recommends this swiveling glider from a collaboration that DaVinci did with children's clothing brand Carter's. It has a more rounded wingback style and armrests than Babyletto's Toco that LaBracio says "works with any décor — modern, traditional, etc." It's water-repellent and stain-resistant (like the Toco), which she calls "two must-have features in a glider." It comes with an ottoman that doubles as extra storage, so you can keep extra blankets, bibs, and snacks always within arm's reach.
Best glider rocker with a wide seat
Movement: 360-degree swivel | Accessories: Lumbar pillow; optional gliding and swiveling ottoman | Style: Two colors | ​​Safety: GREENGUARD Gold Certified
There's nothing worse than sitting on a glider — or any chair — only to find that the seat is too snug. For those concerned about this, and who have the space, Karen Reardanz, editorial director of Babylist, suggests this glider with an extra-wide seat that should accommodate any body, no matter a person's size. "It's roomy enough for feeding or soothing twins, or if a toddler wants to climb up and join the party while you're with the new baby," she explains, adding that the glide is "smooth and very quiet." It doesn't recline, but Reardanz does note there is a matching gliding and swiveling ottoman you can buy separately. If you're not the matchy-matchy type, she says you could simply get "a cute pouf that is less expensive but will be just as comfy."
Best traditional glider rocker
Movement: Recliner with multi-position lock | Accessories: Gliding ottoman with angled footrest | Style: Customizable
Traditional gliders look more like your standard rocking chairs and have more exposed wood parts, but they still offer the basic functionality of any of the options mentioned thus far. Some, like this one recommended by Sandra Gordon, can even recline 45 degrees. In fact, the chair — which comes with an ottoman — even "glides in recline mode, which is a nice option for when you really want to get comfortable," Gordon adds. (It comes with a multi-position lock, which, as the brand explains, "allows you to sit back or get up safely while holding a baby in your arms.") The ottoman also glides and comes with a flip-out, angled footrest allowing you to lift your knees and prop baby up. It's handcrafted in Canada with a solid wood base and can be customized on the brand's website.
Best (less-expensive) traditional glider rocker
Movement: Glider | Accessories: Gliding ottoman | Style: 20 colors
If you're looking to spend a lot less, Sandra Gordon suggests this even more affordable traditional glider that looks almost identical to the much more expensive Dutailier model above. It doesn't recline or swivel, but for the price, it does come with an ottoman that glides. It's available in 20 different colors and includes storage pockets on both sides of the armrest.
More chairs we like
A gliding chair can be too much movement for some folks, in which case a traditional rocking chair might be a better option. After reading a lot of reviews, Alisa Richter, a publicist with the Number 29, bought this boucle-covered rocker from Nursery Works for her now-11-month-old daughter. "The rocker is supercomfortable, and I've spent countless hours rocking our baby daughter, Cecilia, in it," she says. She appreciates the ivory boucle upholstery that she calls "soft" and "pretty," because it "integrates seamlessly with almost any décor style." (Her daughter's nursery is decorated with a botanical-wallpaper mural and blue-velvet curtains, and the chair completes its soothing, sweet aesthetic, she says.) Keeping the chair clean is not a problem either. "We have spilled on it multiple times, and it's pretty easy to clean with a standard vinegar-and-soap solution."
Here's another rocking chair that costs a little less but still looks quite stylish. It's recommended by Jeanne Y. Sun, founder of beauty studio Soft Arches. When considering a chair for her now-9-month-old, Sun was looking for "something sturdy with good reviews" and a tall back, so she could rest her head on it during long nights. She bought this one from Wayfair for its "minimal look and clean lines" and the fact that it was on the narrow side, which she points out is great for smaller rooms. "It's comfortable, durable, and easy to clean," she says.
Some more Strategist-approved products for nursing and feeding
• Micaela Birmingham, Scary Mommy
• Mike Colter, actor and dad
• Ariane Goldman, founder of HATCH Collection
• Daniel Gordon, dad
• Sandra Gordon, Baby Products Mom
• David Jacobs, owner, Mini Jake
• Jennifer LaBracio, Babylist gear editor
• Ashlee Neuman, content director at the Bump
• Karen Reardanz, editorial director Babylist
• Alisa Richter, the Number 29 publicist
• Jennifer Saxton, founder of Tot Squad
• Jeanne Y. Sun, founder of Soft Arches Studio
• Winnie Yang, Strategist senior editor
The Strategist is designed to surface the most useful, expert recommendations for things to buy across the vast e-commerce landscape. Some of our latest conquests include the best acne treatments, rolling luggage, pillows for side sleepers, natural anxiety remedies, and bath towels. We update links when possible, but note that deals can expire and all prices are subject to change.