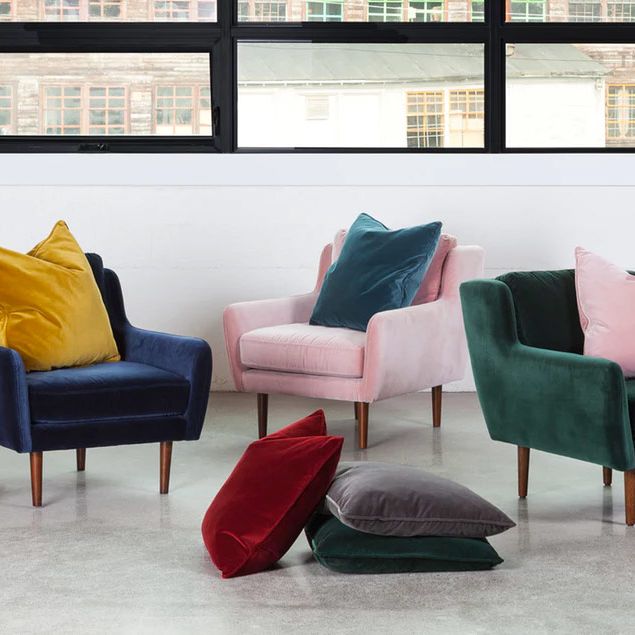 Photo: courtesy of the Retailer
Buying furniture can be overwhelming, especially when there are so many options out there, and at wildly varying price points to boot. To help find well-made, nice-looking stuff that won't break the bank, we've already called on interior designers to share their favorite table lamps, floor lamps, and living room décor. We even put ten flat-pack sofas to the test. Which got us thinking: what about that other living-space staple, the armchair?
To find chairs that look nice, feel great to sit on, and are also affordable, we spoke with nine interior designers about their favorites. Read on for their 24 picks, which suit practically every décor aesthetic — including mid-century modern, contemporary, boho, and traditional — and, for the most part, won't cost you more than $1,000.
Mid-century armchairs
Mid-century modern design, with its minimalist lines and clean Scandinavian vibes, works in just about any space. If you're partial to the style but want a little more flair, this wood-framed chair is a great option. Metal accents upgrade the otherwise classic mid-century piece, which Cassie Thibault, a designer at interior-design-service website Modsy, recommends. "The tufted back, brass accents, tapered legs, and wide seat can work for an array of customers."
If you're looking for a leather chair but don't necessarily want to spend the money, Modsy designer Joslynn Durant recommends this piece from Anthropologie. "The woven leather straps make it more affordable than a solid leather chair but just as durable, so it works well for families with children and those who entertain often," she says, adding that "the leather will just wear and get better with time." Plus, she adds, it's surprisingly comfortable.
Here's another chair with mid-century modern leanings, this time with an earthy oak frame and burnt-auburn velvet upholstery that make it feel organic. Shelly Lynch-Sparks, founder of interior design studio Hyphen, recommends it because it's "fun, simple, and doesn't take up too much space" — crucial if you live in a city apartment. We love that it's also one of the least expensive offerings in this roundup.
This cocktail chair has a mod silhouette, but it's the Scalamandré print that takes it to the next level. "The deep green background with full-bodied cheetahs is the perfect statement piece for any classic collector," says Alessandra Wood, Modsy's VP of style.
Interior designer Dani Arps recommends this walnut chair for its "classic mid-century modern appeal" and "beautiful profile." We like that the Vermont-made piece has a bit of a Shaker spirit to it, making it a great chair for a transitional décor scheme.
Modsy designer Megan Huffman recommends this mid-century modern–inspired piece for its sleek and comfortable design. It features a solid walnut wood frame and the option to customize the upholstery, which means that it can be adapted for any lifestyle or décor scheme.
While it's just a smidgen over $1,000, the Finn Lounge Chair, with a frame made from European white oak and leather cushions sourced from a small family tannery, would lend a sophisticated Scandinavian feel to any room. "This is one of my favorite pieces," says Arps. "It's so well priced and the quality is insane."
If you want to go the custom route without paying too much, Lynch-Sparks suggests buying a vintage piece like this and redoing the upholstery in discounted fabric from a place like Stitchroom.
Keren Richter of design studio the White Arrow also prefers to source vintage pieces for her projects. "It's a surefire way to have something in your home that tells a story without sacrificing quality," she says. She likes this vintage mid-century piece by Brazilian modernist Geraldo De Barros. With a tubular metal frame and a graphic print, it makes a statement without being too loud. "The silhouette and upholstery feel incredibly fresh," says Richter. The price is right, too.
Contemporary armchairs
If you're looking for accent chairs that reinterpret the past but are a bit more surprising in their shapes, consider these contemporary designs. Sisters Hollister and Porter Hovey, the duo behind design-and-staging company Hovey Design, "love the sexiness of '70s décor," and suggest Anthropologie's update of Vladimir Kagan's tripod club chair for its fun black-and-white pattern that makes a big impact. "We'd recommend searching for the real thing," they say, "but this is fun and you'll know you can get an exact pair." Modsy's Huffman also recommends the Effie chair, saying that it "would make a great focal point for any room."
Modsy designer Joslynn Durant loves this chair for its "modern rustic" look. "It's the kind of chair that has an understated sophistication with its clean wood frame and cozy, plush cushions," she says. We also like that it has a laid-back, West Coast vibe.
With a heftier metal frame, this upholstered chair from West Elm is Wood's pick for a look that's "sleek and modern with a minimalist edge." It's also "reminiscent of Milo Baughman's mid-century designs," according to Wood, but updated.
Modsy's Huffman recommends this armchair from CB2 for its oversize arms and gold accents. "The velvet upholstery lends a refined and elegant style," she adds.
This completely upholstered lounge chair reminds us a little of preschool, but in the best way. Arps likes it for its "quirky" and "super modern" quality. Covered in a felt-wool blend that comes in a range of colors, it would look as charming in a kids' room as it would in a grown-up parlor.
"I love the contrast between this armchair's minimal iron frame and rich textural faux-shearling," Richter says of this (admittedly armless) chair upholstered in a cozy faux-fur propped up by slim iron legs.
Lynch-Sparks recommends this velvet armchair from Article that comes in a range of fun jewel tones, plus shipping is fast and the quality is great. And for $599, it sounds like a steal.
Like a big comfy club chair, but updated for contemporary living. "I love the rich navy fabric, minimal silhouette, and channeled upholstery of this one," says Richter.
While this chair costs slightly more than $1,000, we're giving it a pass because it's so versatile. Designed by Luca Nichetto for Hem, it features a molded upholstered body with the slenderest steel frame to create a piece that's off-kilter in a delightful way. "This is great if you love the Scandinavian aesthetic," says Arps.