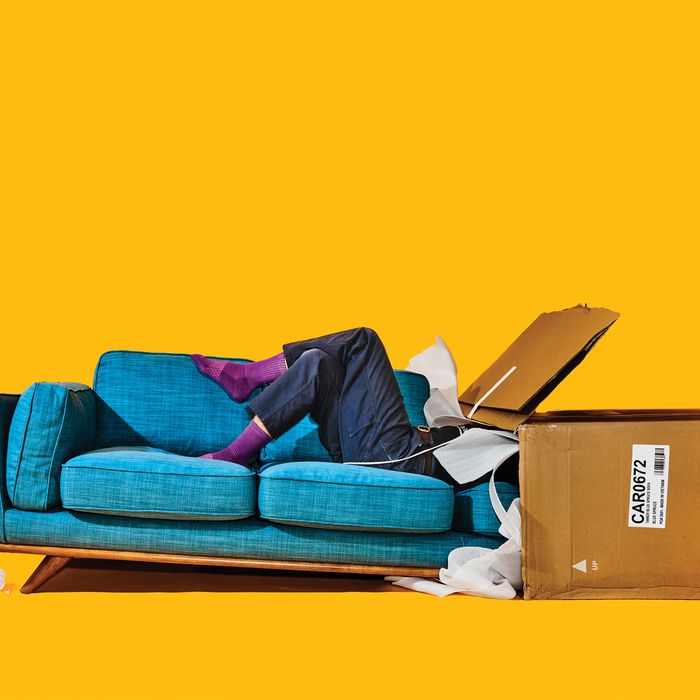 Sofa-in-a-box.
Photo: Bobby Doherty/New York Magazine
In the year since we tried six sofas-in-a-box, there have been some developments — including the introduction of the much-hyped company Floyd and the opening of a City Point showroom where we were able to test out Joybird's (which we mentioned in last year's post but weren't able to physically experience). A steady stream of start-ups continues to capitalize on shoppers' desires to purchase even the biggest-ticket items (first mattresses, then couches) sight unseen, as long as the price is moderate, the website sleek, and the assembly relatively easy. So we decided to reimmerse ourselves in the market. And now, as it turns out, we have two new favorites to add to the top of the list (which last left off with our feeling particularly excited about the Knoll-esque brand Burrow and the former-Apple-engineer-launched Campaign, among a few others). We ended up loving Joybird, as well as the custom-crafted collection by Maiden Home. We've also included our takes on offerings from Floyd and the L.A.-based design studio Capsule, bringing us to a grand total of ten options for you to consider ordering straight to your door.
The Most Sleepable
The product: The Eliot, a classic three-seat sofa with wooden legs, tufted cushions, and a traditional feel. The look is pretty versatile; we could see this fitting in well with a range of stark, modern, or eclectic decor. You can choose from 65 different coverings, from brown leather to millennial-pink velvet.
The assembly: For $99, the pre-assembled sofa can be hand-delivered and brought to completion (basically just by screwing on the legs) in your home.
The fine print: While some models have a "Quick Ship" option, meaning they'll ship in five days, others can take up to six weeks to arrive.
What happened when we sat in it: The best part of this already exceptional sofa was the width of the seat: It's so easy to spread out and pass out on it practically felt like a bed. That's not to say the cushions weren't comfy af. They were. They're made of foam but have a top layer that creates a cozier feel (a representative said it's made of quilt batting), and you can perceive that mix of airiness and density that the foam provides but also the coziness of the top layer.
The verdict: Boy, were we glad we got a chance to sample this one in person, as it turned out to be our favorite. It definitely feels like a rival to big-name brands like West Elm, CB2, and the like. Joybird also has a robust offering of chairs, tables, and even wallpaper as well as a showroom in Brooklyn with very knowledgeable, friendly staff.
The Best for Big Groups
The product: The Dune, a cozy, minimalist style that Maiden Home's founder, Nidhi Kapur (formerly of Google and Birchbox), says is the brand's best seller. It starts at $2,452 and can be customized in a variety of ways at the hands of the North Carolina artisans who are Kapur's not-so-secret weapon. The brand recently launched beds and offers chairs as well.
The assembly: All models arrive fully assembled and come with free "white glove" service, i.e., someone will bring it into your house for you.
The fine print: It takes about six weeks from order to delivery. A 30-day return policy means if you're unhappy, someone will pick it up and whisk it away.
What happened when we sat in it: Kapur says she wants the couches to have "bounce and support," and that translated to a firm cushion experience. We felt held aloft, almost as if we were riding an air bubble. Cushions are also designed with "channels" of filling so they retain their shape.
The verdict: Perhaps not quite as cool looking as Joybird's but equally exceptional in quality, the Dune has a supportive, solid feel — and that's the point. If you're looking for a squishy, mushy, enveloping couch — a real lazy, couch-potato one — this isn't for you. But if you're looking for something comfortable with a substantial feel, it is. Also: This model has a removable, washable slipcover, so it's perfect for people with kids and/or shedding pets.
The Like-Ikea-but-Cooler Option
The product: Floyd's sofa is a flat-pack two-seater ($1,290; also available in three-seater and three-seater-plus-chaise options) and the one and only couch style from the Detroit-based start-up, which previously released flat-pack beds and tables.
The assembly: The sofa arrives in four boxes, and the company says it should take less than 45 minutes to build. Per the website, putting it together seems pretty straightforward.
The fine print: Free shipping to anywhere in the mainland U.S. (i.e., no delivery to Hawaii and Alaska) and free returns within 30 days.
What happened when we sat in it: The cushions were surprisingly buoyant but also welcoming and enveloping. However, even after just lounging for a bit and moving around, we could sometimes detect the wooden frame beneath the cushions and had to readjust. Let's put it this way (and hope it makes sense): It certainly wasn't uncomfortable, but we could feel the industrial frame that serves as its foundation, which could be disruptive to one's relaxation. Also the two-seater couldn't accommodate one person lying down; it's much more of a sitting couch (but the three-seater and sectional options are surely better suited to a binge-watch).
The verdict: This is a fine starter couch for someone who wants something no-frills (with slight industrial vibes) that can fit into a smaller space — a post-dorm apartment, perhaps. For that price, however, you can get much more robust options at Ikea, though they don't come with Floyd's millennial cool factor.
The Most Instagrammable
The product: As the name suggests, the Big Arm sofa ($1,499) has extra-wide armrests as well as a low-to-the-ground profile.
The assembly: This sofa comes in one piece and can be hand-delivered and placed in your space for an extra $99.
The fine print: Returns with a refund are accepted for 90 days. Returns made within 14 days will also refund shipping costs.
What happened when we sat in it: The back cushion was certainly cozy, but the seat cushion could use a little extra padding. When we tried to really let ourselves sink it, we could feel the baseboard.
The verdict: This one had a very stylish Scandi aesthetic (though the fabric collected a lot of debris in the office where we gave it a trial run), but it seems more like a couch you'd sit on for short periods of time — definitely not a place to lounge (or fall asleep).
The Designiest
The product: One style that resembles the Florence Knoll sofa in five colors with high or low armrests (from $1,395; burrow.com). Reversible seat cushions are tufted and smooth. Bonus: USB outlets are underneath.
The assembly: Incredibly easy. Free shipping via UPS (a three-seater comes in four 50-pound boxes), and pieces attach with snapping hinges. We saw Burrow's co-founder assemble and disassemble a two-seater in five minutes.
The fine print: Free returns within 30 days as long as it's in the original packaging.
What happened when we sat on it: Springy, comfortable, and supportive but not deep, it was good for sitting upright but less suited for sprawling out for a Netflix marathon.
The verdict: Our favorite for smart (if a bit pedestrian) design, incredible ease of assembly, and a nice return policy.
The "Everysofa"
Photo: Courtesy of the vendor
The product: A range of styles — from mid-century to minimal to tufted and formal — across 30 available sofas (from $699; article.com).
The assembly: Sofas arrive via three tiers of delivery: $49 to the building, $99 to get the couch upstairs to a specific room, and $169 for movers to assemble it, although that just requires screwing on the legs.
The fine print: A 30-day, no-questions-asked return policy, but Article will charge you a pickup fee equal to the delivery fee.
What happened when we sat on it: A recent plop-down at a pop-up (now closed) revealed that the angular Sven in leather was a little tough, as though it needed to be broken in. The linen-upholstered Timber, however, has some give to make the sitter feel embraced.
The verdict: A good starter sofa for a first apartment out of college. Aesthetes might find the selection lacking, but it's a broader range than most.
The Easiest to Assemble
Photo: Courtesy of the vendor
The product: Founded by an ex–Apple engineer, Campaign offers love seats ($895; campaignliving.com, 21 Prince St.) and couches ($1,195) in one Herman Miller–like silhouette and seven different colors, such as "Mojave orange" and "sprouted green."
The assembly: Designed according to UPS shipping dimensions, the sofas arrive (for free) in two boxes — compressed cushions fit inside the steel frame — and take 15 minutes to set up. Full disclosure: This couch was one we were allowed to test at home and then keep.
The fine print: Return the frame for free within 14 days with the original packaging. Campaign doesn't ask for the cushions back — once they expand, they won't fit in the box.
What happened when we sat on it: It was very comfortable, thanks to a soft, down-like polyester fill in the back cushions, but the armrests were bony.
The verdict: The flat-pack ingenuity of the sofa is a well-deserved selling point, and it's a cinch to put together, but it's more expensive than you would think, and we wish there were a more expansive selection of styles.
The Most Scandinavian
Photo: Courtesy of the vendor
The product: The Swedish company offers the Palo (from $1,699; hem.com), which has one clean slab of a seat, low backrests, and exposed hardware (pictured here), and the more traditional Koti (from $1,679) in a mix of configurations and neutral colors.
The assembly: Sofas ship free in the U.S. and arrive almost fully assembled. Fit in the legs, slot in the struts (the metal backrest frame), and tuck the cushions into place.
The fine print: Returns are accepted within 14 days, but shoppers cover a $400 return-shipping cost.
What happened when we sat on it: Neither sofa had much give.
The cushions were stuffed with an extra-firm polyurethane foam — not ideal for committed couch potatoes.
Verdict: Beautifully designed and easy to assemble at a fair-ish price, but returns are pricey and the policy itself is not the most forgiving.
The Most Traditional
The product: Interior Define is among the more design-y of the brands in online sofas — the company collaborates with designers including Alison Victoria and Apartment Therapy's Maxwell Ryan on capsule collections but also offers clean-lined sofas like the Toby ($2,000; interiordefine.com).
The assembly: Models arrive in one or two pieces, and Interior Define delivers with free white-glove service, so someone will assemble them upon delivery.
The fine print: You can return the sofa for up to 365 days after you receive it, but within 14 days you get a full refund. After that, you'll be charged a 10 percent restocking fee. Deliveries typically take 8 to 12 weeks.
What happened when we sat on it: The Toby (deep cushions, short back, and slightly firm — good for sitters who are prone to slouching) was comfortable, if slightly formal.
The verdict: If you're looking for more-interesting silhouettes, don't care to assemble a sofa yourself, and have commitment issues, look no further.
The Cultiest Name
Photo: Courtesy of the vendor
The product: A special project from French designers Ronan and Erwan Bouroullec, the Can ($2,695; store.moma.org) takes its cues from camping furniture, right down to the Coleman-esque canvas upholstery and steel frame.
The assembly: Very intuitive and possible in 30 seconds. The sofa arrives in four boxes. Curved rods attach to longer ones for the frame and then slip into a canvas backrest.
The fine print: Depends on the stockist, but the MoMA Design Store charges a $250 delivery fee and accepts returns within 90 days.
What happened when we sat on it: It felt sturdy. The Can is daybed-size, with firm cushions filled with foam and feathers — it felt like stretching out on a Japanese futon.
The verdict: You're paying for the Hay name here, which is fine, although there are bigger names and glitzier options out there for a sofa from a marquee designer.
Bench Made Modern
The product: Bench Made Modern — the direct-to-consumer sister brand of founder Edgar Blazona's wholesale business, True Modern — offers a close-to-custom experience made in Los Angeles. The 54 mid-century-modern sofa styles (deep-set, almost daybed-like) lean more toward Nancy Meyers than off-campus housing.
The assembly: Sofas arrive fully assembled, and with $200 white-glove service, Bench Made drivers will deliver the sofa to the room of your choice, unwrap the piece, and carry off the packaging.
The fine print: Returns are accepted within 100 days of purchase, minus a 10 percent return-shipping fee, but within the first 14 days, you can get a full refund, including shipping.
Rove Concepts
The product: Rove began in 2011 by working with artisans and sofa manufacturers around the world to create couches they have categorized into three distinct vibes: Classics (similar to CB2), Sandro (slightly more whimsical and vaguely Italian-looking), and Kure (Scandinavian-lite).
The assembly: Sofas are largely assembled, besides the unpacking of pillows and cushions, and the screwing in of legs. White-glove service (the cost of which depends on your location) is available, but opting for it extends your wait time from 14 to 16 business days. Note that the service can travel up only a single flight of stairs.
The fine print: You can live with the sofa for 30 days before deciding whether to return it, though you will be responsible for the return-shipping costs in the original packaging. (The cost again depends on where you live.)
So why pay double the price of Ikea?
First, for solid wood and steel, which cost more than particleboard. Second, for design. Ikea pieces aren't made to withstand a move — the brackets and screws used to hold them taut and level don't come out and go back in without wear and tear. "Ikea comes with bags of hardware, and it's actually complicated," says Lothar Windels, a furniture-design professor at Rhode Island School of Design. "Stuff that's smartly engineered has six pieces instead of 50." New flat-pack sofas rely on just a few precision-cut steel parts and locking mechanisms to fit together. And last, for Amazon-like delivery. Ikea offers many things, but easy shipping's not one of them. —additional reporting by Jason Chen and Margaret Rhodes
*A version of this article appears in the February 5, 2018, issue of New York Magazine. 
The Strategist is designed to surface the most useful, expert recommendations for things to buy across the vast e-commerce landscape. Some of our latest conquests include the best women's jeans, rolling luggage, pillows for side sleepers, ultra-flattering pants, and bath towels. We update links when possible, but note that deals can expire and all prices are subject to change.
Every editorial product is independently selected. If you buy something through our links, New York may earn an affiliate commission.