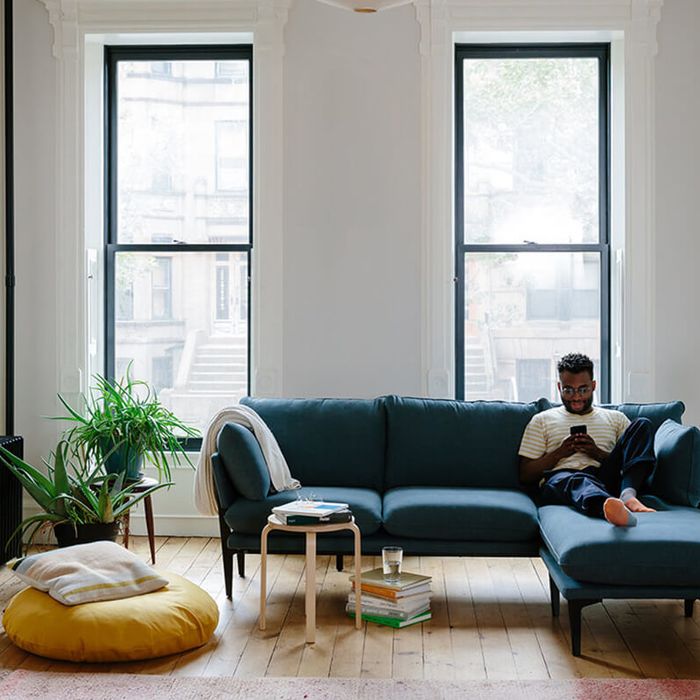 In the years since we started testing sofas-in-a-box, a steady stream of start-ups has continued to capitalize on shoppers' desires to purchase even the biggest-ticket items (first mattresses, then couches), often sight unseen, as long as the price is moderate, the website sleek, and the assembly relatively easy. As we find and test new options, we will continue to add them to this list, which last left off with our loving Joybird, as well as the custom-crafted collection by Maiden Home. We've since added Elephant in a Box, a comfortable and inexpensive (and incredibly lightweight) option that'll suit any den or finished basement. That brings us up to 10 sofas, all available to be delivered directly to your door — and assembled with relative ease.
The most sleepable
The product: The Eliot, a classic three-seat sofa with wooden legs, tufted cushions, and a traditional feel. The look is pretty versatile; we could see this fitting in well with a range of stark, modern, or eclectic decor. You can choose from 65 different coverings, from brown leather to millennial-pink velvet.
The assembly: For $99, the pre-assembled sofa can be hand-delivered and put together (basically just by screwing on the legs) in your home.
The fine print: While some models have a "Quick Ship" option, meaning they'll ship in five days, others can take up to six weeks to arrive.
What happened when we sat in it: The best part of this already exceptional sofa was the width of the seat: It's so easy to spread out and pass out on, it practically felt like a bed. That's not to say the cushions weren't comfy af. They were. They're made of foam but have a top layer that creates a cozier feel (a representative said it's made of quilt batting), and you can perceive that mix of airiness and density that the foam provides but also the coziness of the top layer.
The verdict: It definitely feels like a rival to big-name brands like West Elm, CB2, and the like. Joybird also has a robust offering of chairs, tables, and even wallpaper as well as a showroom in Brooklyn (that's following COVID-safe protocol) with very knowledgeable, friendly staff.
The best for big groups
The product: The Dune, a cozy, minimalist style that Maiden Home's founder, Nidhi Kapur (formerly of Google and Birchbox), says is the brand's best seller. It can be customized in a variety of ways at the hands of the North Carolina artisans who are Kapur's not-so-secret weapon. The brand also offers beds and chairs.
The assembly: All models arrive fully assembled and come with free "white glove" service, i.e., someone will bring it into your house for you.
The fine print: It takes about twelve weeks from order to delivery. A 30-day return policy means if you're unhappy, someone will pick it up and whisk it away.
What happened when we sat in it: Kapur says she wants the couches to have "bounce and support," and that translated to a firm cushion experience. We felt held aloft, almost as if we were riding an air bubble. Cushions are also designed with "channels" of filling so they retain their shape.
The verdict: Perhaps not quite as cool looking as Joybird's but equally exceptional in quality, the Dune has a supportive, solid feel — and that's the point. If you're looking for a squishy, mushy, enveloping couch — a real lazy, couch-potato one — this isn't for you. But if you're looking for something comfortable with a substantial feel, it is. Also: This model has a removable, washable slipcover, so it's perfect for people with kids and/or shedding pets.
The like-Ikea-but-cooler option
The product: Floyd's sofa is a flat-pack two-seater (also available in three-seater and three-seater-plus-chaise options) and the one and only couch style from the Detroit-based start-up, which also offers flat-pack beds, tables, and more.
The assembly: The sofa arrives in four boxes, and the company says it should take less than 45 minutes to build. Per the website, putting it together seems pretty straightforward.
The fine print: Ships anywhere in the mainland U.S. (i.e., no delivery to Hawaii and Alaska) for $139. Free returns within 30 days.
What happened when we sat in it: The cushions were surprisingly buoyant but also welcoming and enveloping. However, even after just lounging for a bit and moving around, we could sometimes detect the wooden frame beneath the cushions and had to readjust. It certainly wasn't uncomfortable, but we could feel the industrial frame that serves as its foundation, which could be disruptive to one's relaxation. Also the two-seater couldn't accommodate one person lying down; it's much more of a sitting couch (but the three-seater and sectional options are surely better suited to a binge-watch).
The verdict: This is a fine starter couch for someone who wants something no-frills (with slight industrial vibes) that can fit into a smaller space — a post-dorm apartment, perhaps. For that price, however, you can get much more robust options at Ikea, though they don't come with Floyd's millennial cool factor.
The best for walk-up apartments
The product: The name Elephant in a Box is based on the fact that this flat-pack couch can support more than 3,000 pounds. (The average adult African elephant weighs between 5,000 and 14,000 pounds, but we'll let it slide, because point made.) The couch manages to be so capable yet fold down so small and weigh only 94 pounds thanks to a honeycomb structure that provides lots of support with minimal material.
The assembly: Setup took less than 15 minutes, and that's from the moment we cut open the box till we sat on the couch. All you have to do is pull the two armrests apart, stretching out the honeycomb base and backrest, and then secure them with two folding metal poles. Lay down two flat folding panels, hook on the armrests, add the cushions, and you're done. It is simple and intuitive for people of all skill levels. (The company let us test and keep this sofa.)
The fine print: "Elephant in a Box will repair or replace any part of its products that are damaged during regular and intended use for the product, that are or prove defective by reason of improper workmanship or materials." The company also gives you a 30 days risk-free trial period, with free returns if you decide you don't like the couch.
What happened when we sat in it: Although our tester's wife and kids were quite comfortable, at six-foot-two, he found the back cushions to be too low and the seat not quite deep enough. Luckily there was a simple fix: A two-by-four tucked behind the lower seat cushions pushed them forward two inches, giving him room to sit much more comfortably without affecting the rest of the family. We found the cushions to be a bit under stuffed, which was easily solved by adding a few handfuls of batting.
The verdict: Considering the fantastic price, simple setup, and astonishing light weight, this is a great piece of furniture, especially with a little aftermarket customizing. It would be hard to find a better couch for people living in a walk-up apartment. Although it's not the most stylish piece, and therefore should not be the anchor of many living rooms, it is perfect for a family room, den, dorm, or playroom.
The Most Instagrammable