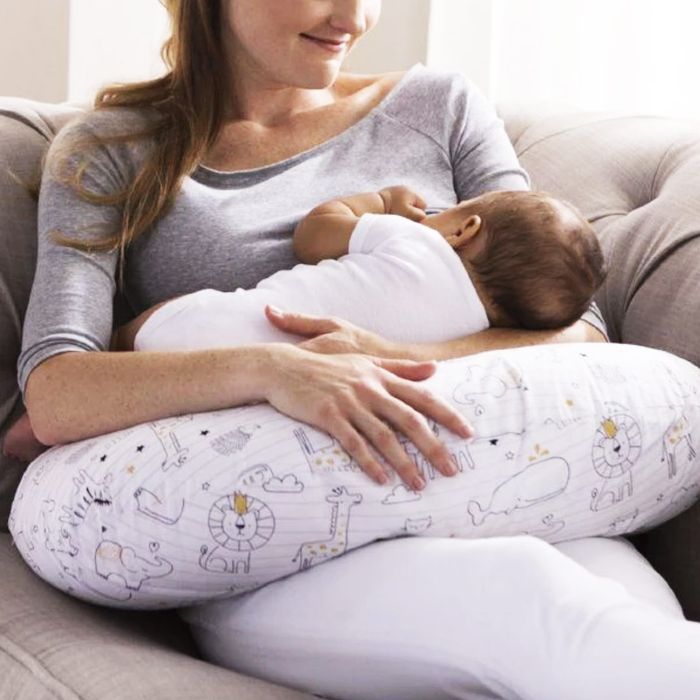 For new moms, breastfeeding your infant is one of the most difficult things to get the hang of. Engorged breasts, sore nipples, and frustration are par for the course in those early days and sleepless nights. But there are ways to make the process a little smoother — and even enjoyable — for both mother and child. One of them, according to the five experts we spoke to, is a nursing pillow.
According to Naima Beckles, a certified childbirth educator, doula, breastfeeding counselor, and the owner of birthing service For Your Birth, nursing pillows "help by allowing a baby to be propped up high and close to the breast." While Beckles and many of the other lactation counselors and consultants we spoke to agree that it is important to first learn to breastfeed in a natural position without pillows, they also say that using a nursing pillow can help take the pressure off once you've mastered the basics. To help you find the right nursing pillow for you and your baby, we asked our experts about their favorites. Below, the six nursing pillows they swear by, along with their tips on how to effectively incorporate any one of them into your breastfeeding journey.
Best overall nursing pillow
Two of our lactation professionals — Jada Shapiro, the founder of boober (a resource for parents to connect with virtual lactation consultants), and Meema Spadola, a postpartum doula and certified lactation counselor — rave about the nursing pillow from bbhugme, a company founded by three chiropractors in Norway. "The bbhugme nursing pillow is amazing because it is lightweight, super practical, easily adjusted, extremely comfortable, and is the only pillow that places a newborn at the correct height and position for breastfeeding," says Shapiro. "Most pillows leave the baby too low and force the lactating parent to bend down slightly to nurse." Spadola agrees, saying, "The bbhugme nursing pillow was perfect for shaping as needed and offered just the right amount of support."
The main pillow has an inner pillow filled with microbeads, and you can adjust the main pillow's firmness by sliding the two silicone rings on either side of it. The soft cotton cover is stretchy, and the ends tie around your waist so that it stays in place and your neck and shoulders are properly positioned. When you're not using it to breastfeed, the pillow converts into a hip carrier, giving you extra support when you're holding the baby.
Best less-expensive nursing pillow
My Brest Friend is one of the most popular nursing pillows out there, and for good reason. "This pillow helps a mom get into a great position for breastfeeding," according to lactation consultant Betty Greenman. "Furthermore, it is comfortable and sturdy." Like the bbhugme pillow, My Brest Friend attaches around the waist via an adjustable strap. It's made of a firm foam cushion that features a flat platform for the baby to rest on without rolling off, as well as a contoured back support that helps mom maintain good posture. Lactation consultant and registered nurse Stephanie Wagner, who admits that she has a love-hate relationship with breastfeeding pillows, says this My Brest Friend one is among those she loves because of its firmness. Wagner adds that the pillow is ideal for parents who have shorter waists and arms, saying that it "gets the baby level with the breast to facilitate latching." Greenman notes that the pillow also has convenient pocket for storing essentials, "like nipple cream or a bib to wipe the baby's mouth."
Best nursing pillow if you've had a C-section
Nursing pillows can be a saving grace for women who have had C-section deliveries. In fact, Beckles says that she usually only recommends nursing pillows to women who have had C-sections, "as it allows them to sit up and avoid the tender parts of their body that's healing." Wagner, owner of EverLatching Love, agrees: "Pillows can also be nice to protect little kicking feet from C-section incisions when they are still tender." Greenman says her favorite nursing pillow for women recovering from C-sections is the Nesting Pillow from Blessed Nest because, unlike the two pillows above, it doesn't attach around your waist. Instead, it's shaped like a quarter-moon and its filling — organic buckwheat hulls — allows you to easily and securely position it against your body. "This design allows the buckwheat to shift its contents around like a bean bag," she says. This means that once your baby is in the proper position, the pillow conforms to your baby's body and helps her stay put. Greenman adds that "because it fits so well around mom, it reduces neck and arm strain on her, making it more enjoyable to breastfeed." While she specifically recommends it for women who have had C-sections, she says it works great for all nursing moms. The buckwheat-hull insert is made of organic cotton, and the removable slipcover is made from organic French terry and sateen cotton.