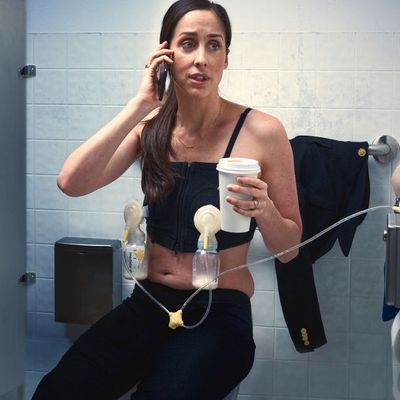 Photo: Photo courtesy of Netflix
Every mom tells you that pumping is the worst part of going back to work. As someone who recently returned from maternity leave, I agree 1,000 percent. Pumping is labor intensive, requires special equipment and a private space, and takes so much time. It can also be emotionally draining. But if feeding your baby breast milk while you're away is a priority, then there's really no way around it. To help streamline the process and make it less of a pain, I spoke to five lactation consultants about their favorite hacks and products that make pumping more efficient and, well, less sucky.
Best electric pumps
First, start with a reliable pump, says Meema Spadola, a Certified Lactation Counselor and postpartum doula. The Spectra is a favorite among the lactation consultants I spoke to (and is also the one that I use), and it's available in a cordless version as well. According to Spadola, the Spectra has a more comfortable action than the Medela, the other popular pump. "People who have used both Medela and Spectra say that the Spectra is smoother and less jagged. It's a lot quieter. And because it's a closed system, you could share it with a friend or coworker," she says. Clients tell her that it helps them pump more milk. Betty Greenman, an internationally board-certified lactation consultant (IBCLC), agrees, saying that it's "soothing and simulates baby sucking." Many pumps, like the Spectra, are often covered by insurance, so call your insurance company to see if you can get one for free through them. It's also a good idea to have an extra pump. "Many parents will keep one pump at work and one pump at home so they don't have to carry a pump back and forth every day," says ICBLC lactation consultant Stephanie Wagner.
There's a crop of new pumps on the market that promise a more discreet, in-your-bra, on-the-go pumping experience. "Elvie is another pump I'm getting good feedback about," says Spadola. "It's completely portable and less fussy than the Willow, whose bags are too small. If money is not an object, it is an amazing option." (The newer pumps are often not covered by insurance.) Jada Shapiro, founder of Boober, a digital platform where expectant and new parents find in-person maternal care services, also finds it to be a convenient option. In fact, her office manager was wearing it the other day and working without her even noticing. "Because it's wireless, you can pop into your bra and it's almost silent," she says.
Best manual pumps
It's also a great idea to have a manual breast pump. "If you are a person who is not keeping up a full milk supply, or simply want to keep a pump in your purse because you're running around all day, having a manual hand pump is one of the best ideas," says Shapiro. "It's always good to have manual devices in case batteries die or the electricity goes out." She recommends the Philips Avent hand pump for its soft and flexible silicone "petal" flange that massages the breast during pumping. "Some people respond to a manual/hand pump and like it better than electric pumping," says Wagner.
For something more passive and even more portable, Shapiro and Greenman recommend the Haaka, a silicone breast pump that attaches to the breast via suction. "It's very simple. It suctions onto you and can catch spilling breast milk," says Shapiro. Greenman seconds that: "It is easy, portable, and efficient to get milk out." Wagner also agrees that suction pumps can be helpful for some clients: "These are great to attach to one breast while a baby is feeding on the other one, or can be helpful for parents who leak a lot while feeding or between feeds. By using a suction/milk collector pump, I have had clients be able to collect a couple ounces that they may have lost by leaking otherwise."
Best pump accessories
Pumps come with bottles that you pump directly into, but that requires transferring the expressed milk into either bags for freezing and storage, or into the bottles that your baby will ultimately be drinking from. This transfer can be messy, risky, and inconvenient. If you want to avoid all that, Spadola suggests trying the Kiinde system, which streamlines this process by combining everything into one pouch. Using the appropriate adapters for your pump brand, you can express milk directly into the pouch then either put that in the freezer for later use, or insert it into the accompanying feeding-bottle holder and give it to your baby. "It's expensive, but time is money," says Spadola. "If it's going to decrease your stress level and help you pump enough, then use the bags. There's no hacking about it. It is set up to do what it does." One major downside to the Kiinde system that Spadola doesn't like is that the pouches are more expensive than regular milk storage bags and that it uses a lot of plastic, as the pouches are one-time-use only. Wagner also says that her clients are liking the Kiinde system.
You can also just pump directly into milk storage bags, says Spadola, using a rubber band to secure it to the pump. "It's old-fashioned and free," she says. Spadola cautions to move slowly, though, as this method is not as secure as using bottles. "Medela, Dr. Brown's, and Lansinoh put out nice sturdy and easy-to-use bags to store your breast milk," says Greenman. I personally use Lansinoh bags and haven't had any issues with them. Wagner also finds that bags are the better option for milk storage: "I almost always recommend storing milk in human milk storage bags versus bottles, as most New Yorkers do not have freezer/fridge room for lots of bottles, and the bags stack nicely and take up less room. Most of the brands out there are good."
If you ever find yourself without an electric or manual pump, you can always use your own hands to express milk. Spadola and Naima Beckles, a childbirth educator, doula, breastfeeding counselor, and co-founder of For Your Birth and partner in sister company City Births, both recommend Francie Webb's book and agree that learning to hand-express milk is a crucial skill. "Get milk out with your hands. This is such a good skill to have — no parts to clean and embarrassing motor sounds. The Milkin Mama Francie Webb wrote a book about the basics and benefits and is a really great resource. Her website has videos and easy online classes." Spadola adds, "Having that power means that if you don't have a pump or are missing something, you can use your own two hands to get milk out of your breasts."
Best products for pump hygiene
"There are great wipes, sprays, and cleaning products that can be used to wipe down pump parts quickly and get the sticky milk off of them that are baby safe if someone doesn't have time to wash with soap and water," says Wagner. A fellow pumping colleague uses these Medela wipes between pumps for a quick clean up after each session.
To sterilize on the go, Greenman recommends Medela's microwaveable steam bags: "It is hard enough to find time to pump. Medela has a microwavable bag to sterilize pump parts in one quick, easy step."
To save time pumping at work, every lactation consultant we spoke to recommends putting your pump parts in a Ziploc bag and sticking them in the fridge between sessions instead of washing and drying them each time you use them. "All pump parts (except tubing) can be refrigerated in a plastic sealed bag between pumping sessions and given a good clean at the end of the day," suggests Wagner. "Refrigerating pump parts between sessions lessens the risk of bacteria growth if you don't have time to clean them every time." Beckles agrees, adding that "this is a good tip for night-time pumping as well."
Best pumping bras
"A hands-free pumping bra is another necessity to have," says Greenman. "Wearing this allows you to have time to multitask and work while you pump. My favorite is from Simple Wishes. This bra has an impeccable design with maximum support. It helps you to be more productive while pumping." Spadola agrees: "Simple Wishes is a good brand that works with many different pump brands, since all of the flanges don't work in the same way." Another benefit of wearing a hands-free bra is the ability to massage your breasts while you're pumping: "Absolutely learn how to do hands-on pumping," advises Spadola. "If you're a person who needs to massage your breasts the whole time to get good milk flow, sometimes you literally need your hands on your boobs to try get the milk to flow," says Shapiro. Wagner agrees: "I would encourage massaging the breast before and during pumping — a hands free pumping bra is essential for this — to help maximize output."
Here's another hands-free pumping bra that Shapiro likes for its simplicity. "Larken is all about having seamless bras that are not irritating," she says. "They don't have elastic, snaps, or zippers, and you can both pump and/or breastfeed in them. You never have to change into or out of it." This all-in-one bra helps you save time at the office.
There's even a new bra that can do the massaging for you. "The Lilu actually helps you produce more breast milk, as it manually massages your breast while pumping. People report increased output after using that," says Shapiro.
Best breast and nipple accessories for pumping
For the overproducers and leakers, Shapiro says that "Bamboobies has a great line of super-thin, super-soft nursing pads made of bamboo. It's not fun to have big splotches all over their shirts. They're also washable."
Here's another way to catch extra milk output, according to Shapiro. "People who find themselves leaking all day and also don't have a huge milk supply can't waste a single drop. You can leak into this to capture and store milk," she says. These plastic shells go into your bra and stay put, doubling as protective shells to keep your nipples from chafing against your bra.
For those experiencing nipple irritation, a boob lube can be a great relief. "Motherlove nipple cream is good to have because lubricating the areolas with nipple cream before pumping helps minimize friction and soothe your nipples," explains Greenman.
Best insulated bottle bags
Finally, you need a way to keep expressed milk cool during the commute home. "As long as it keeps the milk cool and the pumped milk does not get warmer than body temperature throughout the day, then it is fine to use," says Wagner. Greenman recommends Medela's cooler bag: "This is designed to store your breast milk and keeps it cool for many hours."
I personally use this Skip Hop bag and like the fact that it's narrow and comes with a freezer pack.
Our editor Alexis Swerdloff got this cool Carhartt lunch box that doesn't look "baby" at all after seeing that the Cut's fashion director Rebecca Ramsey had it. It's got a large top compartment and an outside pocket, too, and fits more bottles than the two above.
The Strategist is designed to surface the most useful, expert recommendations for things to buy across the vast e-commerce landscape. Some of our latest conquests include the best acne treatments, rolling luggage, pillows for side sleepers, natural anxiety remedies, and bath towels. We update links when possible, but note that deals can expire and all prices are subject to change.