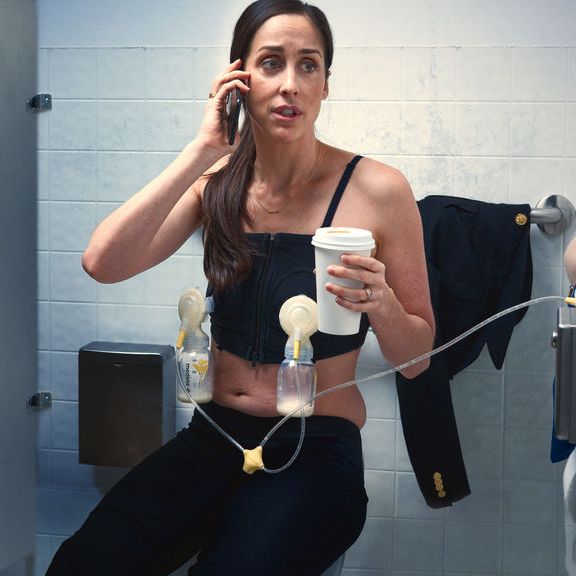 Photo: Photo courtesy of Netflix
Every mom tells you that pumping is the worst part of going back to work. As someone who recently returned from maternity leave, I agree 1,000 percent. Pumping is labor intensive, requires special equipment and a private space, and takes so much time. It can also be emotionally draining. But if feeding your baby breast milk while you're away is a priority, then there's really no way around it. To help streamline the process and make it less of a pain, I spoke to five lactation consultants about their favorite hacks and products that make pumping more efficient and, well, less sucky.
Best electric pumps
First, start with a reliable pump, says Meema Spadola, a Certified Lactation Counselor and postpartum doula. The Spectra is a favorite among the lactation consultants I spoke to (and is also the one that I use), and it's available in a cordless version as well. According to Spadola, the Spectra has a more comfortable action than the Medela, the other popular pump. "People who have used both Medela and Spectra say that the Spectra is smoother and less jagged. It's a lot quieter. And because it's a closed system, you could share it with a friend or coworker," she says. Clients tell her that it helps them pump more milk. Betty Greenman, an internationally board-certified lactation consultant (IBCLC), agrees, saying that it's "soothing and simulates baby sucking." Many pumps, like the Spectra, are often covered by insurance, so call your insurance company to see if you can get one for free through them. It's also a good idea to have an extra pump. "Many parents will keep one pump at work and one pump at home so they don't have to carry a pump back and forth every day," says ICBLC lactation consultant Stephanie Wagner.
There's a crop of new pumps on the market that promise a more discreet, in-your-bra, on-the-go pumping experience. "Elvie is another pump I'm getting good feedback about," says Spadola. "It's completely portable and less fussy than the Willow, whose bags are too small. If money is not an object, it is an amazing option." (The newer pumps are often not covered by insurance.) Jada Shapiro, founder of Boober, a digital platform where expectant and new parents find in-person maternal care services, also finds it to be a convenient option. In fact, her office manager was wearing it the other day and working without her even noticing. "Because it's wireless, you can pop into your bra and it's almost silent," she says.
Best manual pumps
It's also a great idea to have a manual breast pump. "If you are a person who is not keeping up a full milk supply, or simply want to keep a pump in your purse because you're running around all day, having a manual hand pump is one of the best ideas," says Shapiro. "It's always good to have manual devices in case batteries die or the electricity goes out." She recommends the Philips Avent hand pump for its soft and flexible silicone "petal" flange that massages the breast during pumping. "Some people respond to a manual/hand pump and like it better than electric pumping," says Wagner.
For something more passive and even more portable, Shapiro and Greenman recommend the Haaka, a silicone breast pump that attaches to the breast via suction. "It's very simple. It suctions onto you and can catch spilling breast milk," says Shapiro. Greenman seconds that: "It is easy, portable, and efficient to get milk out." Wagner also agrees that suction pumps can be helpful for some clients: "These are great to attach to one breast while a baby is feeding on the other one, or can be helpful for parents who leak a lot while feeding or between feeds. By using a suction/milk collector pump, I have had clients be able to collect a couple ounces that they may have lost by leaking otherwise."
Best pump accessories
Pumps come with bottles that you pump directly into, but that requires transferring the expressed milk into either bags for freezing and storage, or into the bottles that your baby will ultimately be drinking from. This transfer can be messy, risky, and inconvenient. If you want to avoid all that, Spadola suggests trying the Kiinde system, which streamlines this process by combining everything into one pouch. Using the appropriate adapters for your pump brand, you can express milk directly into the pouch then either put that in the freezer for later use, or insert it into the accompanying feeding-bottle holder and give it to your baby. "It's expensive, but time is money," says Spadola. "If it's going to decrease your stress level and help you pump enough, then use the bags. There's no hacking about it. It is set up to do what it does." One major downside to the Kiinde system that Spadola doesn't like is that the pouches are more expensive than regular milk storage bags and that it uses a lot of plastic, as the pouches are one-time-use only. Wagner also says that her clients are liking the Kiinde system.
You can also just pump directly into milk storage bags, says Spadola, using a rubber band to secure it to the pump. "It's old-fashioned and free," she says. Spadola cautions to move slowly, though, as this method is not as secure as using bottles. "Medela, Dr. Brown's, and Lansinoh put out nice sturdy and easy-to-use bags to store your breast milk," says Greenman. I personally use Lansinoh bags and haven't had any issues with them. Wagner also finds that bags are the better option for milk storage: "I almost always recommend storing milk in human milk storage bags versus bottles, as most New Yorkers do not have freezer/fridge room for lots of bottles, and the bags stack nicely and take up less room. Most of the brands out there are good."