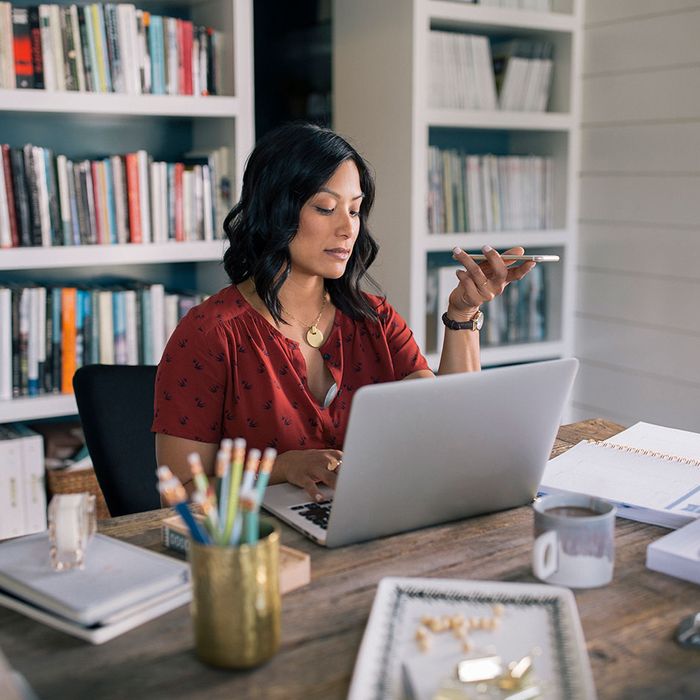 Photo: The Willow breast pump in action.
Electric breast pumps are not great, mostly because women have historically had just two choices — the Spectra or the Medela — neither of which is bad, necessarily, [Editor's note: we've written about the Spectra before] but neither of which could be called discreet or portable either. (The Medela also evokes something of a dairy-cow experience.) But in just the last year or two, a trio of innovative new breast pump options hit the market, all upending the market by promising a discreet experience — quieter, portable options you can wear while getting on with the rest of your life. To find out which one is actually the best, I called in the big ones (as well as the Naya, which, actually, was my least favorite and has since been discontinued) and tested them out to see — each of them had their pros and cons, so I'll let you decide for yourself.
Pros: The best part of the Freemie Liberty is that it's almost silent when it's on. It's also super lightweight (if you're considering the Nuk, it's the same pump under a different name), and I found it to be the easiest to clean of the three. It's also the least expensive. It's truly hands-free, unlike other breast pumps I tried (like the Naya). You can move around while wearing it and wear any nursing bra you have. And this may be a small pro, but you charge it with a standard micro-USB charger, which even my sleep-deprived brain can always find. One thing I really liked was that it's eco-friendly — you pour directly from the pump into a bag or bottle, which is especially great if you're going to use the milk right away.
Cons: The setup was challenging. (I needed to call customer service) and the tube that fuels the pump is very long and kind of got in my way, which also means it's not as discreet under clothing as the other hands-free options I tried. It's also not quite as "smart." The control panel isn't very intuitive (for example, the 0 setting is actually the strongest suction, for some reason?), and it'd be easier to use if it had an accompanying app like the other pumps do. Of the ones I tried, it is shaped the least like a natural breast, so it looked a little more conspicuous than the others, as well.
Pros: The Willow was my favorite pump for usability. You just wear it and let it suckle — everything else is done with the smart app, which tells you how much you pump during each session in real time and keeps a running log of all your past sessions. Once I got the hang of it, the Willow yielded the most milk for me in the shortest amount of time, and isn't that the ultimate goal of pumping? I felt I could do almost anything while wearing it — brush my teeth, sit at my computer, wash dishes — and it was really easy to use on the go, like on an airplane or in a car (as long as I wore a poncho over it). I'm busty, so it wasn't as discreet on me as the company advertises it to be, but I imagine if you had smaller boobs it would be even easier to camouflage. I work from home, but for returning-to-work mamas, this is a great choice. You wouldn't even have to go to a pumping room.
Cons: The Willow can be super-wasteful because each time you pump, you have to use one of its own milk-storage products — on each side! When you buy the pump, the included storage products are nonreusable bags (that retail for $11 for a 24-pack). Sometimes I was pumping just to feed my kid immediately, and it was annoying to have to use two bags that I instantly threw away. But the company just launched reusable milk containers for the Willow 2.0 that are sold separately and don't require bags. If you have the system, you can buy the new containers, then pump either into them, allowing you to pour milk out immediately, or into the bags, if you want to save and/or freeze the milk. The Willow is uncomfortable — there's a definite pinching — but for the speed and ease, I felt that was a fair trade-off. It was also the hardest to clean because the parts are weirdly shaped and sized, and it needs its own specific charger (for some reason, it comes with only one, so you can't charge both pumps at the same time). You also can't skip the "stimulation mode" that primes the breast for pumping; you have to wait until the pump uses its "technology" to determine that you are done with stimulation and ready to move on to expression. For day-to-day, though, the Willow was my go-to for speed.
Photo: Courtesy of the vendor
Willow's new reusable containers each hold up to four ounces of milk and are compatible only with the Willow 2.0, according to the brand.
Pros: The Elvie got a ton of hype after a model wore it on the runway during London Fashion Week, and all the articles touted that it was totally silent. After getting my hands on a sample I can confirm that it is extremely quiet — definitely quieter than the Willow, to which it is very similar in design and functionality. It was almost as quiet as the Freemie, and I loved that the milk collected into a removable, reusable bottle instead of a disposable bag. It's also smaller and easier to get the hang of than the Willow — there's no complicated process to stop pumping and because the breast shields and the bottles are transparent, it's easier to tell whether you have it on right. I also appreciated that it comes with two chargers and extra parts for when you don't have time to clean everything thoroughly between sessions. The shape is also the most compact and clean, and it laid the flattest against my body of the bunch. The quietness coupled with the design made it the most discreet option I tried.
Cons: The suction isn't as strong, so it wasn't as speedy at collecting milk as the Willow, which is my top priority. There is a connected app that allows you to control the suction and toggle between stim mode and expression, but it doesn't tell you how much has been collected so you have to enter the amount manually. You'd need to be somewhere where you can comfortably peek all the way into your bra to see if the bottle is full, which isn't that discreet. [Editor's note: The price below is for a set of two pumps; you can also buy a single pump from Elvie for $279.]
The Strategist is designed to surface the most useful, expert recommendations for things to buy across the vast e-commerce landscape. Some of our latest conquests include the best acne treatments, rolling luggage, pillows for side sleepers, natural anxiety remedies, and bath towels. We update links when possible, but note that deals can expire and all prices are subject to change.
Every editorial product is independently selected. If you buy something through our links, New York may earn an affiliate commission.