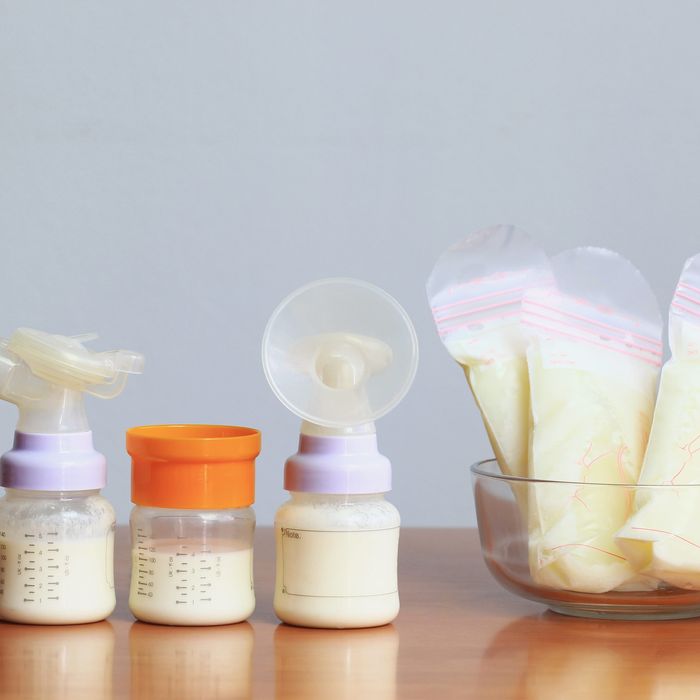 Photo: MonthiraYodtiwong/Getty Images/iStockphoto
While we've written about lots of things to help new moms with breastfeeding — like this massager that helps clear milk ducts and discreet electric breast pumps — here, we rounded up seven comfortable, easy, and hands-free pumping bras for work or home. And while you're in the market for things that make life easier, we also have choices for baby monitors, nursing bras, and baby sound machines.
Related Articles: A Baby Monitor Without WiFi | Best Discreet Breast Pumps
Best-rated hands-free pumping bra
Thousands of reviewers swear by this hands-free pumping bra for its adjustability and the "perfect fit" it provides for all sizes. "This bra will fit just about anyone because there are so many different ways to adjust it for your body type," writes a reviewer. Another explains, "There is soft padded velcro across the whole back to make it exactly as small or big as you want it, and they provide an extra 1.5 inches of fabric with a zipper extender you can add to the front in the middle to space the holes a bit wider apart." It's "great for big boobs," too. This reviewer, who is a size 44DDD, says that she has "plenty of room to grow, and it helps for when I've gone a while without pumping when my breasts are [engorged]."
Best-rated (less expensive) hands-free pumping bra
"This is a game changer," writes a reviewer. "I couldn't live without this bra," says another. "Life altering" and "life saver" are other terms reviewers have used to describe the convenience of this hands-free pumping bra. "The pump doesn't move and I'm able to use the computer, fold laundry, etc. When I need to pump and nurse at the same time, I just pull down the other side," explains one multi-tasking mom. "I have been able to calm, hold, cradle my little one without having any (additional) interruptions in my pumping. I have even held her to my chest to rock her while wear this. The flanges do not move," writes another. "If not for this pumping bra I'm not sure I would've made it as long as I have. Taking time to pump at work is very time-consuming. But, with this bra I can work hands-free," attests another. This reviewer agrees, saying that the bra made her a "better pumper because now I am hands-free." It's comfortable, too, as this satisfied customer explains: "This bra not only fits perfectly for my large breasts, it is comfortable enough I sleep in it! It is also the easiest to put on/zip up of the ones I've tried." Reviewers also call out the fabric, saying that it is "good quality," "nice and breathable," and "stretchy," making it easy to insert and take out the flanges. The stretchy fabric also "makes great suction power" and provides "strong compression."
Best adjustable hands-free pumping bra
Over 1,800 reviewers give this pumping bra five stars, with hundreds calling out the adjustable band. "When you get home from the hospital, you're obviously going to need a bigger size than you will weeks later. This bra saves you from needing multiple bras," explains a reviewer. The ability to resize is helpful "as your body and breast size change postpartum," writes another. The "multiple methods of adjustment" also allows one user to have "a snugger/firmer seal when pumping while still being hands free." Another attests, "The velcro is strong and the sizing is extremely customizable for a good fit, from the wrap tightness on your torso, to the optional straps." Hundreds of reviewers also agree that it is "comfortable," with one saying that "it feels like you're wearing a sports bra." Also, "it literally is hands-free," making it ideal for the office and multi-tasking: "It holds the flanges on so securely that you can hand-express, fold laundry, collate papers, or whatever it is you have to do while pumping without them moving an inch." "It makes pumping less of a chore and helps maintain productivity at work," according to one reviewer. She adds: "Honestly if I didn't have it, I am not sure that I would have continued to breastfeed after I returned to work." Agrees another, "Makes a tedious task less taxing."
Best easy-to-use hands-free pumping bra
Hundreds of reviewers agree that this hands-free pumping bra is "easy and effective" and "super easy to get on and off." One reviewer writes, "No silly bells and whistles. Just a velcro strap with slits for breast shields and another strap to put around your neck." And another explains, "What makes this SO easy is that it has Velcro, so all you have to do is put it around your waist, attach the ends of the strap so it's tight enough, put the flanges through, and pull it up over to where they are supposed to fit." Customers also like the neoprene material, which one describes as being "strong and secure and really holds the pump very well especially if you are very large-chested." "I love the material," writes another. "The outside seems to have a slight moisture barrier to prevent any leaks from soaking right in. It's comfortable, and most importantly, it holds everything in place better than any other pump bra I've used."
Some reviewers even found that the snug fit provides good compression. According to this reviewer, "I find that the compression not only grants me hands free use, but also helps me to get closer to fully 'emptying' each pump session without having to pump as long." This customer agrees, saying that "I respond better to pressure/compression while pumping, and I like that I can make this bra really tight — I couldn't get any of the other bras I tried tight enough." As this reviewer concludes: "Definitely get this if you're looking for a true hands-free pumping bra! I tried others, but this is the only one that worked. Plus, the openings for the flanges are nice and long, so your nipple doesn't have to be in EXACTLY the right spot for them to fit (another problem I had with other bras)."
Best clip-on hands-free pumping bra
"I'm convinced this is one of the smartest pumping bras out there — it attaches to your existing nursing bra very easily and the design lets you slip the pumping flanges into the bra while you wear it," says this reviewer. Hundreds of others agree that it's convenient, and although it is meant to be used with the brand's nursing bras, customers find that it can be clipped on to just about any nursing bra, as this customer explains: "Besides being able to be 'hands-free,' the part that I love the most is that you don't have to wear a certain pumping bra. It easily snaps on to any nursing bra, camisole, or jammies you own — which is SO convenient!" "It attaches quick and easy without removing my other bra or tank and connects to anything with a nursing clip," says another. As this reviewer sums it up: "It basically converts your nursing bra into a pumping bra. It is easy to use and it works."
Best patterned hands-free pumping bra
Believe it or not, the pattern on this hands-free pumping bra is what appealed most to reviewers. Many new moms complain that pumping bras are typically dull-looking, so these reviewers appreciated that PumpEase brought a little joy to a slightly uncomfortable process. "The fun pattern brings me a smile, much appreciated when pumping three to four times a day," writes one mom. "I couldn't live without it." But reviewers also say it actually works extremely well. "Cute patterns aside, the hooks are actually easier to close than a zippered style (in my opinion) and there is no risk of wrecking your clothing by getting it snagged in a zipper or Velcro," says one mom who owns three different pumping bras and likes this one best. She even ordered a second one. And she's not the only one who bought more after testing it out. One mom bought two and plans to buy another one because, "The fit is accurate and holds the flanges in place well. The bra is well made and washes well. The bra is easy to put on and take off all while still wearing my clothes." Plus, she just loves "the turquoise color and swirl pattern."
Best hands-free pumping bra with cups
Most pumping bras basically look like sports bras or bralettes, but this Lupantte one has built-in cups, giving it more shape. But according to dozens of moms, it's still just as comfortable as the other options. "It is nice that you can also nurse with this bra, and the cup shape is actually flattering," says one mom who was "pleasantly surprised with how soft this bra is." Because of the layered fabric, she says it's still "easy to get the pump flanges in and out," yet she doesn't feel lumpy or unattractive wearing it. Another customer calls it "so comfortable and easy to use," and she thinks it actually has better support than the other options. And she feels confident enough in it that she "wears it outside the home." Plus, it's even helpful for "working moms" who need easy, practical items with a new baby, according to one reviewer. "It's liberating as a working mom. I can feed off one side and pump from the other and faster pumping setup while at work because of the way the bra is made." She currently only owns one but plans on buying more to wear for the rest of her time breastfeeding.
The Strategist is designed to surface the most useful, expert recommendations for things to buy across the vast e-commerce landscape. Some of our latest conquests include the best acne treatments, rolling luggage, pillows for side sleepers, natural anxiety remedies, and bath towels. We update links when possible, but note that deals can expire and all prices are subject to change.
Every editorial product is independently selected. If you buy something through our links, New York may earn an affiliate commission.