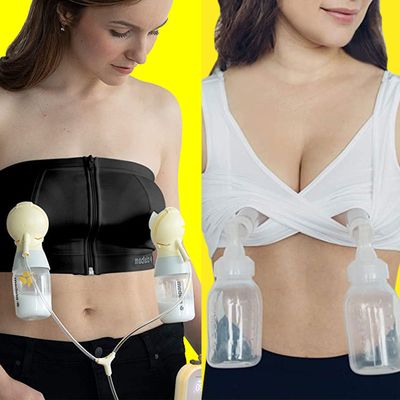 Photo-Illustration: The Strategist; Photos: Retailers
Whether you're pumping at work or at home (or while working from home), a hands-free pumping bra can help make the process a lot more comfortable. Betty Greenman, an internationally board-certified lactation consultant, or IBCLC, says that a hands-free pumping bra is a necessity because it "allows you to have time to multitask and work while you pump." But the best bra for pumping is different for every mom, ranging from a low-tech Velcro option to something that'll massage your breasts while they pump.
To help you find the best hands-free pumping bra for your specific needs, we rounded up all the bras that lactation specialists, parents, and other pregnancy experts have recommended to us in previous Strategist stories. Then we consulted our data to determine which hands-free pumping bras our readers have purchased the most over the past three years. The bra that had the most expert recommendations and was among our most-sold products was named the best overall. All of the hands-free pumping bras below were either recommended to us by experts or bought at least 1,000 times over the past three years. They're organized by the attribute experts and reviewers mentioned the most about the bra, whether that be an easy-to-use zipper closure or a nonirritating seamless design.
Best overall | Best less expensive | Best clip-on | Best zippered strapless | Best Velcro strapless | Best versatile | Best bralette | Best seamless | Best massaging | Best stylish 
Nursing and pumping versus pumping only: Some bras have a two-in-one design that lets them function as both nursing and pumping bras, meaning you don't have to put a separate bra on when you want to pump. Others are made only for pumping and must be worn either alone or over your nursing bra.
Type of closure: Closure type is a personal preference. If you'll be fitting in pumpings during the workday (and don't want a two-in-one nursing and pumping bra), you may want a closure that makes putting the bra on and taking it back off quick and easy, like a zipper or Velcro closure. If you'll be wearing the bra all day, you may be fine with a classic hook-and-eye closure. Some bras have other closure types such as buckles.
Best overall hands-free pumping bra
Zipper closure | Pumping only
Two lactation experts — Greenman and Meema Spadola, a certified lactation counselor and postpartum doula — recommend Simple Wishes' pumping bras. "Simple Wishes is a good brand that works with many different pump brands, since all of the flanges don't work in the same way," Spadola said in our previous reporting on how to pump at work. In that same article, Greenman says, "This bra has an impeccable design with maximum support. It helps you to be more productive while pumping." It's a favorite among Strategist readers with nearly 4,000 purchased between 2019 and 2022. (But if you'd like a bra that works for nursing and hands-free pumping, Greenman also likes Simple Wishes' All-in-One Nursing & Pumping Bra, which costs around $10 more.)
Best (less expensive) hands-free pumping bra
Hook-and-eye closure | Nursing and pumping
This was the bra our readers purchased the most over the past three years with over 9,500 bought from 2019 to 2022. (That's over double the quantity purchased of our next-most-purchased bra, which sold just under 4,000.) The two-in-one bra provides a secure fit for hands-free pumping, but it comes with convertible straps and a detachable clip design that make it ideal for nursing too. Amazon users who have purchased the bra note that those straps make it ideal for anyone nursing at work or on-the-go, as they can wear this bra all day and not need to change into a strapless pumping bra. At half the price of our best overall, this bra is an affordable, crowd-pleasing option.
Best clip-on hands-free pumping bra
Hook-and-eye closure | Pumping only 
Bravado's Clip and Pump bra was the second-most-purchased bra among Strategist readers between 2019 and 2022 with just under 4,000 bras purchased. It's ideal for people who don't want to switch bras when they pump but don't want to wear a pumping bra around all day either. The Bravado gets attached over your regular nursing bra so that when you're ready to pump, you can just pull your nursing bra down, insert a bottle into the Bravado, and pump in privacy. The Clip and Pump is meant to be worn over Bravado's nursing bras, but users who have purchased it note that it works with just about any nursing bra.
Best zippered, strapless hands-free pumping bra
Zipper closure | Pumping only
For a strapless bra that's easy to quickly put on when it's time to pump, this zippered one is a well-liked option. It was our fourth-most-purchased bra over the past three years with over 2,500 of them bought by Strategist readers. The stretchy material and front zipper make it quick and easy to put on and comfortable to wear. The brand notes that the bra is meant to have a snug fit, so while it may initially feel tight, it provides a strong, secure fit to keep the bottle in place while you pump.
Best strapless hands-free Velcro pumping bra
Velcro closure | Pumping only
Another hands-free pumping bra that's well liked for its ease of use is this strapless velcro bra from Pump Strap, which was our fifth-most-purchased hands-free pumping bra — 1,566 bought — since 2019. The one-size-fits-all bra is about as simple as they come: just a nylon strap with slits for pumping bottles. The velcro closures let you adjust the bra's tightness according to your breast size and make it easy to take on and off. It also comes with a neck strap to help keep the bra in place while you pump. And if you're looking for color, this bra comes in five colors: beige, black, pink, purple, and turquoise.
Best versatile hands-free pumping bra
Zipper closure | Pumping only
If you don't know your bra size, already have a nursing bra you love, or want a pumping bra that works with just about any breast pump, the D Lite bra from expert-approved brand Simple Wishes checks all three boxes. The bra, which was our sixth-most-sold bra with 1,535 purchases, has a Velcro back panel that lets you adjust the size up to ten inches — great for adjusting to the body's changing shape during breastfeeding. For an even better fit, order the zip-in one- or two-inch center panels (the brand says the panels are free but must be ordered and shipped separately). The D Lite bra slips on over your existing nursing bra and, according to the brand, is compatible with all breast pumps including Medela, Spectra, Lansinoh, and Ameda. The bra can be worn strapless or with the included straps for additional support.
Best hands-free pumping bralette
Hook-and-eye closure | Nursing and pumping
If you prefer a bralette, this stretchy (yet supportive) pumping bralette looks and feels like a regular bra, so it can stay on before and after pumping. In the past three years, our readers purchased 1,346 of these Kindred Bravely bras, making it our seventh-most-sold hands-free pumping bra. Its EasyClip design lets you easily transition from nursing to pumping. Reviewers say it's especially great for those who need to pump at work as it's comfortable enough to wear all day and doesn't require them to change into a different bra or add on a pumping bra when they need to pump.
Best seamless hands-free pumping bra
Hook-and-eye closure | Nursing and pumping
Jada Shapiro, the founder of Boober, a digital platform where expectant and new parents can find in-person maternal-care services, likes this bra for its simplicity. "Larken is all about having seamless bras that are not irritating," she says. "They don't have elastic, snaps, or zippers, and you can both pump and/or breastfeed in them. You never have to change into or out of it."
[Editor's note: The Larken X is currently sold out in all colors, but you can enter your email on the product page to be notified when it's back in stock.]
Best massaging hands-free pumping bra
Buckle closure | Pumping only
"If you're a person who needs to massage your breasts the whole time to get good milk flow, sometimes you literally need your hands on your boobs to try get the milk to flow," says Shapiro. This bra can do the massaging for you. "The Lilu actually helps you produce more breast milk as it manually massages your breast while pumping. People report increased output after using that."
Best stylish hands-free pumping bra
Hook-and-eye closure | Nursing and pumping
Strategist contributor Sarah Wexler says this bra saved her from "pumping hell" when she had her first son a few years ago. "He had a tongue tie," she says. "We had the procedure done to remove the tiny bit of skin that restricted his tongue's movement, but that inhibited his ability to breastfeed," which meant she needed to pump — a lot. This bra is a two-in-one that works for nursing and pumping, which makes it great for anyone who needs to do both in the same day. But importantly, Wexlery says, it actually looks sexy. "Having a baby can make you feel desexualized by society. You don't also need to feel like a granny in the process. This bra's black lace let me say to myself that, even though my boobs were now a thing that made food for my baby, they were still mine."
Some more Strategist-approved products for people who are breastfeeding
• Betty Greenman, internationally board-certified lactation consultant
• Jada Shapiro, founder of Boober
• Meema Spadola, certified lactation counselor and postpartum doula
• Sarah Wexler, Strategist contributor
The Strategist is designed to surface the most useful, expert recommendations for things to buy across the vast e-commerce landscape. Some of our latest conquests include the best acne treatments, rolling luggage, pillows for side sleepers, natural anxiety remedies, and bath towels. We update links when possible, but note that deals can expire and all prices are subject to change.
Every editorial product is independently selected. If you buy something through our links, New York may earn an affiliate commission.