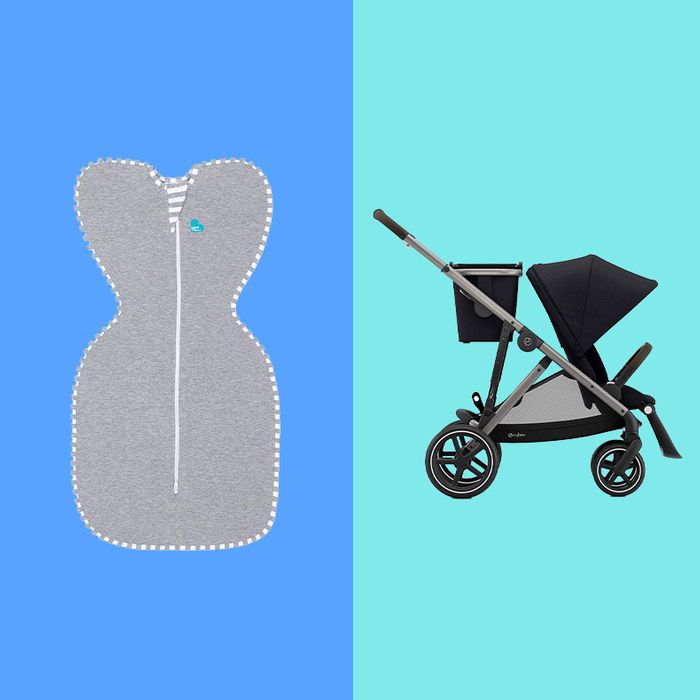 Registries are often wasted on soon-to-be parents. In this series, cool new(ish) moms and dads tell us about the stuff that's actually worked for them in the time since they had a kid. In other words: If they could do their baby registry all over again, here are the items that would top the list.
When model and entrepreneur Ashley Graham gave birth to twins Malachi and Roman this year, she went from being a mom of one, Isaac, to a mom of three overnight. "A couple of my girlfriends who have three kids say, 'Oh, when you go from two to three, it's so easy. Just tack on another kid,'" she says. "And I said, 'Yeah, well, do you know about one to three?'" She's risen to the occasion, and the biggest lesson she's learned this time around is to be patient. "What I wish I would have done was get what I needed as I needed it and not buy it preemptively," Graham says. "You just don't know what your kid is gonna like and not like. So instead of overpreparing, just get the basic needs." Her other tip is using Affirm, for whom she's a spokesperson, to pay off investment purchases over time. Below, Graham shares her essentials, including the swing her firstborn hated that one of her twins loves and the swaddle wrap she wishes she knew about sooner.
If you know that you're going to grow your family, this is a great stroller to get. I used it with Isaac, and I can still use it with the twins. I tried other comparable strollers, but the reason I stuck with this one is because they have so many different features. They have a burly you can stick on the back of your bike, they have one you can strap like a belt around your waist and you can go running or walking with it. It can also fit three kids, which I've been testing out lately. I can put my twins in the base, and then there's an attachment Isaac can stand on and hold on to the handles that I push the stroller with — but truth be told, Isaac likes to ride underneath in the basket. He kind of curls up in the fetal position, or he lays on his stomach and has his head poking out the front. The wheels also glide so well. I was living in DUMBO when I first had Isaac, so it was great on the cobblestones, but I was also going on stroller-friendly hikes with him, and the wheels were super-durable. I could click car seats in and out, and when he needed a bigger seat, it was easy to switch out.
With Isaac, I tried a lot of different breastfeeding pillows and didn't love a lot of them. They either didn't fit around my waist or were uncomfortable, and as he got heavier, I realized it didn't really matter; I could just lean on any kind of pillow. But I needed this specifically for the twins because, if you're not feeding them at the same time, you're never going to have any time for yourself. You put it in a chair with the opening facing the same way as the chair, and the middle part flips up and is your back support. Then there are these two clips from the outside pillows that look like armrests that clip around your waist — they're adjustable — and then you feed the twins at the same time in a football position. I actually bought two of them so I could have one in their bedroom when I feed them in the morning and at night, and then I have one in my living room when I have to feed them during the day.
Having three kids, I want things that are multifunctional. This is a crib that looks good. It's white, so it doesn't matter what color the room is, and also I know that I'm not going to have to get a new crib in the next couple of years when Isaac is a toddler and starts jumping out on his own. The twins are also now in these cribs from their bassinets, and the transition was super-easy — I think the boys were excited to be able to stretch out and have some space.
My doula, Jenny Rebecca, actually told me about this swaddle when I was pregnant with the twins. With Isaac, I could never get the swaddle right, so this swaddle is great for people like me — you just zip them in. I will say, for babies that are bigger, the newborn is snug. My boys were both almost eight pounds each, and they grew out of the newborn within a couple of weeks. But I really like it because it keeps their arms tucked in and folded how they are in the womb, and they're not laid down straight like you would do a traditional swaddle. This company really believes that babies want to sleep how they were in the womb, so the bottom part where their legs are is not as snug, but the top part has their arms really snug. And as you transition to the swaddle wrap, there are holes the arms can come out of when you're done swaddling.