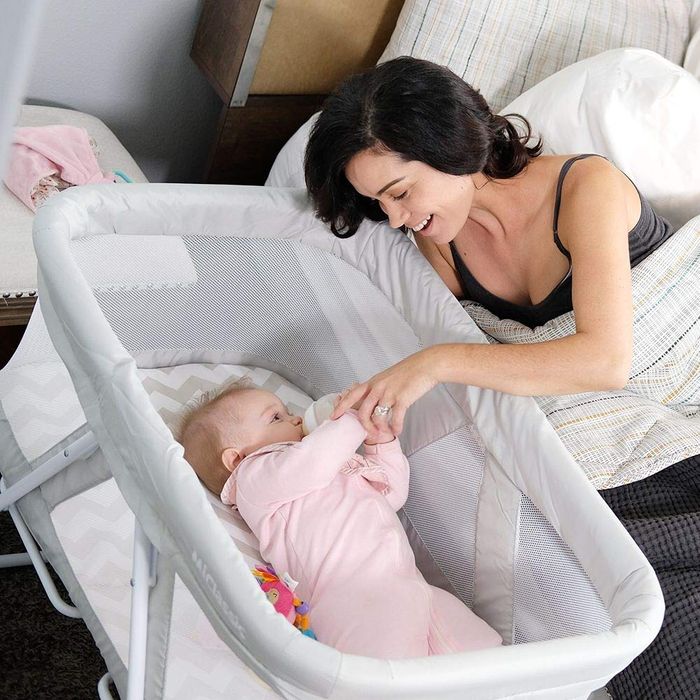 Photo: Courtesy of retailer
Here at the Strategist, we like to think of ourselves as crazy (in the good way) about the stuff we buy, but as much as we'd like to, we can't try everything. Which is why we have People's Choice, in which we find the best-reviewed products and single out the most convincing reviews. (You can learn more about our rating system and how we pick each item here.)
While we've written about the best baby-food-makers, baby turban trends, and the best toddler beds before, here, we're going deep on the best bassinets on Amazon, according to the people.
Best-rated bassinet
"Okay so don't look anywhere else for a bassinet, seriously," writes one of over 600 five-star reviewers. They go on to praise this bassinet as "sooo sturdy," and say it's easy to set up, too. "It took my husband 30 seconds to set it up and break it down. So durable and the mattress is a great thickness." Another purchaser speaks to this bassinet's impressive durability: "We used this until my son was about 9 months old and too big for it, and then I gave it to someone who needed a bassinet and she got just as much mileage out of it as well." Many also mention that it's "very lightweight" and "easy to move around." The zip-up canopy feature is also a big hit with purchasers, many of whom specifically mention using it to keep affectionate cats at bay. One writes, "My cats are big snugglers. The zip-top cover will keep the baby safe while she sleeps and keep my cats from shedding all over her."
Best-rated (less expensive) bassinet
This bassinet is popular among reviewers who like that it has wheels that lock when needed: "I'm a new mom, and this has been so ideal. It rolls on carpet and hardwoods and also has a firm locking system." They also loved that it isn't so spacious as to hinder newborn sleep: "I purchased this when my son was 1 week old out of sheer desperation. He had been sleeping in a pack'n'play bassinet that was about 10 times the size he was, so he seemed to feel really insecure in the big space. The small size helped him feel at ease in his sleeping space." "I absolutely love that it's on wheels. I've toted him all over the house in his bassinet," writes another reviewer. "The little under basket thing is great for storing extra blankets, binkys, or whatever else you might need to grab easily during bedtime."
And now for some micro-picks for every type of bassinet you might be looking for.
Best rocking bassinet
Parents who review this bassinet really like the rocking function, which you can use by shifting the horizontal rods on the base: "The rocking function is amazing, I use it more often than the normal mode." This mom with a big baby likes the roomy size: "This bassinet was a lifesaver on our recent vacation. We have a very big 4-month-old baby (18 lbs.) and loved how spacious the dimensions are on this bassinet — it's much larger than other similar products." Other reviewers like that it folds up easily. "I absolutely love this little bassinet, it folds up so easy. We took it to camping with us and it was super-easy to fold up and it even comes with a bag to put it in. Don't know why people spend $300 on a bassinet that stays in one place. Also it's actually pretty big. My son could probably sleep in it until he's a 1-year-old."
Best gliding bassinet
"I regret not buying this sooner. Our daughter sleeps so comfortably and soundly through the night!" says one happy parent. "I bought this for my fifth baby and boy do I wish I'd had it for the previous four. My baby is now 3 months old. I often lay her awake in this bed/rocker while I brush my teeth and then find her asleep in just a few minutes. She loves the mobile, the rocking/gliding and the vibration feature," says another reviewer, who wishes she'd found it sooner. One very candid reviewer has this to say: "I friggin' love this thing! I got drunk and messaged another mom of a newborn who told me she had the same glider as me in my photos and we literally spent 20 minutes talking about how amazing it is and comparing the different sounds and classical music our newborn daughters prefer."
Best portable bassinet
Reviewers of this bassinet that can be worn like a backpack love the versatility of it. "We have a 10-week-old boy, and when his grandparents come to visit for the weekend, he sleeps in our room. With this portable bed, he can safely sleep between us in our bed or on the couch without rolling off." Another reviewer likes that it comes with a little built-in mobile: "Possibly the best baby purchase I've ever done. I put my 2.5-month-old in there with the canopy and the toys and she stays entertained for a long time, and then when I notice she's getting sleepy, I take the toys on the canopy off and she falls asleep BY HERSELF." One parent who uses this around the house likes that it gives his arms a rest during the day. "This portable bassinet makes my daily life so much easier every single day. While I already have a bassinet upstairs for overnight sleeping and a bassinet in his playard, this portable bassinet makes it much easier to get things done around the house and let my baby rest no matter where I am when he's tired."
Best bassinet with mesh cover
Reviewers of this mesh folding travel bassinet like how they can see their baby through the sides: "The mesh sides are awesome because you can look across the room and see if baby is awake/moving or not. It's also got a solid backing, so you can pick the whole thing up and move it without baby sagging in the center." Another reviewer who uses it as a co-sleeper likes that the sides are flexible. "Doesn't give us much space on our queen bed, but it provides plenty of breathing and growing room for my son. The elastic mesh sides make it easy to pick him up if I'm sitting next to the bassinet. Love having this!" Another mom who uses it in bed likes that she doesn't have to move much to reach her baby at night: "I had a C-section and wanted to keep my baby near me, but the bed is so high a bassinet would be too low for me to reach my baby. I put this on the bed and I can check on him through the night. As soon as he's rolling and moving around more, I don't think it'd be safe on the bed, but it's perfect for the newborn stage."
Best bassinet with changing table
Reviewers love that this bassinet has lots of uses and grows with their baby: "I love that you could take the inclined bassinet out and use it around the house and she would nap well wherever in the space she was used to. She has now graduated to the higher, flat bassinet and she sleeps wonderfully on it. The changing table is fantastic, we love the high sides." This reviewer likes that it comes with a changing table. "The changing table is a lifesaver. It's very easy to remove and install, and the curves keep my little one from going over now that he's bigger and able to wiggle more." Another reviewer says that this saves them time by having everything in one place. "Our baby slept in this for the first few months of her life when she was in our room and waking up multiple times at night and I am so glad we had the diaper changing station right there — it saved us so much time and everything is within arms reach with the caddy on the side that can easily hold 10-20 diapers, wipes, cream, and then some."
Best bedside-sleeper bassinet
Purchasers rave about the versatility of the Beside Me Dreamer bassinet, with many pointing to the "zip-up" side panels that help easily convert it into a "bedside sleeper." Outlining the benefits of having these two "modes" in a single package, one parent writes: "In 'bassinet mode,' your little one is surrounded by breathable mesh walls that keep air circulating while providing her with her own private sleeping area … For 'bedside sleeper' mode, simply unzip the side panel closest to your bed and snug the Beside Me Dreamer right up to the side." Another adds, "Very sturdy and convenient. Handling a newborn and getting up constantly is so overwhelming and tiring. This helps a lot right by the bed." Another nice feature, as one purchaser describes, is the ability to "put one side up higher than the other so it is at a slight incline. This is so helpful for babies who suffer from reflux."
Best bassinet with swivel feature
With its 360-degree swivel ability, this bassinet comes highly recommended by parents who rely on it for easily checking on their babies. Many comment that the "swivel feature" lets them keep their babies next to their beds while still allowing easy access whenever necessary. "The swivel feature makes it easy for me to have him right next to me, but still allows me to get in and out of bed," one reviewer writes. Another adds, "It swivels easily toward and away from me, which comes in handy getting in and out of bed during night feedings." Many also mention the "mesh walls" that allow them to clearly see what their baby is up to. To top it off, one of the mesh side walls is designed so that it can be "pushed down" for quick access.
Best-looking bassinet
Most of the people who reviewed this bassinet like it for its combined style and function. "We were looking for a safe, nontoxic bassinet that would rock and bounce, and this does both. It also looks very nice, and I like that the mesh is removable and washable." This reviewer mentions that the mesh sides are safer in case her baby turns to the side at night: "Beautiful, functional, light! Baby sleeps great in this and we rest well at night knowing she is in her cradle safe and sound. The mesh allows baby to breathe even if she turns to the side." And a happy customer says that she got her money's worth and more: "I've used this little cradle for two of my babies and a friend used it for one of hers and it's still in great condition. The simple design is aesthetically pleasing and very functional. I don't regret splurging on it!"
The Strategist is designed to surface the most useful, expert recommendations for things to buy across the vast e-commerce landscape. Some of our latest conquests include the best acne treatments, rolling luggage, pillows for side sleepers, natural anxiety remedies, and bath towels. We update links when possible, but note that deals can expire and all prices are subject to change.