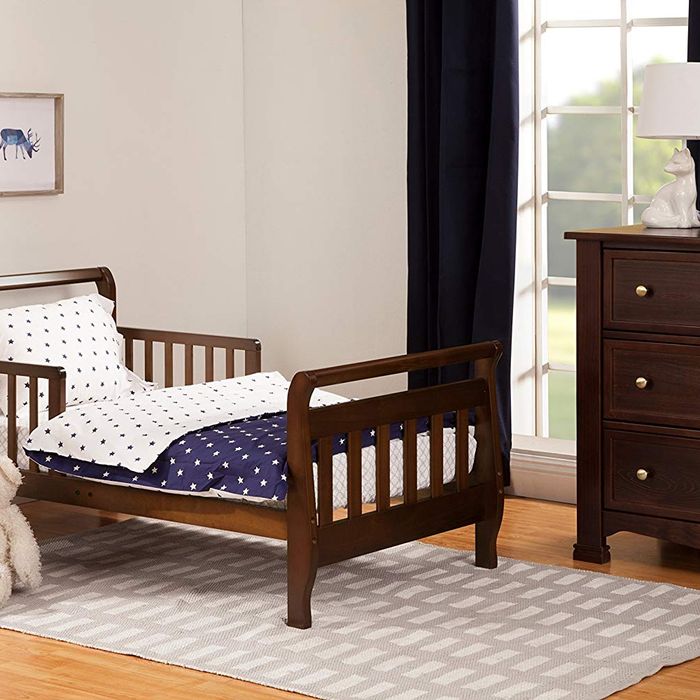 Here at the Strategist, we like to think of ourselves as crazy (in the good way) about the stuff we buy, but as much as we'd like to, we can't try everything. Which is why we have People's Choice, in which we find the best-reviewed products and single out the most convincing ones. (You can learn more about our rating system and how we pick each item here.)
We've covered lots of ways to help you get a great night's sleep — from mattresses and foam mattress toppers to loft beds and even camp hammocks — but now we're turning our attention to the best beds for your toddler, as praised by the most enthusiastic reviewers on Amazon.
Best-rated (and least-expensive) toddler bed
The vast majority of the Regalo My Cot Portable Toddler Bed's reviewers — over 4,200 of whom gave it 5 stars — are crazy for this kid-sized cot that "folds up just like outdoor chairs." Weighing in at "under five pounds," this cot is loved by parents for air travel and hotel stays because it "fits great in a checked bag" and "literally takes 15 seconds to get out of the carrying bag and unfolded." Reviewers also loved its versatility, citing its handiness for a range of needs: overnights at the grandparents, next to mom and dad's bed during a thunderstorm, and even as a makeshift spot for sitting in front of the TV. "We bought this cot for our summer vacation knowing there wouldn't be enough beds. Our 3-year-old is obsessed," writes one satisfied parent, adding, "After vacation, he still loves to sleep on his cot — some nights he prefers it over his own bed. It's perfect for sleepovers at his grandparents houses or when he has sleepovers here." And it's comfortable, too. As one happy customer noted, "My son lies around on it when watching TV, and I'm also having a hard time keeping my lab off of it. Which is why I intend to buy a second one."
And now some micro-picks for every type of toddler bed you might be looking for.
Best wooden toddler bed with rails
From assembly to first-night's sleep, reviewers love this "simple, clean-looking" bed. "I've searched high and low for a cute, nontoxic, wood bed —and this one fit the bill," noted one buyer. Parents were "shocked at how easy this bed went together" and how sturdy it is: "I have tested it by carefully sitting and standing on the assembled bed (my weight is 167 lbs) — it didn't even squeak." Many loved the low rise of the bed ("He has occasionally rolled out of bed," one dad notes, "But it's so low he actually stayed asleep!") and the option for guard rails which, according to one parent, "keeps him from falling off the bed like a little potato rolling off the kitchen counter." The range of different finishes, from natural wood to navy, were popular with buyers who felt that they made the bed "look far more expensive than it actually is." A surprising number of buyers also praised the fact that the bed "didn't stink out of the box" and had "no smell" thanks to its non-toxic materials. And, time after time, it passed the most important test: "Our son took to it the very first night it was together!"
Best (less expensive) wooden toddler bed with rails
The generous side rails on this wooden bed "keep him from rolling out of bed," says one parent, "and it's only a 4-inch drop in case they do fall out." Plus, parents agree, this "sleek and modern" bed is sturdy: "No squeaking or creaking like the old bed," said one dad. "As they have grown (it's been a year) they have played pretty rough with it — taking the mattress off and walking on the slats (not with my permission) and jumping on it (again without permission)," adds one mom. "It's just as solid as the day we got it." Other satisfied owners praise the "sturdy" wood construction that's nevertheless pretty mobile: "The bed frame itself is very lightweight. It also fit through doorways easily when fully constructed, unlike our crib."
Best "grown-up" toddler bed
For the parent in search of a kids' bed that will integrate seamlessly with "real" furniture, look no further than this "very grown up" piece with "great, classic design." According to enthusiastic owners, the bed was "extremely sturdy" upon set up (which is "super easy" thanks to "clearly labeled pieces with good instructions") and stayed that way. "We've had it about six months with kids jumping on it constantly and adults sitting on it daily," commented one reviewer, adding, "It's stayed sturdy." In case you're worried that this elevated bed won't appeal to the kids — don't be. As one satisfied dad notes: "The look on the little guys' faces when they graduated to a real bed was worth every penny!"
Best toddler sleigh bed
One satisfied mom summarized the strengths of this very adult kids bed neatly: "What you get is a lightweight, sturdy, classy toddler bed that can hold a toddler (25 pounds) and mom (120 pounds) and a baby (10 pounds)." Plus, she adds, "It handles my toddler's jumping just fine." Other parents and grandparents praise the bed for being "pretty darn solid" and "pretty damn easy to put together — took me about 20 minutes." The kids seem equally enthusiastic: "She never slept in her crib, but slept in this bed the first night!" says one well-rested mom. Adds another, "Easy transition from crib to this sleigh bed. No worries of her falling with the protected sides and it sits low to the floor."