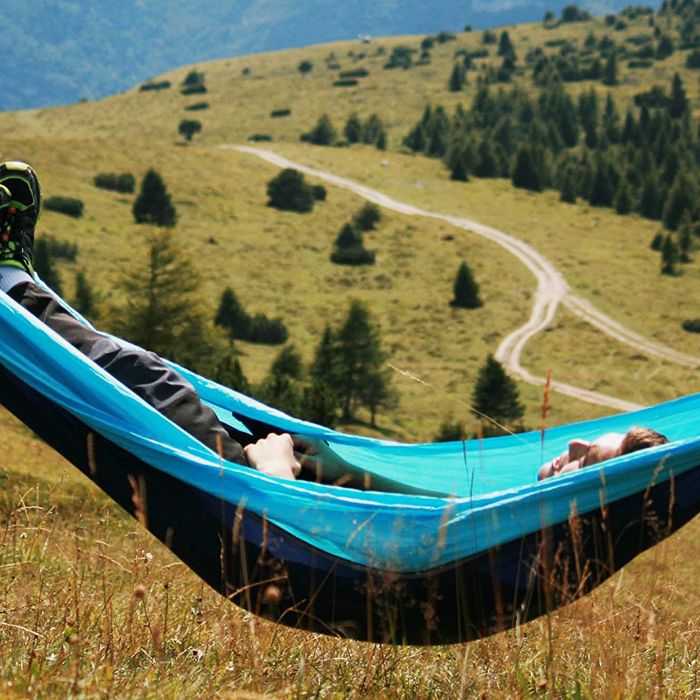 Photo: Courtesy of the retailer
Here at the Strategist, we like to think of ourselves as crazy (in the good way) about the stuff we buy, but as much as we'd like to, we can't try everything. Which is why we have People's Choice, in which we find the best-reviewed products and single out the most convincing ones. (You can learn more about our rating system and how we pick each item here.)
And while we've written about lots of camping gear before — including the best camping chairs, the best camping cots, and the best camping tents — here, we've rounded up the best camping hammocks, as praised by the most enthusiastic reviewers on Amazon.
Best-rated camping hammock
"Holy hams this thing is nice. I'm currently writing this review from it and kinda have fallen in love already," says one camper. Another reviewer, who's new to hammock camping, says this camping hammock makes all the difference: "I can't believe I've missed out on the practicality and comfort of it. The ease of setting up was my favorite part. I got to the campground at 1AM with limited lighting and all in all my hammock, bug net and rain tarp were up in less than 15 minutes. And that without ever having tried the whole set up before." Another big draw for this hammock was how soft the material is. "Wow, wow, wow! It's made so well, the stitching is perfect and the fabric is so soft it's hard to believe it's so strong. It's almost as soft as my silk travel sleep sheet," says another customer. And one more agrees that it's particularly soft, adding, "The material breathes very well and that is especially important on a hot humid day in PA."
Best-rated (less expensive) camping hammock
"I'm a pretty intense hammock user and I know my way around the hammock brands," says one purchaser of this MalloMe camping hammock, and their main takeaway is that this hammock is huge. " I'm about 6 feet long and it fit me perfectly." One customer attests to how big it is, writing, "Not only fits two people, but three puppers too." Another camper used to use an eight-person tent for just him and his dog but was tired of "putting it up and taking it down," so he tried this hammock, and says it was so amazing, he "didn't even setup my tent. Threw in the ole sleeping bag, no pillow needed. Dog between my legs. Slept great, no aches. It's fantastic, wish I could give it 10 stars." A few reviewers complain this double hammock is actually too big, but some love that, like one reviewer who is 6'2" and 250 pounds: "I love the size of this thing. Very roomy and very sturdy! This is going to be my go to hammock for camping, even though it is a little heavier and larger than my other camping hammock. I love their use of webbing on the hammock itself instead of rope. Very clever and very strong!"
And now for some micro-picks for every type of camping hammock you might be looking for.
Best lightweight camping hammock
Hundreds of reviewers call this hammock "light." One reviewer, who has "been known to pull over when driving through wooded areas" just to get a good hammock nap in, appreciates that it's light and compact, so very easy to use: "Other hammocks I've owned stayed in the closet or my camping bag because they were cumbersome or too finicky to easily deploy." Another reviewer "spent four weeks at the National Training Center in California," almost every night of which was spent in this hammock. And now that he owns it, "I camp more, I hike more, I kayak more, I party more. I'm not in my house hardly ever now. So easy to set up, super comfortable. There are never any achy camp mornings anymore. I wake up refreshed and ready to go." And one more describes "the build quality in ENO gear is top of the class," explaining, "What you don't appreciate at first sight is how hard the ENO hammocks work to keep your tossing and turning self from flipping the hammock over while you sleep."
Best camping hammock with tree straps
Many hammocks only come with finicky ropes or don't actually include straps to hang your hammock, but this Gold Armour camping hammock does. "My favorite part about this (and a huge game changer compared to other hammocks!) are the straps," says one reviewer, adding that they like the straps so much, "I wish I could buy the straps separately for my other hammocks." Another reviewer thinks the tree straps not only make set-up easy, but they "have more options when hanging this hammock. Trees don't have to be right by each other which helps when you're traveling and don't know what the tree setup will be." Many think that the construction of the hammock makes it easier to hang, stay put, and comfortable to sleep in. "Plenty of room, no uncomfortable seams in the wrong places, and you can easily lay diagonally or perpendicularly. The tree straps with loops are very convenient. After initial setup neither the hammock nor suspension stretched appreciably over the duration of two rainy nights," says one reviewer.
Most comfortable camping hammock
A quarter of all five star reviewers call this camping hammock "comfortable," especially for sleeping. "This might be the greatest camping item I've ever purchased. Super easy to set up and take down, stable, comfortable, roomy, and compact. I don't know how much more you could want in a camping hammock. I've used it a few times on one camping trip, and I'm addicted," writes one reviewer. Another adds that they were "amazed at how easy and comfortable this was," noting, "The double-wide is awesome because you can wrap it around yourself to keep bugs out." Many more also mention that they use this double-sized hammock just for themselves, but one reviewer used it with his significant other: "It was comfortable and relaxing, I rested quietly with her, and even if it's a little bit cramped, it's really enjoyable." But for the people who either don't have a partner or don't want to share a hammock with one, this reviewer attests to how comfy it is: "Sleeping in it alone, it wraps almost completely around you kind of like a cocoon; but I did not feel at all constrained or claustrophobic."
Best packable camping hammock
The most talked about feature on this camping hammock is how packable it is. "Packing up was much easier than setup," writes one reviewer, explaining, "Took only about 10 minutes (much faster than a tent) and both pieces fit easily back into the enclosed bags." Another bought this over two years ago for a cross-country motorcycle trip: "On my trip, I was gone for 45 days, camped almost exclusively and only set my tent up one time. I was hooked! I've literally spent months in it, it's been all over the country, packed on a vibrating Harley, with no signs of wear." A few complain that they were cold while sleeping in it, but one reviewer "kept warm by putting a blanket under and over us when we were in the hammock" and suggests others do the same. They also describe the size as similar to "a grapefruit when packed down and only weighs as much as a couple bottles of water," adding, "I was really impressed, especially for a product at this price point."
Best double camping hammock
Reviewers enjoyed the extra space they got from this Legit Camping double hammock. One reviewer loved it so much he bought three, explaining, "They're a hit with my whole family. Love the double size. We load them up with kids or enjoy them comfortably together as an adult couple." Another reviewer, who describes this hammock as "awesome," says, "My girlfriend and I looked at several double hammocks to take with us when we start traveling again and decided to go with Legit camping's based on reviews, price and style. Also, one of the most important things to us is that it included everything within the low price."
Best camping hammock with mosquito net