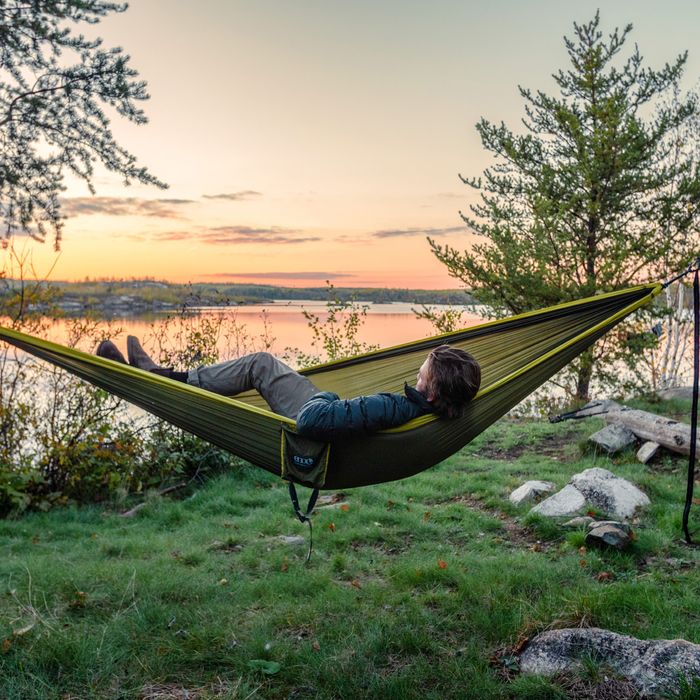 There's no denying that a hammock is great to bring along on camping trips for napping, seating, reading, and even in lieu of a tent. But you don't have to drive all the way to a campsite to enjoy them, either: Toss them in your backpack the next time you're out on a day hike or even for an afternoon at the park. All you need are a couple of sturdy trees or boulders and you're able to set up what basically amounts to a portable couch.
While you can use any hammock as your camping sleep system (add a tarp and bug net to protect from rain and creepy crawlies and extra insulation for chilly trips), they're not all equally suited for it. I've used my lightweight camping hammock for backpacking and occasionally to read outside, but I also asked outdoor experts and hammock aficionados about the best options out there for every type of hammock user.
Most hammocks are sold separately from the straps you need to attach them to trees, which is irritating with the first hammock you get and convenient if you end up purchasing subsequent hammocks. Will Bowen, a sales associate at Ascent Outdoors in Seattle, recommends the ENO Atlas Straps for most people. "The loops that you clip the hammock into are spaced much closer together than other tree straps I've used, so it's a lot easier to adjust and get the right amount of slack from your hammock no matter the size of the tree," he explains. Whatever straps you get, make sure they're broad enough where they make contact with the tree to disperse pressure and prevent stripping the trunk of bark.
Best overall camping hammock | Best (less-expensive) camping hammock | Best full sleep system | Best camping hammock with a bug net | Best ultralight camping hammock  | Best bridge camping hammock | Best freestanding camping hammock
What we're looking for
Length: How comfortable a hammock is comes down to how well it holds its shape when you get into it, and that's about stringing it up nice and taut and about length. "If it's not long enough, you're going to lay like a banana in it," says Rasmus Madsen, a Danish self-described "hammock enthusiast" who used to design and sell his own hammocks and hammock accessories. "A good hammock needs to be at least 11 feet to give you the best flat lay." Shorter than that and the gathered ends push your feet together and keep your body curled inward along the centerline. If you know you're just going to use it for a short reading session on a day hike or to sit perpendicularly, bench style, a shorter version may work just as well, but otherwise, go long.
Packed weight and size: If you're only going to be stringing it up at your drive-in campsite or backyard, how big and heavy your hammock is doesn't matter much. But if you want to take it backpacking, or even just on a day hike, think about how much weight and space you're willing to dedicate to your hammock and choose accordingly. The most ultralight hammock and straps will be nearly as small and light as a grapefruit, while the bulkiest more closely resemble a watermelon.
Weight rating and size (single vs. double): You definitely want a hammock that's rated for your weight or heavier. If you're going to be using it for your sleep system, think about whether you want to be able to hang your gear off your hammock and be sure to account for the extra weight. Some people prefer double hammocks over singles even when they're not planning on using it with a second person — Will Bowen prefers the roominess and flexibility of a double, saying that "it's nice to have the option if another person is coming along, and it's not too big or heavy to be inconvenient even when it's just me."
Structure: There are two basic types of hammocks: those with rigid structural support on the ends and those with gathered ends. Bridge hammocks — the ones with a stiff frame holding the width of the hammock open, so that the hammock looks more like a bridge than a pea pod — can be easier to set up comfortably and gives you a better view of your surroundings when you're in them, because there aren't any high walls curling up around you in the middle. But that added structure will come with extra bulk and weight.
Best overall camping hammock
9' 6" | 19 oz | 5" x 6" | 400 lbs | Double | Gathered ends
For a couple of our experts, this minimalist double hammock was their go-to. Paloma Farkas, an alpine and rock climbing guide in Bishop, California, said that in five years of heavy use, her DoubleNest has held up perfectly and was comfy for camping and lakeside reading. Her partner, also a climbing guide, regularly uses it to sleep on big walls during multi-day climbs. While we don't necessarily recommend using a hammock for this (Strategist writer and resident climber Jeremy Rellosa says that given the choice, he'd always choose bivying or a portaledge for maximum safety), any hammock that's enthusiastically endorsed for use everywhere from a city park to the Nose on El Capitan is pretty dang versatile. Two Strategist editors own the DoubleNest: One uses it as a lounging spot when car camping, while the other regularly uses it in the park in NYC.
Best (less-expensive) camping hammock
9' | 1 lb 7 oz | "small Napa cabbage" | 500 lbs | Single | Gathered ends
An earlier round of Strategist recommendations included the double version of this hammock because it got rave reviews for its comfort and included straps, and the single version offers all the same perks. Gold Armour includes straps with the parachute nylon hammock body for a lower price than most sets of stand-alone tree straps, and except for being a bit heavier, it's pretty comparable to more expensive versions.
Best full sleep system camping hammock
Fits person up to 6' | 2 lbs 12 oz |  4" x 7" x 9" | 250 lbs | Single | Gathered ends
Mansen recommends the Expedition Zip for anyone looking for their first dedicated camping hammock. The whole system looks heavier compared to similar hammocks on this list, but that's mostly because you're getting a lot more. This one comes complete with an integrated bug net, separate rain fly, a stuff sack, support ropes, and complimentary tree straps. All you need is some extra insulation — your ground pad won't fit inside very well — and you're good to camp out in your hammock. "It's almost an all-in-one system; you don't need go anywhere else," says Mansen, who recommends it to anyone looking for their first hammock camping setup.
Best camping hammock with a bug net
10' | 1 lb 4 oz | 5" x 10" | 300 lbs | Single | Gathered ends
Few things are more irritating than a bug that just won't leave you alone, whether you're reading in your backyard for a couple hours or bedding down for a night in the wilderness. And while most of the hammock brands sell bug nets you can string up over and around their hammock, I like having the net integrated, like in the JungleNest, to save having to string up and fuss over another thing. A small support built into the mesh, plus the way the tension is distributed, creates a bubbled cockpit effect (as opposed to the bug net drooping down over you like a blanket). On the rare occasion when I want the net completely removed, it unzips and fits into an integrated stuff sack at the bottom of the hammock.
Best ultralight camping hammock
10' 6" | 11 oz | 16" x 8" | From 200 lbs | Single | Gathered ends
This American-made brand is a standby for hammock enthusiasts, and its ultralight Half-Wit is a good option for anyone looking to cut the weight in their hammock without losing the most important features. "I don't want my night's sleep ruined by bugs, so I always prefer a hammock with mosquito netting," says Mansen, who, like us, will forgo the lightest option for the one with bug protection. This one offers a nice middle ground: It's superlight, and the half bug net covers only the essentials. This one doesn't come with a rainfly but with an ultralight Dutchware one; your whole sleep setup will be just over a pound.
Best bridge camping hammock
Photo: Warbonnet Outdoors
Fits people up to 6'6" | 1 lb 14 oz | 15" x 7" | 200 lbs | single | end spreader bars
This hammock is designed "based on the mechanics of a suspension bridge," according to Warbonnet's website, and is a great option for anyone who may have struggled getting flat and comfortable in traditional hammocks. "It gives you an exceptional flat lay," Mansen says. "It's sort of like a cot strung up." The hammock is modular and highly customizable, available in single- or double-layer construction, with or without an integrated bug net, and has the choice of several different attachment systems, so you can pick when you get it whether you want to deck it out as a tent-replacement system or not.
Best freestanding camping hammock
15 lbs | 50" x 8.5" x 8.5" | 300 lbs | Single and double hammock compatible 
Anyone who has roamed the park for ages looking for a correctly spaced pair of trees knows what a struggle it can be to find a spot to set up. Even more so if you've ever wanted someplace comfy to stretch out while camping in the desert or other treeless environments. A friend brought the Swiftlet to a bonfire-picnic and I was impressed by how easy it was to transport and set up. It was only a little bit bulkier and heavier than your average camp chair, so while it was easy to pack into the car and get to our picnic site, you wouldn't want to have to carry it much further than that.
Our experts
• Will Bowen, sales associate, Ascent Outdoors
• Paloma Farkas, rock and alpine climbing guide
• Rasmus Madsen, former hammock designer, Fimbul Outdoors
• Jeremy Rellosa, Strategist writer
The Strategist is designed to surface the most useful, expert recommendations for things to buy across the vast e-commerce landscape. Some of our latest conquests include the best women's jeans, rolling luggage, pillows for side sleepers, ultra-flattering pants, and bath towels. We update links when possible, but note that deals can expire and all prices are subject to change.
Every editorial product is independently selected. If you buy something through our links, New York may earn an affiliate commission.