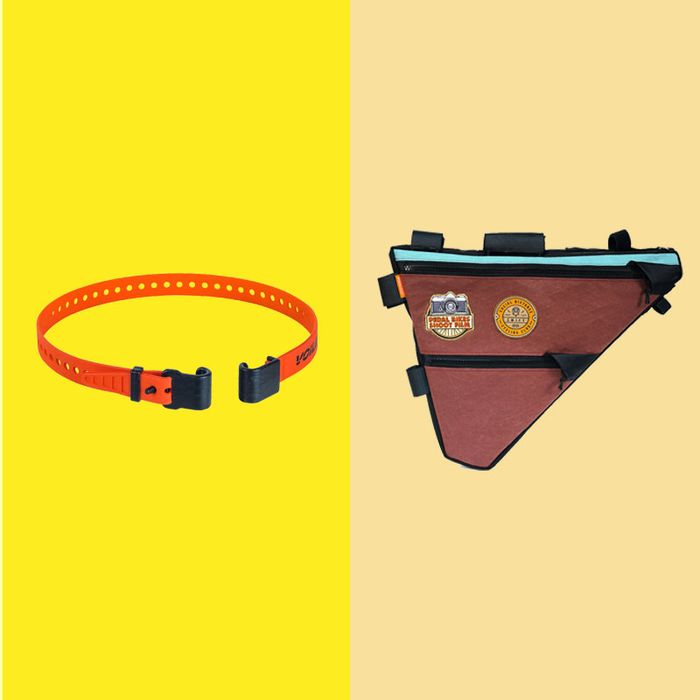 Photo-Illustration: The Strategist
Bikepacking is hiking, but on two wheels. A scrappier variation on bike touring that involves strong wilderness skills and equally powerful leg muscles, it allows greater freedom of exploration and distance relative to trekking on foot. "There's something special about setting out with everything you need on your bike and knowing you're not going to return that same day," says Andrew Onermaa, co-host of the Bikepack Racing Podcast. Not so special is the tricky task of fitting bulky items onto a skimpy bike frame, including all the gear you need to eat, sleep, navigate to your destination, and fix the bike if it breaks down on the way there.
To play bike Tetris, start by figuring out which bags to get and where to place them. We've laid out a variety of options, below, that will suit both overnight trips and multiday adventures. To make sure your bike handles well once you're rolling, "you want the weight evenly distributed," advises Bikepack Racing Podcast co-host Ezra Ward-Packard. "If it's all in the back or front, the bike ride is super-sluggish." Pedal around your neighborhood before embarking on bigger adventures, then make adjustments as necessary.
Perfect for multiday trips on pavement, pannier bags are "the easiest setup that'll take the least amount of money, time, and effort," says Ward-Packard. Sturdy and waterproof, they attach to a metal bike rack and are deep enough to store clothing, food, and shelter.
German bike-gear brand Ortlieb is a reliable pick for your first pair of panniers. On a recent rainy bikepacking trip up the Empire State Trail, Shannon Rudd, New York City–based cycling advocate and former ride leader for Women's Cycling NYC, found that they kept her gear plenty dry.
Mount your panniers on a strong rear rack like this one, from German brand Tubus, which Ward-Packard describes as "bombproof" and "great quality." Compatible with most bike frames, it holds over 50 pounds and is designed to give riders maximum heel clearance.
In order to minimize weight and ride smoothly on bumpy terrain, many trail-bound bikepackers reject panniers. A metal rack will "rattle a little if you go off-road, and anything that rattles will eventually snap," says Katya Morzhueva, an avid bikepacker and co-owner of Cool Cat Cycles in Cinco Ranch, Texas. Instead, they use smaller bags that sling from their seats, frame tubes, front forks, and handlebars. These bikepacking-specific bags fit a limited amount of equipment compared to panniers — many aren't any larger than a small day pack — which means that you might have to buy smaller and lighter camping gear than you already own.
A good frame bag, Onermaa says, is "the foundation for a lot of people." Here's a reliably waterproof one from Ortlieb. Secured between the triangle of metal tubes beneath your bike seat, it's great for holding heavier gear like cooking supplies and repair tools.
"You can lose your water-bottle cage if you add a full frame bag," points out Rudd. So if you're going on a shorter trip and would prefer to keep your cage mounts, consider a half-frame bag or top tube pack like this one.
Shorter cyclists have smaller bikes, which means they'll need to size down when it comes to frame bags. As a smaller rider, Devin Cowens, BIPOC cycling advocate and founder of Radical Adventure Riders Atlanta, says British brand Apidura offers an unusually broad range of sizes that should provide options for most bikes.
You could also just get your frame bag custom made, like many more serious bikepackers (particularly racers) do. Buying this kind of personally tailored gear from small, locally owned brands is, as Ward-Packard puts it, "one of the coolest things" about the sport. Dispersed, Rogue Panda, and Rock Geist are three such brands that'll make bags to your exacting specifications, from storage capacity to colorways to zipper styles. All three of them were mentioned time and again by the bikepackers we spoke with; Ward-Packard says that Dispersed gets extra credit for the fact its products are sewn by two vanlifers who live (with their bikes) on the road.
Moving on from the frame bag, you'll also want to maximize handlebar storage. Morzhueva used a canvas handlebar bag from Houston-based brand Louis & Joy during a recent race; for longer trips, this two-part from REI Co-op consists of a large dry bag and a cradle that straps to your handlebars.
You could also opt for a sleek bag that slings from your bike seat, says Texas and New York City–based adventure cyclist Todd Nisbet (a.k.a. Concrete Trails). Seat bags are "more stealthy" than panniers or even frame bags, and ideal if you're beginning your journey by taking public transport out of the city and trying not to annoy crowds of people with how much gear is hanging off your bike. Morzhueva uses this Ortlieb one in conjunction with "a big handlebar roll," customizing the rest of her setup according to trip length and gear required.
Packs for snacks and small items
It's essential to have a spot for your essentials. Strategist writer Jeremy Rellosa uses Bontrager's top tube bag, which straps below the handlebars and within easy reach of the rider, to stash "my keys, bike tool, random energy gels, and chamois butter."
Ward-Packard, meanwhile, likes Swift Industries' Moxie bag for storing his phone. Andrea Molina, who is currently bikepacking from Mexico to Argentina, is also a fan of the small, women-owned Seattle bikepacking brand.
You'll also want one or two "cockpit bags" that are immediately accessible while you ride, so that it's easy to grab snacks and water without stopping. "I always have one on my bike even when I'm not bike camping, because they're so convenient," says Roxanne Robles, Seattle-based cyclist and author of An Introduction to Bike Touring, of these handy draw-string containers. Cowens likes this bag from the Spindl, another indie bikepacking brand that she says makes "really custom, cool bags."
Because there'll always be pit stops, having a bag that's easily removed and carried with you can be handy. This flat, waterproof, roll-top bag can be strapped on top of your handlebar roll and converts into an over-the-shoulder tote for off-the-bike sightseeing. "If we ever leave our bikes, I use it for any important documents I want to keep with me," says Rudd. "It's handy to have, versus having to go into the panniers, which are a deep black hole."
"A fanny pack has been essential to me," says Molina. "Because I'm thinking, what are the things I need quick access to? Phone, money, toilet paper, credit card, mask." Something of a status item, Oveja Negra's roll-top will get you plenty of compliments on the trail: Robles says that everyone she knows who is serious about bikepacking owns one.
Status straps
Sometimes you'll want to attach clothing and gear directly to your bike frame, which is where stretchy, grippy Voile straps come in handy. They're so beloved among bikepackers that "it's become a joke that you can repair a yeast infection or a torn ACL with one," says Robles.
Shelter
Bikepacking tents have smaller tent poles and "fold a few more times to fit the width of a bicycle frame bag," explains Nisbet. But it's possible to skip buying extra gear here, if you already have a small backpacking or even car-camping tent. Fit it on your bike by separating the poles and tent body in different bags.
Big Agnes' range of packable yet surprisingly roomy two-person tents was mentioned by most of our bikepacking experts, including Onermaa, who calls them "phenomenal." This one weighs just a couple pounds, comes with its own waterproof stuff sack, and features super-collapsible poles and lightweight stakes.
Even with limited space, Nisbet always brings along this 11-ounce, two-in-one hammer and bottle opener.
It's also possible to get by without a tent. A bivy, explains Radical Adventure Riders Atlanta leader Jen Colestock, is "basically a waterproof bag that's about the size of a sleeping bag and has a little zip across it." Avoid this option if you're claustrophobic, but if not, bivvies are "really simple, really light, and take up almost no space," says Onermaa.
Sleeping
When you're figuring out your sleep setup, Robles says, "get the most compact and lightest stuff you can get your hands on." Think about your sleeping bag first. "So many sleeping bags are going to be so bulky that there's literally no way to put it on your bike," notes Ward-Packard, but this one from REI Co-op is an exception. He notes that it's a rather constricting mummy shape, which will take some getting used to, especially for side sleepers. Still, "it really is about as small as a 30-degree bag can get, and it also doesn't break the bank."
Ward-Packard also recommends this ultra-affordable Ozark Trail bag, that's less than a quarter of the price of REI's and has the same temperature rating of down to 30 degrees. "I've used it to ride across the country twice," he attests.
For warmer nights, Rellosa travels with this sleeping bag, which keeps you warm in temperatures above 65 degrees. At less than 12 ounces, he explains, "it's pretty minimal; no zippers or cushioned area around the head, just a gunny-sack-style bag that more closely feels like a sleeping-bag liner." That makes it easy to stash anywhere on your bike. "It packs down to the size of an orange," Rellosa promises.
Attaching a foam sleeping pad like Thermarest's Z-Lite to a spare spot on your bike shouldn't be too difficult with the aid of some Voile straps, Ward-Packard says, and will weigh practically nothing. If you prefer more padding, he recommends Thermarest's insulated inflatable mat for a comparatively luxurious night's rest: The regular size weighs just under nine ounces and packs up far smaller than the inflatable camping mats you might be used to.
A pillow may seem like an unnecessary indulgence, but Onermaa always brings one and advises you to as well. Morzhueva says that these can also be used as a seat when you're at camp: "It just gives you that comfort of not sitting on the ground." This Sea to Summit inflatable takes up a tiny amount of space yet promises significantly more comfort than sleeping on a stuff sack full of dirty clothes.
Hydration should be a primary consideration when planning your trip. The basic options are mounted bottles or hydration bladders, plus a filtration system if you're headed to a more remote area. "Bring more than you'd typically bring on a day ride and map out in advance where you're going to get water," says Onermaa. That means figuring out whether there are gas stations and campgrounds with spigots. "Have a game plan, and decide if you're going to bring a filtration system. I always have one just in case it gets to that point." Two water bottles "would be the minimum, but realistically having three bottles or a bladder, you'll be a lot better off." Whatever your system, Rudd advises, "make sure your bottles or bladders are in places that are easy to get to and easy to refill."
If you're drinking from a Nalgene, Nisbet recommends storing it in an oversize bottle cage like this one.
Available in 1.5- and 3-liter capacities, this hydration pack from Apidura is designed to fit into a frame bag, explains Cowens, so you can secure it below your seat then thread the drinking tube upward.
A cheap, simple way to filter water on the trail is this all-in-one system from Katadyn, recommended by Morzhueva.
Cooking on the trail usually consists of boiling water for freeze-dried meals and coffee, per our bikepacking experts. But having the right kitchen gear makes a big difference in your overall enjoyment of the experience.
For making hot food at the campsite, you'll want a small backpacking stove that screws into an isobutane canister, Nisbet says — "not your large green Coleman stove that you'd bring car camping." Jetboil's Flash will deliver boiling water in less than two minutes, a relief after a tough day.
Solo bikepackers can keep dishes to a minimum with a titanium mug. "I have one so I can cook and eat out of the same cup, and make coffee in the same cup I drink out of," says Nisbet.
For two campers, Molina recommends this lightweight and affordable nesting cook set that comes with a pot and two bowls and two sets of flatware that fit inside it.
As for the actual food that you'll be cooking: Dehydrated backpacker's meals are by far the easiest way. "They're the most convenient camping food ever," says Nisbet, who adds that this Thai curry is genuinely tasty.
You can eat dehydrated meals like the one, above, straight the packaging, but beware: Most pouches are taller than standard utensils, which can make digging around for your meal a little messy. The solution to avoiding mac-and-cheese hands, Ward-Packard says, is Sea to Summit's superlong spork.
Founded by touring cyclist Lachlan Morton, Pretty Great's instant coffee tastes "honestly really good," according to Ward-Packard. The current batch is sold out, but you can sign up to be notified of new stock.
Or just bring the real thing. Ward-Packard also recommends this collapsible dripper with a reusable mesh filter.
There's a wealth of free bikepacking route information out there, including thousands of tried-and-true trips of varying lengths. To narrow things down, Robles advises looking out for your local Radical Adventure Riders chapter. Two other great resources are Adventure Cycling and Bikepacking.com, which focuses more on backcountry bikepacking.
Social GPS phone apps like Ride With GPS and Strava (which allow you to share route data with other users) are invaluable. Though if you are using your cell phone for navigation, Onermaa advises, be "mindful that you'll need a portable charging device."
Once you're out there, says Robles, remember that "you get to dictate the terms" of your trip. "Something I try and emphasize, especially with people who you don't see represented in bike media — non-cis-white-able-bodied guys — is that this isn't about competition. It can be about challenging yourself, but what the challenge is is up to you."
While your easiest option will always be your phone, Ward-Packard says that leveling up to a bike computer (essentially a sophisticated GPS system with long battery life and extra stats and safety features) like this one is worth it for more frequent cyclists.
When biking, you want to see and be seen. Both Ward-Packard and Colestock recommend this self-charging light setup, which includes a bright beacon light as well as a dynamo hub: essentially a tiny generator that harnesses the power of your spinning bike wheel. Wiring the beacon and dynamo together will give you a powered light, as well as a USB charger that can charge other electronics. "It's enough to keep my navigation and phone amply charged throughout day and night," Colestock explains.
Safety
gear
and
bike
tools
"I like to leave on a trip with my bike working perfectly," Ward-Packard says. "Getting your bike serviced before going on a trip is one of the best things you can do to have a great experience." But because issues may arise anyway, try to learn some basic repair skills before leaving, says Colestock. Especially how to change a tube.
As well as your bike, remember to take care of yourself. "A lot of people ignore first aid," says Morzhueva, but road rash can derail your trip as much as a flat tire.
Bike tools
Ward-Packard says that "99 percent of mechanical issues" on bikepacking trips are flat tires. He recommends taking along a flat kit that includes a spare inner tube, a tire lever, a plastic spoon that you shove underneath the tire to pop it off the rim, and a hand pump to inflate the tire. He's owned a Crank Brothers pump for five years and says it hasn't let him down yet.
Ward-Packard adds that this Park Tool patch kit is great for side-of-road fixes.
For non-tire-related issues, Ward-Packard is also passionate about this multi-tool, which has everything you need to assemble an entire bike from a box. "You can attach it to your water-bottle cage, there's a little carrying cradle, so it lives on your bike," he says.
"You can fix anything with Gorilla tape and a zip tie," says Morzhueva. Ward-Packard agrees that cheap fixes can work: "I had a rack break before a trip, zip-tied it, and it stayed together for 300 miles."
You'll also want to protect your bike. An ultralight bike lock — this one's just over five ounces — is crucial, says Ward-Packard, "because even worse than getting your bike stolen is getting it stolen with all your gear on it."
First aid
Colestock always carries a basic first aid kit, containing "wound care, bug-bite treatment, antibiotic cream, anti-itch cream, Benadryl, Band-Aids."
"I always have Tegaderm," says Morzhueva. "It's the best cover for road rash out there." A breathable wound dressing that will stay in place for a week, she takes it on every bikepacking trip in a variety of different sizes.
Finally, a good chamois cream "goes a long way," says Rudd. She's a fan of Mad Alchemy, but notes that plenty of people just use coconut oil. Less chaffing means more time on the trail. Happy riding!
The Strategist is designed to surface the most useful, expert recommendations for things to buy across the vast e-commerce landscape. Some of our latest conquests include the best acne treatments, rolling luggage, pillows for side sleepers, natural anxiety remedies, and bath towels. We update links when possible, but note that deals can expire and all prices are subject to change.