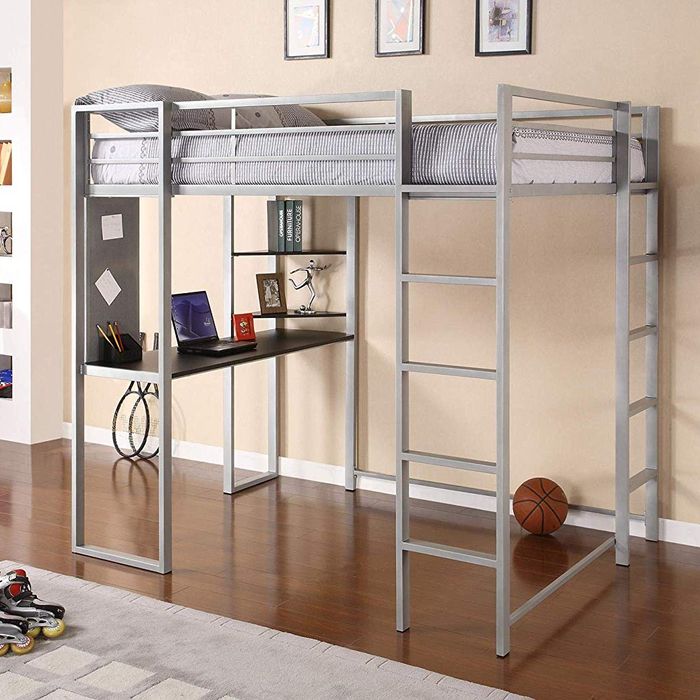 Photo: Courtesy of the retailer.
Here at the Strategist, we like to think of ourselves as crazy (in the good way) about the stuff we buy, but as much as we'd like to, we can't try everything. Which is why we have ​People's Choice​, in which we find the best-reviewed products and single out the most convincing ones. (You can learn more about our rating system and how we pick each item ​here​.) 
And while we've written about lots of things for kid's bedrooms — including kid room décor, the best toddler beds, and the best twin beds — here, we've rounded up the best loft beds, as praised by the most enthusiastic reviewers on Amazon.
Best-rated (and least expensive) loft bed
Fair warning: Your kid will probably think they are super cool after sleeping in this loft bed. One reviewer's four-year-old "loves being 'tall like mommy and daddy' when he's in his bed, and he spends a ton of time in his 'clubhouse' underneath." Another eight-year-old "thinks he's hot stuff hanging out in the loft and reading or playing his iPad." Underneath the bed there is room for lots of other kid-friendly activities. "A desk can't fit underneath and be used properly," one reviewer explains, "so we've made it into a little play/reading nook and put his bookcase and toy box there." One selling point a few reviewers mention is that this bed is lower than typical lofts, meaning it's "the perfect height for our short, 7 foot high ceilings." Another reviewer likes it because they were afraid of their kid falling from a higher height: "Over the years our children have fallen off a few times, but no injuries occurred." Another says, "Height is perfect for his 5'2" momma to kiss him goodnight without having to climb up there."
And now for some micro-picks of every type of loft bed you might be looking for.
Best loft bed for adults
"I was a little scared getting this bed," says one reviewer, who was buying this loft bed for themselves — "an adult and on the heavy side (215 pounds)." They took a chance on this one because they needed the space and say, "A few tweaks and there's no issue at all." They admit the ladder isn't suitable for someone their size but they got an additional step ladder and made it work. A handful of other reviewers attest to this loft bed being suitable for adults. "My 22-year-old daughter is using this loft bed," writes one reviewer, and another says, "I've had close to 300 pounds on it including the mattresses and bedding with nary a squeak." And one who uses this in a rental property calls it durable, explaining: " After 2 years of adults climbing up and down, it still looks almost new and it is holding up great." One thing reviewers note is that the frame is pretty large, with a lot of space underneath and room for another queen-size mattress or a little man cave. One reviewer still says it is saving them space though as the "ladder doesn't stick out."
Best loft bed for toddlers
"I searched for months to find a simple, well-made, loft bed for my 4-year-old," one user writes, and they settled on this one becuase it was lower to the ground than other models. Other reviewers with toddler-aged children also praise this bed. "My son is a month shy of three years old and I feel wholeheartedly that this is a safe option to standard toddler beds for any child his age and up," one writes. One who bought an older version of this bed even says this one is safer for their little one because the "lowest steps sits about 9 inches off the floor versus 13 inches" one the older model. They add, "This makes it even safer for our 3-year-old daughter to climb in an out of." The design of the bed even encourages play and good habits among the toddlers using it. One review says, "We put lights and a mirror and her toy chests so she would play dress up, read, watch movies and play on her tablet under there without 'ruining' her bed," and another notes, "The design of this bed not only made the room look more organized but it's inspired my little one to keep his room clean (since nothing can be hidden under the bed!)."
Best loft bed with slide
More than one third of reviewers mention how much their kid loves the slide on this loft bed. " I don't normally write reviews, but MY BABY PUT HIMSELF TO SLEEP TONIGHT, and I can't believe it," one reviewer writes of their 18-month-old. "He got sleepy and walked up his slide, then belly-flopped forward onto his mattress. In the mornings, instead of waking and screaming, he (literally) slides out of bed and walks two feet to ours to wake us with coos (and demands for his bottle)." Older kids love it too: "My daughter is going on 8 and loves it still." Many note that 5- and 6-inch twin mattresses are the ideal height for this bed's rails but any more than that and you may run into a problem: "The twin mattress we had on hand is 8 inches deep and it comes very high on the guard rail. Although our son hasn't rolled at all while sleeping, we did order a more shallow twin for this bed."
Best loft bed with built-in desk and shelf
Reviewers love that this loft bed fits the needs of their growing kids. "Oh boy, this bed is a hit!" one writes. "Our 9-year-old son has a small bedroom and, now that he's in 4th grade and has more homework, he needed a workspace of his own." Reviewers also say these save space for kids sharing a room, too. One who bought two for their daughters writes, "They each have one of these beds, and their room turned out beautiful," adding, "They are in love with individualizing their own spaces with in the same room." A few things reviewers note is that the clearance is pretty low — "only about 12 inches of clearance for them to get over the rail" — and that the rungs on the ladder are uncomfortable to step on. However, one parent who was nervous about the height says, "so far so good" and another reviewer dealt with the bars by "[padding] them ourselves and solved most of the issues."
Best loft bed with flat-slat ladder
A common complaint about other loft beds is the round ladder rungs are hard on feet, which is why reviewers praise this loft's ladder construction. "The ladders are wider and the square shape doesn't hurt bare toes like the round ladder in our bunk bed," one customer writes. Reviewers are impressed by how the loft is made overall, and more than 50 percent describe it as sturdy. "It helps me create a balanced space and it's sturdy enough for me and my daughter to hangout on," one writes, while another attests, "My seventeen year old boy (about 150 lbs) climbs up without a sound or wiggle to the frame."
Best full-size loft bed
This full-size loft bed gets top marks for being, well, full-size. "While the full-size is still large, it leaves the room much more open than the queen bed we previously had in there with the added bonus of having a desk included," one reviewer writes. Another reviewer agrees that this frame is "perfect for anyone trying to gain some floor space while having a full-size bed." The size might also contribute to its sturdiness. "The bed is a tank," one reviewer writes, adding, "The 300-pound weight limit is probably a liability thing. Sleeps myself, an Army veteran at 6'1 and 200 pounds, and my girlfriend at 5'11 and 150 pounds, and it really doesn't move at all unless you're climbing up or down." While a few adults comment that they this suits them (a reviewer who is 5'6" can almost stand up straight under it and have 3 feet of headroom when sitting up in the bed) at least one parent appreciates the full size with the hope that, "It will grow with my nine year old for a very long time."
Best loft bed with high railings