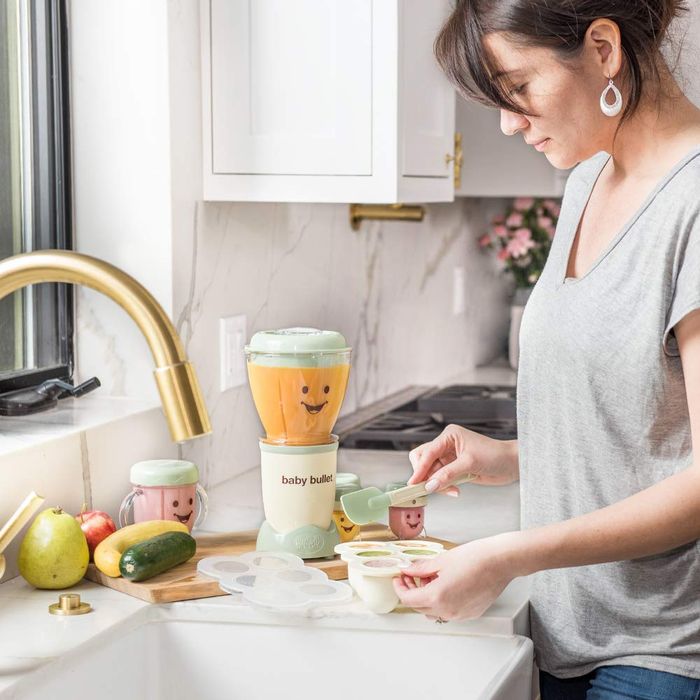 Photo: Courtesy of the retailer
Here at the Strategist, we like to think of ourselves as crazy (in the good way) about the stuff we buy, but as much as we'd like to, we can't try everything. Which is why we have People's Choice, in which we find the best-reviewed products and single out the most convincing reviews. (You can learn more about our rating system and how we pick each item here.)
While we've written about the best baby mobiles and the best pumping bras before, here we're going deep on the best baby-food makers on Amazon, according to the people.
Best-rated (and least expensive) baby-food maker
With over 2,700 five-star reviews, this mash-and-serve bowl is highly recommended for its ease of use. "I bought this initially for making baby food while traveling/on-the-go but as soon as it arrived, we used it right away," says one happy reviewer, adding, "Sure, one can argue (poorly at that) that a fork and bowl could yield the same results, but dump your fresh food right in, give the small pulverizer a push, and about two spins later, you have fresh baby food."
The portability and size, described by one reviewer as "the perfect size for my toddler," are also lauded. "These bowls are shallow and wide, making it easy for him to self-feed," they continue. "The lids are great and fit on very securely. I use these bowls to make meals and snacks for him and then put them in the fridge for later. When I need to feed him, I just grab one and pop it open and microwave it if needed or throw the whole thing in my purse to take with us." Another reviewer explains how this bowl has helped them manage portion control: "I used to cut the food into small cubes and put them in the blender to make vegetables for my baby, but that is not a good way because you have to make a larger amount than the baby needs! It was a great decision to buy this for making quick and easy baby food. I mash potatoes, carrots, and cabbages in this bowl that does the job well and is easy to clean as well."
And now for some micro-picks for every type of baby-food maker you might be looking for.
Best baby-food press
Reviewers love this device for making custom baby food blends, especially since it presses the food into single-serving, ready-to-go pouches. One reviewer writes, "The Infantino Squeeze Station is a must-have for anyone who makes their own baby food. Wish I had this with my other two children. I honestly did not expect it to be as useful and fun as it was." Another reviewer says, "I purchased this in hopes of making my life a little simpler trying to make homemade food pouches for two toddlers, and I was not disappointed. You can whip together your puree and fill three bags in a short period of time, it's awesome," though they add, "Also, be careful not to fill the food tubes too high."
However, in all, this is described as an easy-to-use baby-food press that's still useful well into toddlerhood. "It's very easy to use, easy to wash, easy to store. I LOVE IT," raves one commenter, adding, "Now that my daughter is 2+, I use it to make yogurt pouches (what I was going today). I throw my yogurt in a food processor with a variety of fruits, blend well, fill using the squeeze station, and VOILA! I have yogurt pouches that are good in the fridge/freezer without having to buy the ones from the store with god-only-knows what preservatives in it."
Best baby-food blender
With the traditional power and operation as a standard personal blender, this Baby Bullet has a smaller bowl and convenient storage cups for quick baby-food preparation, a feature that's appreciated in many of the comments. "Works so well on any type of food. We take large pieces of chicken, veggies, etc., and have no problem shredding it. Can be used to shred and puree, which is great for different ages," writes one satisfied reviewer. "I loved this item! I have a 6-month-old baby, and I refuse to feed her any type of processed food even if it says 'organic,'" says another reviewer, who continues, "I make all of her baby food with the Baby Bullet. The jars are so convenient. … It's easy to use and easy to clean. The food is fresh and healthy for your little one!" Another reviewer adds, "My grandbaby is enjoying fresh vegetables and fruits and even meat. No more watered-down baby food — and the savings is unbelievable. I got ten jars of chicken from one chicken breast. And being able to freeze it is also a BIG SAVINGS!"
Best baby-food immersion blender
Not exclusively for baby-food making, this hand blender is worth mentioning for the rave reviews about its puréeing. "I'm glad I purchased this for making puréed baby food over the products specifically marketed for baby food," writes one reviewer. "I purée more than I need and freeze the rest. The best part about it is that it's super easy to clean." Another reviewer likes that this blender is plastic-free: "I did an extensive research about baby food makers, and I really wanted to get one of those steamer/blender to save time. However, I don't think steaming baby food in a plastic container is a good idea, and the glass one I found had some terrible reviews. SO I settled for this blender and I am so happy with the result. I pureed green peas with it and with adding some water, the consistency is PERFECT and it only took less than a minute!"
And reviewers who use it to make baby food like that it can make a lot in one go. "I've only been using this thing for about three days, but in that time I've made about six months worth of baby food with it," writes one. "Potatoes, sweet potatoes, carrots, apples, pears, peas, mangoes, kiwi, you name it. In the past I've made baby food with a single serving smoothie maker and a top-of-the-line food processor, and I honestly prefer the way this thing purées. Simple clean-up, easy to grip, great control over what you're blending/puréeing, the speed is easy to change, and it gets the job done!"
Best baby-food mill
This product is another one that's not specifically designed to make baby food, but dozens of commenters purchased this OXO food mill expressly for that purpose. "I purchased this mill with the intentions of making baby food. So far it has worked great for banana puree, mango and other soft, ripe fruits," writes one, who adds, "I would recommend the product over the smaller, strictly-for-baby-food mills because of its capacity for making large batches." Lots of grandparents also like it because of the versatility. "I love this food mill. I needed something to make applesauce with," writes one, adding, "My 4-year-old old granddaughter helped with he turning of the mill. She loved it. I would highly recommend this product. As a matter of fact, I just ordered another one for my friends daughter's baby shower. It will be a must for making your own baby food."
Best baby-food masher
Similar in functionality to the immersion hand blender, this Dash Masha has an added strainer element that helps create the smoothest purées. "This is the best masher ever," says one reviewer. "It takes little effort to operate it, and it cleans up very easy. This is the tool to have if you love to mash potatoes, avocados, or anything else soft." Another reviewer writes, "I prepare about 10 pounds of mashed potatoes each night from scratch. I have destroyed two wand hand mixers, a blender, and a food processor from the gummy starchy resistance of the potatoes. This machine works PERFECTLY! It never overloads, because of the design. The potatoes become smooth and mashy within a minute of use — without the addition of water or milk to thin it out!" The result is that this masher is "very good for mashing up for baby food even for a first-time baby."
Best all-in-one baby-food maker
"I love this product! Easy to use, and the fact that it comes with a steamer and a blender at the same time is one big thing for me. For a busy mom like me, this is a great buy," writes one satisfied reviewer about this all-in-one baby-food make