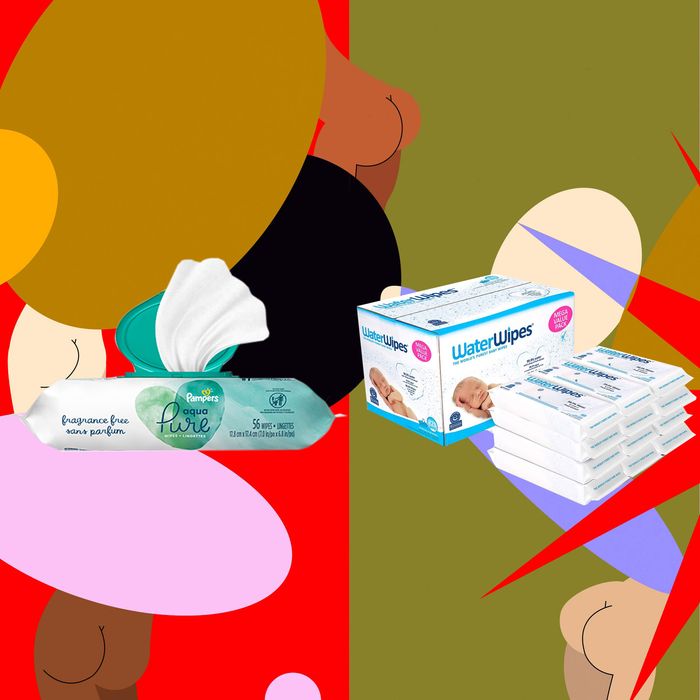 Photo-Illustration: Chaimae Khouldi; Photos: Retailers
As any parent or caregiver knows, babies require a ton of diapers and wipes in their first couple years of life. For something that's in constant contact with their bare, often sensitive, bum, you'll want to choose a wipe that, according to pediatric dermatologist Dr. Heidi Goodarzi, has "enough moisture and durability to cleanse those sticky poops well, but also gentle enough on the most delicate skin of newborn and babies." Dr. Nava Greenfield of Schweiger Dermatology Group agrees, adding that you want to make sure that whatever wipe you use doesn't cause any skin irritation, whether that's an allergic or irritant reaction. If you're dealing with sensitive skin, diaper rash, or eczema, Goodarzi recommends opting for a hypoallergenic wipe that's fragrance- and perfume-free, ideally with some kind of moisturizing ingredient like lanolin, glycerin, squalane, and ceramides. (Greenfield adds that certain preservatives can also lead to irritation.) To help you find the best baby wipe for your child, we spoke to Goodarzi, Greenfield, and 17 other experts (parents, to be precise) about their favorites, from ecofriendly to budget options to one that's made up of mostly just water.
Best overall baby wipes for sensitive skin
WaterWipes were an overwhelming favorite among our panel of parents, with eight people recommending them for how "pure" they are, noting that they're excellent for sensitive skin (and all types of skin in general). They're made with 99.9 percent purified water, with a drop of fruit extract that, according to the company, has "antimicrobial properties and acts as a gentle skin conditioner." Goodarzi calls them "perfect for even the most irritable skin," and they also "clean effectively without causing irritation." Tovah Haim, founder of Bodily, a resource for postpartum and breastfeeding women, also swears by WaterWipes "because we feel great about the ingredients on our kids' skin." They're also really wet, a feature that Casey Powers of Ecocentric Mom, a monthly subscription service of organic and ecofriendly goods for moms and babies, likes. "They really clean without having to scrub at my baby's bottom," she says. (Some parents admit that the wipes can sometimes be too wet, requiring them to air out their babies' booties before putting on a diaper.) Producer of Vox podcast Today, Explained Victoria Chamberlin, speaking to the wipes' purity factor, feels good about using WaterWipes on her little one's face, too, saying that "pretty much everything else gives my kid contact dermatitis." Babylist's gear editor Jennifer LaBracio likes keeping WaterWipes on hand not only for diaper changes but also for cleaning messes on her kids' hands, faces, "or whatever body part that's dirtied up." (For tougher messes, LaBracio recommends trying the textured version, which works a little better on the poopiest of butts.)
Best baby wipes for sensitive skin
The next most-recommended wipe was from the Honest Company, with three experts singing its praises. For LaBracio, who's tried many different wipes, Honest wipes are her favorite. "They are a really good combination of thickness and wetness," she says, and they can tackle really big messes without being overwhelmingly big. She says that they're also really durable and have never ripped or torn on her, and they stay moist all the way down to the last wipe. They're great for sensitive skin, according to Vox product operations manager Kristin Knight, who agrees with LaBracio that they've always held up and worked well (she still keeps some in the car for emergency face- and hand-cleanup situations). Like WaterWipes, they're hypoallergenic, fragrance-free, and made with 99 percent water.
Best affordable wipes for sensitive skin
For another mostly water wipe, consider Pampers, which several of our parents also swore by. Made with 99 percent water, one percent cleansers, and a composition of plant-based materials, it's gentle, hypoallergenic, and free of alcohol, fragrance, parabens, and latex. LaBracio calls them "really soft and gentle, but also really durable," and Vulture senior producer Devon Sherer agrees, saying that they're soft yet strong but still easy to rip in half if you need to. Plus, Sherer says, the "not-too-wet" wipes "handle blowouts like champs. The wipes do a good job of picking up the mess instead of smearing." If you're looking for a wipe in the "pure" category and don't want to pay up for Honest or WaterWipes, LaBracio says that the Aqua Pure is a great, more affordable option.
If you're looking for a sensitive wipe that's even more affordable, Goodarzi recommends Pampers' Sensitive wipes, which she says are used in hospitals often because "they are soft but actually about 20 percent thicker than other wipes." They're hypoallergenic and also free of alcohol, fragrance, parabens, and latex, and are slightly cheaper than Pampers' Aqua Pure line.
According to LaBracio, these wipes from Huggies are a top choice among Babylist users. Made from plant-based materials and a solution that's 99 percent water infused with aloe and vitamin E, the wipes are pH-balanced and hypoallergenic, offering a gentle clean that's also moisturizing. They're free of lotions, fragrances, parabens, alcohol, dyes, and chlorine. Eater's executive editor Stephanie Wu prefers these wipes as well, as they're "unscented" and "retain water really well and are unlikely to dry out, even if the wipes container is accidentally left open." They're also easy to use without a wipes dispenser. "I had no issue pulling out one at a time," she says. (Plus, she liked the texture and feel of the wipes.) They're also the most affordable of all the wipes for sensitive skin on this list, making them a great choice for parents who want a water-based wipe for less money.
Best thick baby wipes for sensitive skin
Another great option for caregivers looking for a gentle, plant-based wipe with few ingredients is Seventh Generation's Free & Clear wipes. Made without fragrances, parabens, or alcohol, the hypoallergenic wipes are also thicker than most wipes, a feature that Strategist senior editor Jen Trolio really appreciated. The fact that they have a pattern (and are therefore slightly textured) "helps with more stubborn poops." Terry Dwyer, senior director for Vox Media's video advertising business, also found them to be "relatively durable," and he has "never had an issue with skin irritation with either of our daughters, both of whom have sensitive skin."
Best biodegradable baby wipes
Tahwii Spicer, owner of the Eco Baby Co., a natural-focused store for babies and mothers based in Indiana, recommends Australia-based Joonya Eco Wipes, which are made with 99.7 percent New Zealand water and are enhanced with organic aloe vera, jojoba, and chamomile (and are, of course, free of alcohol, chlorine, petrochemicals, formaldehyde, parabens, and phenols). The company claims that the wipes are also biodegradable and home-compostable. "Joonya Eco Wipes are a game changer when it comes to baby wipes, and are perfect for parents living a low-waste-conscious lifestyle," says Spicer. "We love that they are made from a thick, biodegradable, and compostable plant-based fiber" — that is, from 100 percent biodegradable and compostable viscose material that is safe for the environment. (This feature makes them the most expensive wipes on this list.) Heather Savatta, who works for Vox Media's advertising platform Concert, calls them "nice and thick" and great for her daughters' "super" sensitive skin. As a bonus, the packaging is also recyclable.
Best plush plant-based baby wipes
We love Coterie's luxe diapers here at the Strategist for how soft and cottonlike they are (and how adorably old-fashioned they look), and its wipes are no different. They're 100 percent plant-based wipes that are made of Lyocell fibers, which the company claims can fully decompose within five weeks. As for the solution, the wipes are made with 99 percent water, aloe, glycerin, and three gentle preservatives. Emily Buhr, who also works for Vox Media's Concert, loves that they are "larger than most wipes" she's used. "I never need more than probably two wipes for the dirtiest of diapers," she says. Plus, "they're thicker and more durable" than the WaterWipes (and less wet: "They don't drip") she used for the last two and a half years. While they're definitely on the more expensive side (and have a slight scent that some people may not like), the fact that they're delivered to your door every month makes them even more convenient to use.
Best value baby wipes
Then there's Kirkland's baby wipes, which are thick, durable, reliable, and affordable. I used WaterWipes for most of my toddler's diapering days but transitioned to Costco's wipes when blowouts became less frequent. And now that he's potty trained, I still keep them on hand for his poop wipes (and just toss them in the trash) and general toddler messes. The hypoallergenic wipes are free of fragrance, chlorine, alcohols, dyes, parabens, and phthalates, and are made of supersoft plant-based materials. Each package comes with 100 wipes and lasts forever. Erin Bakst, senior vice-president of people and culture at Vox Media, swears by them, too. "I have tried ten different kinds and honestly, nothing stacks up to Kirkland brand wipes," she says. "They are thick, clean EVERYTHING, and there's an unscented version. My daughter has super-sensitive skin and it worked well for her and my son." Plus, you can get them on Amazon as well as at Costco, which she says is super-convenient. (Trolio is also a fan, calling them "really sturdy" and "such a good value.")
Plus: a sustainable alternative to baby wipes
For Goodarzi and other parents, water and a washcloth work just as well. "Nothing beats rinsing with plain lukewarm water, so I highly encourage parents to rinse off the diaper area and dry well when at home and feasible," she says. "I like to think of wipes as an alternative to sink and water when out and about and not for in-home use." They're also more sustainable, as you can just toss them in the laundry and reuse them again. "Cloth wipes are amazing," says Melissa Young, director of engineering at Vox Media. "You use fewer, and they're strong." Plus, she says, "They wash up really well and then you can just sun them every once in a while for extra sanitizing and stain removal." Young makes them herself from old baby blankets, but LaBracio, who also uses cloth wipes, says that you can buy an inexpensive pack from places like Target. Micaela Preston of Mindful Momma likes these organic cotton-flannel cloth wipes from Marley's Monsters. "It takes a few washes, but the flannel becomes very absorbent. Also, the cloths have a serged edge to prevent fraying. They hold up very well," she says. Here's a tip from Genevieve Howland, founder of the Mama Natural website and author of The Mama Natural Week-by-Week Guide to Pregnancy and Childbirth: "Keep a spray bottle filled with water nearby and moisten your DIY wipes to clean your baby's bum."
The Strategist is designed to surface the most useful, expert recommendations for things to buy across the vast e-commerce landscape. Some of our latest conquests include the best acne treatments, rolling luggage, pillows for side sleepers, natural anxiety remedies, and bath towels. We update links when possible, but note that deals can expire and all prices are subject to change.