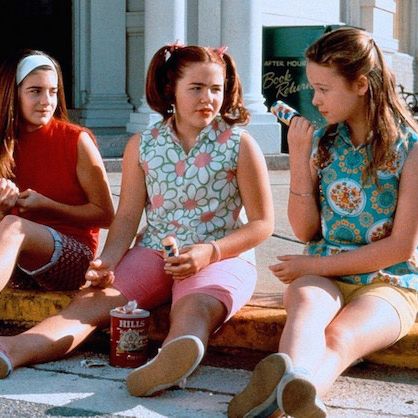 Photo: Courtesy New Line Cinemas
If you thought shopping for the teen girl in your life was difficult, try finding the perfect gift for a tween girl. Tween girls, who are between the ages of 9 and 12, are exceptionally tough to please because their tastes can oscillate between the realms of childhood and proper teenage-hood. To make things easier, we asked 16 girls — most of whom are between the ages of 9 and 12 — about what's at the top of their must-have lists. (Due to their ages, some requested that we withhold their full names.) Read on for the 26 clothing items, art supplies, and other gifts they say are sure to impress the tween in your life.
Beauty
gifts
for
tween
girls
Ariella Maizner, the designer and founder of lifestyle brand Theme, says she hasn't really started wearing makeup yet, but "my friends and I always do face masks." She uses Glossier's Moisturizing Moon Mask because it's "good for sensitive skin and cruelty free."
Should the tween girl in your life be looking for a new fragrance, model and competitive cheerleader Abigale Meehan is a fan of Abercrombie's perfume. In a word, she describes the fragrance with hints of vanilla, orchid, and a little musk as "fresh," adding, "it's the perfect everyday scent that I want to wear all the time."
For a timely gift that's as useful as it is delightful, actress and model Hendley Williams recommends Bath & Body Works hand sanitizers, which would serve as a perfect stocking stuffer. "They are easy to put in your bag, and I actually have one attached in a cute case on my backpack," she says. This five-pack has a clean eucalyptus and spearmint scent.
"Lush bath bombs are on my wish list this year — they are super-fun to use and they smell amazing," says Ella M. "I love them because there are so many different varieties in lots of colors and scents to try."
As for a place tween girls can store their beauty products, model Aya Spence suggests a Caboodle (the iconic '90s accessory is trendy once more). She loves hers, telling us the case can also function as a Dopp kit of sorts when she has sleepovers with her best friend. "They are supercute," Spence says.
Jewelry and clothing gifts for tween girls
According to model Parys B., "Word necklaces are so stylish — girls love them." This custom pendant comes in both gold and silver finishes and a range of chain lengths, from 12 to 24 inches. "It really just makes your outfit pop."
Tween actress and model Veronica Lopez says any girl her age is sure to love a bucket hat, which she calls a "super-trendy" accessory (as we've reported, that sentiment is clearly shared by older women and men too). "They are perfect for when you want to add a little 'something' to your outfit," Lopez says. Some of the popular patterns she told us to look out for are cow print, checkerboard, cheetah print, tie-dye, and floral, like this daisy-print option from Tillys.
Vans sneakers will also be a hit, say three of our tweens. Nia Gisselle is one big fan of the brand, saying that both the checkerboard slip-on skate shoe and the original sneaker are popular styles. Meehan agrees, adding that "Vans are always my go-to sneakers because they are supercute and comfortable." Actress and singer Charlize Tuozzo is a third Vans stan who loves the Old Skool sneakers in particular. "They have a flat sole, so they're perfect for skateboarding," she says, adding that the shoes have a "fun skate, surf, California vibe."
Both actor and model Brooklyn Ajjan and Alex M. want a pair of classic Dr. Martens leather combat boots. The shoes not only fulfill the tweens' love of all things '90s, but they are durable and comfortable enough to last for years.
Tech
gifts
for
tween
girls
After she served as the flower girl in her older sister's wedding, model and actor Reed Harlow-Grayce LaRocca says she received two of her favorite gifts ever: an Apple iPad and an Apple Pencil she can use with the tablet. "The new iPad is so much faster," she says, and the pencil is great because it allows her to write on the iPad in her handwriting and then convert it to text.
For her birthday, Spence received some personalized AirPod Pros customized with her name. (You can engrave anything from a date, to a name, to an emoji for free — but only if you buy them at Apple.) She says they have "great sound quality," whether she's wearing them to "listen to music and podcasts, FaceTime with my friends, or dance to TikTok." And when she wants to chill out, she says she can just "put them on noise-canceling mode."