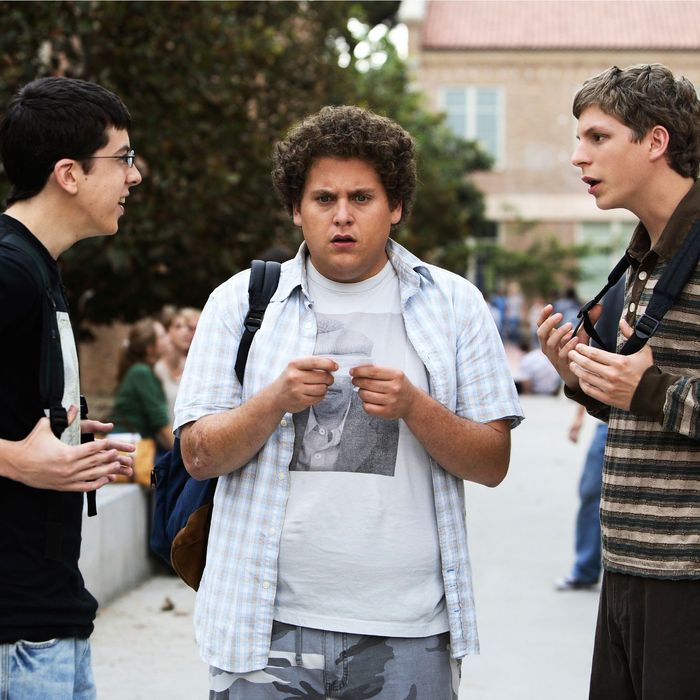 Photo: Sony Pictures Releasing
As opinionated as teenage boys are, they can be a bit hard to read. It can be difficult to get them to speak in more than one-word sentences, much less get thorough insights into their tastes. To find the coolest gifts that will put smiles on the faces of this particularly tough audience, we spoke to 12 teenage boys about the things they're currently coveting. Read on for their thoughts on the best gifts for young athletes (a heated foot massager), whether an Xbox is still a good idea (it is), and who makes the best fleece (Patagonia, of course). And if you've got adolescent girls in your life, be sure to check out our lists of the best gifts for teenage and tween girls, too.
G

a

m

i

n

g

g

i

f

t

s

f

o

r

t

e

e

n

a

g

e

b

o

y

s
Video games, of course, are a perennially popular gift among teen boys. There are endless options to choose from, but a sure bet, according to 14-year-old Jeremy, is to go for "the 2020 version of popular sports games." These games are updated every year with new players and features, and if someone has been playing the 2019 edition, it's safe to assume they'll want the latest.
Three of the teen boys we talked to say Madden NFL 20 (available for Xbox One and PS4) is at the top of their list, including 12-year-old Mateus, who has been playing the 2019 version with his brother. "As soon as they release the new game, they stop updating the old one," he says, adding that the new one also has some new features he's excited about, like an option for creating your own custom player, or using players from the past. If the teenage boy on your list isn't into football, there's always FIFA 20 and NBA 2K20 (available for Xbox One, PS4 and Nintendo Switch), as well as NHL 20 (available for Xbox One and PS4) — all of which were also mentioned.
"A lot of my friends are really excited about the latest Call of Duty ," says 16-year-old Sean. Jeremy also thinks this game would make a great gift. He doesn't personally play it, but told us, "I know a lot of people like it." It's available for Xbox One and PS4.
If you're really looking to impress the teen boy in your life, and he doesn't have a video-game console, Jeremy says, "Xbox One or PS4 would be a great gift." According to the teenage boys we spoke with, these two systems are the most popular, with the best selection of popular games. The latest Xbox One is a "disc-free" console designed with cloud gaming in mind (generally, all the big new releases are available to purchase and download online). You can also still get an Xbox One that takes discs, if you prefer, but one bonus of this disc-free console is that it comes with free download codes for Minecraft, Sea of Thieves, and Fortnite. The PS4 takes discs and can also double as a Blu-ray player.
With new versions of the above two consoles expected to arrive later this year, there isn't much time left for teenage boys to enjoy the current versions that are available now. For a fresher release, consider a newer Nintendo Switch, which 17-year-old Simi told us is the "*fire emoji*" item at the moment. "While we wait for the PS5 and Xbox Series X, the Nintendo Switch has become the hottest console this season," he tells us, adding that he loves how its compatibility means you can play "nostalgic Mario and Zelda games, and new online multiplayer options" such as the current social distancing craze, Animal Crossing.
If you'd prefer not to encourage more screen time via the video-game route, there are still some analog options. Gus, 13, plays Magic the Gathering, and says the Core Set is a great gift for anyone who plays or might like to pick up a new hobby.
G

a

d

g

e

t

g

i

f

t

s

f

o

r

t

e

e

n

a

g

e

b

o

y

s
Matt, an 18-year-old who just started his first year of college, says he's hoping to get this Razor electric skateboard. "It would be so easy and fun to go around campus with," he says. According to the company, the skateboard can reach speeds up to 12 miles per hour, and the battery is made to last through 40 minutes of continuous use. Riders control the speed with an included remote, and if it ever runs out of juice, it also works as a standard, old-fashioned skateboard.
We're big fans of Roku's smart devices, which allow any television to stream Netflix, Hulu, Amazon Prime and more, and according to Simi, teenage boys are, too. "Any teenager who has a TV, be it for video games or whatnot, loves the Roku player." He explains that it's a particularly great device for teens because it gives them easy access to all their favorite streaming services for the TV, while allowing them to also do other things on their laptops and phones at the same time.
Photo: Reid, Hilary
Ben, 17, told us his friends have been pooling their money together recently to buy each other Cameos on their birthdays from their favorite celebrities. For the uninitiated, Cameo is a service where users can choose from hundreds of notable figures, any of whom will record a 30-second custom video message of their choice, for a fee. "You can choose from athletes, actors, reality stars, musicians, and more," Ben told us. "It's as fun for the giver as it is for the recipient, as everyone has it on their phone forever." We suggest making contact with their best friend to find out who they'd really want to get a message from.
Matt also has his eye on this compact NutriBullet blender, which would be an especially great gift for anyone living in a dorm because it takes up little space and comes with everything one needs: Two different blades, a 24-ounce blender cup, two 18-ounce serving cups, and a selection of lids and storage accessories. Of the blender itself, Matt says, "It's super portable and I love smoothies."
Gus and Sean both say they could use a good portable charger for their phones and other devices. "I feel like I'm always borrowing those from people," says Sean, who wants something small enough "to put in my backpack and have it in school" for whenever necessary. He thinks this one would be great because it's compact, and since he's "always struggling to find a wire," he likes that it has two built-in charging cables — an Apple lightning cable and a micro-USB cable — so it should have every device covered.
M

u

s

i

c

g

i

f

t

s

f

o

r

t

e

e

n

a

g

e

b

o

y

s
Bluetooth speakers are a great go-to gift for teen boys. As Simi reminded us, "What do teenage boys love more than blasting meaningless music at the highest possible volume?" Sean told us that JBL is known to make some of the best, and a lot of his classmates have them. He is hoping to get this one, which he says is "small enough that you can bring it with you, but very loud." It's also waterproof.
Sean is a musician, but he says this keyboard would be a great gift for anyone — whether they already play or not. He has a similar model in his room, and says his friends love playing around with it when they come over. "They want a keyboard so they can learn," he explains. Something like this would be good to start out on, he says, adding that you can also use it to experiment with different sound effects or make electronic music.
Believe it or not, teenagers (both boys and girls) are into vinyl. Sean says that an all-in-one style record player with built-in speakers could be a great gift for someone just getting into records. He thinks something like this, which has a built-in Bluetooth, would be very practical: "I don't have many records, so it would be nice to have something that can connect to my phone" or to a Bluetooth speaker. (If you want to get something a little more serious, another option would be this Bluetooth-enabled Audio-Technica turntable from our roundup of DJ-recommended record players.)