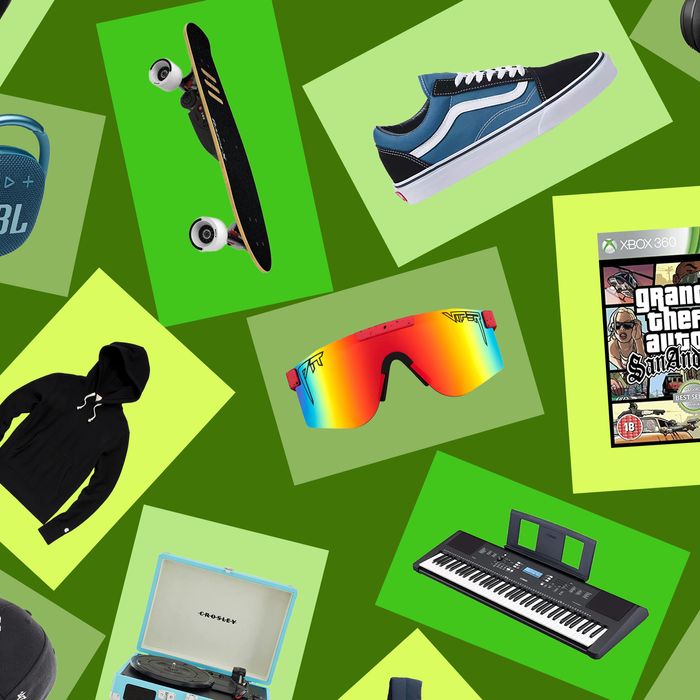 Photo-Illustration: The Strategist; Photos: Retailers
As opinionated as teenage boys are, they can be a bit hard to read. To get an insight into their tastes and find the coolest gifts for this particularly tough crowd, we asked over a dozen teenage boys about the things they'd love to receive. We've made something of a habit of polling teens, so we dug into those archives, too, highlighting the coolest loungewear and room décor. And for the clout-obsessed teen, we included Ben Simmons's favorite hoodie and more things Gen-Z-approved celebrities can't live without. You can use the links below to navigate to the category you think will best speak to your teenager. (And if you've got an adolescent girl in your life, be sure to check out our list of gifts for teenage girls too.)
Gadget gifts for teenage boys
Believe it or not, teenagers (both boys and girls) are into vinyl. When we spoke with him, Joey said he was hoping to get this Audio-Technica turntable so he could start a vinyl collection of his own. Because it's just a turntable, not a record player, you need to hook it up to speakers in order to actually hear the record play. If that's above your budget, Sean recommends an all-in-one-style record player with built-in speakers, like this Crosley model. With Bluetooth built in, he says it would be very practical: "I don't have many records, so it would be nice to have something that can connect to my phone" or to a Bluetooth speaker.
Wireless headphones are another of the most wished-for items among the teen boys (and teen girls) we talked to. "Everyone wants AirPods," says Sean, who told us they're "extremely popular with kids my age." To wit, Simi calls them the "best headphones of all time." 18-year-old Ethan points out that the headphones are particularly useful for online classes, especially if multiple people are working in the same room together. The AirPods Pro are about $100 more expensive than the standard AirPods, but both have wireless charging cases. The main difference between them is that the Pros have a better battery life and active noise cancellation. Another teen, 15-year-old Antonio, told us he'd actually prefer the slightly older AirPods because they're smaller and the case is more compact. "The AirPods Pro are cool," he says, but his priority is having something that's easy to carry around.
Under Armour was also named as a popular clothing brand by Sean and Mateus, who told us that he really likes the look of the brand's short-sleeve hoodies. "You can show off your muscles," he jokes, and the shorter sleeves mean it would also be comfortable "in the spring, or inside." Mateus is just as big a fan of Under Armour sweatpants. "I'd probably wear them everywhere; at school or at home." He couldn't decide on a color, but says black or gray are both good options.