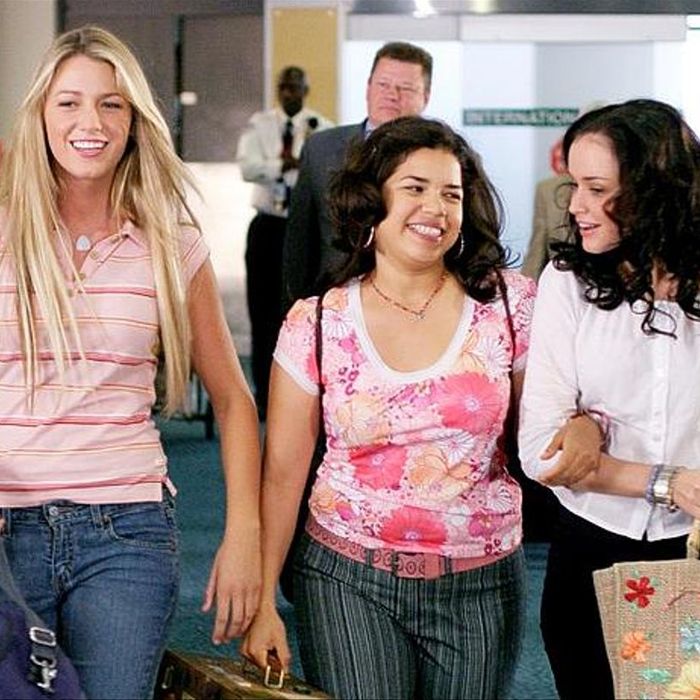 Teenage girls are notoriously hard to shop for — and picking the right gift for them might be even harder now than ever before, thanks to trends that shift at lightning speed and the influence of social-media stars who most people of legal drinking age have never heard of. To help you find an age-appropriate gift that's actually cool for a teen girl to own, we consulted with actual teen girls — including some of the YouTube, Instagram, and TikTok personalities the teen you're shopping for likely follows. We've broken it down into categories, so you can really dial in the right gift. And if you've got an adolescent boy in your life, be sure to check out our list of gifts for teenage boys, too.
Décor gifts for teen girls
Photo: retailer
When we asked teens about their favorite bedding earlier this year, Ava Lattimore told us about this bed canopy that'll transform any teen's space if they're tired of their childhood bedroom. Lattimore especially likes that "it drapes softly around your bed instead of hanging straight down," and adds that "it reminds me of the pillow forts I used to build when I was little but with an air of maturity." And it lets you carve out a little "secret hideaway," in your room "to draw, read a book, or chat with friends."
While the average owner of these sheets is probably much younger than your teen, we recently spotted them on the beds of Phoebe Bridgers, Gracie Abrams, and Diana Silver — three L.A. cool girls your teen probably follows on social media. The glow-in-the-dark print might seem a little childish at first, but the TikTok light–obsessed youth in your life will undoubtedly appreciate a new way of lighting up their room. The sheets are currently only available in twin, but the machine-washable cotton flannel duvet cover is available in twin and double/queen sizes.
If your teen got super into TikTok tarot-card readings this year, this tapestry would be the perfect gift. Songwriter and actress Heavenly Reyna, who was 19 when we asked her about bedroom décor recommendations for teen girls, mentioned this tapestry, noting, "It brightens up my wall and brings so much positive energy into my room; the sun tarot card portends good fortune, happiness, joy, and harmony."
"One of the top things on my and my friends' lists is a blanket," says Jazzy Hampton, a 16-year-old from Connecticut. "It's always nice to stay cozy and comfortable." This Barefoot Dreams blanket is one that's particularly popular among teens. It was first mentioned to us by a VSCO girl, and most recently came recommended by actress Brie Larson who said her 13-year-old neighbor introduced her to it. The hype around them seems to check out. Vlogger Marla Fay says it's "the most amazing, soft, cuddly throw" and Larson likes hers so much she's the proud owner of five.
Or there's this reversible Ugg blanket that Jenna Wasserman says is almost too comfortable. She told us that when she's snuggled under it, she doesn't feel "like staying awake to finish studying."
As we discovered in both our very enlightening 100-teen poll and our survey of cool college students, string lights are one of the most universally beloved décor pieces in this age group. One teen, Phoebe, says, "The warm hue that these lights create helps me de-stress and unwind." Another girl, named Sydney, especially likes this set with clips for her photos. "I can hang my Polaroid pictures on these string lights up on my wall, and have them be all lit up so I can look at them while I'm reading before bed," she says.
Himalyan salt lamps are another popular lighting option with the teens. One college student told us, "I'm hard-pressed to think of a single cool girl on campus who doesn't have one in her room." Caitlin Belle Isle, 16, agrees that salt lamps are a safe bet for teens. "They're not very expensive, and they don't clash with other decorations," she says. "They would be totally at home in a goth, witchy bedroom or in a minimalist one."
"You can't go wrong with a good scented candle," says Loren Gray, an 18-year-old singer and Instagram influencer with more than 20 million followers. If you're looking for something with a cool factor, Brynn, 19, recommends this status candle from Boy Smells. "I feel like this is something everyone needs but doesn't always want to spend the money on, so it's a great gift," says Brynn. Jewelry and bag designer Susan Alexandra – a favorite among cool girls – is also a fan of the brand.
If the teen you're shopping for lives in a dorm, where candles might not be allowed, or you don't think they should have an open flame in their room, you can always go with a diffuser and some essential oils instead. TikTok star Addison Rae (who just turned 20, but whom we spoke to when she was still a teen) told us about all the things she can't live without, including this diffuser. She says, "I feel like it's more natural than a candle, and there's no smoke residue."
Books, magazines, and games
Savana Santos, one-third of the girl group Avenue Beat who became famous after going viral on TikTok, says she's been playing The Sims for forever. "I've literally been playing Sims since the first one came out," she told us. "I'd play it on our family computer in the living room of my childhood home. Sims was everything and will always be everything to me." Your favorite gamer girl will also enjoy playing this computer game that (apparently) never gets old.
Photo: retailer
Liz Goldwyn, the founder of The Sex Ed, a multimedia platform dedicated to sex, health, and consciousness education, recently told us about the best sex books for every person, including teens. She recommends this one for "the Gen-Zer who doesn't see gender." As she explains, "It highlights the queer and two-spirit history of the Cherokee community, making it a great title for those looking to explore the cultural history of the gender identity spectrum through an Indigenous American lens."
Photo: retailer
Goldwyn also recommends this classic James Baldwin novel for the adolescent who loved Call Me by Your Name.
Print magazines give teens a break from their screens, and Indonesian fashion influencer Evita Nuh says she's always excited to flip through a new issue of Frankie. According to Nuh, this international mag from Australia is "so artsy and full of inspiration." A subscription to it will give her a year's worth of creative content to pore over.
For the teen who could use a little less screen time, 19-year-old Carly Greene, a student at Fordham University, says a coloring book, like this one from Art Therapy Coloring, along with colored pencils, pens, or markers is great for in between Zoom classes or as a Netflix alternative. "Sitting down and completing a page out of a coloring book can be the most relaxing and rewarding task," she says.
Legos might not be the first thing that come to mind when shopping for your teen girl, but hear us out. Mxmtoon, who is technically not a teen (but is definitely someone your teen follows on social media), told us about her pandemic escapist Lego hobby that the person on your list also might enjoy. If they're a Harry Potter fan, this particular set will be a double hit. Mxmtoon says, "Lack of magical abilities aside, Lego's Knight Bus is an otherwise perfect re-creation of the iconic mode of transport from Harry Potter — down to the ability to slide its included tiny bed around the bus's three levels."