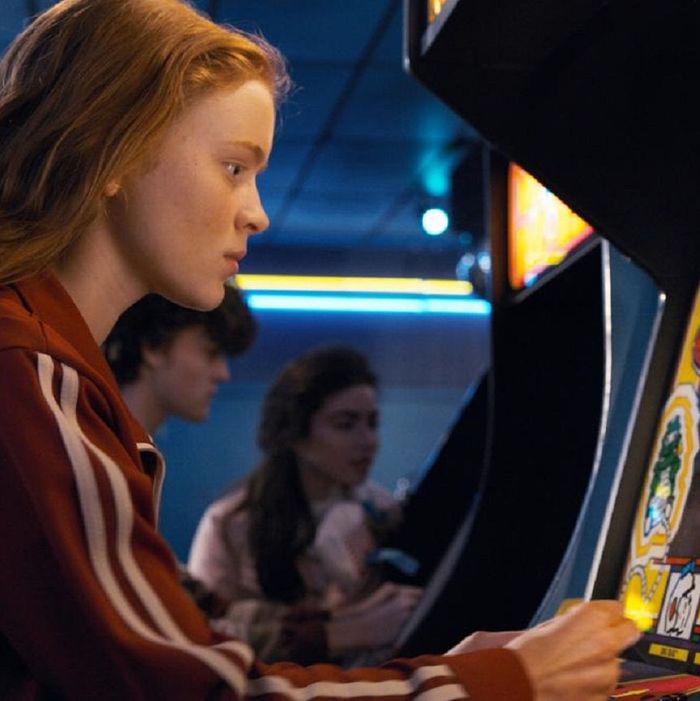 If you're not a gamer yourself, it can feel next to impossible to know what to buy for the gamer in your life for the holidays. To help you find a winning gift for any gamer — whether they have a huge following on Twitch (or took that following to Mixer) or just play for themselves —
we talked to 11 gamers about the consoles, games, collectibles, and accessories they're wishing for this year.
Consoles
For the last three years, Nintendo Switch has been the most wanted game console around, and according to the gamers we talked to it's just as popular as ever. Joshua Rivera, a staff writer at Kotaku, recommends buying the portable console for gamers of all ages, including beginners. Jamin Warren, founder and CEO of Kill Screen, says, "Not only does it easily dock to your television, but there are also lots of great new games on it. For those who are looking for something really versatile and social, it's a perfect device." When we talked to tween boys and girls about what they want to unwrap this year, many of them mentioned a Nintendo Switch. If they already had one, they said they were asking for new games and accessories.
When we talked to Emily Heller, a writer at Polygon and a gamer, she recommended the Nintendo Switch Lite over the regular Switch this year. "It's great for casual gamers," she says "specifically for adults who commute on the subway to work." Both Heller and her husband have Switch Lites and she told us they haven't used their regular Switch that's hooked up to the TV since getting the Lites.
According to Jenn Stolfa, the mother of a 10-year-old gamer named George, Xbox One is the system her son and all his friends want this year. Grant, a 13-year-old gaming enthusiast agrees. This version of the console comes with the newly released Star Wars Jedi: Fallen Order, which Sasha, a 12-year-old who is into gaming and also wants an Xbox One, told us he is looking forward to playing.
Last year, Susanna Pollack, president of Games for Change, told us that the Oculus Rift was a great gift for the avid gamer. "It offers a premium consumer experience in virtual reality, with stunning visuals and controls that let you interact naturally," she says. This year, Matthew Mason, a sixth-grade gaming and movie enthusiast, says he wants the Oculus Quest and its carrying case. The updated VR headset is the brand's first-ever portable all-in-one VR gaming device that comes with two wireless controllers — and it lets you play all the same games you enjoyed on the Rift. The main difference between the two is that the Rift has to be tethered to a PC in order to function, where the Quest is a stand-alone system. Mason wants it to play VR Chat and to watch movies. "There's also this thing called a virtual desktop on it where you can have a virtual computer and send emails that way," says Mason. And Polygon calls it the best value you can get in VR right now. The Quest is currently back-ordered most places until early January. So if unwrapping the real thing on Christmas morning is important, the Rift or the Oculus Go — which Heller describes as a home theater for your face with the option for some light gaming — are great options as well.
Games
Rivera mentioned a few of this year's big game releases like Call of Duty and Death Stranding, both of which he called "cinematic" and "intense." If you're looking for, as Rivera put it, "friendlier stuff," however, he recommends Luigi's Mansion 3 for Nintendo. "There are all kinds of games out there," he says. "So you have to kind of figure out what kind of video game someone would like in the same way you would figure out what kind of book they might like."
Untitled Goose Game was a breakout hit this year and the subject of hilarious conversation on Twitter. Rivera calls it "a delight." He says that "it's a funny game about being an awful goose" that is intent on wreaking havoc on townspeople by stealing their hats, playing pranks, and honking a lot.
Heller says that, like in year's past, Pokémon is going to be a big thing for Christmas. The newest Pokémon games are called Pokémon Sword and Pokémon Shield. "They're two different versions with exclusive Pokémon in each version. So if someone has two kids they could get one of each so the kids can trade exclusives with each other."
Instead of suggesting a video game, Brad Driscoll (a.k.a. Dinky Dana, who has over 45,000 subscribers on YouTube and 25,000 Twitch followers) recommends the board game GloomHaven. "It feels like a combination of Magic the Gathering, Dungeons & Dragons, HeroQuest, and Choose Your Own Adventure books," he says. In an ever-changing world you and your fellow gamers take on monsters, gather loot, explore new corners of the GloomHaven universe and play cooperatively to keep the story going. Heller says it's a gift that "board game people would definitely be very excited about getting."
If you're looking for a less expensive board game, Rivera also likes Tales From the Loop. "Like Dungeons & Dragons, Tales From the Loop is a game in a book. But according to Rivera it's not so "drenched in elves and goblins." In fact, it's more like Stranger Things. In the game, you and your friends get to play as a bunch of kids in a town where weird stuff happens because of the government. So you have to figure out how to deal with that but also deal with your parents.
Gaming Accessories
If you're not sure what game to buy, Rivera and the other gamers suggested buying things that make gaming more enjoyable — things those gamers may not buy for themselves but would really appreciate as a gift. Rivera recommends this premium, fully customizable Xbox controller. "It has these weird little paddles behind the controller that are faster than hitting a button on the front," he says.
He also told us that buying a pro controller for someone who already owns a Nintendo Switch is a great gift. "If you have seen a Nintendo switch you know that the controllers are tiny and the pro controller is bigger and more comfortable," says Rivera. The tween boys we asked about the gifts they want also said they'd like a Switch controller.
Akua Harris, a member of Black Girl Gamers, has an eye on a new gaming headset. "This one by SteelSeries for PS4 and PC comes with dual batteries and a 40-foot range." That way, she says, "you can go get a snack while waiting for the next round to start." Plus, the sleek exterior makes it easy to customize with stickers. Both Rivera and Sidney Cole, a 21-year-old gamer, agree that a good gaming headset is essential. Cole says it helps you get the best play out of your game. You can hear even the lightest footsteps within the game, which improves your reaction time and sense of awareness.
According to Heller, a more affordable and still really great headset is the Steel Series Arctis 1 Wireless Gaming Headset. "It's billed as the first wireless headset for Nintendo Switch," says Heller. "That's not entirely accurate because you need this little dongle that you plug into the Switch to make it work wirelessly. But it's cool because it works for Switch, PS4, PC, and Android phones so it's super versatile."
Another headset that Heller recommends comes from a new Razer Quartz line of PC accessories that are all pink and crazy popular. "I think the most popular thing from the collection (and the thing that I want) is a pink headset with cat ears that light up." Heller assured us that besides being adorable, it's also a very good quality headset. "It's got this cooling gel in the ear cups that keeps your head from getting overheated and it has this little divot on both sides for glasses to fit into so they're not pressing up against your head — it's a big deal for me," she says.
For gamers who spend a ton of time sitting, Cole recommends an ergonomic gaming chair. "No matter what kind of gaming you're into, a nice gaming chair is important to support your neck and back as you play," she says.
Nicholas Rizzo, a dad and lifelong gamer, suggests another gift that helps keep your body healthy while you game: this mini exercise bike that fits under your desk. "Great gifts for gamers are things that help them counter some of the issues they face like eye fatigue, excessive blue-light exposure, lack of physical activity, or sitting for long periods of time," he says.
"If you are a PC gamer, having MORE mouse pad has never been a bad thing," says Rizzo who recommends this extra-large mouse pad with colored lights. Also, Rizzo says, this mouse pad will last longer. "If you only use the mouse on one side of this mousepad, you can just turn it once it starts to get worn down," he says. "And the lights, well, why not?"
PC gamers will also appreciate this affordable gift that Heller recommends because of how useful it is when connecting your PC to the TV. According to Heller this wireless keyboard streamlines the gaming process "so you don't have to stand over at the TV and type and then walk back over to the couch."
Justine Ezarik of iJustine is a big fan of the DJI Mavic 2 Zoom. "This has been my go-to drone since it was released this year," she says. It's "a great gift for a drone enthusiast or even a beginner." If you're looking for a more affordable drone that you can play with indoors and out, DJI also makes a robotic tank (which retails for $499) that was recommended to us by Brandon, a 9-year-old who loves gaming and robotics. It can be programmed to go on autopilot and respond to visual or audio cues, and it would make a great gift for gamers of any age.
"If they're super into collectibles, you could get them a Funko Pop or other character-inspired figurines," says Rivera. He really likes Amiibo, which he says "are huge!" Figuratively, at least. These great stocking stuffers are little figurines that attach to Nintendo Switch controllers and can unlock something in the game that you're playing via a sensor on the controller. Like Funko Pops, Amiibo come in a ton of characters from different games.