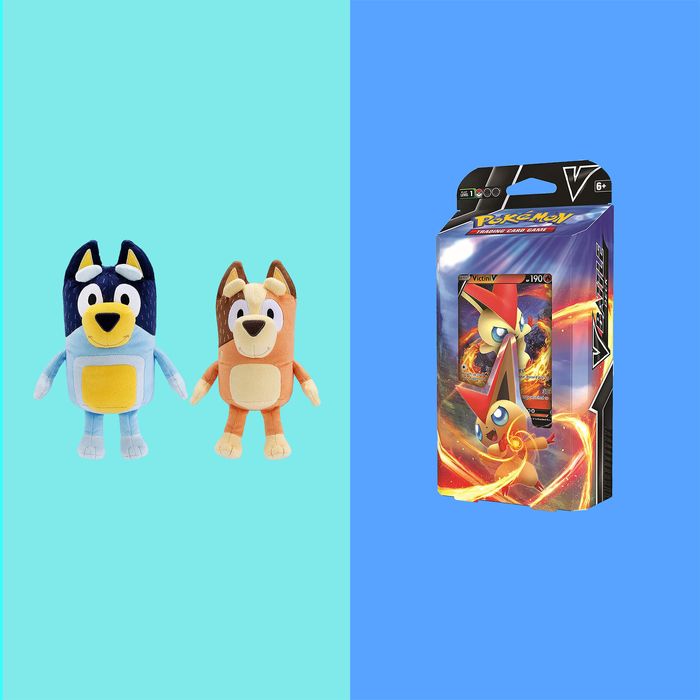 Photo-Illustration: The Strategist; Photos: Retailers
Each year we reach out to toy-trend experts to get a sneak peek at their lists of the hottest, most covetable toys ahead of the holiday season. (A quick preview for those who can't wait: because this year is the 25th anniversary of Pokémon, toys that feature Pikachu, Charizard, Mewtwo, or Squirtle will be extremely popular.) Instead of praying to the inventory gods last minute, we want you to have a head start on finding the animatronic Labradoodles, tiny collectible grocery items, and magical steaming cauldrons that kids will be clamoring for this holiday season.
Last year we advocated for shopping early because of pandemic-related shipping delays. Well, this year the experts suggest stocking up even sooner. (In fact, our pick for the hottest holiday toy — the Magic Mixies Cauldron — has already sold out a few times at Amazon, Target, and Walmart. Your best bet for buying it is checking back for the odd restock at Walmart or eBay, where it's two times the suggested retail price.) Adrienne Appel, SVP of marketing communications at The Toy Association explains, "Because of the ongoing impact of supply-chain disruptions hindering toymakers this year, we don't think there is necessarily going to be one stand-out toy like in years' past. Instead, the hot toys will be the ones that are actually in stock." Though Christmas is now just days away, there are a handful of the year's top toys that are still in stock and will ship in time for December 25 — ahead, we've listed those first to help you find the best last-minute gifts.
For more great gift options, we also have guides for kids of all ages, including 1-year-olds, 2-year-olds, 3-year-olds, 4-year-olds, 5-year-olds, 6-year-olds, 7-year-olds, 8-year-olds, and 9-year-olds.
According to Appell and Mierzejewski, anything Pokémon will be a hot commodity this holiday season. "In addition to the Pokémon cards being near impossible to get, there's a bunch of new Pokémon products coming out for the 25th anniversary. My advice is anything that with Pokemon on it, you should buy as soon as you see it. Because it's just so hot right now," says Mierzejewski. If your kid already has binders full of Pokémon cards, they'll probably appreciate this set of ten battle figures that includes Pikachu, Charmander, Squirtle, Charizard, Bulbasaur, Eevee, Jigglypuff, Magikarp, Haunter, and Jolteon.
As we've seen over the past four years, the blind box collectibles trend is alive and well. This year, instead of miniature fashion dolls that unbox their own accessories, the hottest collectible toy is a set of plastic balls filled with charming miniature replicas of supermarket products. Both Byrne and Mierzejewski say that these toys have already started to sell out. "It makes sense because kids love miniature things and they love shopping," says Byrne. There are little dove shampoo bottles, tiny Laughing Cow cheese, and mini Kool-Aid containers, among many others. If you're wondering what kids do with these tiny pantry staples, Mierzejewski says that the unboxing reveal is still super popular all over social media, plus they are fun to display, trade with friends, and use as props for Barbie and other similar-size dolls.
Beyblades have been really popular among the elementary-school set for a while now and a less elaborate set is featured in our toy gift guide for 8-year-olds. They're basically fierce-looking spinning tops that kids shoot at each other via a zip-cord launcher to see whose top will survive the battle. While any Beyblade toy would make an exciting gift for the right kid, Mierzejewski says that this Beyblade battle stadium with a central rotating panel is the one that is going to sell out fastest. "This is a super popular line already, but I really love this new upgrade with the motor vortex disc that redirects the tops randomly and makes every battle more interesting," she says.
Paw Patrol continues to captivate kids, and the recent release of the Paw Patrol movie was unsurprisingly a huge success, earning over $100 million globally. There are a ton of Paw Patrol–themed toys, but Byrne told us that the Ultimate City Transforming Tower, which is featured in the movie, would definitely sell out — and it did. You might be able to find one at certain Walmart or Target locations, but if you don't want to drive for miles and miles in search of it in stock somewhere, we suggest this VTech learning watch for kids ages 3 to 6 years old. The watch features four interactive learning games that help kids recognize patterns, identify animal tracks, and pick the right tool for the job. It also includes sound effects and popular phrases from the show, plus a clock, timer, stopwatch, and alarm.
According to toy expert Chris Byrne, (a.k.a. the Toy Guy) Rainbow High dolls are "the doll to look at this year." Each collectible fashion doll is inspired by a color of the rainbow and their outfits are modeled after different real life designers and fashion trends.
According to Byrne, social emotional play is key for kids right now. "Kids are around their peers again, and they have missed a lot of the developmental process over the past few years," he says. Toys like Purrble, which was recently voted one of Time magazine's 100 best inventions of 2021, can help children (and adults, too) deal with anxiety and find calm. The cuddly interactive toy has seven sensors that respond to touch. When someone picks the cute stuffed animal up, its "heartbeat" speeds up to 135 bpm but slows to a soft purr the more you pet it. By comforting Purrble and helping it to calm down, kids actually become more calm themselves. Byrne says that a couple of years ago the amount of technology that has gone into this toy would have made it two or three times more expensive.
Though it's no longer a new phenomenon, LOL Surprise Dolls are still incredibly popular and highly collectible among kids ages 5 and up. You may think it's just another doll, but Byrne says collecting things like LOL Surprise can provide important social interaction and belonging for kids. "What's significant about collectibles is that they are different enough so that kids can express their own individuality, but at the same time they are all part of the LOL Surprise world. Yes they're connecting around a doll, but the wonderful thing is they're connecting," he says. If you'd like to get something to complement an existing collection of LOL Surprise Dolls, this '80s-inspired party car is a great choice. It converts easily from cruiser to pool to dance floor and back again.
Netflix recently launched a brand-new series inspired by the best-selling children's book Ada Twist, Scientist. Like the book, the show aims to get kids excited about STEM learning while following along on the adventures of Ada, an inquisitive second-grader. According to Appel, anything from the Ada Twist toy line based on the television series is going to be a hot holiday item and "will have aspiring scientists conducting their own experiments in no time," she says. There are lots of toys available to buy, but this interactive Ada Twist doll that talks and sings is the only one that will arrive in time for Christmas.
[Editor's Note: This toy will not arrive by Christmas.]
Jennifer Lynch, a content developer at the Toy Association, told us that Bluey, an Australian cartoon dog with his own show that you can watch on Disney+ and Hulu, is crazy popular among the preschool set. While there are lots of toy options, this adorable caravan play set and cuddly stuffed-animal versions of Bluey and his family are Lynch's top picks for the holidays. The caravan comes with a campfire, s'mores for roasting, a dining set, and stickers to decorate the inside walls, and the plush bundle includes Bandit and Chilli, Bluey's mum and dad.
[Editor's Note: These toys will not arrive by Christmas.]
Both Lynch and Ali Mierzejewski, editor in chief of The Toy Insider, recommend this glow-in-the-dark fairy finder, which is already selling out in certain colors. The Mason-jar-size toy is like a giant Tamagatchi, except it can house more than 30 different pretend fairies, which kids "collect" out of the air and trade with their friends. Open the lid and watch as the jar lights up each time you "catch" a new fairy. "It has a magical, firefly feel to it. You can toggle through all of your fairies, see what each of them needs, and take care of them," says Mierzejewski.
[Editor's Note: This toy will not arrive by Christmas.]
We asked Appel if there was anything new this year that continues the pooping-toy-animal craze. In case you don't remember, last year kids went wild for a pooping pink flamingo that talks, and the year before that, rainbow unicorns that pooped glittery colorful slime were all the rage. This year, according to Appel, we can expect kiddos to go nuts for this turtle named Shelbert that eats, sings, dances, and talks while using the toilet.
[Editor's Note: This toy will not arrive by Christmas.]
Byrne says the Make It Real Color Fusion Nail Polish Maker is something parents should buy soon before it sells out. It lets kids create up to 200 custom shades of water-based, non-toxic nail polish and comes with styling tools and instructions for different kinds of nail art. To create custom polish, kids can pick a color from the included recipe book or download an app that matches colors to your favorite sneakers, your best friend's sweater, or the nail polish of one of your favorite celebs. "It tells you exactly how many pumps of each base polish you need to match almost any color," says Byrne.
[Editor's Note: This toy will not arrive by Christmas.]
CoComelon is a YouTube TV show for preschoolers that has views in the billions and lots of spinoff toys you can buy. According to Byrne, the interactive dolls inspired by the show's main character, JJ, are going to be the first of all the CoComelon toys to go. In fact, the original JJ doll we included here has already sold out, but this JJ and family playhouse set that sings the "Clean Up Song" is still in stock. It includes JJ's family and his friend Bella, plus a fridge, potty, and furniture.
[Editor's Note: This toy will not arrive by Christmas.]
Pop Its have quickly become one of the most popular toys of 2021, seemingly arriving on the scene just in time to soothe our collective "post" pandemic burnout. Lynch says the silicone-bubble-based fidget toys are fun for people of all ages, from babies to grown adults. Lynch likes this gamified version for kids, which features numbers and letters on opposite sides of the bubbles. It includes instructions for learning games that help build spelling, alphabet, and math skills, plus some simple bubble-popping games.
[Editor's Note: This toy will not arrive by Christmas.]
A newer toy trend we heard about from Byrne and Appell is audio for kids, specifically this padded speaker (and Strategist favorite) called a Toniebox. When you place the included figure on top of the box it initiates a story that kids can listen to but also engage with. Some of the stories have even been read by LaVar Burton. "You know how podcasts are huge for adults? This kind of children's audio has been really, really big for kids. It really fosters imagination, creativity, seeing things in your mind's eye and building the skills of listening," says Byrne.
[Editor's Note: This toy will not arrive by Christmas.]
If your kid has been asking for a pet dog but you're not ready for the responsibility, Mierzejewski recommends this highly anticipated interactive Labradoodle named Moji. "He's got a really animated face and responds to kids' voices and touch with more than 150 reactions," she says. In addition to voice and touch commands, Moji has a smart collar with a color screen that displays different animated emojis to communicate what he's thinking. For example if he's hungry, that'll show up on his collar and kids will know that it's time to feed him.
[Editor's Note: This toy will not arrive by Christmas.]
Byrne and Mierzejewski, say that this interactive toy is going to be one of the biggest hits of the season. It comes with a variety of powders and potions that bubble, change color, and steam when mixed in the cauldron with water. You also get a light up magic wand to help you perform a series of magic spells that culminate in the appearance of your very own Mixie (a plush creature that lights up and reacts to different commands). "It's an absolutely incredible experience for kids," says Mierzejewski, noting that they can repeat the process over and over again with their friends and even put different things into the secret compartment of the cauldron and then magically reveal them. As we explained, this is already sold out everywhere — but if you're committed, you can buy it on eBay.
[Editor's Note: This toy will not arrive by Christmas.]
At nearly three feet tall, this transforming Batman playset would be a very exciting toy to unwrap — and Mierzejewski says she and the rest of her team at the Toy Insider fell in love with it the moment they saw it. When closed, it looks like a giant Batman action figure. Open it up and you'll find a multi-level interactive Bat Cave with a functioning elevator and jail for super villains. "It's packed with imaginative play, making it a great fit for all kids from preschool up through grade schoolers. Plus, multiple kids can play with it at the same time, so it provides a lot of play value for the price point," Mierzejewski says.
[Editor's Note: This toy will not arrive by Christmas.]
The Strategist is designed to surface the most useful, expert recommendations for things to buy across the vast e-commerce landscape. Some of our latest conquests include the best acne treatments, rolling luggage, pillows for side sleepers, natural anxiety remedies, and bath towels. We update links when possible, but note that deals can expire and all prices are subject to change.