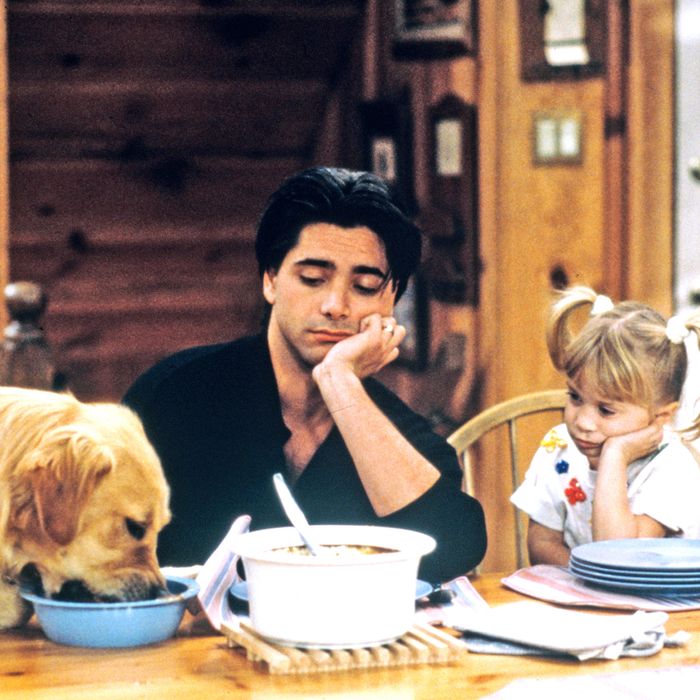 Photo: ABC Photo Archives/Getty/Walt Disney Television via Getty
With most of this socially distanced stint likely spent at home, you might be tempted to adopt a dog — especially since you'll be able to train, supervise, and bond with your new pet without having to take time off from work. It's important to know that the process may take a little longer than usual during the pandemic, since most dogs have been sent to socially distanced foster homes — meaning you won't be able to meet the dogs at the shelter like you normally would. "What would normally take three to four days might take maybe two weeks," says Mika Ito, the director of animal care at New York–based shelter Animal Haven. Pet services, such as groomers, trainers, and dog-walkers, may be temporarily closed as well, so you'll need to be prepared to handle all pet care at home.
Dog adopters should also keep in mind that if you're working from home, you'll be spending a lot of time with your new pet, which can create separation-anxiety issues once your normal work schedule resumes. "Even under these circumstances, you have to leave your apartment a few times a day so that your dog gets used to you leaving," Ito advises.
To streamline the rest of your at-home pet prep, Ito helped us put together a shopping list of essentials for dogs, where you'll find recommendations from Ito, as well as some other pet-approved, expert-recommended favorites that we've written about, including the travel carriers dogfluencers use and the shampoo Westminster Dog Show handlers can't groom without.
Collapsible wire crate
If you plan on crate-training your dog, Ito recommends a sturdy, collapsible crate with dividers so that you can adjust the size as your puppy grows. Training aside, "you don't want a newly adopted dog to have free rein around your house right away," so creating a safe, enclosed space can help accustom the pup to the new environment. Writer Ariel Kanter bought this crate for her "Houdini" dog, who managed to escape from two other crates, and found this one to be durable and secure enough to keep her 13-pound Chihuahua mix, Pippin, safely inside. "There are two doors, both with double-locking mechanisms, so his attempts to escape are all futile," she assures.
Wee-wee pads
For puppies that aren't yet potty-trained (or vaccinated enough to go outside), Animal Haven uses superabsorbent Wee-Wee Pads by Four Paws. And, if you plan on traveling, adoption manager at Best Friends Animal Society Kristi Littrell advises to "put a pee pad at the bottom of the carrier and have an extra just in case."
Food and water bowls
"It's better to go metal or ceramic for bowls because plastic is porous," advises Ito. "We don't want to transfer any cooties." Since ceramic bowls can chip and shatter, she personally opts for metal, such as these raised stainless-steel ones with a stabilizing geometric base. Strategist writer Karen Iorio Adelson says that she has similar ones for her cats, and finds that it "makes [her] cat's feeding area look that much more put-together," and she doesn't have to deal with her pets "pushing around or knocking over their bowls."
For dogs who tend to gulp down their food, Animal Haven uses slow feeders with lots of "nooks and crannies and angles" from Outward Hound, so that they can pace themselves while eating. Nikki Naser, resident pet expert at Chewy, also told us that dogs will "eat up to ten times slower with these." They're good for teething puppies, and keeping your dog entertained while stuck indoors, too.
Food
According to Dr. Jamie Richardson, chief of staff at Small Door Veterinary in NYC, "Puppies have different dietary requirements compared to adult dogs," meaning they'll need higher levels of protein, vitamins, and minerals. Richard advises to feed them puppy-formulated dog food until they're "skeletally mature," which is around one year for small- and medium-breed dogs, or between 14 and 18 months in large- and giant-breed dogs. Purina Pro Plan for puppies made our list of best puppy food, and comes recommended by four different veterinarians for its highly researched, veterinary nutritionist–formulated ingredients. Most puppies seem to like Purina Pro Plan Focus, one veterinarian told us — even those with the most sophisticated of puppy palates.
For adult dogs, Animal Haven uses Purina Pro Plan, who has "really upped their game," says Ito. Purina Pro Plan — which also made our list of best dog foods — meets the Association of American Feed Control Officials standards, is formulated by veterinary nutritionists, and is made without legumes, which can be difficult to digest for larger dogs. Nicole Goudey-Rigger, the owner and CEO of Pets a Go Go, also told us that she likes the Pro Plan line because of its wide variety of proteins, which include chicken, beef, salmon, duck, lamb, and pork, since "not all proteins agree with all dogs."
For particularly picky dogs, Animal Haven also likes Ollie, which is a direct-to-consumer dog-food brand that makes personalized, human-grade dog food. "We really highly recommend Ollie," says Ito. "They donate to us, but their food is really great. It's human-grade, and it comes in packs that you can freeze. They have beef, chicken, turkey, lamb. Dogs really enjoy it." Ollie customizes its box depending on your dog's size, age, weight, and activity level, but the price typically starts around $40 for two weeks' worth of food for small dogs, or $80 per month.
Treats
"Treats are your best friend when training," advises Ito. At Animal Haven, "we do positive reinforcement. Ignore the bad, reward the good. We always recommend having an average treat, and then a really high-quality treat when you're trying to train them out of a certain behavior. They often reward with cheese, hot dogs, and soft treats from Natural Balance. Animal Haven uses the not too yummy, crunchy ones for day-to-day, and save the "really yummy" Jumpin' Stix for big milestones like potty training.
Preventatives
You'll need a veterinarian's prescription to pick up any parasite preventatives, but Ito strongly recommends treating your dog with parasite-preventing orals and topicals, along with an anti-flea and tick. It's important to keep in mind that the most effective preventatives for your dog will be dependent upon several factors, such as its size, weight, and environment, so working with your veterinarian is a must. Once you have your prescription in hand, tried-and-true, vet-recommended favorites are Frontline Plus for fleas and ticks and Iverhart for heartworm.