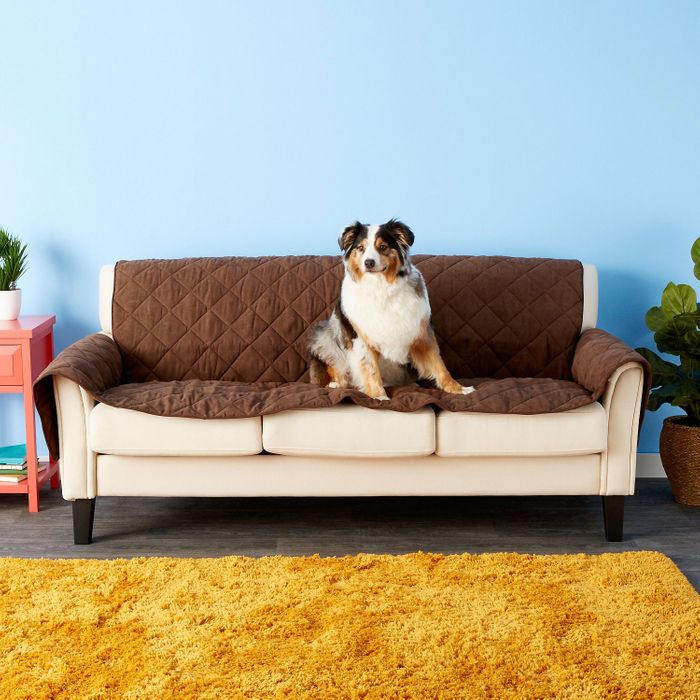 Photo: Courtesy of the retailer
Any pet owner whose cat has turned a sofa into a scratching post, or whose puppy decided its favorite place to piddle is a rug, knows that keeping your furnishings clean and pristine-looking when you share your home with animals is an ongoing struggle. But that doesn't mean you need to gate off your living room to keep it tidy when your pet is anything but.
The first step to maintaining a well-kept home when you share it with a pet is to keep that pet clean, according to the experts we spoke with. Regular brushing reduces shedding, and wiping down dogs as soon as they return from a walk prevents them from dragging dirt inside. The second step is choosing vacuums, tools, and cleaning products specifically designed to tackle pet messes. Below, we've listed the best equipment and cleaners for dog- and cat-owners, according to our experts — all of whom also stress that proper training will go a long way toward preventing any pets' destructive behaviors.
Best products for cleaning dogs post-walk
All dogs need their walks, and whether it's raining or shining outside, they'll often return dragging dirt, mud, or other outdoor grime. That filth can quickly soil your carpet or furniture, which is why Schwab advises putting a mat outside your door, where you can clean your pooch off before it sets foot in the house. For even less mess, she recommends an "ultra-absorbent, shammy dog mat." This one doubles as a towel you can use to wipe down your dog's coat and is machine-washable.
Ellis uses these wipes to give dogs an even deeper scrub after they return from walks. "They are very safe for your pet's feet, as well as their muzzle, ears, and other body parts." The wipes are also antimicrobial, so your pup won't bring in any germs.
Schwab also likes using disposable wipes to clean dogs after an outdoor adventure. "Cleaning your pet's paws with wipes allows you to get into the nooks and crannies," she says. These have vitamin E and aloe vera, which will help condition skin.
This dishwasher-safe tool is another easy way to clean dirty paws, according to Schwab. "It's basically like a washing machine for paws," she says. Simply fill the BPA-free container with water, slip each of your pet's paws inside it, and gently use the thing's interior silicone bristles to scrub each one clean.
Ellis "loves Funky Pet Zones' all-natural sprays on everything from dogs' paws to their body" after they've been outdoors. The products are made from food-grade, non-toxic ingredients, and leave animals smelling fresh. This particular spray uses a blend of shea butter and coconut oil to neutralize any unwanted odors.
Best brushes to reduce shedding
Fur-covered furniture is a telltale sign of a home with pets, and "good grooming is the first step to limiting shedding," says Nicole Ellis, a dog-training and product expert with Rover. "Set some time aside at night to brush your pet out, removing any loose fur that will otherwise stick to the couch." She likes this gentle tool, which catches loose fur without pulling on hair that's still attached to your furry friend's body.
Ellis also recommends looking for "a high quality slicker brush," a tool that generally has tightly-packed bristles designed to just penetrate an animal's top coat. This one "can be used on both long- and short-haired dogs and is effective at removing loose fur," according to Samantha Schwab, a pet expert with Chewy. It'll also help detangle hair and remove matted clumps.
Cat-owner Elizabeth Gumport already told us the Furminator brush is an excellent tool to prevent shedding and hairballs, and Emily Adamson, a Dogtown groomer with Best Friends Animal Society, seconds that opinion. Adamson recommends using it on your pet's topcoat, but only once or twice a week, because "over-Furminating" can irritate an animal's skin.
Best products to prevent scratching
Cats instinctively scratch surfaces to shed dead layers of their claws and mark their territory through scent. The sides of sofas and chairs are especially appealing as scratching posts, because they also allow cats to get a good stretch in. To deter this behavior, Ellis recommends Sticky Paws tape, a double-sided tape that cats hate the feeling of (and that won't damage your furniture when you pull it off). Use it enough, and your cat will soon learn the sofa is off-limits.
Steering cats to a proper scratching post is imperative while you're training them not to scratch the furniture. "Place one or two cat scratchers near your couch to help divert its attention," says Schwab, who suggests choosing a scratcher that best suits your cat (they can come as toys, posts, or beds). A vertical post like this might do the trick for cats that like to stretch and scratch the side or legs of a sofa. Ellis recommends using catnip to generate interest when introducing a new scratching tool — and always rewarding kitties with treats when they use it instead of furniture.
Best protective coverings for furniture
If your pet likes to cuddle with you on the couch, Ellis suggests covering it with a pet-friendly throw blanket to minimize the amount of hair that gets onto the sofa itself. She recommends this throw from P.L.A.Y., which is machine-washable and can be thrown in the dryer. "It blends into any living room, is water-resistant, and easy to clean."
Furniture covers are "another precaution pet parents can take to save couches from excessive shedding," adds Schwab. This sofa-sized one is machine-washable, too (making it a good idea if your pet is accident-prone).
Best tools for removing hair from furniture
When hair does wind up on furniture — and it inevitably will, despite your best efforts — Ellis recommends using this four-sided brush to clean it off. "It's a go-to in our house for removing pet hair." It has rubber nubs on all sides to catch loose hair, and can be easily rinsed clean with soap and water.
This mitten-like brush "is another great tool for grabbing loose hairs off the furniture," Ellis says. Slip it onto your hand to get in between couch cushions.
Kadi Dulude, the owner of Wizard of Homes cleaning service, says two of his tidying pros love this brush. It's basically a giant lint brush, except it features a self-cleaning base instead of sticky layers you peel off after each use. After each brushing, insert and pull the hair-covered brush into the base, where a removable tray catches hair and fur (that you can then dump straight into the trash.)
If you prefer a more traditional, rolling lint brush, Schwab recommends this one. "It will also remove ticks from fabrics to prevent infestations," she says, "[and] you can use the roller on clothing, car seats and carpets."
Best pet-friendly furniture cleaning products
All of the experts we spoke with agreed that it's best to use pet-safe, natural products to clean your furniture, as many ingredients common in other cleaners (like bleach, ammonia, and formaldehyde) are toxic to cats and dogs. These sprays from Skout's Honor come highly recommended from both Ellis and Schwab, who like that they're non-toxic and specifically designed to eliminate odors and stains from pets.
Leather furniture is always a good option for pet owners, according to Dulude, because "you can wipe it down and condition [it] if needed." You also don't need to brush hair off of it like you do when cleaning fabric upholstery. She recommends this all-natural, non-toxic cleaner for getting pet-worn leather furniture looking as good as new.
"Good old-fashioned vinegar" is the most minimal cleaning solution for urine stains and bad smells — and "the best," according to Adamson. "When sprayed directly onto carpet and other fabrics, the vinegar breaks up the stain and neutralizes it." Dulude also uses vinegar on stains, and recommends using microfiber cloths to scrub it up.
Nature's Miracle sprays are also pet-safe and effective, according to a Wizard of Homes cleaner who says the brand has the "best selection" of "harmless" products. Brittanie Dickson, owner of Mountain Paws and Claws Pet Sitting, agrees, noting this disinfectant is particularly handy if you're taking in a foster or rescue animal that might be carrying diseases. But remove your pet from the room before you spray the disinfectant, because it is more powerful than the line's other products, according to its label.
Best vacuum cleaners
To make sure hair isn't lingering on her floor and carpets, Ellis recommends buying a Roomba and scheduling it to automatically clean your floor a few times a week. "This helps keep loose hair, which easily sticks to furniture, to a minimum," she says.
For deep cleanings, Ellis swears by this vacuum, because it was designed with pet-owners' needs in mind. "The Shark comes with an adapter that helps with pet hair on any surface in your home, and the HEPA filter helps trap dust and allergens."