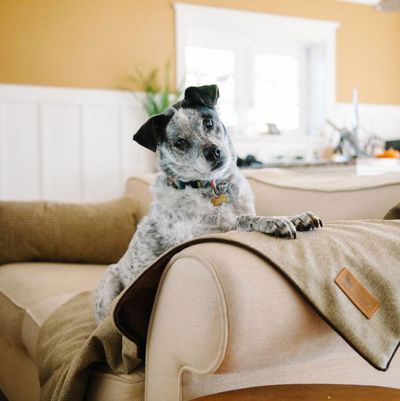 If you've ever had a cat who likes to turn your couch into a scratching post, or a puppy who pees on the floor (or your expensive shag rug) anytime they get excited, you know that keeping your home clean when you share it with animals is an ongoing struggle. And for those who are working from home, shedding and other pet messes are much harder to put off dealing with. But that doesn't mean you need to gate off your living room to keep it tidy.
The first step to maintaining a well-kept home when you share it with a pet is to keep your actual pet clean, according to the experts we spoke with. Regular brushing reduces shedding, and wiping down dogs as soon as they return from a walk prevents them from dragging dirt inside. The second step is choosing vacuums, tools, and cleaning products specifically designed to tackle pet messes. You may also want to cover certain upholstery with machine-washable blankets. Below, we've listed the best equipment and cleaners for dog and cat owners, according to our experts — all of whom also stress that proper training will go a long way toward preventing pets' destructive behaviors. To help you find the products you need, we separated the recommendations into the sections listed below. If you know the type of product you're looking for, you can click on a link to jump to that section.
Products for cleaning pets post-walk | Brushes to reduce shedding | Products to prevent scratching | Products to prevent chewing | Protective coverings for furniture | Tools for removing hair from furniture | Pet-friendly furniture cleaning products | Vacuum cleaners
Best products for cleaning pets post-walk
All dogs need exercise, and whether it's raining or sunny outside, they can return dragging dirt, mud, or other outdoor grime indoors. (Ditto for any cats allowed out of the house.) That filth can quickly soil your carpet, furniture, or car, which is why Samantha Schwab, a pet expert with Chewy, advises putting a mat outside your door, where you can a pooch off before it sets foot in the house. For even less mess, she recommends a machine-washable and "ultra-absorbent, shammy dog mat." This one comes in six sizes and doubles as a towel so you can wipe down your pet no matter how big it is.
Nicole Ellis, a dog-training and product expert with Rover, uses these wipes to give dogs an even deeper scrub after they return from walks. "They are very safe for your pet's feet, as well as their muzzle, ears, and other body parts." The wipes are also antimicrobial, so your pup won't bring in any germs.
Schwab also likes using disposable wipes to clean dogs after an outdoor adventure. "Cleaning your pet's paws with wipes allows you to get into the nooks and crannies," she says. These plant-based wipes have vitamin E and aloe vera, which will help condition skin.
Those looking for an ecofriendlier wipe may prefer these compostable ones that Jisu Kim, co-founder and CEO of dog-apparel company Little Beast, uses to "clean our dog's paws after every walk." With ingredients like shea butter, aloe, and chamomile, these not only wipe away grime but help keep pets' fur and paw skin soft. They're also a price performer compared with other recommended wipes.
DIY-ers may prefer to follow the advice of Big Dog Mom blogger Stephanie Seger, who uses apple-cider vinegar and cloths she has around the house to make post-walk wipes for her two mastiffs, Junior and Sulley. The apple-cider vinegar, she explains, "prevents bacterial and yeast growth from both their food and the elements outside." As for how she makes the wipes: "I simply saturate a cloth with water and add about one to two teaspoons of vinegar, then rub the dogs down." Another benefit of vinegar, according to her, is that it deters insects like flies. "In Arizona, flies are really bad at certain times of the year, and I found that when I use this method for their paws and legs, the flies don't bother them," says Seger.
This dishwasher-safe tool is another easy way to clean dirty paws, according to both Schwab and Ashley Renne, who hosts of her own show on Smart Healthy Green Living, a new streaming service, and owns a 65-pound husky. "It's basically like a washing machine for paws," says Schwab. Simply fill the BPA-free container with water, slip each of your pet's paws inside it, and gently use the thing's interior silicone bristles to scrub each paw clean.
After pets have been outdoors, Ellis loves using this "all-natural sprays on everything from dogs' paws to their body." The line of products uses food-grade, non-toxic ingredients that leave animals smelling fresh. This particular spray, for instance, uses a blend of shea butter and coconut oil to neutralize any unwanted odors.
Best brushes to reduce shedding
Fur-covered furniture is a telltale sign of a home with pets, and "good grooming is the first step to limiting shedding," says Ellis. Both she and Renne recommend picking up "a high-quality slicker brush," a tool with tightly packed bristles designed to penetrate an animal's topcoat. This one "can be used on both long- and short-haired dogs and is effective at removing loose fur," Schwab says. It'll also help detangle hair and remove matted clumps, and it's easy to clean: Just push a button to depress the bristles, leaving only the hair to remove.
Renne maintains her dog's double coat by using this undercoat rake in addition to the above slicker brush once a week. De-shedding tools can damage the healthy topcoat layer if used incorrectly, and huskies like hers need that topcoat to regulate the temperature of their bodies.
When it comes to grooming, Ellis says a good habit would be to "set some time aside at night to brush your pet out, removing any loose fur that will otherwise stick to the couch." This tool she recommends for dogs and cats is a bit gentler than the two listed above: It catches loose fur without pulling on hair that's still attached to your furry friend's body.
Cat-owner Elizabeth Gumport already told us the Furminator brush is an excellent tool to prevent shedding and hairballs, and Emily Adamson, a Dogtown groomer with Best Friends Animal Society, seconds that opinion. Adamson recommends using it on your pet's topcoat, but only once or twice a week, because "over-Furminating" can irritate an animal's skin. Seger, who recommends choosing a product that fits the coat of your animal and cautions that there isn't a "one-size-fits-all" tool out there, also likes Furminator brushes for dogs, adding that the company also makes shampoos (for both dogs and cats) that can help with shedding.
Best products to prevent scratching
Cats instinctively scratch surfaces to shed dead layers of their claws and mark their territory through scent. The sides of sofas and chairs are especially appealing as scratching posts, because they also allow cats to get a good stretch in. To deter this behavior, Ellis recommends Sticky Paws tape, a double-sided tape that cats hate the feeling of (and that won't damage your furniture when you pull it off). Use it enough, and your cat will soon learn the sofa is off-limits.
Steering cats to a proper scratching post is imperative while you're training them not to scratch the furniture. "Place one or two cat scratchers near your couch to help divert their attention," says Schwab, who suggests choosing a scratcher that best suits your cat (they can come as toys, posts, or beds). A vertical post like this might do the trick for cats that like to stretch and scratch the side or legs of a sofa. Ellis recommends using catnip to generate interest when introducing a new scratching tool — and always rewarding kitties with treats when they use it instead of furniture.
Best products to prevent chewing
If you have a puppy at home, chances are you also have a chewing problem. Kiki Reginato, Vox Media's director of e-commerce, shares her home with a young Labrador mix named Rusty who has chewed chairs, tables, wall trim, plants, and an endless number of sneakers. After hearing good things about this bitter-apple spray from a friend, she gave it a try — and it saved her remaining chair legs. Dogs don't like the bitter taste and will soon learn to avoid it. Seger also used it when her mastiffs were puppies and says that it "works well to deter them in a positive way."
This is another spray that kept Rusty from chewing stuff around the house. Reginato sprayed the lavender hand sanitizer on a table leg as a test, and Rusty was immediately disgusted and wouldn't go near it. "Now we keep bottles of Dr. Bronner's in every room of the house," she says.
Best protective coverings for furniture
If your pet likes to cuddle with you on the couch or bed, Ellis suggests covering it with a pet-friendly throw blanket to minimize the amount of hair that gets onto the furniture itself. She recommends this throw from P.L.A.Y., which is machine-washable and can be thrown in the dryer. "It blends into any living room, is water-resistant, and easy to clean."
Pottery Barn makes its protective pet throws from the same fabrics it uses to upholster sofas, which Kim says makes them look a bit nicer than most. There are dozens of fabrics to choose from, lots of which are more durable "performance" textiles. No matter what you choose, Kim says the blanket itself has a "classic look that blends in well with a couch without it being an eyesore." In addition to the various fabric options, the blanket is available in small, medium, and large sizes, so you'll most likely be able to find something that works for you.
Strategist newsletter editor Mia Leimkuhler and Strategist director of audience engagement Stephanie Downes both use washable yoga blankets like this one to protect their couches and car seats. While it's not water-resistant, this is machine-washable and a lot cheaper than the other options.
Here's another (brilliant) DIY method from Seger, who opts for leather furniture "specifically because my dogs drool." She lays out a piece of aluminum foil on the front edge of her couch ("It doesn't matter which side is up"), and it acts "as a deterrent that works 100 percent of the time to keep them off," she explains. "Whether you are touching it lightly or crumpling it up, the foil makes a pretty loud sound. In addition, it's shiny and slippery, which likely play a role in dogs' aversion to it," she says. While she wouldn't recommend this solution for dogs (or cats) that might want to eat the foil, "it's a perfect one for most dog owners."
While this technically isn't for home furnishings, if your dog weighs more than 20 pounds and rides in the trunk of your car, Renne advises that you consider investing in this cargo cover that she uses for everything from road trips to daily dog-park excursions. "It will protect your interior from rips, dirt, and, of course, fur," she says, adding that if you don't have a cargo area, K&H also makes a standard-size car-seat cover.
Best tools for removing hair from furniture
When hair does wind up on furniture — and it inevitably will, despite your best efforts — Ellis recommends using this four-sided brush to clean it off. "It's a go-to in our house for removing pet hair." It has rubber nubs on all sides to catch loose hair, and can be easily rinsed clean with soap and water.
This mitten-like brush "is another great tool for grabbing loose hairs off the furniture," Ellis says. Slip it onto your hand to get in between couch cushions.
Kadi Dulude, the owner of Wizard of Homes cleaning service, says two of his employees swear by this brush. It's basically a giant lint brush, except it features a self-cleaning base instead of sticky layers you peel off after each use. After each brushing, insert and pull the hair-covered brush into the base, where a removable tray catches hair and fur (that you can then dump straight into the trash.) This one comes with an at home brush as well as one for traveling.
Kim recommends something very similar and a little cheaper. "This is really easy to use and effective," she says, explaining that the brush results in less waste because, as with the one above, "no refills" (or peel-off sticky pieces) are required. But unlike the brush above, this one has a pivoting handle that helps you get better contact with the surface you're cleaning.
If you prefer a more traditional, rolling lint brush, Schwab recommends this one. "It will also remove ticks from fabrics to prevent infestations," she says, "and you can use the roller on clothing, car seats, and carpets."
Best pet-friendly furniture cleaning products
All of the experts we spoke with agreed that it's best to use pet-safe, natural products to clean your furniture, as many ingredients common in other cleaners (like bleach, ammonia, and formaldehyde) are toxic to cats and dogs. These sprays from Skout's Honor come highly recommended from both Ellis and Schwab, who like that they're non-toxic and specifically designed to eliminate odors and stains from pets.
Echoing Seger, Dulude says that leather furniture is always a good option for pet owners because "you can wipe it down and condition it if needed." (You also don't need to brush hair off of it like you do when cleaning fabric upholstery.) She recommends this all-natural, non-toxic cleaner for getting pet-worn leather furniture looking as good as new.
"Good old-fashioned vinegar" is the most minimal cleaning solution for urine stains and bad smells — and "the best," according to Adamson. "When sprayed directly onto carpet and other fabrics, the vinegar breaks up the stain and neutralizes it." Dulude also uses vinegar on stains and recommends using microfiber cloths to scrub it up.
For urine stains on mattresses, Renne recommends adding baking soda to your distilled white vinegar. Her advice: Blot the stain first (dab, don't rub) and then saturate the stained area with vinegar. Afterward, use a rag to soak up the vinegar. Then sprinkle baking soda on top and let it sit for several hours. The baking soda will soak up both the remaining vinegar and the odor. Finally, vacuum it all up and you're done.
We've written about the effectiveness of Nature's Miracle stain and odor remover before. The pet-safe enzymatic cleaner is a go-to for at least five Strategist staffers who own pets. Downes hasn't had to use it in her own home but brings it with her anytime she's visiting a new place with other dogs where her Yorkie-Maltese rescue dog, Oak, can smell previous accidents and feels the urge to "double down" and mark his territory. Brittanie Dickson, the owner of Mountain Paws & Claws Pet Services, says the brand has the "best selection" of "harmless" products. Seger also swears by Nature's Miracle sprays and has been using them "for decades" because they "effectively clean messes (like urine or vomit) on most carpets, rugs, and bedding while deodorizing it, which is particularly important in preventing pets from seeking that same soiled spot in the future."
While we've spoken to lots more experts about the best traditional and robot vacuums for pet hair, the folks we talked to for this story had some opinions of their own. A vacuum, of course, is less for protecting furniture than for keeping floors clean to minimize the chance of a pet bringing something from floor to furniture. Ellis recommends buying a Roomba with scheduling capabilities, like the 675 model, so you can program it to automatically clean your floor a few times a week. "This helps keep loose hair, which easily sticks to furniture, to a minimum," she says.
For deep cleanings, Ellis swears by this vacuum, because it was designed with pet-owners' needs in mind. "The Shark comes with an adapter that helps with pet hair on any surface in your home, and the HEPA filter helps trap dust and allergens."
If you're trying to get rid of more than just hair and loose dirt, you'll need a vacuum that does more than just suck. This affordable carpet and upholstery cleaner combines warm water, targeted cleaning formulas, and powerful suction to get deep down to the root of ground-in dirt and stains. New York Magazine newsletters editor Kelsi Trinidad got hers because her couch hadn't had a good, deep clean since she bought it five years ago. "Now that I've adopted a dog, it felt like a good time to be a bit more on top of cleaning the couch," she says, adding that seeing the grime it pulled out of her couch made it all worth it. Justin Renard, the VP of growth and marketing at cat-food start-up Smalls and a dad to one longhaired cat, is another fan. "It pushes the water through the fabric and then sucks it back up again, taking all the particles that the fabric may have absorbed, like cat hairballs," he explains.
With additional reporting by Karen Iorio Adelson and Liza Corsillo.
The Strategist is designed to surface the most useful, expert recommendations for things to buy across the vast e-commerce landscape. Some of our latest conquests include the best acne treatments, rolling luggage, pillows for side sleepers, natural anxiety remedies, and bath towels. We update links when possible, but note that deals can expire and all prices are subject to change.