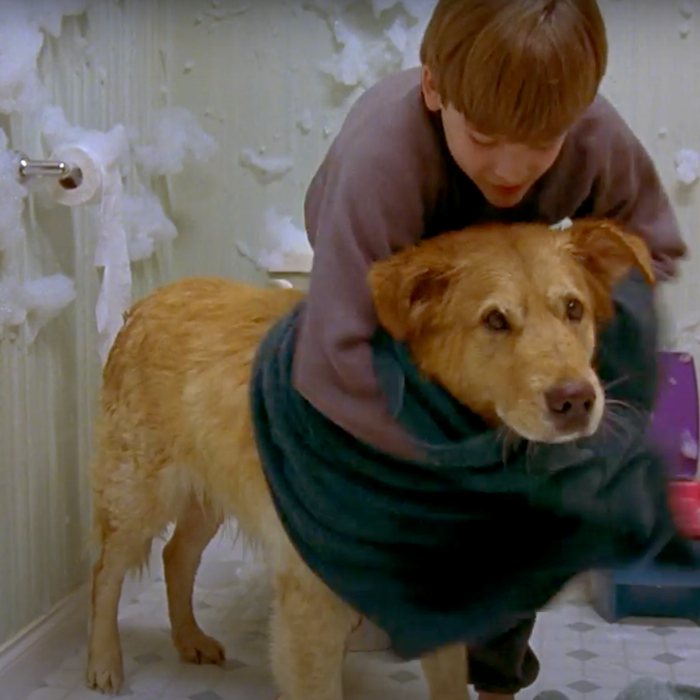 Photo: Walt Disney Pictures
With in-person dog-grooming appointments off the table for a while due to social distancing, pet parents who previously relied on professionals to keep their pups looking sharp are having to make other plans. Yes, at-home grooming is a hassle (at best), for even the most patient dog owner. But regular grooming is key if you want to avoid unpleasant smells or having someone mistake your beloved pet for a feral dog. Whether your Shih Tzu's mane keeps getting tangled, your Rottweiler's nails are overgrown, or your Chihuahua suffers from dry skin, we can help.
We asked groomers, pet experts, and veterinarians for advice and recommendations on the best products and grooming tools for dogs. "It's important to keep any grooming sessions short," says Erin Askeland, pet behaviorist and training manager at Camp Bow Wow. According to her, pet owners will have the most success if they can get their dog to associate grooming sessions with attention, treats, and praise rather than stress and being upset. Below, Askeland and six other experts on everything you need to bathe, brush, and trim your dog yourself in a way that's safe and as easy on your pet (and you) as possible.
Bathing your dog
Dr. Jamie Richardson, chief of staff at Small Door Veterinary, recommends bathing your dog no more than once a month (unless it comes in contact with a skunk or has a medical condition). Otherwise you risk drying out its skin. When it is time for a bath, Samantha Schwab, a resident pet expert at Chewy, likes the Booster Bath grooming center. She calls it "the ultimate bathing experience without stepping foot inside a groomer's." This portable tub takes as much stress and anxiety as possible out of bathing: It comes with a safety harness that gently holds your pet in place, while you get 360-degree access to wash every inch of it quickly and painlessly — which you certainly can't do in your kitchen sink. The tub also comes in three sizes to fit a variety of breeds.
The best bath accessories
Schwab recommends these gloves because they "allow you to give your pet a massage with an added benefit of cleaning and de-shedding with its fur-nabbing rubber nodules." The gloves can be used to de-shed your pet both in the bath and out.
Unlike traditional shower heads and hoses, the Aquapaw gives you "direct control over your pet and the water flow for a clean and quick wash," says Schwab. Plus, since the water flows from a scrubber in the palm of your hand, you can lather, scrub, and rinse at the same time, giving your pet a much deeper clean.
Shampoos and conditioners
Melissa Mitchner, CEO and founder of the Bark Shoppe, is a fan of Nature's Specialties shampoos and conditioners because they are made in the U.S., and are nontoxic, biodegradable, and concentrated, so you get a lot for your money. She recommends the EZ Shed Conditioner for double-coated breeds like Shiba Inus and Pomeranians, because it breaks up excess pet hair, reducing future shedding.
"The scent of TropiClean's papaya and coconut shampoo and conditioner immediately sends you on a mental vacation to Mexico (even though you're at home giving your pet a bath)," says Schwab. Plus, a two-in-one product ensures that you spend more time playing with your pet and less time bent over the sink.
For in-between bathing, Askeland and master groomer Joshua Morales suggest using waterless shampoo to keep your pet looking and smelling fresh. Morales recommends this one from AdVet Hygienics, a brand he likes for its all-natural, soothing ingredients like aloe vera, vitamin E, arnica, echinacea, and horsetail extract. He recommends spritzing your pup with waterless shampoo before brushing or combing to help break up tangles without pulling hair or hurting your dog.
Wipes
For keeping your pup's face free of drool, eye boogers, and food debris, Mitchner recommends using a washcloth and warm water, or some of these gentle hypoallergenic conditioning wipes around their eyes, ears, and chin. Wipes are also a great way of keeping whatever your dog steps in outside out of your house. Schwab loves the "durable and extra wide" wipes from Pogi's that "are perfect for getting in the nooks and crannies of your pet's paws after a long and muddy trip to the dog park."
Dog hair dryer
Both Mitchner and Morales told us that letting your pooch air-dry after a bath is a bad idea. Morales says it's a recipe for matted fur, and Mitchner says leaving your pet wet can lead to skin irritations and yeast infections. Although Mitchner says you can use any hair dryer on your dog, dryers such as this one that are designed specifically for pets don't have heating elements, which is safer and won't dry out your dog's skin. If you do use a traditional hair dryer, she advises starting with the dryer on a cool low setting. If your dog is comfortable with the experience, you can turn it up higher.
Combs and brushes for long-haired dogs
For dogs with curly hair that tangles easily, Morales recommends using a gentle pin brush while the dog is still wet. Adding conditioner, detangler, or waterless shampoo will help the brush slide through knots and prevent matting. Mitchner also suggests a pin brush, specifically a brush with rounded ends like this one that will avoid giving your dog brush burn or irritating the skin. "It is important to comb and brush a long-haired pet every other day, or a minimum of three times a week," Mitchner says.
According to Mitchner, "A common misconception is that brushing a pet removes mats and tangles but in reality brushing only removes the tangles on the surface and matting can still be at the root."  Releash NYC head groomer Kriz Khoon-Aroon cites the Buttercomb as "the best comb out there for gliding smoothly through coats." The Buttercomb features a flat spine and rounded core top which "allows it to glide through the coat flawlessly without pulling on the hair." And while the price point is a little high, the handcrafted stainless steel pins ensure that this is a long-lasting tool that you (and your pet) will enjoy for years to come.
Brushes for short-haired dogs
For short haired dogs Richardson and Mitchner recommend using the Furminator Deshedding tool to help remove the undercoat and additional shedding hair which gets worse during the change of seasons. The Furminator has a metal comb with teeth that are long enough to reach under your dog's topcoat.