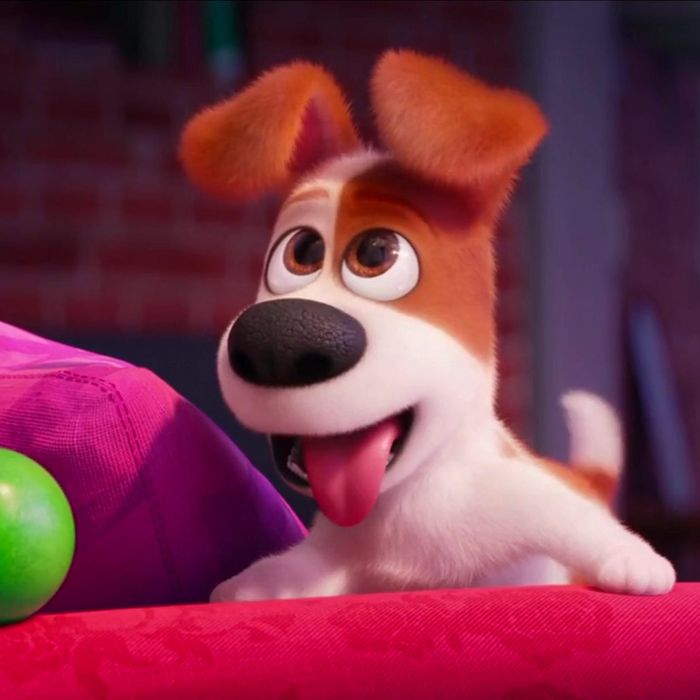 Photo: Courtesy Universal Pictures
In the weeks since we started social distancing, here at the Strategist we've written a lot about how to stay fit at home, covering everything from the best alternatives to in-person classes to the best gym equipment and yoga mats. But humans aren't the only ones who need exercise. "In an age of overwhelming canine obesity in America, exercise offers ways to keep our dogs physically fit as well as mentally occupied," says Dr. Jerry Klein, chief veterinary officer at the American Kennel Club. Regular physical and mental exercise also prevents dogs from getting bored and letting out their energy in destructive ways like excessive barking, chewing, or digging. If you normally take your dog on long walks or visit your local dog park, you might be stumped on ways to keep your pup stimulated while you're stuck indoors. We asked seven experts, including dog trainers and veterinarians, what they suggest dog owners do in these strange times.
Play-based exercise
If you have space in your home to play fetch, Shelby Semel, senior trainer and founder of Shelby Semel Dog Training, says it's a great way for dogs to burn off energy. For dogs that don't normally play fetch or are still learning, she says it's beneficial to take this time to teach the skill. "Teaching fetch does two things," says Semel. "It can help them eventually be able to fetch and get that exercise, and they can have mental stimulation from learning." Morgan and Matson Magleby, brothers and co-founders of pet supply company Rocco & Roxie, say this Chuckit ball is "great for tossing (carefully!) in your house and letting your dog run laps to go retrieve it."
If you're worried about a bouncy ball damaging items around the house — or disturbing your downstairs neighbors — Dr. Jennifer Coates, veterinary expert at Chewy, likes this soft toy that "doesn't bounce or roll too much." It stands up to heavy chewing and is machine washable. You can also play with a stuffed toy like this plush dinosaur from Rocco & Roxie that lands without a thud and is less likely to break a decorative vase or other home accent.
"Tug-of-war is another good game to play indoors, as long as your dog doesn't get overstimulated and act aggressively," Coates says. As for what to use, Samantha Schwab, resident pet expert at Chewy, says this rope is "the perfect chew toy for when your dog is alone and is great for tug-of-war when you're together." She's had hers for over a year and says her dog "always comes back for more." Coates advises ending tug-of-war games "by asking your dog to drop the toy in return for a treat," to help them settle down.
For dogs that are "inquisitive, confident, and need exercise," Semel recommends a doggy treadmill — or even a human treadmill if you already own one. Just start slow and follow your dog's lead, as some might be hesitant. "If your dog is a little bit more nervous around new items or sounds that they're not quite used to, you have to know that you're going to go into a week or two period of getting them fully used to it and desensitizing them before they can actually use it for exercise," she says. The DogPacer folds up when not in use to save space.
[Editor's note: This treadmill is currently only available on backorder, but it's expected back in stock this month, according to the company.]
Training-based exercise
"Basic training and obedience exercises can be turned into quality time for you and your dog," says Klein, and other experts also recommend taking advantage of your time at home with your pet to practice skills and tricks. Through their Canine Good Citizen program, the AKC offers resources for training behaviors like sitting and staying on command, coming when called, and listening to instructions while on a walk. If your dog already has these basic skills mastered, you can practice tricks or make an at-home obstacle course for your dog to navigate. As Annie Grossman, owner and co-founder of School for the Dogs and Store for the Dogs, says, "dogs don't know the difference between the fun stuff and the important stuff," and learning tricks for fun will be equally rewarding. "It's fun for them and fun for you, and helps your dog burn some mental energy," she says. Grossman uses the remote-controlled Treat & Train to train dogs to run laps around an apartment. Start with the machine close to your dog's bed or mat, and gradually move it farther away until they're trotting (and burning off energy) around the room.
If you're looking for a treat to use, Semel recommends all-natural chicken True Chews because they don't crumble so you can easily break off pieces for smaller treats. Similarly, Grossman likes the lamb lung treats from her store's in-house line because they're made from a single ingredient, aren't greasy, and break apart easily. You can also use bits of your dog's regular food, or human food like carrots or apples.
Food-based exercise
We've written before about food puzzles, which experts recommend for preventing dogs from overeating and promoting mental stimulation, and they can be especially helpful right now. Semel and Grossman agree that you can even feed all of your dog's regular meals in puzzle feeders these days for extra stimulation. "Feed them their meals when you're busy and want to make sure that they're busy as well," says Semel, who suggests distracting your dog with a food puzzle when you're on a conference call and don't want them interrupting. She likes the Nina Ottosson Tornado feeder, which requires dogs to use their nose and paws to uncover hidden kibble. Coates stresses the importance of using a puzzle feeder that's appropriately difficult for your dog. "Novices may find difficult ones frustrating while pros get easily bored," she says. That's one of the reasons she also likes the Tornado, which comes with pieces you can use to cover the food compartments — so you can first try it with the compartments uncovered and then use the covers as your dog gets more experienced.
The Kong Wobbler is another one of Semel's picks. Twist it open to insert treats or kibble and then let your dog figure out how to get their food from the side hole. Because dogs can't get the food out by chewing on the toy, Semel likes it for heavy chewers. "They use their paws and their faces to knock it around, so they're not sinking their teeth into it and ripping pieces off," she says. The Kong Classic, which comes in multiple sizes and has a larger hole on the bottom, works well for dogs who are new to these puzzle toys according to the Magleby brothers, and it can double as a toy for fetch. Coates likes that the toy "dispenses kibble as it is rolled along the floor, which also promotes physical activity."