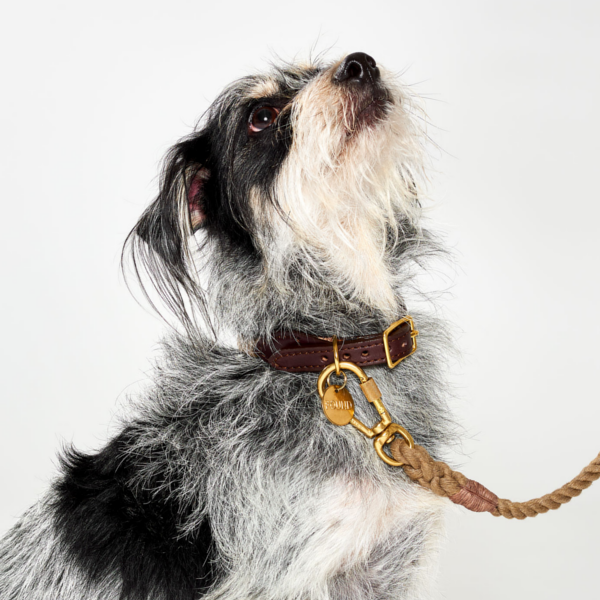 Photo: Courtesy of the retailer
One of the first things new dog owners buy, along with dog food and a comfortable bed, is a leash. Because no matter the size or age of your dog, it's going to need to be walked. You're going to want a leash that's safe, reliable, weatherproof (ideally), and maybe even nice-looking.
"The goal is really to have your pet walking next to you while on a relaxed leash," says Dr. Jennifer Maniet, a staff veterinarian at Petplan Pet Insurance. "Certainly you want to ensure the material is durable, and you want to make sure the connections of the leash to the collar or harness are well made and secure." While Maniet says it's always best to consult with your vet when looking for the best leash for your pet's individual needs, the ones below come highly recommended by the 11 veterinarians, dog trainers, and other canine experts we spoke to.
Many of the experts say a basic leash would be more than efficient for everyday walks with most dogs, so we've grouped their favorite no-frills options together first, following those with leashes they recommend for specific needs — like teething puppies or canine jogging partners. And for all the aspiring dogfluencers out there, we've also included a group of leashes recommended for their aesthetics — all of them, we're assured, are also functional. Most of the leashes below come in a variety of sizes to accommodate every breed (from toy poodles to Great Danes), but we've noted throughout which leashes are only available in limited sizes.
According to Stephanie Galas, a manager at Pupculture Soho, "The most simple leash is your best leash." Available in four-foot and six-foot lengths, she says this affordable, lightweight, nylon leash from PetSafe is "not too long, not too short," and just right for having your dog walk alongside you without bolting ahead.
Like Galas, Annie Grossman, the owner and co-founder of School for the Dogs (who is also a co-founder of Store for the Dogs), prefers a no-frills leash. She stresses the importance of proper training instead of relying on a leash to keep your pup in check, saying, "The equipment, much like the seat belt in a car, should be there in case of an emergency, not something that you're using to control your dog." Grossman says this leash, her favorite one, "is a very nice, sturdy, not-superexpensive nylon leash that comes in a couple of different weights and lengths." She suggests choosing a length that's just long enough to create a bend in the leash when you're out walking (generally, that means four to six feet long). "You don't want a dog who's out at the end of the leash," she says. "Maybe if there's a parade of squirrels across the street, you're going to have to rely on your leash, but 99 percent of the time it should just be there as a safety precaution." This leash, which is also waterproof, has handsome leather accents that make it stand out.
Nicole Ellis, a certified-professional dog trainer with Rover, calls this her "everyday, go-to leash," because it can be worn "a multitude of ways," due to its two clips and several attachment points. It can be used as a regular six-foot lead, a shorter 3.5-foot leash, or looped over your shoulder for hands-free walking. It also can be double-clipped to both your dog's harness and collar for added safety. "I love its versatility no matter what we are doing, from hiking to dining at a cafe together." It's available in six colors, including: black, blue, red, purple, sky blue, and hot pink.
If you and your dog love to go to the beach or on hikes together, Ellis recommends this waterproof leash from Stunt Puppy, which she uses on outings with her pup. "I use this BioThane leash on our adventures, so when it's covered in mud or sand, I can hose it off and it's good to go again and still looks great." The leash is not only washable but also odor-proof and comes in fun colors like royal blue and orange in addition to this bright red.
Best
leashes
for
dogs
who
chew
When it comes to dogs who chew up their leashes, Galas says, "It's not the leash, it's the dog." She explains that owners need to train their dogs to understand that their leash isn't a chew toy. For puppies that are still learning or dogs that just can't kick the habit, Grossman likes the durable and aptly named VirChewLy Indestructible leash. "It's a coated-metal leash that's also pretty lightweight," she says.
If your dog needs to have something in their mouth and you'd prefer it weren't the leash, this model, which is designed to allow soft toys to be attached, comes recommended by senior trainer Shelby Semel, the founder of Shelby Semel Dog Training. "If they drop the toy, it doesn't go flying, it stays attached to the leash," she says, making it an easy option for owners who don't want toys to go missing. Because it only comes in one 54-inch length, it's best for medium to large dogs.
Best
leash
for
dogs
who
pull
Like chewing, pulling on the leash is a behavior that can be managed through training. And although some think the solution is a leash with more give to it, experts disagree. "Flexible [or retractable] leashes or leashes with a bungee-style rope will not help your dog stop pulling on the leash and can actually encourage it," says Erin Askeland, an animal health and behavior consultant at Camp Bow Wow. Instead, while you're training your dog to stop pulling — or even if you just want the extra security — Nikki Naser, a senior editor at Chewy, suggests this shock-absorbing leash. "It has a padded handle that evenly distributes the strain if your dog pulls," she says, adding that it is also "made of woven rope that's designed to absorb shock."
While not technically a leash, "for dogs that pull, this Gentle Leader headcollar is a great, humane training device," says veterinarian Dr. Rachel Barrack, the founder of New York City–based practice Animal Acupuncture. The padded nose loop and collar only apply pressure to the back of your pup's neck, instead of its throat, which prevents choking when it tries to pull, jump, or lunge. And because the loops are adjustable, the collar can fit dogs of all sizes. Veterinarian Jeff Weber also recommends the gentle leader and has used one on his former dog, a full-sized Labradoodle.