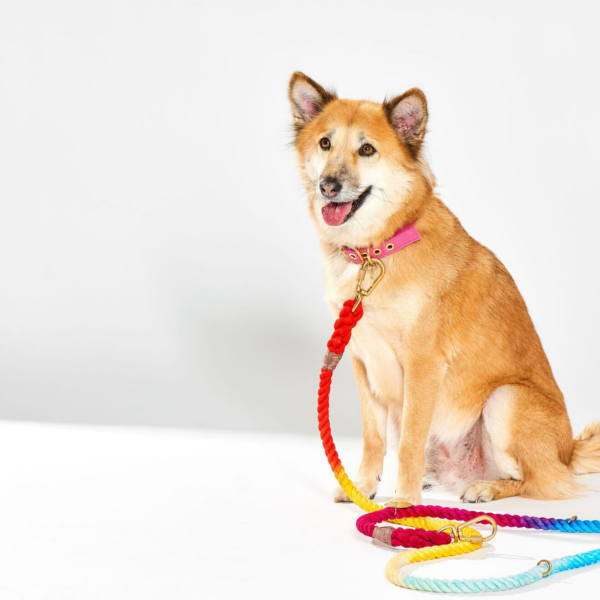 Photo: Courtesy of the retailer
Like the ever-dependable U.S. Postal Service, there's one constant in dog ownership: Neither snow nor rain nor heat nor gloom of night … will keep you from having to walk your pup. So you're going to want a leash that's safe, reliable, weatherproof (if need be), and maybe even nice-looking.
"The goal is really to have your pet walking next to you while on a relaxed leash," says Dr. Jennifer Maniet, a staff veterinarian at Petplan Pet Insurance. "Certainly you want to ensure the material is durable, and you want to make sure the connections of the leash to the collar or harness are well made and secure." While Maniet says it's always best to consult with your vet when looking for the best leash for your pet's individual needs, the ones below come highly recommended by the 10 veterinarians, dog trainers, and other canine experts we spoke to.
Many of the experts say a basic leash would be more than efficient for everyday walks with most dogs, so we've grouped their favorite no-frills options together first, following those with leashes they recommend for dogs with specific needs — like puppies that haven't gotten over their teething phase or the dog that is also your dedicated jogging partner. And for all the aspiring dogfluencers out there, we've also included a group of leashes recommended for their aesthetics (that are all, according to their recommenders, also functional) so your four-legged friend will be the coolest animal at the dog park. Most of the leashes below come in a variety of sizes to accommodate every breed (from toy poodles to Great Danes), but we've noted throughout which leashes are only available in limited sizing.
According to Stephanie Galas, a manager at Pupculture Soho, "The most simple leash is your best leash." Available in four-foot and six-foot lengths, she says this affordable, lightweight, nylon leash from PetSafe is "not too long, not too short," and just right for having your dog walk alongside you without bolting ahead.
Like Galas, Annie Grossman, the owner and co-founder of School for the Dogs (who is also a co-founder of Store for the Dogs), prefers a no-frills leash. She stresses the importance of proper training instead of relying on a leash to keep your pup in check, saying, "The equipment, much like the seat belt in a car, should be there in case of an emergency, not something that you're using to control your dog." Grossman says this leash, her favorite one, "is a very nice, sturdy, not-superexpensive nylon leash that comes in a couple of different weights and lengths." She suggests choosing a length that's just long enough to create a bend in the leash when you're out walking (generally, that means four to six feet long). "You don't want a dog who's out at the end of the leash," she says. "Maybe if there's a parade of squirrels across the street, you're going to have to rely on your leash, but 99 percent of the time it should just be there as a safety precaution." This leash, which is also waterproof, has handsome leather accents that make it stand out.
Nicole Ellis, a certified-professional dog trainer with Rover, calls this her "everyday, go-to leash," because it can be worn "a multitude of ways," due to its two clips and several attachment points. It can be used as a regular six-foot lead, a shorter 3.5-foot leash, or looped over your shoulder for hands-free walking. It also can be double-clipped to both your dog's harness and collar for added safety. "I love its versatility no matter what we are doing, from hiking to dining at a cafe together." It's available in six colors, including: black, blue, red, purple, sky blue, and hot pink.
If you and your dog love to go to the beach or on hikes together, Ellis recommends this waterproof leash from Stunt Puppy, which she uses on outings with her pup. "I use this BioThane leash on our adventures, so when it's covered in mud or sand, I can hose it off and it's good to go again and still looks great." The leash is not only washable but also odor-proof and comes in fun colors like royal blue and orange in addition to this bright red.
B

e

s

t

l

e

a

s

h

e

s

f

o

r

d

o

g

s

w

h

o

c

h

e

w
When it comes to dogs who chew up their leashes, Galas says, "It's not the leash, it's the dog." She explains that owners need to train their dogs to understand that their leash isn't a chew toy. For puppies that are still learning or dogs that just can't kick the habit, Grossman likes the durable and aptly named VirChewLy Indestructible leash. "It's a coated-metal leash that's also pretty lightweight," she says.
If your dog needs to have something in their mouth and you'd prefer it weren't the leash, this model, which is designed to allow soft toys to be attached, comes recommended by senior trainer Shelby Semel, the founder of Shelby Semel Dog Training. "If they drop the toy, it doesn't go flying, it stays attached to the leash," she says, making it an easy option for owners who don't want toys to go missing. Because it only comes in one 54-inch length, it's best for medium to large dogs.
B

e

s

t

l

e

a

s

h

f

o

r

d

o

g

s

w

h

o

p

u

l

l
Like chewing, pulling on the leash is a behavior that can be managed through training. And although some think the solution is a leash with more give to it, experts disagree. "Flexible [or retractable] leashes or leashes with a bungee-style rope will not help your dog stop pulling on the leash and can actually encourage it," says Erin Askeland, an animal health and behavior consultant at Camp Bow Wow. Instead, while you're training your dog to stop pulling — or even if you just want the extra security — Nikki Naser, a senior editor at Chewy, suggests this shock-absorbing leash. "It has a padded handle that evenly distributes the strain if your dog pulls," she says, adding that it is also "made of woven rope that's designed to absorb shock."
While not technically a leash, "for dogs that pull, this Gentle Leader headcollar is a great, humane training device," says veterinarian Dr. Rachel Barrack, the founder of New York City–based practice Animal Acupuncture. The padded nose loop and collar only apply pressure to the back of your pup's neck, instead of its throat, which prevents choking when it tries to pull, jump, or lunge. And because the loops are adjustable, the collar can fit dogs of all sizes. 
B

e

s

t

l

e

a

s

h

e

s

f

o

r

c

i

t

y

w

a

l

k

i

n

g
If your daily walk involves crossing busy intersections, Galas says to look for a "traffic handle," a second loop closer to the dog's collar that you can grab in case your dog tries to run into the street. "Some dogs will stand at the corner with you, and then they'll hear a loud noise — a car backfires, a cat runs across the street — and they chase after it. But if you're holding on to that traffic handle, the dog's going nowhere. It's safe with you, next to you." Naser pointed us to this leash with a built-in traffic handle for greater control.
If you already have a leash you love but want to add a traffic handle, Dr. Jerry Klein, the chief veterinary officer of the American Kennel Club, suggests this one-foot nylon add-on. "It can be used alone in off-leash situations as an emergency brake or in addition to a regular six-foot leash for training purposes," he says.
B

e

s

t

l

e

a

s

h

e

s

f

o

r

w

a

l

k

i

n

g

i

n

t

h

e

d

a

r

k
Depending on your — and your dog's — schedule, you may end up going for walks before dawn or late at night, when you'll want to be extra-vigilant about staying visible to cars and other traffic. Klein says safety leashes with LED lights "are perfect for nighttime visibility."
With reflective rope woven throughout, this leash is a top pick of both Askeland and Sarah Fraser, the co-founder and co-CEO of Instinct Dog Behavior & Training. Askeland likes that it's made from strong materials and has a comfortable handle, while Fraser loves the extra security of the locking, carabiner-style clasp.
If you're looking to go for a run with your pet, Semel says "the most important [thing] is that they're in a harness — not in a collar that's going to tighten." She likes the Ruffwear Front Range harness because it's lightweight and won't rub up against the dog and cause chafing while running. As for a running leash, she recommends Stunt Puppy's hands-free model. Firm on both ends like a regular leash, it has an elastic middle for more flexibility.
Compared to a standard leash, Grossman says the Buddy System leash (her pick for runners) has "a little bit more flexibility so that if the dog goes to one side or the other, it's not going to be pulling you along with him." And because it attaches to your waist like the Stunt Puppy, it makes it easier for both of you to move freely.
Logan Mikhly, the co-owner of Manhattan's only off-leash dog café, Boris and Horton, says this nylon, machine-washable, and adjustable leash from Dog + Bone is "great for hands-free walking." The leash adjusts in length from three to six feet, has a solid brass D-ring to hang accessories like waste bags or keys, and has a side release buckle so you can easily clip it around your waist. Dog + Bone handcrafts its leashes in Lake City, Colorado, and they are available in a rainbow of colors (though we're partial to this lime-green number).
B

e

s

t

h

a

r

n

e

s

s

a

n

d

l

e

a

s

h

s

e

t

s
Harnesses aren't just for running, and there are lots of situations where experts recommend pairing your leash with a harness instead of a collar. Maniet says they could be a better fit for dogs that are overweight or have respiratory conditions, and Klein says they're "especially useful for small dogs, dogs with delicate throats, and dogs having throat or neck medical issues." Both Semel and Grossman like the 2 Hounds Design Freedom harness, which attaches to the leash in two places. "For extra steering, there's a leash coming from the front and the back so if you need your dog to move to the right or the left, you have control over their whole body," says Semel. Grossman adds that, with two points of contact, "you can subtly use pressure to control a dog more, because it's more information for the dog."
Barrack uses this braided lead-and-harness combo for her dog Eloise, which she says is a "stylish and sturdy choice for little dogs." These durable pieces are made using all leather and brass fittings and are a good choice for dogs 12 pounds and under. Note that this harness is designed just for style, and the brand does not recommend using this for dogs that pull.
For good-looking leashes that are also very functional, Grossman likes these ombré-dyed ones from Found My Animal. "It [has] a very solid clasp," she says of the leash, explaining that "it's like a carabiner-style brass clasp, and there's a clasp on both ends, which is nice because you can walk two dogs and hold it in the middle." The leash, which is made from marine-grade rope, is strong enough to stand up to big dogs or persistent pullers and is adjustable, so you can sling it over your shoulder or wear it around your waist. The two-sided leash can also be attached to the dog in two places, as a collar and a harness, which is how Fraser recommends using it. "This way, if one piece malfunctions, your dog is still attached to you," she says. "It's a small thing that can quite literally save your dog's life."
The dog parents here at the Strategist are also fans of Found My Animal: Stephanie Downes, our director of audience growth, has the brand's upcycled rope leash in gray for her dog Oak. While she initially bought it because she liked the elegant look of the matte-gray braid, after a few months of use, she's now in love with the functionality of the hardware. "The lockable carabiners are very sturdy," she says, without being too heavy for Oak's eight-pound frame, and the handy O-rings make it easy to "slip the leash around my wrist or waist." The leash is also available in tan, orange, black, and navy.