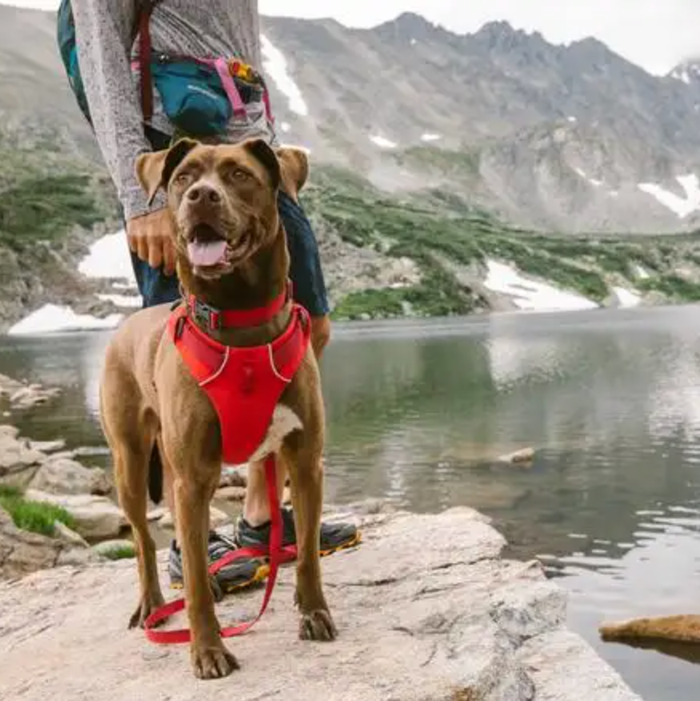 Sometimes the leash-and-collar combo doesn't stand a chance when you're walking with a zigzagging Chihuahua or even a Dalmatian or Great Dane that doesn't want to stand still on a sidewalk. That's why a harness can come in handy — but there's plenty to consider before buying one. "Think about why you are buying a harness for your dog. Is it to control pulling? Is it to take pressure off their neck? Or is it just because you prefer the look?" explains Dr. Zay Satchu, chief veterinary officer and co-founder of Bond Vet. "Any of these are valid reasons to use a harness, but knowing why will help you narrow down which ones to choose from."
Of course, safety is a top concern for every dog parent. But comfort comes a close second — so you should pay particular attention to how a harness fits. "If the harness is too loose, the dog can easily slip out of it," says Hadley Raysor of the Dandy Dogwalker. "If the harness is too tight, the dog's movement is improperly restricted and can cause injury, and if the harness is attached incorrectly to your dog, your dog can easily slip out of it and/or injure themselves." As several experts emphasized, since every dog is different, depending on personality, body type, and specific walking routines, each will need something different as well. What's right for a French bulldog may not be right for a bullmastiff. To find harnesses that are the best for every type of dog, we turned to professional dog walkers, trainers, and more than one Labradoodle-owning veterinarian. Their recommendations are below.
Best overall dog harness
Your (or rather, their) new harness should also be easy to put on. Jason Kraut, owner of Jason the Dog Walker & Co., says, "It's a big deal for us. We're hustling around picking up dogs all day trying to get them out, and a harness can make a real difference. If you make a mistake in getting your dog the wrong harness, the dog walker suffers." If you can't take your pet to try one on, or if you're buying online, go for one that's fully adjustable. Kraut suggests looking for multiple adjustment points for a good fit and leash clips (the metal ring you clip a leash to) in both the front and the back. "A front-clip harness is great for a big dog. However, for a small dog, a front-clip harness is a terrible idea, because you'll constantly get the leash tangled underneath them. So with a little dog, you want to have the leash clip on the back so that the leash is not dangling in front of it. I would suggest getting a harness that can clip in the front and the back — that way you have options."
Best overall harness with two-ended leash
Nelli Chowdhury, the founder and owner of Brooklyn Tails & Trails, is also a fan of harnesses with multiple clips. "It's important when you buy a harness to get one with multiple loops that go in front of the chest and in back of the chest, because once you clip to the front of the chest, there's no way they will be able to pull. Dogs lead with their nose and chest, so if you pull the leash, they will go the direction you want them to. That has saved a lot of our walkers' arms." She also suggests getting a leash with two ends for extra security. "If your dog is a real squirmer or Houdini, we suggest using a leash that has a double end, so one end clips to the front of the harness and the other clips in the back between the shoulders. We didn't have that five years ago when we started the business, and now we do. It's amazing."
Best harness for small dogs
Both Liff and Chowdhury recommend the Puppia harness for little dogs. "We love the Puppia brand. It's soft, mesh, lightweight, and very comfortable for small dogs," says Chowdhury. "They're easy to clean for dogs who are very low to the ground and get dirty easily. If you're having a muddy winter or whatever it is, you can just pop it in the laundry." For extra safety, Chowdhury recommends connecting harnesses and collars. "When we use a Puppia on a small or skittish dog or rescues who are scared of truck noises or things like that, we'll actually use both a harness and a collar. We clip them both together, so if they come out of the harness, there's a backup."
Best harness for really small dogs
If your dog is in the toy or teacup category, this harness, which is actually designed for cats, is a good option. The straps are soft and thin so they don't feel bulky or pinch tender armpits. Unlike a lot of dog harnesses, it has multiple points of adjustment — on the sides and around the neck and chest — creating a more customized fit. The harness tightens slightly as the dog (or cat) pulls, which adds a layer of security and helps with training. Plus it comes with a bungee-style leash that absorbs any shock caused when your pup suddenly decides to bark at pit bulls in the park.
Best harness for big dogs
"For big dogs, in particular, we like to use something that has a little bit of reflective detailing," says Chowdhury, who recommends the K9 Explorer dog harness. "They're good for German shepherds or boxers, that type of dog. It's padded, and there's a reflective strap, which is just in case you're in low light or walking your dog at night. It has really thick straps because these dogs have lots of muscle and are pretty big."
Best harness for flat-faced dogs
Kraut, Chowdhury, and Liff stressed the importance of a harness that doesn't restrict the neck and chest in flat-faced dogs, whose uniquely shaped faces often make it difficult to breathe. "Pugs and Boston terriers have flat faces, so they need a harness that will protect their necks from pressure." This one is made specifically for that purpose.
Best harness for hiking and off-leash training
Ben Cawley, director of admissions and graduate relations at Guiding Eyes for the Blind, has been a trainer for over 20 years and currently works with service dogs. "I really like the Ruffwear Front Range harness for hiking-type activities, when you want your dog to have fun and be out in front of you. They have different connection points on the harness on the front and the back and the center, so you can even have them drag the leash and you can easily get control, if necessary. It's also something trainers will use to teach about off-leash manners."
Best harness for long walks
This harness was specifically designed with long walks in mind and is made to adapt to your dog's movements, according to the brand. It's one that Satchu recommends. Since it crosses over mid-back between the shoulder blades, it can help to take pressure off the trachea and neck (so your dog can breathe easily for blocks or through the park), Satchu points out.
Best cooling vest harness
For those long, hot summers, a cooling vest may be a necessary investment. Rachel Bowers, owner of Brooklyn Bark Dog Walking and Pet Sitting, recommends this one for when it's hot but not blistering hot (and thus still safe for a quick walk). On those days, she throws a vest into the fridge or freezer to get it even colder. Vests like this are best for short-haired dogs, she says.
Bowers is a fan of this harness that can be used on hikes or on longer trips through the great outdoors. She notes that the backpack can carry a dog's water and features a handle so you can "help them with difficult terrain." It comes with two storage compartments, one on each side.
Best harness for dogs who pull
PetSafe's Easy Walk harness is popular among our experts — it was name-checked by several, including Satchu, Raysor, and Bowers. Chowdhury uses the Easy Walk harness on all four of her own dogs who have a tendency to pull. "I have four dogs, and we use the Easy Walk harness. It's pretty affordable, it's on Amazon Prime, and it's good because my dogs pull a lot. They're very curious, and they want to eat and smell a lot of things," says Chowdhury. But it's also a favorite among dog walkers because it's easy and quick to get on. Kraut explains, "The reason I like the Easy Walk harness is that it's super-easy to put on, and no matter which way you attach it, it works. There are two main ways to put a harness on a dog. You either put it on over the dog's head and it attaches under their belly or there are some that go on from underneath. So the dog has to step into it, and you clip it on top of them. Dog walkers hate those harnesses because they fight gravity, and when a dog is super-excited to see you and can't sit still, it can take five to ten minutes to get on. Whereas with a harness that works with gravity and goes on over the dog's head, the dog just pushes itself into the harness and then you can hold the dog and clip it underneath." The Easy Walk harness from PetSafe was also recommended by Mika Ito, the director of animal care at New York–based shelter Animal Haven in our article about adopting a rescue dog.
Raysor calls Wildebeest "an incredibly wonderful small company" owned and operated by women of color. And the brand's Linden harness is a standout with a front-clip design meant to help with no-pull training. Raysor explains that it both has an adjustable fit and is easy on the eyes in shades including navy, turquoise, and olive. For an added touch, "dog parents can order a cute little engraved nameplate for their dog's new harness," they say. The tag can be ordered separately for $12.
Best harness for dogs who lunge or eat off the ground
Kraut, Cawley, and veterinarian Dr. Jeff Weber suggest using a head collar, also called a gentle leader. "We get a lot of dogs who need a gentle leader," says Kraut. "I mean, it kind of looks like you're walking a horse, but really big, strong dogs have all their strength in their body. Some of the dogs we walk will straight-up lunge at kids or a skateboarder coming by or a bicycle or a runner. You really need to have control of that dog at a moment's notice, and if you have control of their head, then you pretty much have control of everything. It's also really good for dogs who eat everything off the street, which is a problem in Brooklyn."