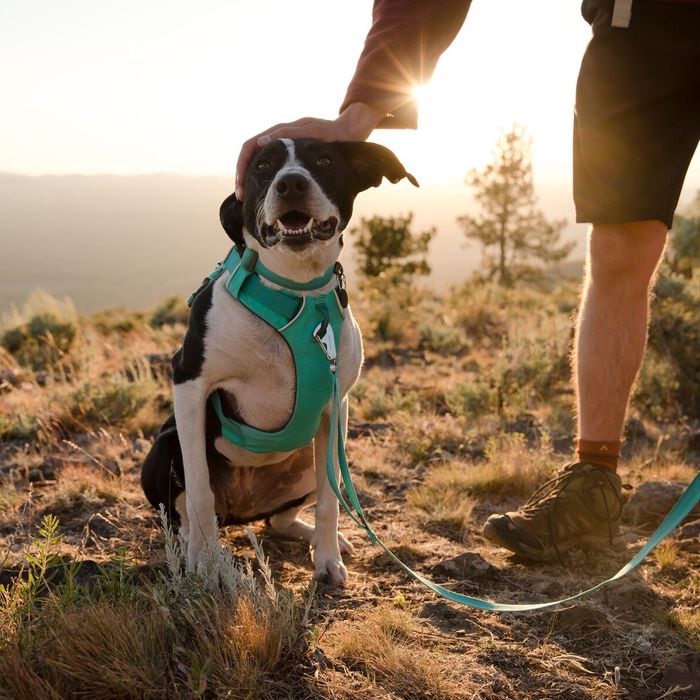 Experienced dog owners know that sometimes the typical leash-and-collar combo isn't enough when you're walking with a zigzagging Chihuahua or a Great Dane that doesn't want to wait for the streetlight to change. That's where a harness can come in handy and give you more confidence and control — but there's plenty to consider before buying one. "Think about why you are buying a harness for your dog. Is it to control pulling? Is it to take pressure off their neck? Or is it just because you prefer the look?" explains Dr. Zay Satchu, chief veterinary officer and co-founder of Bond Vet. "All of these are valid reasons to use a harness, but knowing why will help you narrow down which ones to choose from."
As several experts we spoke to emphasized, since every dog is different in terms of personality, body type, and specific walking routines, each will need something different in a harness as well. What's right for a French bulldog may not be right for a bullmastiff — and that doesn't factor in owner preferences. To find the best harnesses for every type of dog and dog owner, we turned to professional dog walkers, trainers, and more than one Labradoodle-owning veterinarian. If you more or less know what you're looking for, the table of contents below will help you skip ahead. If not, read on for nine excellent harnesses that come highly recommended by our experts as well as the one I finally settled on for my own dog, Uli, after trying out dozens, all of which she refused to wear.
Best overall | Best for small dogs | Best for big dogs | Best for flat-faced dogs | Best for toy and teacup breeds | Best for hiking and off-leash training | Best cooling| Best for dogs who pull | Best for dogs who lunge or eat off the ground
Secure and comfortable fit: A harness that doesn't fit well can quickly become a hazard to your dog's safety. "If the harness is too loose, the dog can easily slip out of it and potentially injure themselves," says Hadley Raysor of the Dandy Dogwalker. If the harness is too tight, especially around the neck, it can restrict the dog's breathing and natural movement. Too-tight harnesses can also cause skin irritation from constant rubbing. To get the best fit, start by looking for a harness designed for your dog's size, and in some cases for their specific body type, since even within the categories of small, medium, and large, canine body proportions vary greatly. According to Jason Kraut, owner of Jason the Dog Walker & Co, the best harnesses are adjustable in more than one spot to fit barrel-chested dogs just as well as more svelte ones. Some dogs, like flat-faced Boston Terriers who tend to have breathing problems, will need harnesses that cater to their specific needs. For this reason, it's best to start your search by asking your veterinarian for recommendations. Keep in mind that your dog should also get a say in the kind of harness they wear. Uli is very sensitive to bulky material under her arms, so I found a harness with thin straps that she hardly feels. It took several trips to the pet store and trying on a couple of different styles before we found something she would actually want to walk in. Lastly, for extra safety while training, Chowdhury recommends using a lightweight carabiner to connect your dog's harness to a collar. "With skittish dogs or rescues who are scared of truck noises or things like that, we'll actually use both a harness and a collar. We clip them both together, so if they come out of the harness, there's a backup."
Made of durable and washable materials: Ideally you'll find a harness that your dog is comfortable wearing day in and day out. And if you're successful in that effort, you will definitely want it to be durable and easy to clean. Thankfully most brands design their harnesses with these factors in mind. Still, we have given extra points to those that are machine washable or especially tough.
Front and back leash-attachment points: Kraut suggests looking for harnesses with leash-attachment points in both the front (on the underside of the harness, nearer to the dog's chest) and the back. "A front-clip harness is great for a big dog. However, for a small dog, a front-clip harness is a terrible idea because you'll constantly get the leash tangled underneath them. So with a little dog, you want to have the leash clip on the back so that the leash is not dangling in front of it," he says. No matter the size of your dog, Kraut would prioritize "a harness that can clip in the front and the back — that way you have options." Harnesses with multiple spots to attach a leash will also allow you to use a double-ended leash for more control. Not all of the harnesses on this list have both front and back leash rings or loops but we have noted the ones that do and don't below.
Over-the-head versus step-in versus around-the-neck: The way you get your dog into a harness will vary greatly depending on the one you buy. Some are pretty obvious, slipping over the dog's head and clipping behind their back. Others are more complicated and can feel like solving an elaborate puzzle. However they function, the best harnesses should be easy for you to figure out and pleasant for your dog to get into. "A lot of times, people don't consider socializing their dogs to a new piece of equipment like a harness," says Ben Cawley, director of admissions and graduate relations at Guiding Eyes for the Blind who has been a trainer for more than 20 years and currently works with service dogs. "But there's a lot you can do to make sure it's a positive experience. I like to use food as a distraction for the dog at first, especially if they don't like things going over their head. For those kinds of dogs, you can use a step-in harness so they don't get nervous when you put it on." You can also look for harnesses with clips that open and close around your dog's neck.
Best overall dog harness
Nylon with neoprene padding | Five adjustment points | Front and back leash attachments | Around-the-neck style with side closures | Four sizes and three colors
Kraut says the right harness makes his job as a dog walker a lot easier. "It's a big deal for us. We're hustling around picking up dogs all day, so if you make a mistake and get your dog the wrong one, we suffer." If you can't take your pet to try one on or if you're buying it online, your best bet is to go for one that's fully adjustable like this one he recommends from Pet Safe. It has five adjustable buckles to tighten or loosen it at different points. It also has a top-mounted handle for extra control, front and back metal rings for leash hookup, and reflective stitching for safety, and it comes with an adjustable car control strap to keep your pup seated when you're driving.
Best harness for small dogs
Polyester mesh | Not adjustable | Back leash attachment | Step-in style with back closure | Seven sizes and 13 solid colors plus multiple patterns | Machine washable
Both Stephanie Liff, a co-owner of Pure Paws Veterinary Care, and Nelli Chowdhury, the founder and owner of Brooklyn Tails & Trails, recommend this Puppia harness for little dogs. "We love the Puppia brand. It's soft, mesh, lightweight, and very comfortable for small dogs," says Chowdhury. "They're easy to clean for dogs who are very low to the ground and get dirty easily. If you're having a muddy winter or whatever it is, you can just pop it in the laundry." The Puppia's polyester mesh is breathable and padded, and it's a step-in design that closes with Velcro and a heavy-duty clip around the dog's back.
Best harness for big dogs
Nylon with neoprene chest pad | Three adjustment points | Back leash attachment | Step-in style with back closure | Five sizes and six color combinations
"For big dogs in particular, we like to use something that has a little bit of reflective detailing," says Chowdhury, who recommends the K9 Explorer dog harness with reflective stitching on the straps. "They're good for German shepherds or boxers, that type of dog. It's padded and reflective just in case you're in low light or walking your dog at night. It has really thick straps because these dogs have lots of muscle and are pretty big." The cushioned chest pad is particularly handy for preventing sore spots or harness burn on strong dogs that tend to pull really hard.
Best harness for flat-faced dogs
Polyester mesh | Four adjustment points | Back leash attachment | Step-in style with back closure | Three sizes and eight color combinations | Machine washable
Kraut, Chowdhury, and Liff stressed the importance of a harness that doesn't restrict the neck and chest in flat-faced dogs, whose uniquely shaped faces often make it difficult to breathe. "Pugs and Boston terriers have flat faces, so they need a harness that will protect their necks from pressure." This one, with its X-shaped front, is made specifically for that purpose, and its breathable and padded mesh material is both comfortable and machine washable. It's another step-in design, and it closes with a heavy-duty clip around the dog's back.
Best harness for toy- and teacup-breed dogs
Nylon | Four adjustment points | Back leash attachment | Over-the-head style with side closures | Three sizes and seven colors
If your dog is in the toy or teacup category, this harness, which is actually designed for cats, is a good option. The straps are soft and thin so they don't feel bulky or pinch tender armpits. There are multiple points of adjustment on each side for torso girth, as well as sliding adjustments around the neck and chest, which makes for a more customized fit. The harness tightens slightly if the dog (or cat) pulls, which adds a layer of security and helps with training. Plus it comes with a bungee-style leash that absorbs any shock caused when your pup suddenly decides to bark at pit bulls in the park as Uli has done on many occasions.
Best harness for hiking and off-leash training
Nylon with foam padding | Four adjustment points | Front and back leash attachments | Over-the-head style with side closures | Five sizes and ten colors
"I really like the Ruffwear Front Range harness for hiking-type activities," says Cawley, noting that it's what trainers use "to teach dogs about off-leash manners." The different connection points on the front and the back of the harness let you choose whether to have your dog drag their leash as an extra precaution while training or to clip it to the front to discourage pulling on walks. The harness is designed for extra comfort — wide straps with soft foam padding mean it won't irritate a dog's skin no matter how hard it pulls. It also has reflective trim and a pocket to store tags that would normally be worn on a collar.
Best cooling harness
Water-activated cooling fabric paired with breathable mesh | Not adjustable | Back leash attachment | Step-in style with back velcro and buckle closure | Four sizes and one color
For dogs that tend to overheat, especially during long, hot summers, a cooling vest may be a worthwhile investment. Rachel Bowers, the owner of Brooklyn Bark Dog Walking and Pet Sitting, recommends this one for when it's hot but not blistering (and thus still safe for a quick walk). On those days, after soaking the vest in water and ringing it out, she throws it into the fridge or freezer to get it even colder. Vests like this are best for short-haired dogs, she says.
Best harness for dogs who pull
Nylon | Four adjustment points | Front leash attachment | Around-the-neck style with side closures | Eight sizes and eight colors
PetSafe's Easy Walk harness is popular among our experts — it was name-checked by several, including Satchu, Raysor, and Bowers. Chowdhury is also a fan and uses it on all four of her dogs. "It's pretty affordable, it's on Amazon Prime, and it's good because my dogs pull a lot. They're very curious, and they want to eat and smell a lot of things," says Chowdhury. But it's also a favorite among dog walkers because "it's super-easy to put on, and no matter which way you attach it, it works," says Kraut. The different-colored straps help distinguish the top from the bottom, and multiple clips let you put it on over your dog's head or clip it around their neck depending on their preference. This harness was also recommended by Mika Ito, the director of animal care at New York–based shelter Animal Haven in our article about adopting a rescue dog.
Best harness for dogs who lunge or eat off the ground
Nylon | Adjustable nose loop | Under-the-muzzle leash attachment | Over-the-nose style with behind-the-neck closure | Five sizes and nine colors
Kraut, Cawley, and veterinarian Jeff Weber suggest also considering a head collar, often called a gentle leader. "We get a lot of dogs who need a gentle leader," says Kraut. "I mean, it kind of looks like you're walking a horse, but some of the dogs we walk will straight-up lunge at kids or a skateboarder coming by or a bicycle or a runner. You really need to have control of that dog at a moment's notice, and if you have control of their head, then you pretty much have control of everything. It's also really good for dogs who eat everything off the street, which is a problem in Brooklyn."
Some more dog harnesses we've written about
The Strategist is designed to surface the most useful, expert recommendations for things to buy across the vast e-commerce landscape. Some of our latest conquests include the best acne treatments, rolling luggage, pillows for side sleepers, natural anxiety remedies, and bath towels. We update links when possible, but note that deals can expire and all prices are subject to change.