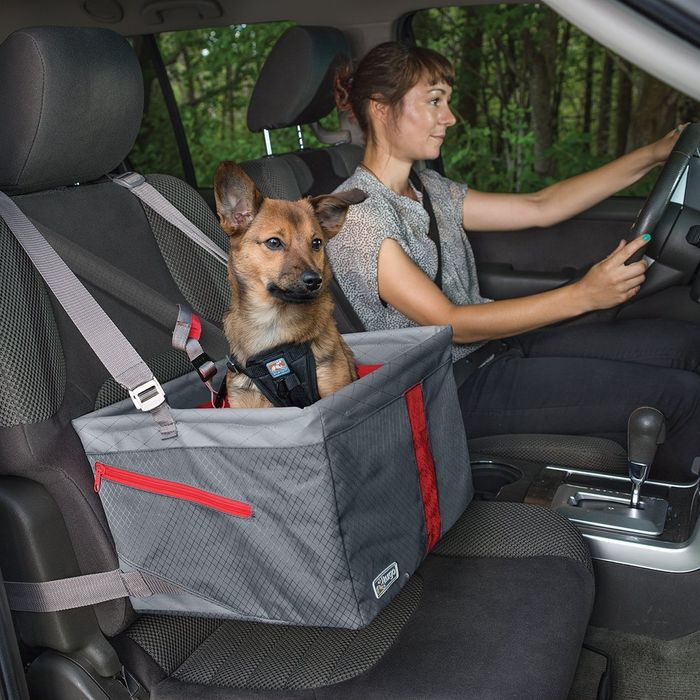 Photo: courtesy of the Retailer
If you've ever driven a car while your dog skids around in the back seat or tries to climb into your lap, then you know how harrowing it can be to get behind the wheel without Fido strapped in. "Our dogs are distracting and, when driving is involved, their distractions can be downright dangerous, which is why it is so important to keep a dog secured in a car," says Samantha Schwab, a resident pet expert at Chewy. "Dogs are like children," adds David Lang, the owner of the New York City–based pet-transportation company Pet Chauffeur, who says just as you wouldn't put your child in the car without the proper safety gear, you shouldn't put your dog in the car without it either. To find the best car seats for dogs, we spoke to Schwab, Lang, and six other experts — including trainers and pet owners — about the ones they suggest for keeping a dog comfortable, secure, and, of course, safe during drives.
"It's imperative for pet owners to understand that there are two types of pet-travel products," explains Lindsey A. Wolko, the founder of the Center for Pet Safety, an independent organization that does dog-equipment crash tests at 30 mph. The first and arguably the safest type of dog car seats are ones that are designed with crashes in mind — we heard about a few of these seats (which often double as carriers) that passed the Center for Pet Safety's crash tests, making them the ones to go with if you're looking for something to give your pooch the best possible chance of surviving an accident, should one occur. The one problem with these seats, though, is they're often designed for smaller pups, rendering them useless if you're traveling with a larger dog. For parents of bigger animals (or those who might prefer a different type of car seat), our experts recommended several more — but stress that all of them should be used in tandem with a specific harness that they also recommended (and accommodates dogs up to 90 pounds). Wolko told us the harness has been crash tested and will go a long way toward keeping a dog safe in a car, while any seat you may pair it with will make them more comfortable.
BEST
CRASH-TESTED
CAR
SEATS
FOR
Dogs
Best overall crash-tested dog car seat
"In a car collision or a hard-braking stop, an unrestrained pet can become a projectile," says Nicole Ellis, the training and product expert at dog-sitting site Rover. "This can lead to them injuring themselves and people in the car." Her favorite case comes from Sleepypod, which Ellis says "crash tests its pet-safety restraints at U.S., Canadian, and European child-safety-seat standards." The car seat and carrier can accommodate dogs up to 18 pounds and is certified by the Center for Pet Safety as well as TSA-approved. Ellis says it's proven super functional on the road and in the sky, telling us she's tried it both ways. "My dog and I travel a great deal together and crisscross the country by plane and by car," she says. Other things to like about this model is that it can expand to offer dogs a bit more room inside and that it has mesh panels, which allow pets to see what's going on (and can help calm them down). For humans, it has a padded, adjustable shoulder strap and trolley pocket you can slide over the handle of rolling luggage for hands-free transport. It's also available in ten different colors.
Best crash-tested dog car seat (that's also a bed)
Ellis also told us about this slightly smaller option from Sleepypod that can accommodate dogs (or any pets) up to 15 pounds. It's also certified by the Center for Pet Safety and, in addition to functioning as a car seat and a carrier, it can also be turned into a bed your dog can use at your final destination by simply unzipping the top. Like our best overall Sleepypod car seat, this one also features mesh panels that offer your pet a view (and allow you to easily check in on them). Plus, because of its round shape, this model is especially great for smaller dogs that like to curl up and snuggle. It comes in a variety of colors, including baby blue, pink, red, and white.
Nicest-looking crash-tested dog car seat
Away's recently launched Pet Carrier also passed the Center for Pet Safety's testing standards, according to Wolko, who says it's a lovely option for anyone looking for a more stylish car seat. Capable of accommodating dogs up to 18 pounds, the sleek carrier has a fleece-y bottom to keep pets extra cozy, mesh panels for visibility, lots of exterior pockets, and can even be personalized with up to three embroidered letters. While this carrier also has an interior clip meant to attach to your dog's collar, Wolko says not to use it — especially if you're in motion. "You don't want your dog to become tangled," she explains. While the Away carrier is currently sold out, the retailer says it will be restocked "soon" and is offering to alert any prospective buyers via email when it is.
Best
crash-tested
car
harness
for
dogs
As we noted above, using a harness is critical if you're going to use any of the non-crash-tested car seats our experts recommend below. But not all harnesses are created equal. According to Ellis, "A well-designed pet-restraint system needs to absorb the pet's kinetic energy in an accident while controlling rotation and keeping the pet from leaving the seat and accelerating forward." Wolko agrees, adding this important point: "You do not want to connect your pet directly to the car seat." Instead, you should use a harness to connect your dog to your car's seat-belt system before putting it in a seat itself.
Like the other Sleepypod products on this list, this harness has been certified safe (for dogs up to 90 pounds) by the Center for Pet Safety. Ellis uses it with her cavapoochon, Rossi, telling us the harness's three-point design is meant to lessen damage in a crash by minimizing movement and distributing any force evenly throughout a dog's torso. Dogs can lie down and sit up comfortably while in it, adds Ellis, who strongly cautions against using a tether with the harness (a tether can act as a slingshot in the event of a collision, making it even more dangerous than if the dog had nothing on at all, she explains.) While the harness should work for most dogs under 90 pounds, Sleepypod's website says that due to the unique body types of breeds like greyhounds, whippets, salukis, Afghan hounds, and borzois, the harness might not offer a proper fit, and suggests emailing the company for more information before purchasing one for those breeds.
More
recommended
car
seats
for
dogs
Best overall car seat for small dogs
When used with a harness, booster seats like this are an excellent choice for dogs that enjoy looking out the window during rides. Three of our experts recommend the Snoozer Lookout I for smaller, more anxious dogs. "It helps create a cozy, bed-type environment and is ideal for dogs who move around a lot in the back of the car," says Sarah Fraser, the co-founder and co-CEO of Instinct Dog Behavior & Training. Sara Ochoa, a Texas-based veterinarian and consultant for doglab.com, uses the Snoozer for her pup, telling us "it helps her sit up high so that she can see out the window while I am driving." Schwab also recommends the Snoozer for dogs who dislike traveling. "The seat is made of a foam form, and the interior is lined with a warm and cozy simulated lamb's wool, so your dog will feel pleasantly snuggled during your car ride," she explains. It comes in two sizes: small, which the brand suggests for dogs up to 18 pounds, and medium, for dogs between 18 and 25 pounds.
Best (less-expensive) car seat for small dogs


Photo: retailer
On a recent 16-hour road trip from Florida to Missouri, dog owner Amy Lewis (the cousin of Strategist senior editor Casey Lewis) used this car seat. It's suitable for pups 15 pounds and under and kept her small Shih Tzu, Obi, secure the whole way, she says. "It was comfortable for her, she could easily see out the window, and it ensured that she didn't jump all over the car while I was driving," says Lewis.
Most durable car seat for small dogs
"This booster seat is perfect for dogs who like to get dirty; it's made with durable ripstop material to prevent tears, and the interior is machine washable for an easy clean," says Schwab. Shandos Cleaver, the founder of Travelnuity — a travel blog that documents her adventures with her miniature dachshund, Schnitzel — is another fan. "It's also collapsible, meaning that you can take it along when flying with your dog," she adds. According to Kurgo, the booster seat is best for dogs 20 pounds and under. While it is designed to go in a front or back seat, Lang stresses that dogs should never ride shotgun because a car's airbags can seriously injure them.
Best car seat for medium dogs
Snoozer also makes dog car seats in larger sizes, like this one recommended by Schwab, which has options that can fit dogs up to 34 pounds. "This microsuede car seat is basically like a mini-couch for your dog, allowing it to sprawl out comfortably and snuggle in the cushions," she says. "There's even a hidden compartment where you can store your pet's things." The microsuede cover, we should note, is also washable, making this easier to clean.
Best (less-expensive) car seat for medium dogs
According to Schwab, "Pet Gear's booster seat is sturdy without compromising on comfort. It has a dense foam filling, a microsuede cover, and a removable plush pillow for ultimate snoozing conditions." Cleaver agrees, calling it "great for dogs that like to lie down and have a snooze in the car." Like the microsuede Soonzer seat above, this one can accommodate up to medium-size dogs according to Pet Gear (which does not provide a specific weight limit for the seat).
Best car hammock for large dogs
Photo: Retailer
"For large dogs, I recommend a hammock seat, as it's easy to clean, water-resistant, quilted for comfort, and easy to install," says Fraser. "It also turns the entire back seat of the car into a giant bed." As she notes, a hammock seat like this not only protects your car from dirt and hair, but also protects your dog by preventing it from unsafely putting its front legs on the floor or from poking its head into the front-seat area and distracting the driver. This one is designed with slits that make it easy to access a car's seat belts if you're using it with a safety harness (as our experts have recommended).
The Strategist is designed to surface the most useful, expert recommendations for things to buy across the vast e-commerce landscape. Some of our latest conquests include the best acne treatments, rolling luggage, pillows for side sleepers, natural anxiety remedies, and bath towels. We update links when possible, but note that deals can expire and all prices are subject to change.