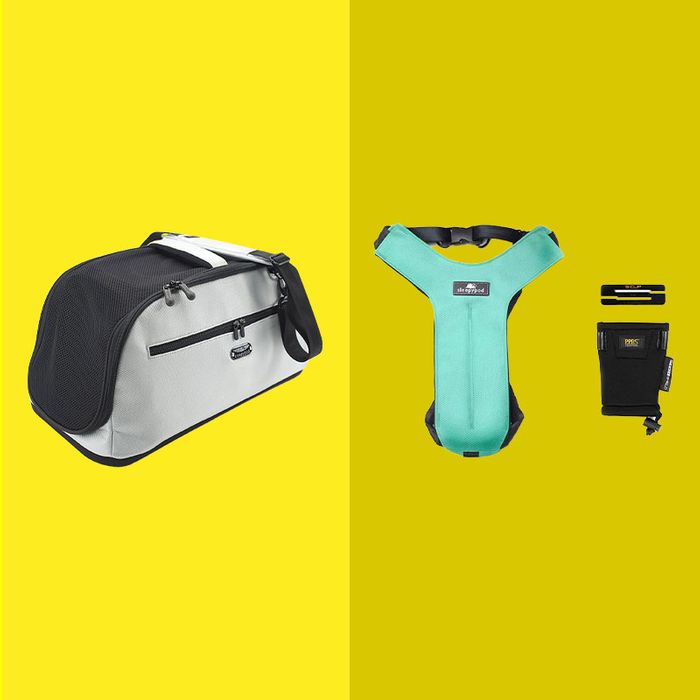 Photo-Illustration: The Strategist; Photos: Retailers
If you've ever driven a car while your dog skids around in the back seat or tries to climb into your lap, you know how harrowing it can be to get behind the wheel without strapping them into a special car seat, crate, or harness. "Our dogs are distracting, and when driving is involved, their distractions can be downright dangerous, which is why it is so important to keep a dog secured in the car," says Samantha Schwab, a pet expert at Chewy. In such states as New Jersey and Rhode Island you're legally required to restrain your dog in the back seat. Aside from minimizing distractions, doing so keeps your furry best friend safe in the event of an accident. "Dogs are like children," says David Lang, owner of the New York City–based pet-transportation company Pet Chauffeur, who cautions that just as you wouldn't put your child in the car without proper safety gear, you shouldn't put your dog in the car without it either.
Some dogs will need time to get comfortable traveling in a vehicle. When transporting an anxious dog, "try taking them in the car without actually going anywhere," advises Claire Harris, the director of the pet-taxi service Pets 2 Places and an advocate for pet-transportation safety. "Give them a meal in the car, play a game with them, get them used to being in there for short intervals, then go on short journeys to a fun destination like a park." Crucially: "Don't have their first journey be to the vet."
To find the best car seats, crates, and harnesses for dogs, we spoke to nine experts — including trainers and pet owners — about the ones they suggest for keeping a dog secure and safe on the road.
"In a car collision or a hard-braking stop, an unrestrained pet can become a projectile," says Nicole Ellis, the training and product expert at dog-sitting site Rover. "This can lead to them injuring themselves and people in the car." Seat belts and human car seats prevent people from getting injured during an accident by safely restraining them in place, and the best car seats for dogs (typically harnesses or crates) do the same thing. As with human car seats, your best bet is to invest in something that has been rigorously crash-tested. "It's imperative for pet owners to understand that there are two types of pet-travel products," explains Lindsey A. Wolko, the founder of the Center for Pet Safety, an independent organization that does dog-equipment crash tests at 30 mph. The cheaper and more commonly purchased products are primarily designed for comfort. But the safest types of car seats, crates, and harnesses are designed with crashes in mind. To give your pooch the best possible chance of surviving an accident, should one occur, we're prioritizing products that have passed the CPS's crash tests. "If it's not crash-tested, there's no proof it will hold out in the event of an accident," says Harris.
That said, we have included a few non-crash-tested booster seats — cushy elevated boxes that give your dog a designated and safe place to sit without zipping them into a carrier or crate — to be strictly used in tandem with a crash-tested safety harness. For anyone going this route, Wolko stresses this important point: "You do not want to connect your pet directly to the car seat." Instead, you should use a harness to connect your dog to your car's seat-belt system before putting them in a booster seat. In addition, Lang told us that while many car seats are advertised as appropriate for both the front or back seat of your car, dogs should never ride shotgun because a car's airbags can seriously injure them. When it comes to bigger dogs, they will be safest in a crash-tested dog crate or confined to the trunk via a barrier system.
The type of safety device you buy will mostly depend on the size of your dog. Very big dogs won't fit in a carrier-style car seat and may not be protected by one. Though a pit bull or a Labrador is much less fragile than a Pomeranian, the heavier the dog, the worse the impact of a crash would be for both you and them. So larger dogs will need different and more secure safety devices than little dogs. "A harness only works if you have a small-to-medium-size dog," says Harris. As we explained above, if you have a larger breed dog, they'll be safer in a crate or in the trunk with a barrier to keep them from jumping (or being thrust) into the back seat.
But for owners of small- and medium-size dogs, the choice between carriers and harnesses combined with booster seats comes down to preference. One benefit of buying a carrier-style car seat is you can often use it on planes and subways. Some even transform into cozy dog beds. You can find both carriers and booster seats that collapse for convenient storage. If you have an anxious dog, a booster seat gives them added height and allows them to see out of the car's window, which can help calm the dog and prevent car sickness. And most crash-tested harnesses have leash hookups, so you can use them on walks and hikes as well as in the car. But you'll want to look for a proper fit and padding that will cushion your dog during quick stops or an accident. We have prioritized products with soft padding, plush linings, and breathable sides and tops.
While each product is designed differently, the way they connect to your car is often consistent depending on the style. Carriers and harnesses are designed to securely attach to your car's seat belts. Booster seats attach using straps that hug the headrest and the middle point of a passenger bucket seat or the smaller side of a rear bench seat that folds down. They are meant to hover about halfway up the seat so your dog can see out the windows. Crates and kennels usually have hardware so that you can tie them down in your trunk, and barriers use tension across your car's trunk to stay in place. We've noted details about the attachment points for each recommendation below.
Dogs are not immune to car sickness, and long car trips can result in other kinds of accidents. So whether it's a spilled bowl of food, dirty paws after the park, a surprise puke, or anything else, you'll want a car seat that's easy to clean. Look for removable, machine-washable bedding and water-repellent linings to protect your car seats.
Best overall car seat for dogs
Safety: Crash-tested and CPS-certified | Style: Carrier with mesh top | Attachment points: Straps on both sides secure to seat belt | How to clean: Machine-washable bedding, water-resistant lining
Ellis's favorite car seat comes from Sleepypod, which she says "crash-tests its pet-safety restraints at U.S., Canadian, and European child-safety-seat standards." Harris agrees, saying. "Sleepypod products really are the absolute best of the best. Although they're expensive, they really are worth the money — if you are going to invest in anything for your dog, and you take them in your car, you want to invest in a Sleepypod." This joint car seat and carrier can accommodate dogs up to 18 pounds, is TSA-approved and meets airline requirements for flying with your pet — one reason we've also named it a Best in Class pet carrier for air travel. Ellis says it has proved super-functional on the road and in the sky: "My dog and I travel a great deal together and crisscross the country by plane and by car." The straps on both sides of this model hold your car's seat belt in place around the carrier; the carrier can expand to offer dogs a bit more room inside, and it has breathable mesh panels that allow them to see what's going on (which can help calm them down). For humans, it has a padded, adjustable shoulder strap and a trolley pocket you can slide over the handle of rolling luggage for hands-free transport. It's available in nine colors and collapses flat for easy storage when not in use.
Best car seat for small dogs
Safety: Crash-tested and CPS-certified | Style: Carrier with removable mesh top | Attachment points: Thread seat belt through top handle | How to clean: Machine-washable bedding, water-resistant lining
Ellis told us about this slightly smaller option from Sleepypod that can accommodate dogs (or any pets) up to 15 pounds. It's certified by the Center for Pet Safety, and in addition to functioning as a car seat and a carrier, it can be turned into a bed for your dog to use at your final destination — just unzip and remove the top. Customer reviews note that the larger size does not fit under most airline seats, but the mini version probably will on most planes. For car trips, a strap on the back of the carrier attaches to the seat belt. Like our top pick Sleepypod car seat, this one features breathable mesh panels that promote airflow, offer your pet a view, and allow you to easily check in on them. It has a padded shoulder strap for the human who carries it, and because of its round shape, it is especially great for smaller dogs that like to curl up and snuggle. It comes in two sizes and ten colors, including baby blue, pink, red, and white.
Most stylish car seat
Safety: Crash-tested and CPS-certified | Style: Carrier with mesh panels | Attachment points: Two latches fasten to seat belt | How to clean: Machine-washable bedding, water-resistant lining
Away — maker of the Strat-approved rolling luggage that has probably taken over your local airport in the past few years — added this pet carrier to its ever expanding line of stylish travel products in August of 2020. It's TSA- and airline-approved, and Wolko says it's a lovely option for anyone looking for a more stylish car seat and carrier for their pup. Capable of accommodating dogs up to 18 pounds, it has a fleecy bottom to keep pets extra cozy, mesh panels for visibility, and lots of exterior pockets; it can also be personalized with up to three embroidered letters. Two latches on the back of the carrier fasten over your car's seat belt. While this carrier has an interior clip meant to attach to your dog's collar, Wolko says not to use it — especially if you're in motion. "You don't want your dog to become tangled," she explains.
Best car harness
Safety: Crash-tested and CPS-certified | Style: Harness with neoprene padding | Attachment points: Thread seat belt through two backside loops | How to clean: Wipe down or hand-wash in cold water
Like the other Sleepypod products on this list, this harness has been certified car safe for dogs up to 90 pounds by the Center for Pet Safety. Two of our experts own it: Fable Pets co-founder Jeremy Canade uses it with his border collie, Ranger, and likes how easy it is to toss in his dog's travel kit on the go. Ellis uses it with her cavapoochon, Rossi, telling us the harness's three-point design is meant to minimize harm in a crash by restricting movement and distributing force evenly throughout a dog's torso. To attach it, simply thread the seat belt through the harness's two back loops and buckle it as you would for yourself. Dogs should be able to lie down and sit up comfortably while they're in it, says Ellis, who strongly cautions against using a tether or leash to secure the harness (as they can act as a slingshot in the event of a collision, making it even more dangerous than if the dog wasn't restrained at all, she explains).
While the harness should work for most dogs under 90 pounds, Sleepypod's website says it might not offer a proper fit for the unique body types of breeds including greyhounds, whippets, salukis, Afghan hounds, and borzois, so Ellis suggests emailing the company for more information before purchasing one for those breeds. In addition to using it in the car, this harness features a double-D-ring connection for clipping a leash so you can use it in the park and on walks.
Best (less expensive) car harness
Safety: Crash-tested and CPS-certified | Style: Harness with padded chest plate | Attachment points: Thread seat belt or secure steel carabiner | How to clean: Wipe down to clean
Harris likes Vermont-based dog-safety company Kurgo, and its extensively crash-tested car harness is a little cheaper than Sleepypod's. It can be used easily on its own by threading your seat belt through the included steel carabiner seat belt attachment, though it's also compatible with the brand's booster seat, recommended by another expert below. It features five adjustment points for a customizable fit, front and back D-ring connections for a leash, metal nesting buckles (the kind used by rock climbers because they won't slip), and a padded chest plate to protect your dog against the force of a crash.
Best car crate
Safety: Crash-tested and CPS-certified | Style: Hard-sided crate | Attachment points: Four stainless steel tie-down pins (straps sold separately) | How to clean: Side drain channels and drain holes
Once again, Harris recommends going only with brands that extensively crash-test their products as Lucky Duck does with their intermediate- and large-size car crates. The one-piece roto-molded body is designed to be strong (it has been tested and proven to withstand up to 4,000 pounds of force) and lightweight, so any member of the family can carry it easily via the two heavy-duty handles at the top. While Lucky Duck crates will fit within the trunk of a hatchback or SUV, they shine as a hunter's or outdoorsman's companion in the bed of a pickup truck. The nonslip feet keep your dog's crate from tipping over, and the steel tie-down pins, paired with the brand's ratchet straps (sold separately), hold it firmly in place. It's also really easy to hose down after a long day of off-roading or holding a muddy dog. While it doesn't come with a liner or bed, Lucky Duck does make an accompanying crate pad.
Best (less expensive) car crate
Safety: Crash-tested and CPS-certified | Style: Hard-sided crate | Attachment points: Four stainless steel tie-down pins (straps sold separately) | How to clean: Recessed floors, removable drain plug
A slightly more affordable option is Gunner's G1 car crate, as recommended by Katie Spies, the founder and CEO of human-grade raw dog-food brand Maev. It's made with a reinforced aluminum frame and double walls to lessen the impact in a crash. (Tie-down straps to secure the crate are sold separately; Gunner makes its own heavy-duty tie-down straps out of polyester webbing with spring-loaded buckles.) Spies, who owns the smallest size for her Italian greyhound rescue named George, says the crate has several other thoughtful features, like recessed floors and a removable drain plug at the bottom for easy cleanups after muddy trail days. Thanks to the G1's reversible door, once at her destination, Spies says she can let George out in two ways: "Out of the trunk or with me through the front seat." This crate also has a wide base to prevent rolling and angled vents on three sides to promote airflow and to keep the rain out if you're transporting your pup in the bed of a truck. It is available in four sizes and six colors.
Best crash-tested barrier
Safety: Crash-tested and approved by the SP Technical Research Institute of Sweden | Style: Barrier made of ASTM A366 Steel | Attachment points: Two adjustable sidebars | How to clean: Wipe down to clean
As a crate alternative that suits owners of large dogs or more than one pet, Harris suggests investing in a crash-tested barrier for your vehicle. It works by attaching to your car's back seat and creates a secure gate between the trunk and the passenger cabin. This adjustable steel barrier is made in Sweden and tested to Swedish standards. Though it won't work with every model of car, it comes in two styles: regular and headrest-mounted to fit the trunks of most hatchbacks, station wagons, and SUVs. If purchasing the regular barrier, your car will need load anchor hooks (to attach the two adjustable sidebars) and a flat floor (for the barrier's feet to sit on). However, the headrest-mounted barrier attaches directly to your second-row seat headrests and does not require a flat trunk floor or load anchors. Both models are easy to install and do not require any extra tools.
Best booster car seat
Safety: Not crash-tested | Style: Booster seat | Attachment points: Straps to a headrest and seat | How to clean: Machine-washable fleece liner and pad, waterproof exterior
"This booster seat is perfect for dogs who like to get dirty; it's made with durable ripstop material to prevent tears, and the interior is machine washable for an easy clean," says Schwab. It features a square metal frame at the top to ensure it holds its shape. Shandos Cleaver, the founder of Travelnuity — a travel blog that documents her adventures with her miniature dachshund, Schnitzel — is another fan. "It's collapsible, meaning that you can take it along when flying with your dog," she says. Two straps secure the booster seat to the headrest and body of your car seat. According to Kurgo, the booster seat is best for dogs 20 pounds and under. For the safest car trips with your dog, find the matching Kurgo crash-tested safety harness listed above.
Best (less expensive) booster car seat
Photo: retailer
Safety: Not crash-tested | Style: Booster seat with metal frame | Attachment points: Straps to a headrest and seat | Machine-washable plush bedding | How to clean: Machine-washable fleece liner, water-resistant exterior
Dog owner Amy Lewis (the cousin of former Strategist senior editor Casey Lewis) used this booster seat on a 16-hour road trip from Florida to Missouri. It's suitable for pups 15 pounds and under, and it kept her Shih Tzu, Obi, secure the whole way. "Itx was comfortable for her. She could easily see out the window, and it ensured that she didn't jump all over the car while I was driving," Lewis says. Like the Kurgo booster seat above, it attaches via straps that buckle around the headrest and body of one of your car's seats and requires an additional harness to be crash safe.
Some Strategist-approved dog carriers to use after the car ride
The Strategist is designed to surface the most useful, expert recommendations for things to buy across the vast e-commerce landscape. Some of our latest conquests include the best acne treatments, rolling luggage, pillows for side sleepers, natural anxiety remedies, and bath towels. We update links when possible, but note that deals can expire and all prices are subject to change.