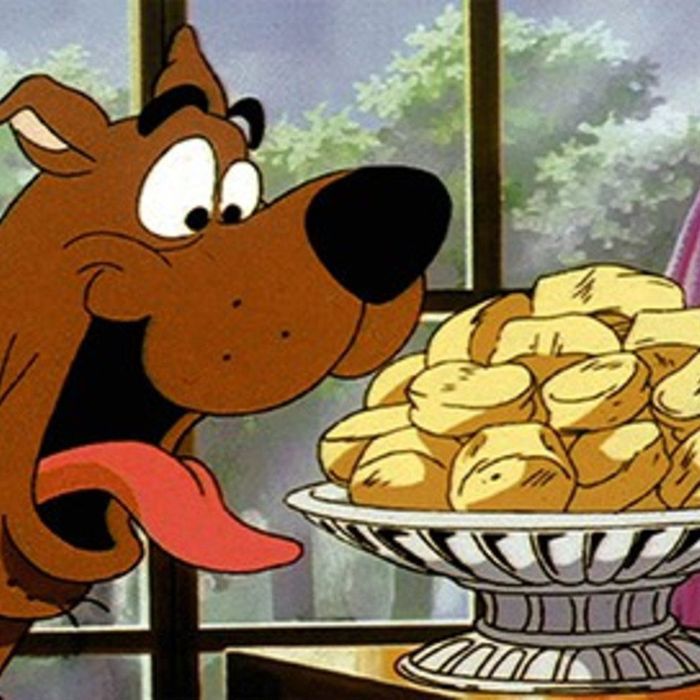 Photo: Hanna-Barbera Productions
If you have a beloved pup or two keeping you company at home, you probably want to spoil them. They are, after all, your most loyal friend. But taking a trip down the pet-treat aisle can be overwhelming: You want to find something tasty that your dog will love — but you also want to keep them healthy. So we asked 11 experts, including veterinarians, canine behavior experts, and dog trainers for their favorites. Below, find their 21 go-to treats, including options for picky eaters, training treats to teach an old dog new tricks, and chews for teething puppies.
Best human-food treats for dogs
Several of our experts told us that you can avoid the treat aisle altogether and find plenty of nutritious choices already on hand in your kitchen. Because obesity can be a huge issue for dogs, Rachel Barrack, veterinarian and founder of NYC-based concierge practice Animal Acupuncture, prefers sticking with fruits and vegetables. She recommends apples, bananas, carrots, cucumbers, watermelon, pure pumpkin purée, and peppers. Barrack notes that you should slice fruit and veggies and remove all the seeds before serving your dog. Pure Paws Veterinary Care owner Dr. Stephanie Liff's list of approved low-calorie human foods also includes blueberries, Cheerios, small pieces of cheese, lean proteins like chicken and beef, and even ice cubes. "You can also use common human foods you might already have in your fridge — just remember to break them into very small pieces," notes Tory Waxman, veterinarian and founder of Sundays Food for Dogs. Shelby Semel, a canine-behavior expert, trainer, and the founder of Shelby Semel Dog Training, agrees. "Human food is fine," she says, with one caveat. "Just not from the table." One last tip: "Keep these additions to less than 10 percent of your dog's caloric daily intake," Barrack advises.
Best dehydrated treats for dogs


Photo: retailer
"Dehydrated meat products are another one of my favorites," says Liff, who name-checked Stewart's line of different flavored treats. "They can be larger in size, so they need to be crumbled, but they are universally liked, for the most part, which is helpful when you want a really special treat." And because they have few ingredients, they can be a good option for dogs with allergies, she adds.
Best chicken-based treats for dogs
Best cricket-based treats for dogs


"Cricket treats are higher in protein and more nutrient-dense than beef or chicken treats, and they require fewer resources like land, water, and energy to raise (and cause much lower carbon emissions)," Strategist writer Liza Corsillo says about these morsels from Jiminy's Cricket, which are her silver poodle Uli's favorite. Ellis is also a fan: "If you have a dog with a ton of allergies but want a high amount of nutrients, you might want to consider a cricket-protein treat," like Jiminy's, she says, though she notes that "not all dogs love them." While Ellis's picky eater does, her other "dog that will eat almost anything won't touch them."
Best no-rawhide chews for dogs


Photo: retailer
Want to keep your pup occupied for a while? Try these. "If you're looking for something longer-lasting, SmartBones offers many sizes, flavors, and shapes for dogs to chew on," says Erin Askeland, an animal health and behavior consultant of Camp Bow Wow, who adds that her favorite is the sweet-potato bones. These are easy-to-digest, no-rawhide chews, but she does caution that pet owners should watch to make sure their dogs don't swallow them whole.
Best treats for dogs with allergies


Photo: retailer
"Ziwi treats are 96 percent meat, which means my dogs aren't filling up on treats like candy," says Ellis of these air-dried snacks. Because most of their treats are single protein, they're a good option for "dogs that may have sensitive tummies and allergies," Ellis adds. They come in a variety of proteins, including beef, lamb, venison green tripe, and lung and kidney. "I very rarely meet a dog that doesn't love them."
Best treats for your dog's joint health


Photo: retailer
"When I give my dog treats, I look for treats that are beneficial to her health and don't just taste good," explains Sara Ochoa, a Texas-based small-animal and exotic veterinarian and veterinary consultant for doglab.com. "These help her joints stay healthy," says Ochoa, who recommends them for any large-breed dog or any dog that has arthritis. This option contains glucosamine and chondroitin to help stimulate cartilage production and prevent breakdown, while antioxidants like green tea help protect joint tissues.
Best treats for your dog's dental health


Ochoa told us that Greenies are her dog's favorite treat. "They help prevent tartar buildup and help keep her teeth healthy," she says. Ochoa's feeds her nine-year-old pup one or two Greenies a week, and she "has almost all of her teeth."
Best calming treats


Photo: retailer
Ochoa also gives her dog one Zesty Paws Calming Bite every day to help ease her anxiety. "I have tried her on many different brands, and these are the only treats that I have found that actually help," she says. The chews contain hemp, chamomile, and thiamine to soothe and relax your dog.
Best treats for games


Liff is also a fan of these treats from Zuke's because they "have a short list of ingredients that can help prevent diarrhea or other GI upsets." While she does note that since these are made from chicken, they won't work for some dogs that do not tolerate poultry, but they're an excellent choice for those that do. "The size is one of the best things about them," she adds. "They are small, so you don't have to cut them to make them an appropriate size." Askeland is also a fan of Zuke's Naturals which she says "can be easily broken in half if you're watching your pup's weight, smelly enough for hiding around the house and yard for 'find-it' games, and are made of minimal ingredients." These also come in various flavors, including salmon, rabbit, chicken, duck, pumpkin, and peanut butter.
Best "low value" treats for training
Photo: retailer
When it comes to using treats as a reward system for training your dog, things get a little more complicated. According to Sarah Fraser, the co-founder of Instinct Dog Behavior and Training, "Not all treats are created equal, even for dogs that love food." She suggests thinking of treats as falling into three categories: low value, medium value, and high value. "Low-value treats are great for rewarding skills your dog already knows, in low-distraction settings. Medium-value treats are ideal for teaching new skills and for rewarding known skills in moderately distracting settings. High-value treats are great for rewarding skills in high-distraction situations, for rewarding super-important skills like coming when called, and for behavior modification where we are trying to positively change a dog's emotional and physiological response to stressful triggers," she explains. For a "simple, low-cost, and low-calorie treat that many dogs enjoy" that she considers low-value, she suggests Charlee Bear Original Crunch Natural Dog Treats.