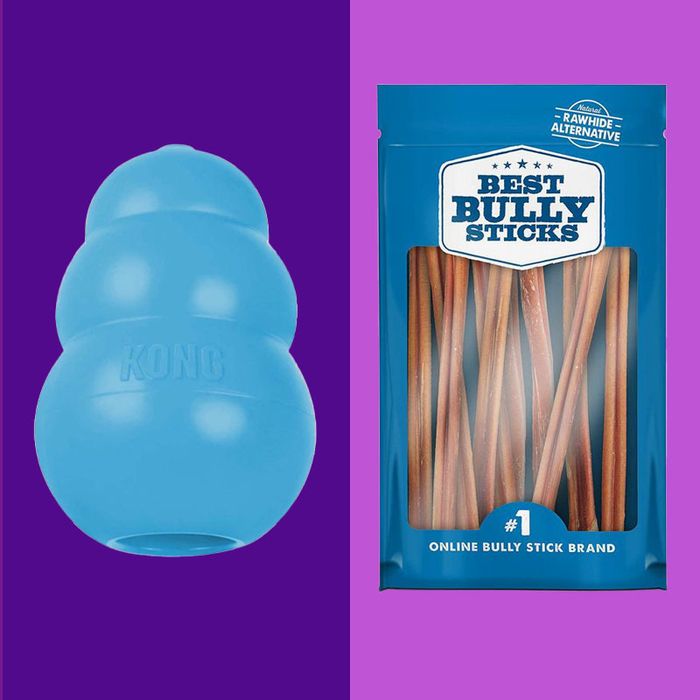 Photo-Illustration: The Strategist; Photos: Retailers
Anyone who has raised a puppy knows that the teething period is intense. Unlike human babies, dogs grow their "baby teeth" very early on, sometimes within weeks of being born. "Baby teeth usually come in long before we meet our pet dogs," explains veterinary dentist MJ Redman. When a puppy is "teething," its baby teeth are falling out and its adult teeth are coming in, and this all happens within a roughly two-month period between 4 and 6 months of age. "Most adult dogs have 42 teeth, and they all come in within those two months," says Redman. "That's a lot of activity, and it makes them want to chew on everything." It is important to be especially mindful of your dog's behavior during this time because naturally curious puppies are still learning what they can and cannot eat which can get them into trouble. "The best thing is to have lots of things that are appropriate for them to chew on and keep them busy," says Redman.
To find the best treats and toys for teething puppies, we spoke to eight experts — including veterinarians, dog trainers, and pet-store owners — plus our own writers and editors. They gave us plenty of recommendations, but Redman stressed that patience is more important than any product: "Realize that it's just a stage and they go through it fairly quickly. Sometimes puppies will backslide a little on their training and housebreaking during this period, and that's to be expected."
Puppy teeth are razor sharp and puppies at this stage will happily chew through and swallow everything from leather shoes to whole rolls of toilet paper. While the toilet paper will most likely just give them weird poops, swallowing textiles or hard objects can result in a trip to the emergency vet. For that reason, whatever you give them to chew on should either be made of high-quality digestible ingredients or tough materials they can't easily shred.
For edible chew toys, remember that puppies should ideally be gnawing through the toy slowly, not biting off huge chunks. But they will still end up ingesting it, so Klein stresses the importance of avoiding chews with additives that could be harmful to your puppy. "Sometimes with rawhide, the tanning process adds chemicals like formaldehyde," she explains. As you would with food or treats, look for chews with a single ingredient or a very short list of ingredients you recognize. In addition, whether it's rawhide or pig ear, our experts told us that checking for ingredients sourced and made in the USA is usually a good bet.
A chew toy that's indestructible to small-breed puppies won't last more than a few minutes in the jaws of a baby German Shepherd. So for safety and to get the most out of your purchase, you'll want to choose your puppy's chew toys based on their size and jaw strength. If you are unsure of which size to buy, it's better to opt for the larger size to keep your pup from tearing it up immediately. And as with any sort of chew toy, it's essential to pay close attention to what your dog is doing when you first introduce something new, especially if it isn't edible.
When it comes to teething, Redman has a general rule of thumb for evaluating the material of anything you might give to your puppy. "You don't want something so hard that you couldn't flex it with your hand or indent it with your finger," she says. Many popular animal-derived chews, like antlers and bones (which are typically okay for medium and large adult dogs), are too hard for puppies and can chip their teeth. The trick is finding something that is tough enough to keep them chewing and occupied for long periods of time but soft enough that it won't cause harm. "That's what gives the teeth and gums a good scrubbing," says Klein. Which texture is best for your puppy will depend on their size and breed. All of the chew toys on this list are soft enough (or can be easily softened) to be appropriate for puppies.
Best overall chew
Ingredients or materials: Beef pizzle | Size: Three sizes from 4 to 12 inches long | Texture: Soft, gummy
Chew toys and treats are the first lines of defense when it comes to teething puppies gnawing on everything in sight, according to Newman, Grossman, and Klein, all of whom say bully sticks are the ultimate chew toy. "Bully stick" is a euphemism for dried pieces of bull penis, which might make some humans uncomfortable — but as Newman says, "these are the crème de la crème of chews, stinky and disgusting enough to be loved by pretty much every dog." Bully sticks are "fully digestible, and chewing them is good for the teeth and gums," says Klein. And while they're definitely softer than bone, they're still tough enough to last a long time.
Newman and Grossman both recommend getting a 12-inch stick unless your puppy is really small (then you could opt for six inches). While choosing a brand can be tough because it's hard to tell the difference between different bully sticks, Grossman's brand of choice is Best Bully Sticks. They're on the more expensive end, but they're made in the USA (and one of our favorite dog treats for non-puppies, too). Grossman recommends using a bully-stick holder to further extend the pup's chewing time and to be extra-safe. "You don't want them to swallow it, and the smaller it gets, the better the chance that can happen." Or, as an alternative, "let your puppy chew on one end while you hold the other. This is a nice way to let your dog spend time with you and be near your hands without using your hands as chew toys."
Best rawhide chew
Ingredients or materials: Bison collagen | Size: Two sizes from five to seven inches long | Texture: Smooth, firm
For rawhide chews, Klein likes the Tasman's brand; its animal-derived products are made from high-quality USA-sourced bison and wild boar. They are much more digestible than conventional rawhide because they contain no harmful chemicals, no added hormones, and no added antibiotics. Plus they're a good alternative for puppies with chicken or beef allergies.
Best pig-ear chew
Ingredients or materials: Whole pig ears | Size: One size with some natural variation | Texture: Smooth, gummy
Klein says pig ears make a great chew for puppies, and many dog owners swear by them as a long-lasting (and very engaging) distraction treat. "They're 100 percent cartilage, so you have no fat and no worry that it's not digestible," Klein explains. "The chewing and gnawing of the ear alone can take down the inflammation of the gums and clean whatever little teeth are in there."
Best beef-tendon chew
Ingredients or materials: Organic beef tendon | Size: One size with some natural variation | Texture: Smooth, malleable
"Many chew toys contain plastic or rubber that we would rather not have our dogs ingesting," says Dr. Gary Richter, a holistic veterinarian and author. That's why Richter recommends these beef tendons that will better satisfy a pup in the teething stage because they're high in protein without any added fats or flavoring, he says. And unlike other natural products, such as antlers or hooves, these are cooked at a low temperature, so the resulting texture is softer and less likely to cause dental damage, Richter adds. Although he says organic treats like Shuree's can be more difficult to find, he likes that the brand's products are made from grass-fed and locally raised animals from family-owned Maryland farms. Each beef tendon is made to accommodate dogs of all sizes, but will last longer for puppies and small- and medium-size dogs.
Best horn chew
Ingredients or materials: Icelandic lamb horn | Size: Two sizes with some natural variation | Texture: Smooth, firm
Elisabeth Weiss, a dog trainer and the owner of Dog Relations NYC, prefers Icelandic lamb horns to other edible chews, because they contain keratin, a structural protein that supports healthy nail, skin, and hair growth in dogs. Keratin won't splinter as a puppy gnaws, Weiss says — instead, the horn gradually breaks down, ensuring that heavy chewers won't crack their teeth. High in protein and minerals like zinc and calcium, the horns are made of thousands of tiny fibers, which can improve dental health by scrubbing away unwanted plaque from teeth and gums. Weiss suggests getting the larger size, because it will stay intact for longer, and adds that the curved shape makes it easier for dogs to hold between their paws. And while these treats are fully digestible (unlike antlers and buffalo horns), Weiss says it's still important to supervise your pup and take it away once it becomes small enough to swallow whole.
Best vegetarian chew
Ingredients or materials: Yak and cow milk, salt, and lime juice | Size: Four sizes based on the size of your puppy | Texture: Firm, crunchy
If you're looking for a vegetarian all-natural chew (or just want to mix things up a little), Newman highly recommends Himalayan Chews: "They're made up solely of yak and cow's milk and were created as a digestible alternative to rawhide. Dogs love the flavor and the chewing challenge. Pop it in the microwave if you need to soften it." And after your puppy gnaws it down to just a small piece, the company says you can soak that part in water, then microwave it for 45 seconds to transform it into a puffed-up treat with a crunchy texture.
Best chew for dental health
Ingredients or materials: Wheat flour, glycerin, wheat gluten | Size: Four sizes based on the size of your puppy | Texture: Flexible, gummy
To get a head start on caring for your puppy's dental hygiene, Gabrielle Fadl, a medical director at Bond Vet, recommends Greenies because they have a seal of approval from the Veterinary Oral Health Council, which she compares to the American Dental Association for humans. (Fadl used them with her own dog when he was a puppy to reduce plaque buildup.) Strategist junior writer Brenley Goertzen has fed Greenies to her two dogs for about three years and describes these dental treats as a mint and toothbrush in one because they eliminate stinky breath and prevent food from getting stuck. Because these chews are edible, Fadl says it's best to supervise your puppy as they chew so they don't swallow large chunks that may be difficult to digest.
Best rope chew toy
Ingredients or materials: 100 percent cotton | Size: Nine sizes from 6 to 19 inches long | Texture: Flexible, easily indents with a fingernail
Newman, Grossman, and Klein all suggest rope toys as a great option for teething puppies. "A lot of puppy 'mouthing' is actually just the puppy wanting to play," says Newman, and unlike fetch, tug-of-war is an easy game to play with your pup indoors. As Grossman puts it, "Tug is a great way for your puppy to let out some energy, exercise their jaw, and spend time with you. Win, win, win!" This particular rope toy is made of only natural cotton fibers and helps to floss your puppy's teeth as they play. It is conveniently available in a wide size range to serve a wide range of dog breeds.
Best frozen chew toy
Ingredients or materials: Canvas | Size: One size for small and medium breeds | Texture: Flexible, easily indents with a fingernail
Klein often tells his clients with teething puppies to experiment with putting food and toys in the freezer. "The coldness is soothing for the puppy's gums," she says. She likes this classic Chilly Bone toy that's designed to be soaked in water, then frozen before you give it to your puppy to chew on. For a healthier snack, she says you can try freezing a carrot, which a lot of puppies like to gnaw on.
Best flavored chew toy
Ingredients or materials: Plastic | Size: One size for puppies up to 15 pounds | Texture: Flexible, ridged
Dr. Alejandro Caos of The Vets recommends Nylabone, because the brand creates flavored chew toys that are tough and durable, which will keep young dogs interested while putting them at a lower risk for digestive obstructions. When Goertzen first purchased this toy in 2017 for her Australian Shepard mix, it was so successful in distracting the puppy for hours that she used it again three years later with her Great Dane. The plastic bone has a chicken flavor, which Goertzen says is more enticing to her pups than rope or stuffed toys. "It won't stain your carpet or your dog's bed, so it's a great alternative to bully sticks and rawhides, which can leave behind a messy trail of puppy drool," she says. In addition, Goertzen says, the raised bumps on the surface (which massage a puppy's painful gums) remained undamaged through each dog's round of teething. And while some people may worry about their pets consuming pieces that have shredded off, Caos says these fragments are typically small enough to pass without issue.
Best treat-dispenser toy
Ingredients or materials: Rubber | Size: Four sizes from XS to L | Texture: Soft, easily indents with a fingernail
Redman likes the classic rubber Kong toy for many situations, and this teething-specific model is made from slightly softer rubber that's safe for puppies. Put peanut butter or a favorite treat inside and watch them lick or try to get the treats to pop out for an hour or more. You can even throw it in the freezer to help soothe your puppy's gums or for a longer-lasting treat (an especially handy trick to keep them from barking during Zoom meetings). It's just as fun for your puppy to play with and chew on when it's empty.
Some more essentials for puppies
The Strategist is designed to surface the most useful, expert recommendations for things to buy across the vast e-commerce landscape. Some of our latest conquests include the best acne treatments, rolling luggage, pillows for side sleepers, natural anxiety remedies, and bath towels. We update links when possible, but note that deals can expire and all prices are subject to change.