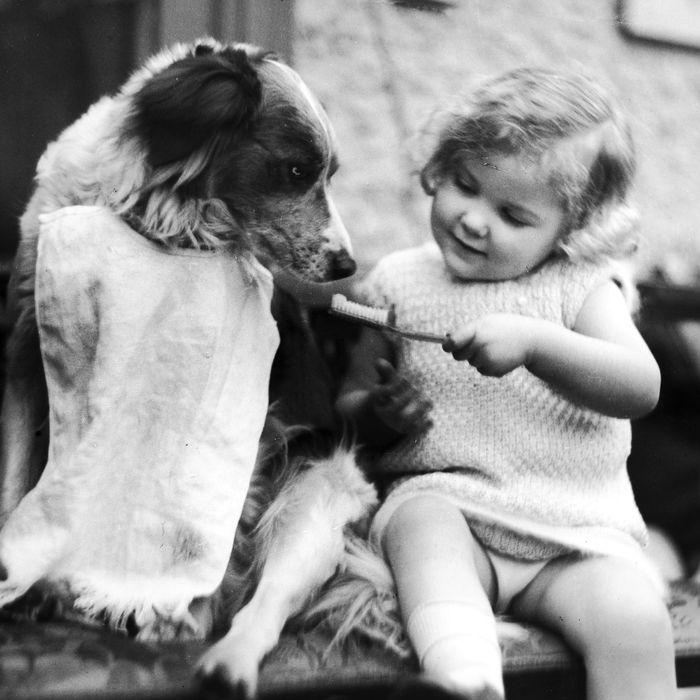 Photo: Time Life Pictures/The LIFE Picture Collection via
Very few dogs like having their teeth brushed, and some flat-out won't tolerate it. But according to board-certified veterinary dentist John Lewis, periodontal disease and other dental issues are "far and away" the most common health problem for dogs. "You can imagine if we went ten years without brushing our teeth how bad things would get," he says. "Dogs are no different." Plaque and tartar can cause a whole host of health issues that, if left untreated, can lead to infection and pain that requires oral surgery and anesthesia. But Lewis says there are ways to introduce daily (or at least every other day) oral care, like giving your dog a treat after brushing "to make it a positive experience." And if brushing isn't an option, there are alternatives — including dental chews, cleansing wipes, and specially formulated kibble — that can help reduce the formation of bacteria, plaque, and tartar.
To find the best products for keeping your pup's mouth fresh and tartar free, we talked to Lewis and seven other veterinarians and pet experts about the stuff they use. For starters, you should look for products with the Veterinary Oral Health Care (VOHC) seal of approval (the dog and cat equivalent of the ADA seal of approval), according to Dr. Jennifer Coates, who serves on the advisory board for Pup Life Today. "Products with the VOHC seal have been shown to actually slow the buildup of plaque and tartar on teeth," she explains. Below, our experts' favorite VOHC-approved products to keep your dog's teeth sparkling.
Best overall toothbrush and toothpaste for dogs
All of our experts say the top priority in dog dental care is brushing, ideally once a day, and several say using an enzymatic toothpaste will enhance the effects of regular brushing. "Brushing a dog's teeth using a soft-bristle toothbrush and a toothpaste designed for pets is by far the most effective form of dental preventative care," explains Coates. The key, she says, is to use a toothbrush with extra-soft bristles so as not to startle your dog or cause it discomfort. Lewis agrees that the brush should be soft or extra soft and advises owners to start with just a little warm water on the toothbrush and then work their way up to using toothpaste. Samantha Schwab, a resident pet expert at Chewy (we spoke to her about dog grooming back in March) recommends this soft Virbac Pet Toothbrush because its size "allows you to get to those hard-to-reach places in the back of the mouth."
To complement brushing with Virbac's toothbrush, Dr. Emily Stein, a microbiologist and the creator of TEEF (an anti-bacterial water additive for dogs), says to "brush your dog's teeth with enzymatic toothpaste," which, according to the American Kennel Club, "contains enzymes that help reduce bacteria, which can lessen tartar buildup and improve bad breath." Veterinary dentist MJ Redman says, "I use Virbac C.E.T. toothpaste. It's my dogs' favorite. I also like the Virbac toothbrush, which comes in different sizes for different-size dogs."
Best less-expensive toothbrush for dogs
At his clinic specializing in veterinary dentistry and oral surgery, Lewis gives all his clients double-ended toothbrushes like these. "One end is smaller, I'd say about a half to a third of the size of the bigger end, so you've got some options there for small- and large-breed dogs." He adds, "The bristles of the brush act like a broom and sweep away the plaque, not only from the surface of the crown but from the really important area underneath the gumline."
Best finger toothbrush for dogs
Sara Ochoa, a small-animal and exotics veterinarian in East Texas and a consultant for DogLab, agrees that "every dog owner should have a dog toothbrush and dog toothpaste. There are different kinds of dog toothbrushes: the traditional ones, like people use, or finger toothbrushes." If your dog won't let you use a traditional toothbrush (or has a very small mouth), Dr. Rachel Barrack, a veterinarian and the founder of Animal Acupuncture, says that "an angled finger brush makes for easy access." And Dr. Amanda Nascimento says that "finger brushes may work well for dogs under 28 pounds." We wrote about this two-pack of finger brushes from Nylabone in the past, and they boast over 100 five-star reviews from pet owners on Amazon.
Best less-expensive toothpaste for dogs
A common, potentially dangerous mistake owners make is to use toothpaste for humans on their dogs, according to Lewis. "You should never use human toothpaste in a dog's mouth. These contain additives that can be toxic to dogs if they swallow." This gel toothpaste also contains bacteria-fighting enzymes as well as baking soda and neem oil to whiten teeth and freshen breath. Plus, it's got over 500 positive reviews on Amazon, and we've written about it before in our article on dog grooming.
Best dental wipes for dogs
If brushing simply isn't possible, Lewis concedes that "wipes are another good option for removal of the plaque and tartar" because you're still physically removing food particles and plaque from your dog's teeth. While none of our experts picked these wipes by name, they did agree that using wipes can help keep plaque and bacteria at bay if used on a regular basis. Petkin Fresh Mint wipes (which we've written about before) contain baking soda, which helps remove stains from dogs' teeth and freshen their breath.
Best dental chews for dogs
Several of our experts mentioned Greenies dental treats as a viable option for removing plaque and freshening breath, including Coates, who told us she gives them to her own dogs. Lewis agrees that "Greenies are a good option; they have the seal of acceptance of the VOHC," though he notes that the mechanical effect of chewing and the treats' rough, toothbrushlike surface matter more than the ingredients, when the goal is self-cleansing of the teeth. He and Ochoa both warned against giving treats and bones that are so hard they could result in injury, such as deer antlers and cow hooves. "Make sure it's not so hard that it will break your dog's teeth," says Ochoa.
Erin Askeland, a pet-health and behavior expert with Camp Bow Wow, recommends these enzymatic dental chews for dogs who "squirm too much for regular brushing."
Stein says that although doggy dental chews are available everywhere at a low price, some aren't as effective as others. She advises pet owners to "read the labels on chews and treats. Watch out for carbohydrates and stay away from starches and processed grains or fruits, which can be quickly turned into things that drive dental disease in your dog's mouth." These VetIQ Minties, which are VOHC approved, have no wheat, soy, or corn.
Best dental diet food for dogs
When it comes to choosing a dog food that will prevent teeth issues, Ochoa says, "hard kibbles will keep dogs' teeth clean and healthy. When they bite into hard kibble, tartar will break away from the teeth." She recommends Hill's Science Diet for its "prescription dental diet" but adds that "many pet-food companies make a product for decreasing dental tartar."
This VOHC-approved kibble is specially formulated for dogs' dental health.
Best oral-care food additive for dogs
To supplement your dog's brushing, wiping, and chewing routine, you can add powdered seaweed to its food. Coates suggests ProDen PlaqueOff Powder, which has the VOHC seal: "It's a food additive made from a special type of seaweed and has been shown to be effective in removing plaque and/or tartar in dogs and cats."
Best oral-care water additive for dogs