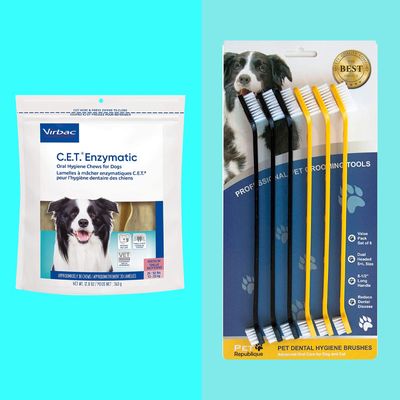 Photo-Illustration: The Strategist; Photos: Retailers
If you've ever tried to brush your dog's teeth, you're well aware that it's a challenging endeavor at best. But looking after your pup's dental health has other benefits apart from keeping dog breath at bay. According to Dr. Kimberly DiMaio of Main Street Vets, "Dental disease in dogs can lead to other health problems, such as heart disease, kidney disease, and respiratory problems." Veterinarian Dr. Mondrian Contreras, Pumpkin Veterinary Expert, says you should brush your dog's teeth daily, but it's okay to start slowly if they're not accustomed to it. He suggests that you keep "the experience very brief" when starting out, "and always give a reward after, such as playing ball or supplying a treat." This makes dogs associate having their teeth brushed with a positive experience, so they're more likely to tolerate it — or even look forward to it.
We spoke to DiMaio and nine other veterinarians to find out how to keep your pup's teeth in good health. And while our experts' recommendations didn't overlap on every product, they do agree that being proactive about your dog's dental health is vital. Dr. Alejandro Caos — veterinarian at The Vets — says, "First and foremost, you need to go to your vet at least once a year for a standard oral-health assessment." These assessments let you address dental issues before they become serious. Second, look for products that feature the Veterinary Oral Health Council (VOHC) registered seal. Dr. Ricky Walther, Veterinary Adviser at Pawlicy Advisor, explains, "VOHC-certified products are the only products that we know have research to show that they work to assist in oral health."
Read on for some of the top dog dental-care products recommended by our experts to keep your dog's teeth clean and gums healthy, including the best dog toothpastes, the best dog toothbrushes, the best dental chews for dogs, and the best dental wipes for dogs.
Best overall toothbrush and toothpaste for dogs
All our experts agree that regular brushing is the best way to look after your dog's teeth and gums, and you'll need an appropriate toothbrush to do so. Look for a toothbrush with soft bristles to avoid hurting your dog or damaging its gums. Contreras recommends Virbac toothbrushes, and Caos is also a fan of Virbac dental-care products. This double-ended toothbrush has one larger brush and one smaller brush to help you more effectively clean both large and small tooth surfaces.
Choose an enzymatic toothpaste to boost your dog's defense against plaque- and tartar-forming bacteria. According to the American Kennel Club, this type of toothpaste "contains enzymes that help reduce bacteria, which can lessen tartar buildup and improve bad breath."
Several of our experts suggest dog owners use Virbac C.E.T. Enzymatic Toothpaste or Virbac dental products in general, including Caos, DiMaio, and Dr. Paula Simons — a veterinarian and veterinary consultant at K9 of Mine. The enzymes reduce bacterial plaque buildup, and the lack of foaming agents means it's safe for dogs to swallow.
Best less-expensive toothbrush for dogs
Veterinary dentist Dr. John Lewis of Veterinary Dental Specialists gives all his clients dual-ended toothbrushes like these. He explains, "One end is smaller, I'd say about a half to a third of the size of the bigger end, so you've got some options there for small- and large-breed dogs." What's more, the bristles of the brush act like a broom and sweep away the plaque, not only from the surface of the crown but from the really important area underneath the gumline." The set costs $8.99 for six toothbrushes, so you needn't worry about losing them. 
Best finger toothbrush for dogs
Dr. Jacqueline Brister, a veterinarian and veterinary resource for Embrace Pet Insurance, says finger brushes are best used to help dogs "feel more comfortable with brushing." So, once they're happy having their teeth brushed this way, you can move on to a standard dog toothbrush. Veterinarian and founder of Animal Acupuncture, Dr. Rachel Barrack, says that "an angled finger brush makes for easy access."
The Jasper 360º Dog Toothbrush is Simons's top choice. With bristles all over, you clean a larger area with each stroke. This makes it less likely that you'll miss a spot if your dog is being wriggly or difficult. The silicone bristles are soft, which is perfect for sensitive mouths.
Best less-expensive toothpaste for dogs
Caos recommends Arm & Hammer's range of pet toothpastes for dog owners on a budget. They contain baking soda and enzymes to clean teeth, fight tartar, and freshen breath. You can choose from three formulas that focus on either gum health, tartar control, or fresh breath. With a choice of beef, chicken, and vanilla-ginger flavors, you should find one to appeal to your dog.
Best dental wipes for dogs
Every vet we spoke to stressed that brushing is the best way to keep your dog's teeth and gums healthy, but if your dog won't let you use a brush, dental wipes are a good option. "While brushing your pet's teeth daily is ideal, sometimes that's easier said than done," notes Dr. Jennifer Frione of Lakeside Animal Hospital. For dogs who won't tolerate daily brushing, she advises that "there are multiple alternatives to help control dental disease." According to Contreras, "Dental wipes don't actually work that well compared to brushing, but they're extremely helpful and can have a significant impact if the dog doesn't tolerate brushing but will allow you to use wipes." He recommends Dechra Vetradent Dental Wipes, which are suitable for both dogs and cats. These wipe away dental biofilm, which is a layer of bacteria that adheres to the surfaces of the mouth, turning to plaque and tartar and playing a role in gum disease.
Best dental chews for dogs
And if a wipe isn't an option, there are plenty of other dental-health products you can use if your dog won't let you anywhere near its mouth, including dental chews, dental diets, and food additives.
While Caos doesn't generally recommend dog dental chews and treats, he says to look out for options that contain less than 20 percent carbohydrates — these Virbac C.E.T. chews contain just 6 percent carbs. He recommends giving dental treats every other day if brushing is out of the question. Meanwhile, Erin Askeland, an expert in pet health and behavior with Camp Bow Wow, says these enzymatic dental chews are perfect for dogs who "squirm too much for regular brushing."
Best dental diet food for dogs
Although it won't take care of your dog's oral health alone, dental dog food can act as another weapon in your arsenal against canine dental disease. Both Simons and Contreras recommend Hill's Prescription Diet to reduce plaque and tartar buildup. Contreras recommends this food because Hill's is one of two brands (the other being Royal Canin) that "do the most research and independent studies on their diets."
Best oral-care food additive for dogs
ProDen PlaqueOff Powder is VOHC-accepted and recommended by Brister as a means to improve your dog's dental health in conjunction with brushing. It's formulated from a type of kelp that can dissolve existing tartar and help prevent new plaque formations. You can mix dental-food additives in with your dog's usual kibble or wet food, so it's easy to dose.
Additional reporting by Liza Corsillo.
The Strategist is designed to surface the most useful, expert recommendations for things to buy across the vast e-commerce landscape. Some of our latest conquests include the best acne treatments, rolling luggage, pillows for side sleepers, natural anxiety remedies, and bath towels. We update links when possible, but note that deals can expire and all prices are subject to change.