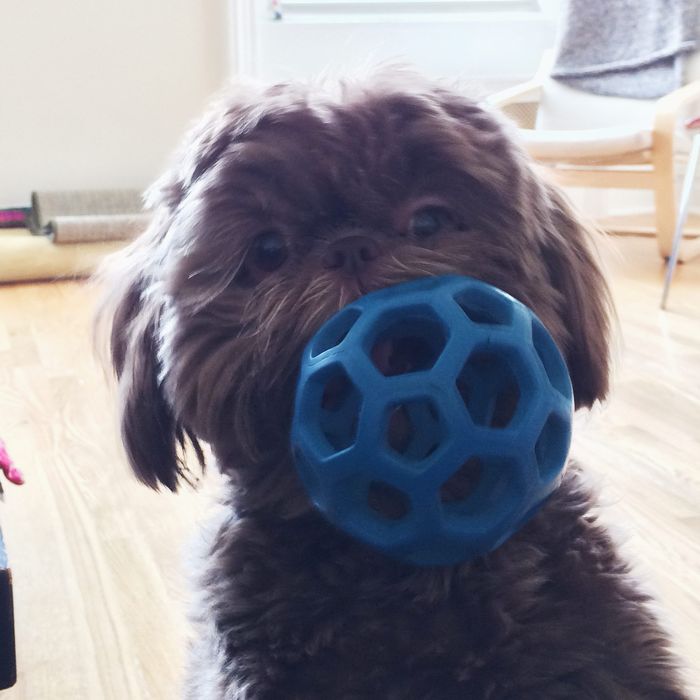 My friend's Shih Tzu first introduced it to us.
When we went to meet (and ultimately take home) our rescue mini-schnauzer mix Reggie a year and a half ago, we took four things with us: a collar and leash, a small plush hedgehog, and this weblike rubber ball. The plush hedgehog is now a flat hedgehog — like most dogs, Reggie takes great pride in disemboweling his stuffed toys — and the leash and collar are a little worse for wear, but the Hol-ee Roller rubber ball is still going strong. In fact, it looks pretty much new.
That's not because Reggie doesn't like it. It's actually his favorite. I've spoiled our dog with more toys than I care to admit, but he regularly trots up to me with the Hol-ee Roller for a game of fetch. I'd learned about the ball from friends we'd dog-sat for; their two Shih Tzus were always dropped off with one apiece. Yes, two dogs, two toys. It was easy to see why the pups didn't want to share: The Hol-ee Roller is a hybrid bouncy ball and chew toy, with big holes that make it easy for smaller mouths to catch and grip and fling about. The rubber is durable but not inflexibly hard, so errant tosses aren't a breaking hazard, and the ball's squishiness absorbs its own noise and shock, which is nice news for your downstairs neighbor.
I wouldn't recommend the Hol-ee Roller for large, destructive chewers, but it's pretty perfect for small and medium-ish dogs like the ones you'll find in apartments all over the city. You can even fill it with treats as a fun puzzle for your pup, though Reggie's perfectly happy chasing it in its empty state around our — sorry, his — home.
I read about this strange mammal-cephalopod hybrid toy during Fugly Week and immediately bought it to see if Reggie would also take to it like crazy. He did. The combination of plush animal head, ball-shaped body (with wake-the-dead squeaker inside) and dangly, flappy limbs is dog magic, and when he's not flinging his foxtopus (and buntopus) about he's using it as a pillow.
I learned about this chew toy, made from real fire hose, through a friend with a Labradoodle. It's not indestructible, but it is very tough — Reggie eventually managed to chew it open, but only after a year of working on it almost daily.
A classic. We fill these with peanut butter, freeze them, and give them to our dog as a snack or to keep him busy when we leave the apartment. I read somewhere that it's good to size up so that your dog can fit his snout in the hole easier and doesn't abandon the toy in frustration.