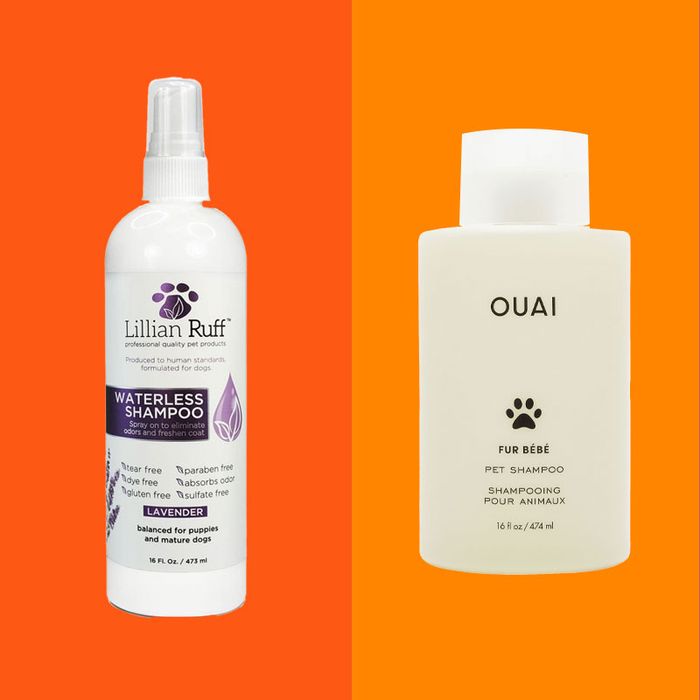 Photo-Illustration: The Strategist; Photos: Retailers
When you choose your own shampoo, it's not — or shouldn't be — without considering factors like hair type and skin sensitivity. The same is true when shopping for a dog shampoo, according to the experts we spoke with. From delicate skin to high-shed coats, every dog has unique needs that, along with the purpose of any bath, should inform your search for a shampoo, explains veterinarian Dr. Liz Bales. "Is your goal to wash off the mud they just rolled in? Do they have a bacterial infection you need to control? Are they itchy? Do they have fleas? Do they smell bad? All these problems require different shampoos," Bales says. In speaking to her and eight other vets and groomers, we heard from many that it's hard to name one shampoo as the best for all dogs in all situations. But depending on the needs of your dog and what you're hoping to get from bath time — a healthier coat, a better smell, or less itching — they do have recommendations for everyday shampoos and stronger, medicated options to treat more serious conditions.
As a general rule, Dr. Jamie Richardson, the medical chief of staff at Small Door Veterinary, says you should look for shampoos with ingredients known to be sensitive on skin to minimize any unwanted irritation. According to her, such ingredients include aloe vera, colloidal oatmeal, avocado oil, marshmallow root, and coconut oil. Richardson warns to steer clear of shampoos that are heavily scented because "dogs have much more sensitive noses than humans." Bales adds that the effectiveness of any shampoo hinges on using proper bathing technique. "Would you just dump shampoo right onto your scalp? No, you put it in your hands first. The same consideration should be used for your dog," she says, because most shampoos, especially medicated ones, also tend to be highly concentrated. The experts note to rinse off all shampoo thoroughly after a bath before drying a dog off all over, including "the ears and any skin folds to avoid infections," says Richardson. Read on for the 12 shampoos our experts recommend, including formulas for everyday cleansing, freshening coats, treating itchy skin, and more. While none of the shampoos require a prescription, it's always a good idea to consult with your vet before trying a new one to ensure it won't lead to any unwanted surprises.
Best dog shampoo for regular cleansing
If you're looking for an effective shampoo to clean the dirt and grime of daily life from a dog, Richardson likes the products from Pride and Groom. As she explains, the brand's philosophy is that "the quality of dog shampoo should be held to the same standards as products used for humans," telling us its products are "all-natural and made with ingredients such as avocado oil for hydration and itchiness relief, and marshmallow root for killing bacteria and healing hot spots." While the experts say all the shampoos on this list work on coats of fur or hair, Richardson notes that Pride and Groom has distinct formulations for each type. The Shedder Shampoo is made for dogs with thicker fur that can fall out and develop dander, while the Non-Shedder Shampoo is for dogs with finer hair. (There's also an option for sensitive-skinned dogs of any coat type.) Former Strategist writer Chloe Anello is another fan of the brand. She started using The Non-Shedder on her miniature schnauzer mix, Rudy, after consulting with her vet, who told her that the product is a good first step for any dog that also needs to use a stronger medicated shampoo because this will remove dirt and cleanse skin, allowing a medicated shampoo's ingredients to be more effective.
Best dog shampoo for sensitive skin
Both Dr. Alex Schechter of Pure Paws Veterinary Care and Dr. Alejandro Caos of The Vets recommend this shampoo and say its colloidal oatmeal formula will relieve dry, itchy skin while balancing pH levels. Schechter calls this shampoo a "fantastic, safe, natural product that is also cost-effective," and says the ingredients will result in coats (of hair or fur) looking extra-fresh. Caos uses it on his pit-bull terrier, who has sensitive skin, and says he likes that it contains aloe to gently soothe irritation, plus it's free of parabens and sulfates. Former Strategist audience development director Stephanie Downes uses this on her Yorkshire terrier, Oak: It's "nothing special or fancy" but "gets the job done," she says. Strategist contributor Chantel Tattoli also uses it on her (human) mane, writing that the shampoo never "leaves a film on or strips my hair" and, because of its minimal ingredients (that include no fragrances), helps relieve itching and dry skin "better than dozens of other hypoallergenic shampoos I've tried."
Best affordable dog shampoo
While Earthbath isn't exactly expensive, Burt's Bees is even cheaper and contains just-as-good ingredients that veterinarian Dr. Stephanie Liff, the medical director at Pure Paws Vet Care in New York City, calls "fairly clean." (Burt's Bees claims the product is 99.7 percent natural.) The shampoo's nonirritating formula consists of beeswax, honey, and colloidal-oat flour, which work together to calm skin while gently cleansing it and leaving behind a pleasant oatmeal scent.
Best-smelling dog shampoo
As Richardson notes, heavily scented shampoos can be too potent for dogs because of their superior sense of smell. Schechter says Aesop's shampoo has a light enough scent that's still perceptible, recommending it to anyone who wants a "higher-end product with an amazing finish." The mild formula contains ingredients like lemon rind and tea-tree leaf, which give the shampoo its fragrance while also calming skin as the product cleanses dirt and grime. Those looking for an all-natural shampoo should know this isn't: It contains sodium laureth sulfate, a common chemical detergent used for its foaming properties. Former Strategist senior manager of audience engagement Mia Leimkuhler uses this on her miniature schnauzer, Reggie, telling us it keeps him clean and smelling very nice. (Leimkuhler occasionally uses the shampoo on herself, too: "Incidentally, it also works really well as a human body wash," she says.)
Best dog shampoo for a healthy-looking coat
Richardson explains that this dog shampoo from Ouai has "aloe vera for moisture and conditioning" skin along with a lot of ingredients that promote a healthy coat, including "hydrolyzed vegetable protein to help improve fur strength and elasticity to fight breakage, and rambutan-seed extract to help protect fur from pollution while hydrating the skin underneath." She's also impressed by what it doesn't include: gluten, sulfates, parabens, and phthalates, which are all known irritants to pets and humans. The formula will not only help clean a dog's coat and keep it healthy, but also adds a nice shine that makes Fido look freshly groomed.
Best calming dog shampoo
While the shampoos thus far all have ingredients that calm skin, this one comes recommended for its ability to calm a dog itself via aromatherapy. Ani Corless, the founder of the Luxury Groomer, explains it has a lavender aroma that can help soothe an anxious dog during a bath, which is one reason she uses this on clients at her own salon. The formula, she adds, is "super-gentle and all natural," something other experts have told us about TropiClean products before. Because of the lavender, this also delivers a bit of a fragrance, but it's mild enough that Corless says she's used it on dogs with all sorts of coats and skin types, even those with super-sensitive skin.
Best waterless dog shampoo
Elisabeth Weiss, a dog trainer and the owner of Dog Relations NYC, recommends this waterless shampoo for owners who want to keep their pet clean between regular bath times or grooming appointments. She uses it on her two briards named Snorri and Zeldi, and says it helps detangle and refresh their wavy coats without leaving any sticky residue. Weiss suggests spraying it onto a grooming tool and brushing it through fur rather than putting it directly onto your dog. It's formulated with lavender oil, which helps eliminate foul odors, and aloe to condition and soothe irritated skin. It also contains coconut and lemon-peel oils to moisturize dehydrated hair, which can also naturally repel fleas and ticks. It's paraben- and sulfate-free, plus cruelty-free.
Best medicated dog shampoo for dry, itchy skin
It's important to consult your vet before incorporating any topical product into your dog's routine, but especially so before trying any of the medicated shampoos on our list. Richardson says this shampoo is "my favorite product for pets diagnosed with allergic skin conditions or simply those that have sensitive, dry, and mildly itchy skin," while Schechter notes that "it really helps soothe irritated skin during allergy season." Among its ingredients is ophytrium, which the vets say helps restore and improve the skin barrier. This, they explain, will make a dog's skin less prone to irritation, preventing problems such as bacterial infections or excessive itching from occurring. While it has a subtle cocoa and vanilla fragrance, the shampoo is hypoallergenic, so it shouldn't irritate a dog's skin or nose.
Best medicated dog shampoo for allergic dermatitis
This medicated shampoo from Virbac, which makes some of our favorite dog toothpaste, comes recommended by Bales and is formulated specifically to treat allergic dermatitis, or excessive itching caused by allergies or "parasites or a skin infection," she explains. "It's soothing, nonirritating, and provides a lot of comfort for dogs with itchy, irritated skin from allergies or an underlying condition." The formula includes an ingredient called D-mannose, which helps reduce bacterial infections and yeast clinging to the surface of a dog's skin. (D-mannose is also used to treat and prevent UTIs.) The shampoo also contains oat grains to soothe and help hydrate.
Best extra-strength medicated dog shampoo
Liff told us about this medicated shampoo that is actually a bit stronger than the ones from Douxo and Virbac because it has two active ingredients: chlorhexidine gluconate, an antiseptic, and miconazole nitrate, which treats fungal infections. (Neither is a stranger to humans: Chlorhexidine gluconate is found in some mouthwashes and miconazole nitrate is used to clear up things like athlete's foot.) She recommends it for dogs with fungal infections or severe bacterial infections that won't seem to go away or haven't been treated for a long period of time. Liff describes the texture as "a bit thicker than a regular shampoo," but ensures it still rinses off easily, adding that this offers "lasting benefits, even after it is rinsed off the skin," including helping to keep dogs less itchy for longer periods of time. Because it is stronger than the others, you again should talk to your vet about proper dosage before you use it (or if you even need it at all).
Best flea-and-tick dog shampoo
Dr. Paola Cuevas, a veterinary consultant at Hepper and Pet Keen, likes this shampoo because it contains plant-based ingredients like rosemary and peppermint oil to kill and repel fleas and ticks. "While it is never wise to use essential oils directly on your pet since many are toxic for them, this shampoo was carefully formulated by veterinarians to have essential-oil dilutions that are effective against fleas and ticks while remaining safe for pets," she says. Cuevas suggests using it on your dog after it spends time outdoors or near other animals that could pass on parasitic pests. While this shampoo effectively reduces the likelihood of blood-borne disease transmission, Cuevas says it should still be used in conjunction with an oral or topical treatment. It is safe for puppies 12 weeks or older and can be applied every 24 hours.
The Strategist is designed to surface the most useful, expert recommendations for things to buy across the vast e-commerce landscape. Some of our latest conquests include the best acne treatments, rolling luggage, pillows for side sleepers, natural anxiety remedies, and bath towels. We update links when possible, but note that deals can expire and all prices are subject to change.