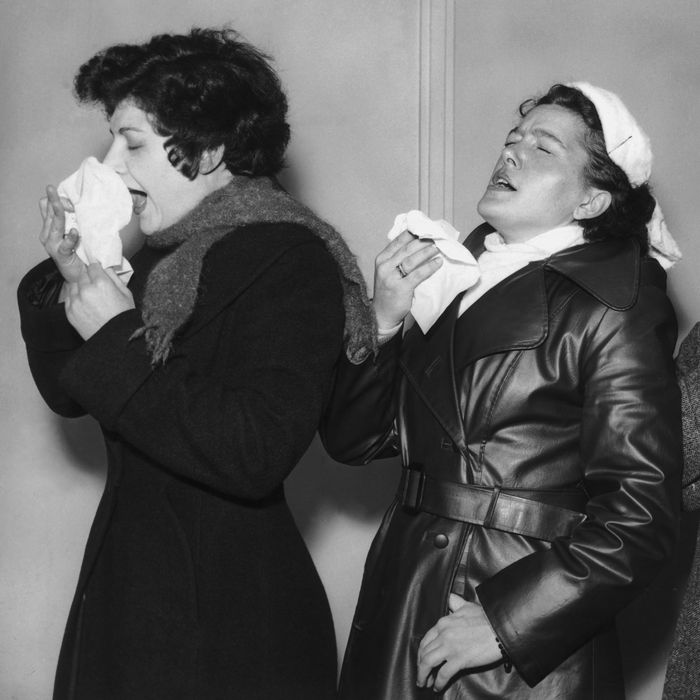 Photo: Courtesy of the retailer.
Here at the Strategist, we like to think of ourselves as crazy (in the good way) about the stuff we buy, but as much as we'd like to, we can't try everything. Which is why we have People's Choice, in which we find the best-reviewed products and single out the most convincing ones. (You can learn more about our rating system and how we pick each item here.)
While we've written before about the best air purifiers for allergies, the best home remedies for allergies, and raved about the HEPA-filter air purifiers recommended by allergists, here, we're tackling the best sinus rinse kits and neti pots on Amazon, according to its hyperenthusiastic reviewers.
Best-rated sinus rinse kit
With close to 2,000 overwhelming positive reviews, this full nasal irrigation system — with a spray nozzle and rinsing head — has the best reputation for a sinus rinse kit among all the neti pots, sprays, and sinus washes on Amazon. Allergy sufferers love to describe it as "life changing" in the reviews, and many favorably compare it to its competitor, the Grossman nasal-irrigation system. Generally, people with sinus issues who have purchased this call it one of the best investments they've ever made — something that's made their allergy-ridden life a lot more bearable.
"I'm not kidding when I say that this machine has changed my life," says one chronic allergy sufferer who claims to "have the worst rhinitis of anyone I've ever met." After using it, she said, "my sinuses feel the way those Downy dryer-sheet commercials promise to make your towels feel. AND I DIDN'T EVEN TAKE AN ANTIHISTAMINE. This machine reduces my symptoms so drastically I feel like a fool for going 20 years without it."
Best-rated (less expensive) sinus rinse kit
Many come to this NeilMed saline spray after recommendations from their own health-care practitioners and generally love it for having a higher salinity formula (compared with other rinse kits). Even health-care professionals chimed in, in the reviews, with praise, like one who said, "I'm an RN and for almost 40 years I've had debilitating sinus/pressure headaches and sinusitis that takes two to three weeks of antibiotics to get rid of. One squirt in each nostril and my sinus headache is gone for several hours. This stuff is a miracle in a can!" Unlike the original (very popular) NeilMed saline wash, one reviewer notes, the bottle is not reusable, so it's a little more hygienic. "With this product, you use it and toss the can when empty."
And now some micro-picks for every type of sinus rinse kit you might be looking for.
Best nasal irrigation system
Here's another nasal irrigation system that many reviewers with chronic sinus issues rave about for clearing up their symptoms. One who uses this Navage system twice daily says, "I can't even begin to describe how much better I feel. I can breathe through my nose, there is no more squeaking when I press my eyes, and my headaches are gone." It was a life-changer for him, as he noted he can finally sleep until his wake-up time — "which hasn't happened in years." Some dissenters felt like it didn't work for them, or at least wasn't up to par with a NeilMed rinse or neti pot, but the shoppers who were sold were really sold, like the one who wrote, "I've been using nasal wash systems for five years and this is without a doubt the best of them all. Now that I have used it for a while I can say it is definitely worth the price."
Best sinus rinse kit with squeeze bottle
At only $20, this NeilMed sinus rinse kit isn't a full irrigation system, but it is one of the most popular sinus relief options on Amazon with nearly 1,000 five-star reviews. Reviewers have often had it recommended by their physicians post–nasal surgery, or for rhinitis and migraines, like one rhinitis sufferer who calls this an "absolute miracle" for sinus misery. "Others call out the helpful product design, like one shopper who appreciates the way the squeeze bottles are designed to siphon from the bottom. "This gives the user greater control of the liquid flow, and also very little unused mixture is left in the bottle at the end of the process."
Best ceramic neti pot
Many shoppers took comfort in the fact that this neti pot is ceramic, not plastic, like one reviewer who said, "I like that it holds a bit more than the typical drugstore plastic ones and I feel better that it's ceramic, knowing that it's very clean for the next use after I wash it." A few reviewers weren't so sure about the design: Some called out the narrow design of the spout that makes it difficult to clean and sterilize, and others felt that it didn't fit in the nostrils very well. Other shoppers were simultaneously grossed out and entranced by how well this thing works.
Per one reviewer, "The first couple of seconds it took a little getting used to: Some went down the back of my throat, a tiny bit of burning … but then I got a nice stream of water out. I blew my nose afterwards and, not to be gross, but a massive chunk of green mucus and blood came out! The sinus pain went away and it was the closest thing to a miracle cure I've ever experienced!"
Best plastic neti pot
If you do go the plastic neti pot route, reviewers tend to prefer this Nasopure after trying ceramic ones that haven't done the trick. Some say that's because it works better for relieving pressure right at the back of the throat, as one reviewer explained: "Using this Nasopure is different than a traditional neti pot in that you remain standing up, and the saline gets pushed into one nostril, where it flows immediately to the back of the throat. It focuses on that problem area of the far back of the sinuses/throat, which for me is fantastic." Others credit the gentler saline mix that "doesn't burn or itch when flushing out your sinuses."
People generally seemed amazed, too, at what can surface from using one of these guys, like one shopper who said, "Without getting too graphic, let's just say my first experience was a slimy success. I wasn't necessarily congested before, but now I feel absolutely great."
Best neti pot with silicone tips
This so-called ComfyPot gets its name from its soft silicone tips, which the vast majority of reviewers called out as the single addition that made them want to purchase this product over similar options. "The huge advantage I find with this product is the included silicone tips that create a watertight seal insuring the water goes in one nostril and out the other. I have tried other products but kept seeing water falling from the same nostril I'm pouring into," said one happy shopper. Others noted its ergonomic design. Per one reviewer, "The large dimples on the side of the pot allow for easy grip and control of the pot while dispensing your sinus treatment."
Best handmade ceramic neti pot