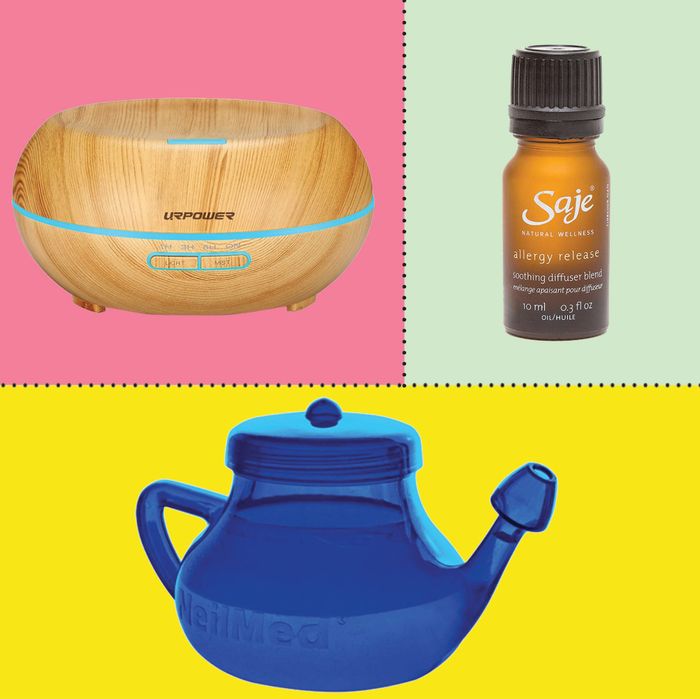 Photo: Courtesy of Retailers
As we're certain you've realized by now, allergy season is upon us. But swapping out Zyrtec for Claritin for Allegra, trying to find the perfect concoction to soothe those puffy eyes, can be really annoying. So instead, after finding you the best air purifier, we reached out to the allergy sufferers in our lives (a bunch of whom happen to be co-workers here at New York Magazine) and found 11 people who swear by their home remedies for allergies. Trust them, they're walking through the spring snot-free.
"The neti pot sounds like a gross idea, but it really helps if your sinuses are the main problem. It's just warm water and a bit of salt (they have specific salt that you can use it with, but I find it doesn't matter much), and it's good in a pinch if you can't be talking like Elmo all day." — Arielle Baumgarten, actress
"I take a spoonful of apple-cider vinegar on its own twice a day. The taste is a bit of a thing to get used to, but if it's too bitter, I know people who add it to tea or hot water with some lemon. It's great for lots of things, not just allergies, but I always buy a bottle come springtime." — Arielle Baumgarten, actress
"I stick to putting my Saje aromatherapy oils on my sinuses, but sometimes, if it's really bad, I'll add cinnamon to my morning neti pot to help flush them out. Other than that, I switch between cold and warm compresses for my sinuses." — Zoe Vallas, community manager at Madeo
"I have really bad dust allergies that got worse after I had a baby, so my doctor told me about Mission Allergy, which has really detailed allergy information and products. They recommend the NeilMed Sinus Rinse, which makes a huge difference because it washes allergens out, and you can do that several times a day. It makes the biggest difference. They also recommend allergen-trapping air-conditioner filters. I also started vacuuming my cubicle and my desk as work, and I bought a special Dyson allergy vacuum for home. Lastly, I've heard about astragalus that's supposed to beef up your immune system. Anything that helps your immune system is good for your allergies." — Miranda Dempster, art director, New York Magazine
"Allergena GTW is a homeopathic allergy tincture and everyone in New Mexico swears by it. It's a holistic thing where they make tinctures using allergens from different areas. So it's specific to the plants you're reacting to in whatever area. (New Mexico is zone six, for instance.) We also used to eat local bee pollen, which is the same principle and is only effective if it's local, or so goes the New Age logic." — Sophie Engel, student
"Turmeric is an anti-inflammatory, and any anti-inflammatory is supposed to work, so I have that fresh every day. I peel it and then grate it, but beware that it really stains your hands. It's supposed to be more effective if you mix it with something oily, so I mix mine with coconut oil, and then eat it with my yogurt. They say black pepper helps, too, but I don't do that. I should." — Carl Rosen, senior editor, New York Magazine
"I take these sinus-relief tablets that dissolve on your tongue. I have no clue if they actually do anything, but in my head they do, so it's worth it." — Mary Jane Weedman, assistant editor, New York Magazine
"Cotton pads soaked in witch hazel will soothe puffy, itchy eyes." — Maura Walters, editor, the Cut
"I'm pretty convinced that I'm allergic to my office, as I'm constantly sneezing and blowing my nose (yes, I'm that girl), so I use Puffs Plus Lotion because they're soft and feel good on my nose, and don't make me look like Rudolph." — Zoe Rosenberg, brand manager
Photo: ALBERTO E. VELASQUEZ/JOSE LUIS PRENDES
"A homeopathic doctor recommended this liquid and similar capsules to me. I kind of stopped using them because it was getting really expensive, but when I did use them, it really helped. My dad still uses them. He used to get one allergy shot a month since he was like 26 years old, and since he has been using these this past year, he hasn't gotten any shots." —Ariel Shoglow, product-development manager
"I found myself starting to feel my eyes being affected by allergies this season, so I bought an oil diffuser/humidifier for my office. My work friend borrowed it one day when she complained of allergies, and it worked for her, too, so she went ahead and purchased a diffuser and the three oils the next day." — Jennifer Hahn, marketing manager
"I have cats who are also affected by seasonal allergies, and I give them this in their wet food a few times per day. They sneeze and wheeze unless they're on their drops. Homeopathy generally works best when taken 30 minutes before eating or drinking anything, but cats are trickier and seem to be fine with it being administered in their food." — Diana Ceres, contingent worker
The Strategist is designed to surface the most useful, expert recommendations for things to buy across the vast e-commerce landscape. Some of our latest conquests include the best women's jeans, rolling luggage, pillows for side sleepers, ultra-flattering pants, and bath towels. We update links when possible, but note that deals can expire and all prices are subject to change.
Every editorial product is independently selected. If you buy something through our links, New York may earn an affiliate commission.