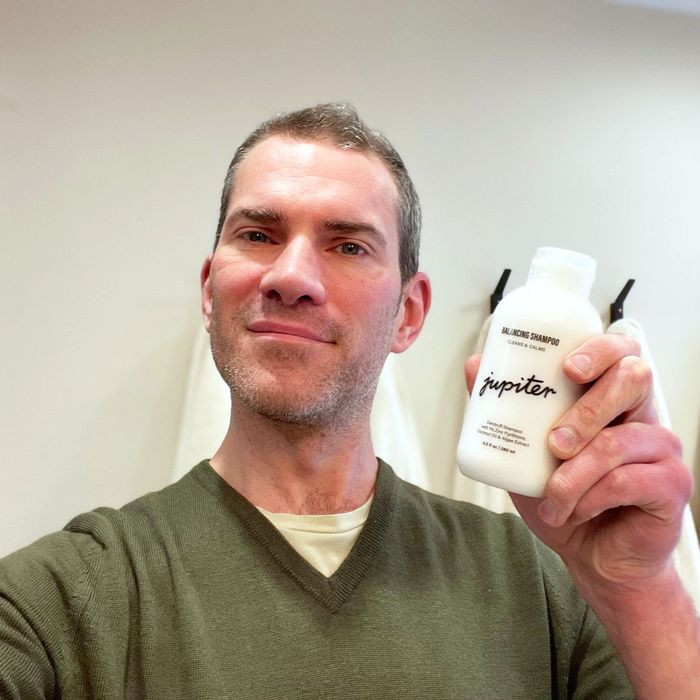 Photo: Steven John
Photo: Steven John
I first became acutely aware of my dry scalp when I was 14 years old. Sure, I had noticed occasional flakes on my shoulders or sheets, but I never much thought of dandruff as an issue. Then came the moment: During a routine head lice check at my school, a teacher said, "No lice, Steve, but you have a very dry scalp."
It was as if the dandruff was made manifest by her words: From that day on, I had dandruff. And throughout the rest of eighth grade, all through high school and college, and into the first two decades of adulthood, dry scalp became a cross to bear.
From my early teenage years well into my late 30s, I knew that any quick, vigorous scratching of my head could potentially unleash a flake flurry. And always, on my pillow each morning, on the headrest of my car, on the keyboard of my computer, and of course, on my shoulders, there was a smattering of flakes.
On particularly bad days, I would literally avoid scratching itches in public so as not to unleash a visible amount of dead skin cells into the air. And in the drier winter months, not only was my scalp prone to flaking, it was also often dry, itchy, and irritated to the point of redness and even pain.
Dandruff really sucked. Despite trying multiple different dandruff shampoos (Head & Shoulders, Selsun Blue, Nizoral, etc.) and over-the-counter treatments like tea-tree oil, nothing at all worked. And after so many years dealing with dry-scalp issues, I had just taken dandruff as a part of the me package.
And truth be told, I only started using Jupiter shampoo and conditioner because I had them on hand on a day when I ran out of shampoo and conditioner. The brand had sent me the products months before, and they were just sitting around. I wasn't expecting a cure for my dandruff. Plus, after all these years, I wasn't sure a cure was possible. But within three or four days of use, I noticed something: almost no flakes. Running my fingers through my hair resulted in just a few flakes drifting about, rather than literal thousands.
Needless to say, I was thrilled. But I was also more than a little confused: Why was this shampoo working when others had not? And what role was the conditioner playing? Knowing it was working was one thing, but understanding why called for the help of a specialist, so I reached out to Dr. Michelle Henry, a board-certified dermatologist (and Harvard-trained Mohs surgeon) of Skin & Aesthetic Surgery of Manhattan.
First, I asked her a bit about the causes of dandruff. There are several. Sometimes a literally dry scalp is the culprit, and the solution is to use hair care that's more hydrating, says Henry. Other times the flakes aren't skin but rather product residue that's built up over time. "But the more severe variant of dandruff is called seborrheic dermatitis," says Dr. Henry. The condition is a sensitivity to yeast that is present all over the body. "Many of us have this yeast but only some of us are sensitive to it." That sensitivity causes a thick buildup of scale.
That sounded like my issue, which helped explain why Jupiter worked. The products' primary active ingredient, zinc pyrithione, is anti-fungal and anti-bacterial. "Which helps to treat the yeast and any bacteria that lead to irritation and inflammation on the scalp," says Dr. Henry.
Zinc pyrithione addressed my main problem while the inactive ingredients, like coconut oil and algae extract, were its backup. "Coconut oil is great for the scalp because it is somewhat anti-microbial and may reduce any additional bacteria on the scalp," says Dr. Henry. "It's also quite hydrating and soothing. The algae extract apparently helps strengthen the skin barrier which is really important for skin that's inflamed.
As for the conditioner, the story is about hydration and creating an environment where yeast and bacteria can't set up shop in the first place. "Vitamin E can be soothing to the scalp and strengthen the skin barrier," says Dr. Henry. A second ingredient, colloidal oatmeal, hydrates the scalp. And finally, probiotics in the conditioner encourage a healthy microbiome. "We have both good and bad bacteria over our entire skin including our scalp. Probiotics help to encourage the growth of healthy bacteria which will help to suppress bad bacteria and maintain a balance," says Dr. Henry.
For me, that ingredient balance has created a virtually flake-free head for the first time since middle school. I've been using this for over a year and my scalp has remained moisturized, calm, and pain free (even through the cold, dry winter). These days, my computer keyboard, shoulders, and pillow are all flake free. And I can scratch the hell out of a scalp itch in public without a care in the world.
The Strategist is designed to surface the most useful, expert recommendations for things to buy across the vast e-commerce landscape. Some of our latest conquests include the best acne treatments, rolling luggage, pillows for side sleepers, natural anxiety remedies, and bath towels. We update links when possible, but note that deals can expire and all prices are subject to change.