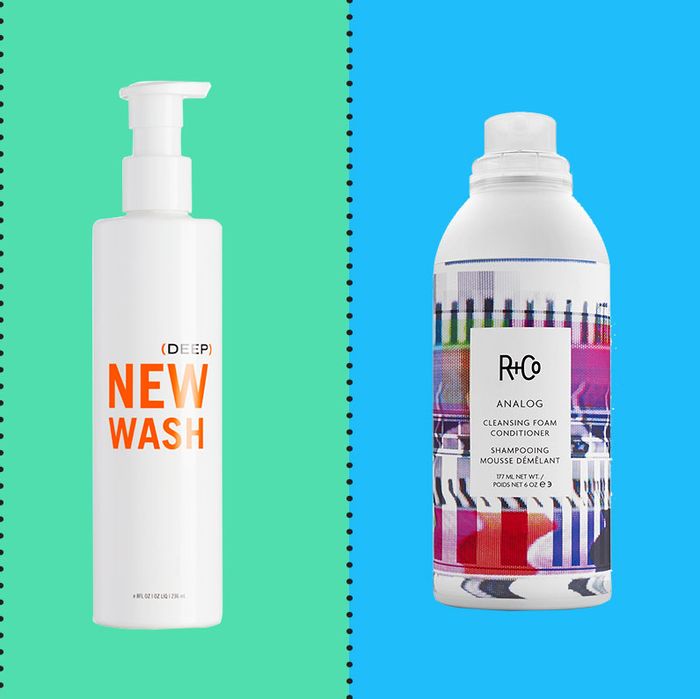 Photo: Courtesy of the retailers.
This is my first winter with curly hair. Or rather, this is my first winter with curly hair that I haven't tried to straighten. About a year ago, I went on a journey of curl acceptance, but years of blow-drying, straightening, and cutting my hair short meant that I had no idea how to care for my natural rings. So I turned to co-washes, also known as conditioning washes, which beauty enthusiasts have known about for years. The stuff washes and preserves curls without stripping hair of its natural oils like detergent shampoos, and they're especially useful for curly-haired people, for whom dehydration is enemy No. 1. Without enough moisture, curls can frizz and tangle (I learned this the hard way).
While women have long known about them, many men are still just getting hip to the idea — if you're wondering how Shawn Mendes or Timothée Chalamet or Penn Badgley are getting that hair, yes, it's partly the haircut, but it's also a moisturizing shampoo (likely a co-wash or even just regular conditioner) and soft cream styling. Even men without curly hair would benefit from a co-wash. It creates the kind of hair that hasn't been washed for three or four days — not dirty, but pliable and slightly shiny with natural oils — without grossness or smelliness. And though it's hard to find a co-wash in the men's aisle (there's no "Sport" on these labels), I crossed the aisle and tried more than a dozen co-washes; these are my favorite for men's hair (which, it should be noted, isn't inherently different than women's. Most, if not all, of the difference between men's and women's shampoos is scent).
Hairstory's New Wash was one of the first co-washes recommended to me by a hairstylist friend. [Editor's note: We've written about this before.] I loved it, but found that since I only wash my hair about once a week, it didn't clean quite as well as I'd hoped (either that or my hair's just too greasy). That changed when they released the new version — Deep is designed to clean a little more, with the additional of apple-cider vinegar (more on that below), but still preserve natural oils. Even when I go a little longer between washings, my scalp feels cleaner and I don't have any product buildup after I use it. The best thing about Hair Story is that when you join the subscription program, they send a refillable metal bottle, so you don't have to throw out a plastic bottle every month.