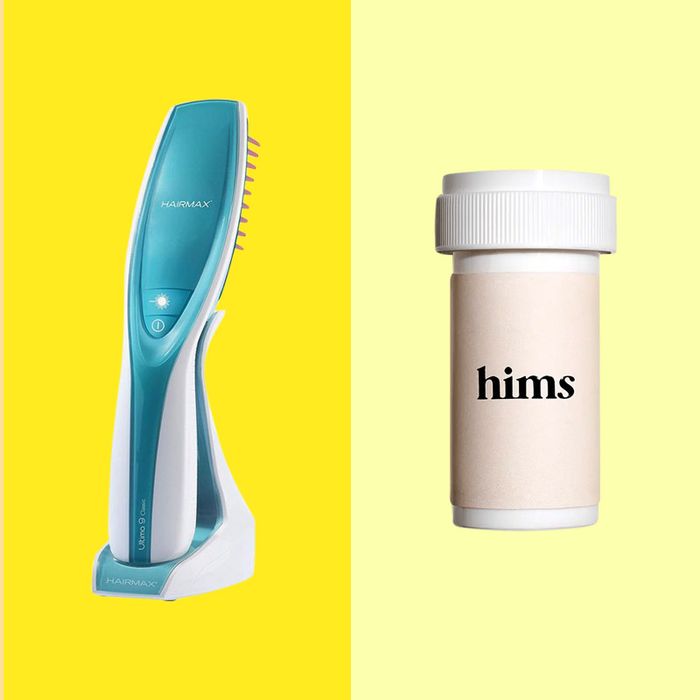 Photo-Illustration: The Strategist. Photos: Retailers
If you have been noticing a receding hairline or are worried about balding, the first step is to schedule a visit with a doctor or dermatologist and make sure your hair loss isn't a sign of a more serious health issue. "Not all hair loss is male-pattern hair loss," explains Dr. Marc Glashofer, a board-certified dermatologist specializing in hair loss who practices in northern New Jersey. A thyroid disorder, an autoimmune disease, or even a scalp issue could be the cause. But most hair loss is androgenetic alopecia, also known as male-pattern baldness, and fortunately (or not, depending on your perspective), it's just a symptom of getting older.
Once male-pattern baldness starts, it doesn't stop, though the rate at which it happens differs from person to person and depends on genetics. No matter how fast it happens, because it is unending, it's important to start treatment as soon as your hairline starts bothering you. If you're looking for a more quantitative metric, Dr. Paul McAndrews, a clinical professor of dermatology at the USC School of Medicine and member of the International Society of Hair Restoration Surgery, tells us that "you have to lose half your hair before the human eye can tell."
We spoke to Glashofer, McAndrews, and nine other doctors and dermatologists about the most effective products to treat hair loss, from topical and oral medications like minoxidil (Rogaine) and finasteride (Propecia) to more "natural" methods like scalp serums and laser wands.
Doctor-recommended ingredients
As Dr. Douglas D. Altchek, founder of Altchek Dermatology, puts it, "There are 1,001 products out there purporting to grow hair," but there's no definitive cure for baldness. Dr. Corey L. Hartman of Skin Wellness Dermatology adds that there have not been any major recent breakthroughs in this category, and notes that "the hair-loss space is one where you want to proceed with some caution, because there's a bit of snake oil to the claims that some of these companies make."
For emerging hair-loss treatments like platelet-rich plasma injections, stem-cell activation, and micro-needling, you'll need to consult with a specialized dermatologist. But before it comes to that, all of our experts say it's worth leaning on reliable doctor-recommended standbys like minoxidil and finasteride — a.k.a. Rogaine and Propecia, respectively — ideally in tandem. The former is helpful for preventing hair loss, the latter for promoting growth. Because of their long and trusted track record as well as the unanimous recommendation from our experts, we've deemed both of them our "best overall" products for tackling male hair loss.
As for hair-loss treatment red flags, you'll want to be especially wary of hair-growth shampoos and vitamins: There is little evidence supporting the efficacy of any hair-growth shampoos that claim to block DHT (dihydrotestosterone), a hormone responsible for shrinking hair follicles, which ultimately leads to hair loss and eventually baldness. "I find it very difficult to believe that something that's applied to the scalp and rinsed off is going to have any appreciable effect," says Dr. Evan Rieder, board-certified psychologist and dermatologist at Weiser Skin. Several of our experts also say not to put much faith (or money) into hair-growth supplements or vitamins that promise to help promote hair growth or stop hair loss — though a couple hypothesized that vitamins or supplements could lead to hair regrowth if your hair loss is a result of a nutritional deficiency or stress. Otherwise, says Dr. Amy McMichael, a professor and the chair of Wake Forest Baptist Medical Center's dermatology department, "there is no such thing as a 'hair vitamin'" for male-pattern baldness.
In addition to the sheer number of hair-loss treatments on the market today, there are a bunch of different formulations to choose from. Topical treatments usually come as a liquid, serum, or foam that is applied to the scalp on a daily basis. Light-therapy treatments use lasers to increase circulation in your scalp and stimulate hair follicles. Then there are treatments that come in the form of pills or gummies. As with most health and beauty products, what works for you is not necessarily what will work for all people. To help you find the best fit, we've included a range of treatment types and noted what form they take, as well as who might benefit from each.
Everyone we spoke to emphasized that hair-loss treatments are not a cure for hair loss, but a long-term daily commitment. Once you stop using them, you will start losing hair again. This means they're also a long-term financial investment that will cost you around a dollar a day for topical or oral treatments. Laser devices will cost more up front, but after continued use over time, the cost per day will start to go way down. We've noted the price per day for the first month of use in the details section for each product below.
We've heard from our experts that some people experience dry scalp, hair breakage, or even initial increased shedding from certain minoxidil products. Others may not like the greasy feel of a certain liquid or serum. To make sure you know what to expect before buying anything, we've listed the most common side effects, if any, for each product.
Best overall product to prevent hair loss
Ingredients: Minoxidil | Type of treatment: Foam | Price: 90 cents/day | Possible side effects: Temporary increase in hair shedding, dry or irritated scalp, hair breakage
If you decide to try a hair-loss treatment, a good place to start is with minoxidil, most commonly sold as Rogaine, which came recommended as the first line of defense by every expert we spoke to. (Minoxidil is also available as a generic from several other brands, including Hims, Keeps, and Kirkland Signature.) Don't expect it to create luscious locks; minoxidil is better at slowing down or preventing more loss rather than promoting hair growth. But, according to McMichael, it is effective "if used as recommended, with evidence of improvement seen around six to nine months" — a sentiment echoed by hair-loss specialist Dr. Marc Avram, who recommends using it for at least eight months before judging efficacy. Dermatologist Dr. Michele Green agrees, adding that because it takes four months for hair to even grow, "you can't possibly know before that." Simply massage it into your scalp once or twice daily, and for best results, use a formula like Rogaine's with a 5 percent concentration of minoxidil. Dr. Oma Agbai, the director of multicultural dermatology at UC Davis, warns that "some people will experience an increase in hair shedding during the first few weeks of treatment," but promises this is temporary and "a sign that the treatment is working." (She adds, "As long as there is no itching or burning of the scalp associated with applying minoxidil, the treatment can be continued safely.")
Three of our experts specifically recommend this Rogaine foam, which Avram says has "been around forever" and which Altchek says is "very reliable and remains the mainstay of topical treatments for male-pattern baldness." Avram also has this tip: "Clinically, it works in the front and back," so you can apply it to the crown of the head as well as the hairline.
Best overall product to promote hair growth
Ingredient: Finasteride | Type of treatment: Pill | Price: 90 cents/day | Possible side effects: Dizziness, cold sweats
The other main hair-loss treatment recommended by seven of the dermatologists we interviewed is finasteride, which is mostly taken orally and often called by its brand name, Propecia. The FDA-approved brand-name medication is available only with a prescription, but these days, finasteride is easily found as a generic and can be ordered online after a virtual consultation through start-ups like Hims, Keeps, and Lemonaid. Finasteride restrains an enzyme that converts testosterone to DHT, the hormone that causes hair loss in men, and unlike minoxidil, this drug can actually help hair grow back as well as prevent further loss. All you have to do is take one pill a day, according to Rieder, who says that two-thirds of men taking this treatment will see improvement in hair density over time.
Six of the experts we spoke to recommend combining finasteride with minoxidil (Rogaine) for the maximum effect. While minoxidil remains his first recommendation, Altchek told us that adding finasteride "may potentiate the effect," seeing as finasteride will help more hair to grow at the same time that minoxidil is helping prevent additional loss. McAndrews calls the combination of orally administered finasteride and topically applied minoxidil a "full-court press" against hair loss. "That's doing the most you can for preventative medicine," he says. Rieder also notes that taking both drugs together is more effective, as does Hartman, who recommends attacking hair loss from as many angles as you can: "Different treatments have different mechanisms of action, so as long as there are no adverse side effects when you employ them individually, you shouldn't have any issues putting them on top of each other for maximum benefit."
Best liquid formula to prevent hair loss
Ingredients: Finasteride and Minoxidil | Type of treatment: Liquid | Price: 1.41 dollars/day | Possible side effects: Scalp irritation
If you are interested in combining finasteride and minoxidil but are nervous about the potential side effects of taking finasteride orally, you might want to consider applying it topically instead. "Studies have shown that topical finasteride is just as effective as oral finasteride — with decreased risk of side effects, as there is less absorption systemically," says Green. This topical spray contains a mixture of 0.3 percent finasteride and 6 percent minoxidil, meaning it has both preventative and restorative benefits. As with their oral finasteride, the spray is only available to order from Hims with a prescription — but you can receive this fairly quickly by completing a simple online consultation.
Best liquid formula to prevent hair loss for dry and color-treated hair
Ingredients: Minoxidil | Type of treatment: Liquid | Price: 1 dollar/day | Possible side effects: Greasy-looking hair, scalp irritation
Hartman says that for people with dry or color-treated hair, the alcohol in Rogaine's foaming formula "can cause breakage." For that reason, he explains, some people may prefer to use a liquid solution. Green told us she likes the alcohol-free Lipogaine because, on top of containing 5 percent minoxidil like Rogaine, it contains 5 percent azelaic acid, which "acts as a DHT blocker that inhibits the production of DHT."
Best formula to prevent hair loss on sensitive scalps
Ingredient: Nanoxidil | Type of treatment: Liquid | Price: 1.33 dollars/day | Possible side effects: No reported adverse reactions as of yet
"Nanoxidil is very similar to minoxidil, without the side effects of an irritated scalp that some Rogaine users report," explains Green, making formulas with the ingredient a good bet for patients who have experienced scalp sensitivity or dry skin from Rogaine. She suggests this nanoxidil product from DS Laboratories, which is also formulated with retinol to promote scalp health and azelaic acid to block DHT. While nanoxidil in general is fairly new to the hair-loss-treatment market, Green tells us it has proven very effective because nanoxidil "has a smaller molecular weight, which allows it to penetrate the scalp faster, resulting in a better absorption rate," she says. Like finasteride, Green says it has also been shown to promote hair growth and density.
Best natural hair-growth product
Ingredient: Biotin | Type of treatment: Serum | Price: 63 cents/day | Possible side effects: No reported adverse reactions at the recommended dose
While most of our experts expressed doubts that biotin products are effective as a primary treatment against hair loss, Green says her patients have reported a surprising amount of success with this serum, which she recommends for those who "don't want to use anything artificial." It's also about as simple and noninvasive as hair-loss treatments get: Just massage two to three drops into your scalp each day, ideally leaving the product to work overnight. The serum is recommended for those who are looking to fill in the edges of thinning hairlines, especially as ingredients like vitamin E and squalane will work to enhance the health of any hair you do have, creating a fuller look.
Best kit for treating and preventing hair loss
Ingredients: Minoxidil and finasteride | Type of treatment: Mix of pills, shampoo, gummies, and liquid | Price: 90 cents/day | Possible side effects: See potential side effects for minoxidil and finasteride
For the same price as buying a 30-day supply of finasteride from Hims on its own, you can get the company's hair-loss kit, which comes with both its 5-percent liquid minoxidil treatment and a 30-day supply of finasteride. Keeps also sells a kit, and according to Dr. Amanda Doyle of Russak Dermatology Clinic, "both are great options for a lot of men to address hair loss." Like the dermatologists above, Doyle adds that while it might seem like overkill to take different hair-loss treatments at once, this is one of those rare instances in which more is actually better.
But you must start these medical therapies before you lose all your hair. McAndrews likens it to brushing your teeth in that both are preventative measures. "The sooner you start doing it, the better at slowing down this aging process," he explains. "Is toothpaste perfect? No, you're still getting tooth decay with toothpaste, but you're slowing down tooth decay."
Best laser comb for treating hair loss
Method: Red-light laser | Type of treatment: Rechargeable laser-emitting comb | Price: 6 dollars/day for the first month with no continuing costs | Possible side effects: No adverse reactions if used as directed
Clinical trials, Avram says, have shown that the same wavelength of light that destroys hair in laser hair removal "can actually stimulate growth" when used with a hair-loss comb or helmet. Although research shows this treatment to be safe and somewhat effective, it's hard to tell who will react well to this low-level light therapy, which is why the doctors we spoke with were hesitant to fully endorse it. "The laser comb works by emitting red light [which enhances circulation to the follicles] to the scalp as you brush through your hair," says Dr. Joshua Zeichner, associate professor the director of cosmetic and clinical research at Mount Sinai Hospital. This increased circulation, he explains, can help make products like Rogaine and finasteride more effective. But Zeichner cautions that "the issue with the combs is that their effectiveness is user-dependent: You need to brush your hair slowly and repeatedly in order to get optimal exposure to the light."
Rieder adds, "We're not sure what the optimal power is, what the optimal wavelength is; we don't even really know the mechanism of action of how this is working." Plus, it doesn't work on everyone. "There are subpopulations of patients who do respond to low-level laser light, but this is not easily predictable," explains McMichael, though she adds that the risk of using the LaserComb is low.
Best laser helmet for treating hair loss
Method: Red-light laser | Type of treatment: Rechargeable laser-emitting helmet | Price: 33 dollars/day for the first month with no continuing costs | Possible side effects: No adverse reactions if used as directed
If you're looking for a red-light treatment that is more consistently effective across users, Zeichner recommends this cap from Revian, which is pricey but, Zeichner says, has a far more predictable success rate. "Data from the company shows a 25 percent improvement in hair density after four months of continuous use," he tells us. Like the comb, the cap emits red light to the scalp to enhance circulation, amplifying the efficacy of other products you may be using (red light's "delivery of oxygen and nutrients to the hair follicles can help optimize your follicle activity," Zeichner explains). In addition to red light, the cap also emits orange light to the scalp, which, according to Zeichner, is thought to "enhance production of nitric oxide, which helps dilate blood vessels to improve circulation." Wear the cordless cap for ten minutes a day for six months, and if you haven't yet seen results, the company promises to send you a full refund.
Avram says that he's a little brand-agnostic when it comes to laser treatments, but that hats are worth trying if you're willing to fork out the cash and sit around wearing one on a daily basis. "The biggest challenge by far is actually doing it," he says. "People have roommates, busy work schedules. What you do in the end depends on what you're comfortable with."
Indeed, the trick with all of these hair-loss products and treatments, from Rogaine to lasers, is that they'll stop working if you stop using them. Male-pattern hair loss is a chronic condition, so approach it accordingly. "If you stop, your hair isn't going to fall out overnight, but you will just go back to that same process of changes that has led to you experiencing the hair loss you're treating," says Hartman. People "have to be ready for a lifetime commitment," adds Rieder. But, just like brushing your teeth, as long as you keep on keeping on with the scientifically proven preventative treatments, those hairs on your head should remain (and even grow back) there.
The Strategist is designed to surface the most useful, expert recommendations for things to buy across the vast e-commerce landscape. Some of our latest conquests include the best women's jeans, rolling luggage, pillows for side sleepers, ultraflattering pants, and bath towels. We update links when possible, but note that deals can expire and all prices are subject to change.
Every editorial product is independently selected. If you buy something through our links, New York may earn an affiliate commission.