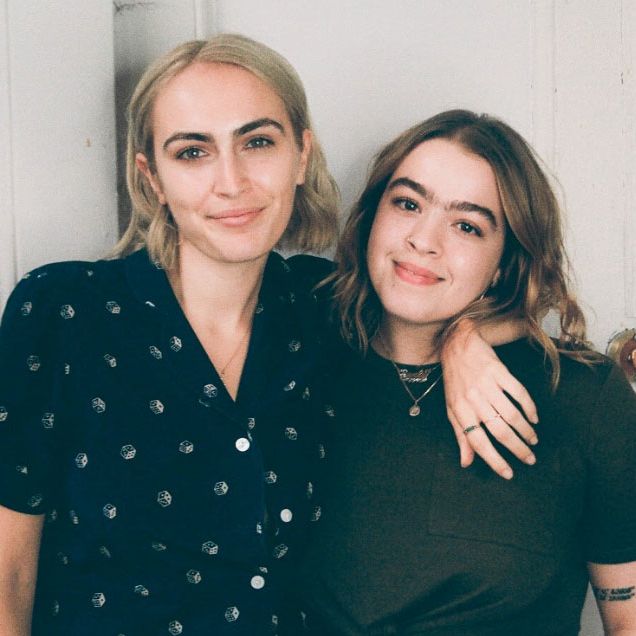 Rio and Emaly. Photo Credit: Olivia Kooyman
Photo: Rio Viera Newton
I've toyed with the idea of going full platinum for years. But whenever I confessed this desire, people always cautioned against it: friends, family, and my hairdresser told me my natural hair was too dark to handle the bleach. So I put it off, until a couple months ago, when I met a hair colorist who offhandedly, without knowing about my obsession, told me I'd look good as a blonde. I had about 30,000 questions, and she responded to the onslaught with just one answer: Go to Emaly Baum at Suite Caroline. "She's the queen of taking brunettes blonde."
Emaly was extremely warm, and practical about what I should expect. Yes, going blonde would be high maintenance and expensive. But with the right treatments, plus some diligence and care, I could keep my bleached hair happy and healthy. I picked her brain throughout my appointment, quizzing her about the all-time best products for newly bleached hair, and the best way to keep the color from looking yellow or fried. It's been three weeks since I made the transition, and my hair feels and looks totally healthy. Here's how.
Emaly: The nice thing about bleaching your hair is that you'll need to wash it way less, and it's going to give you some natural texture. Right now your hair is super oily, which is great, because the bleach is basically going to suck up that oil. We don't want your hair to be fried, but it likely will have a little more volume.
I love that. I usually use texture or salt spray in my hair every day.
It will probably give your hair that textured look naturally. You're a great candidate for bleaching. Virgin hair, super oily, and thick. Before you come in, don't wash your hair for at least a few days. The oilier your hair is the less painful the bleach will be on your scalp.
Let's talk about maintenance.
You'll be in here every four to six weeks, for three hours. If you don't come in for those touch-ups, you'll get these heavy yellow bands in your hair. So you need to be diligent, and book your next appointment every time you're leaving the salon. Are you excited? Nervous?
A beautiful cocktail of both.
Well, your hair is in good shape. And I've said no to people who want to go blonde but whose hair has been too damaged.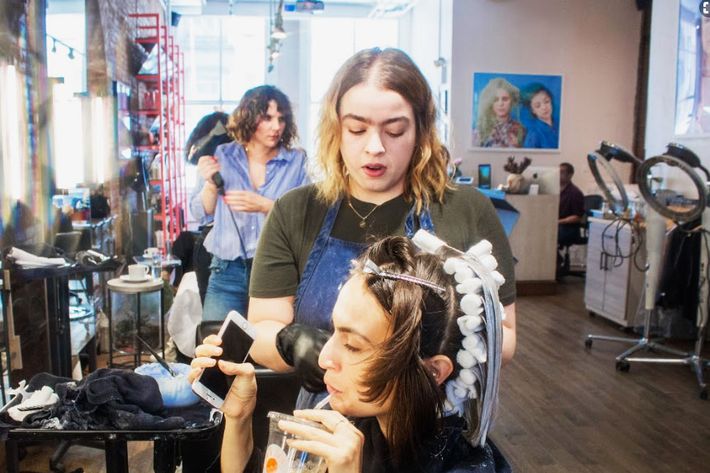 Is there a specific hair type for which you would recommend not making this drastic of a color change?
Well, no. Even really curly hair, I wouldn't advise against it. The only thing is that the texture is going to change, so curls might not be as tight. But I always tell my clients half the battle is at home. If you take good care of your hair, your texture will bounce back after a few weeks.
So is there any advice you have for girls who are at the beginning stages of considering going platinum? Like, they're just starting a Pinterest board, they've asked a few friends whether they think it'll look good, now what?
So there are a ton of different shades of blonde, right? So definitely make a Pinterest board and decide what kind of blonde you want and then talk to your colorist about it. They'll know what looks best with your skin tone.
Like I came in with ashier, whiter-toned photos. But then you basically said you thought a yellower, blonder color would suit me better. And now that's what we're doing. Product-wise, do you like purple shampoos for keeping hair from becoming too yellow-y? I preemptively bought the Sachajuan purple shampoo and conditioner and the Christophe Robin baby blonde mask.
Every blonde should have purple products, not for everyday, but for touch-ups. Purple conditioner and purple hair masks are a great way to get a boost of blonde when your color is feeling bleh. Especially right before you're coming back in for your roots, or if you have an event and you haven't been able to come back in. If you use it too much it can really dull the color and make it look darker and less shiny.
I'm stressed about shampooing because I know it's really easy to chose the wrong one and have it strip your hair. What shampoos do you like and recommend?
For double process I really love the classic shampoo Rahua. It's really simple. It's your everyday shampoo and it's not going to dry your hair out. It's not super moisturizing, but it's nourishing and it won't strip your color. On myself, I use Christophe Robin's volumizing paste. For your double-processed hair I wouldn't use it every day, but once in a while.