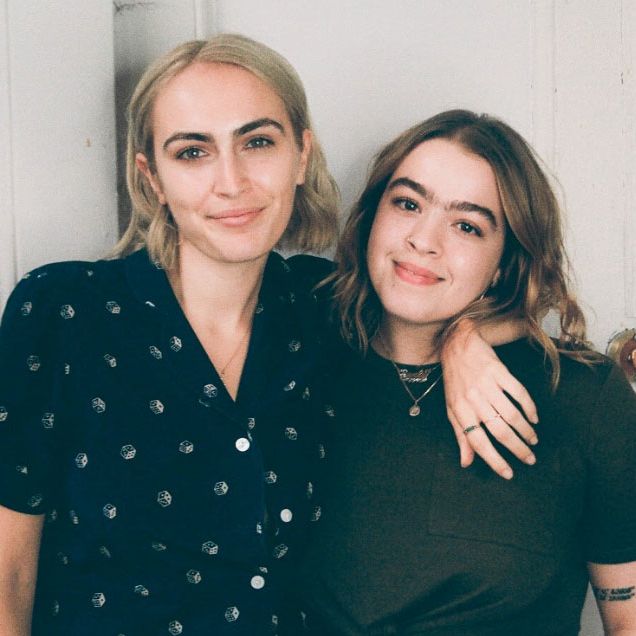 Rio and Emaly. Photo Credit: Olivia Kooyman
Photo: Rio Viera Newton
I've toyed with the idea of going full platinum for years. But whenever I confessed this desire, people always cautioned against it: friends, family, and my hairdresser told me my natural hair was too dark to handle the bleach. So I put it off, until a couple months ago, when I met a hair colorist who offhandedly, without knowing about my obsession, told me I'd look good as a blonde. I had about 30,000 questions, and she responded to the onslaught with just one answer: Go to Emaly Baum at Suite Caroline. "She's the queen of taking brunettes blonde."
Emaly was extremely warm, and practical about what I should expect. Yes, going blonde would be high maintenance and expensive. But with the right treatments, plus some diligence and care, I could keep my bleached hair happy and healthy. I picked her brain throughout my appointment, quizzing her about the all-time best products for newly bleached hair, and the best way to keep the color from looking yellow or fried. It's been three weeks since I made the transition, and my hair feels and looks totally healthy. Here's how.
Emaly: The nice thing about bleaching your hair is that you'll need to wash it way less, and it's going to give you some natural texture. Right now your hair is super oily, which is great, because the bleach is basically going to suck up that oil. We don't want your hair to be fried, but it likely will have a little more volume.
I love that. I usually use texture or salt spray in my hair every day.
It will probably give your hair that textured look naturally. You're a great candidate for bleaching. Virgin hair, super oily, and thick. Before you come in, don't wash your hair for at least a few days. The oilier your hair is the less painful the bleach will be on your scalp.
Let's talk about maintenance.
You'll be in here every four to six weeks, for three hours. If you don't come in for those touch-ups, you'll get these heavy yellow bands in your hair. So you need to be diligent, and book your next appointment every time you're leaving the salon. Are you excited? Nervous?
A beautiful cocktail of both.
Well, your hair is in good shape. And I've said no to people who want to go blonde but whose hair has been too damaged.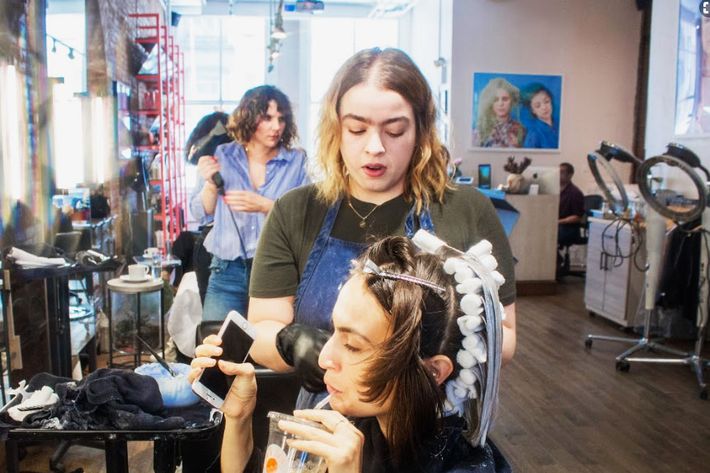 Is there a specific hair type for which you would recommend not making this drastic of a color change?
Well, no. Even really curly hair, I wouldn't advise against it. The only thing is that the texture is going to change, so curls might not be as tight. But I always tell my clients half the battle is at home. If you take good care of your hair, your texture will bounce back after a few weeks.
So is there any advice you have for girls who are at the beginning stages of considering going platinum? Like, they're just starting a Pinterest board, they've asked a few friends whether they think it'll look good, now what?
So there are a ton of different shades of blonde, right? So definitely make a Pinterest board and decide what kind of blonde you want and then talk to your colorist about it. They'll know what looks best with your skin tone.
Like I came in with ashier, whiter-toned photos. But then you basically said you thought a yellower, blonder color would suit me better. And now that's what we're doing. Product-wise, do you like purple shampoos for keeping hair from becoming too yellow-y? I preemptively bought the Sachajuan purple shampoo and conditioner and the Christophe Robin baby blonde mask.
Every blonde should have purple products, not for everyday, but for touch-ups. Purple conditioner and purple hair masks are a great way to get a boost of blonde when your color is feeling bleh. Especially right before you're coming back in for your roots, or if you have an event and you haven't been able to come back in. If you use it too much it can really dull the color and make it look darker and less shiny.
I'm stressed about shampooing because I know it's really easy to chose the wrong one and have it strip your hair. What shampoos do you like and recommend?
For double process I really love the classic shampoo Rahua. It's really simple. It's your everyday shampoo and it's not going to dry your hair out. It's not super moisturizing, but it's nourishing and it won't strip your color. On myself, I use Christophe Robin's volumizing paste. For your double-processed hair I wouldn't use it every day, but once in a while.
What's the deal with the at-home Olaplex?
Olaplex is a bond builder that helps protect your hair as it's getting colored or lightened. The at-home treatment is really great, but there are products out there that I find more moisturizing and nourishing.
So then let's talk about your top-five products that you would recommend to anyone going through a double-process treatment.
Besides the Rahua shampoo and conditioner I mentioned, I also really love their deep-conditioning treatment. It's a mask, so on your clean, wet hair in the shower, instead of your conditioner, leave it on for 15 to 20 minutes and rinse it out.
What do you do for those 15 minutes? Don't you get bored?
Shave your legs, have a nice time. I think the problem is people really make hair masks a chore and that's why they don't do it. Just using it how you would a regular conditioner but giving it some extra time makes it much less of an annoying to-do. You should also use a leave-in conditioner once you've washed everything out. It'll give you extra moisture. I love this one called Milk by Reverie, it's a really nice creamy consistency, and it makes your hair really nice and soft. I have really fine hair and I put a ton in my hair. It's really great for wavy-haired girls too, on day two of no hair washing.
What about hair oil?
Hair oil can be really great, but I personally feel they're more cosmetic than they are reparative. But there is one I like: Christophe Robin has this lavender hair oil mask that is so heavy and amazing, you just want to bathe in it. It's actually probably the only oil product I ever use. Lena, the owner of Suite Caroline, was a double-process blonde for a while and she would take a little bit of that and put it in her hair as a styling and moisturizing leave-in product.
Since I now trust you with my life, I was wondering if you could help me decide whether some products are worth investing in or whether they're no-nos for my double-process journey. First, Oribe's Silverati Shampoo, Silverati Conditioner, and the Gold Lust mask. I've had these in my cart for a while but didn't know if they were appropriate.
Emaly: I just feel like I'm personally wary of anything that has tone, like the silver products. The mask you can for sure use, I'm sure it's great.
What about this Christophe Robin aloe vera hydrating mist? It intrigued me.
Dude, honestly, everything Christophe Robin makes is the shit. It really is. That one is a really nice, nice, light detangler.
Okay, well I'll buy everything he's ever made then. What about this Ouai leave-in conditioner?
I really like the consistency of it. Any creamy, milky leave-in conditioners, I'm in support of. I haven't tried their hair masks but I've heard great things.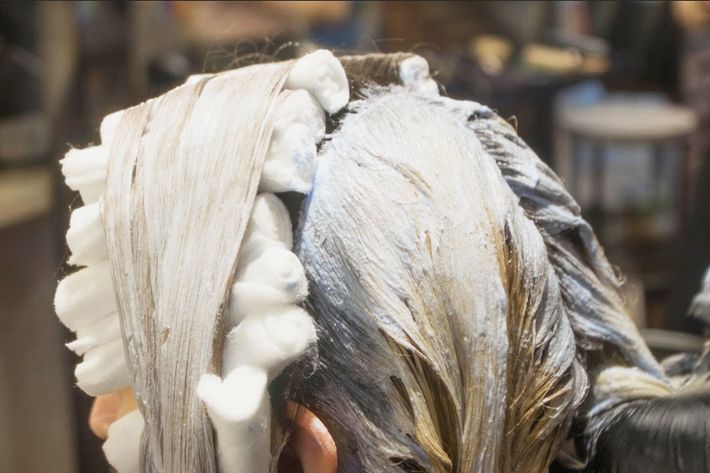 Last: any double process do's and don'ts? I've been reading all this stuff about how I shouldn't go into a pool. Is that true?
Listen, live your life. But to be perfectly honest, sun, ocean water, and chlorine all have the possibility of altering your color. So, what you should do is wet your hair with tap water first — the regular water will act as a sort of sealant before you come in contact with the damaging stuff. Rio, look at your hair. She's really blonde. Do you love it?
I really love it. Emaly, thank you so much.
Before you leave, I really think you should get a haircut with Shelby Samaria as well. If the health of your bleached hair is a priority, it's really important you get all the ends trimmed and make sure you're coming out looking as soft and shiny as possible. She's also the best and I know you're going to love her cuts.
Will she make my bob look French? That's all that really matters to me.
She will definitely make it look as French as possible.
Perfect.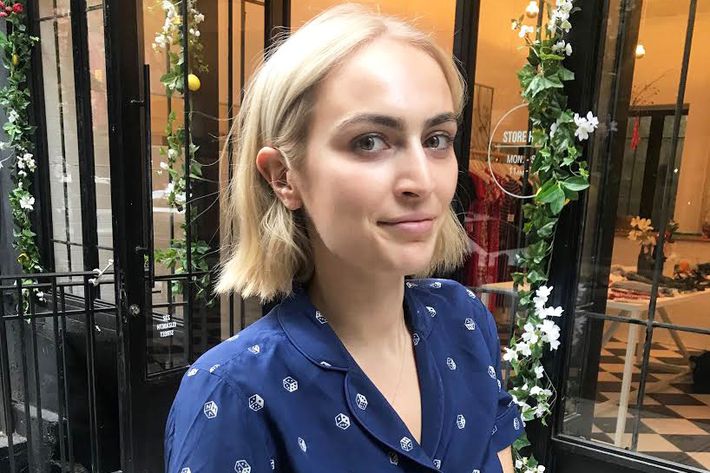 The Strategist is designed to surface the most useful, expert recommendations for things to buy across the vast e-commerce landscape. Some of our latest conquests include the best women's jeans, rolling luggage, pillows for side sleepers, ultra-flattering pants, and bath towels. We update links when possible, but note that deals can expire and all prices are subject to change.
Every editorial product is independently selected. If you buy something through our links, New York may earn an affiliate commission.