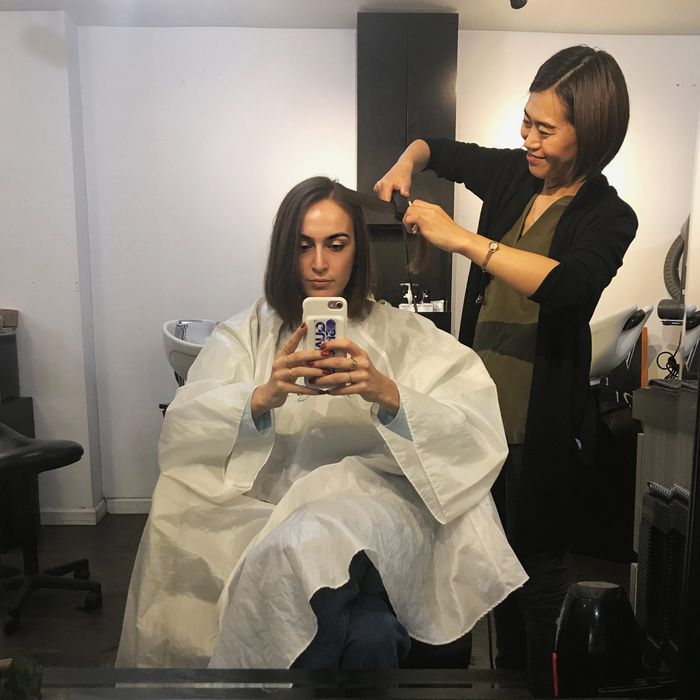 The author with her bob-expert hairstylist Mio.
Photo: Rio Viera-Newton
A year ago, I made a liberating, life-altering beauty move: I cut my always-dyed, always-dry, chest-length hair into a right-under-the-chin bob (for those in need, I did this with the bob queen Mio Okano at Laurel Bowery Salon). This was a really positive change for the general health of my hair: Hacking away the fried, bleached bits left me with soft locks that I hardly recognized. But I quickly realized that while my hair was no longer super frizzy, dehydrated, or coarse, it had its own problems. Namely, that it was flat and oily all the way through. I threw out all of my now-useless frizz-oils and deep-conditioning treatments, and set out to find a set of go-to products that would work for this strange new texture.
I was unsuccessful. Two years after my big cut, my hair was still oily and flat, and nothing I tried was bringing it back to life. Until I met Laura. Laura, a friend of a friend whose glossy bob I admired from afar, had recently hacked off all of her hair as well. Since her bob looked so good, I reached out and asked her if she had recommendations. She did, and after a couple of weeks of using her (affordable) products, I found that my hair was notably less greasy and more voluminous. I started referring to her as my hair soulmate.
I constantly get DMs asking if I can give recommendations for split ends, or recently dyed hair, or curly hair, or bleached hair, or "oily at the top, but dry at the ends" hair. But since I only know how to deal with my own, very specific hair type, I did a little experiment. I asked my Instagram followers to message me their hair type and their all-star, No. 1, can't-live-without-it product. I collected suggestions from over 80 people, all of whom have different hair types and hyperspecific concerns.
After spending days working my way through them, chatting with friends and strangers, professionals and amateurs, I culled them together into a giant list of go-to hair products for as many different types and styles that I could. I got so many responses that I had to break them up into sections: Part one (which you are reading right now) is dedicated to my oily haired readers (thick, oily, and straight; fine, oily, and flat), and part two will be all about drier textures. I hope your hair soulmate is in here somewhere, with advice that'll change your life.
Bumble and Bumble Surf Spray is my everything for giving my hair texture and volume — especially right after showering, when my hair is at its flattest and most bleh-looking. I spray at the roots and then use my fingers to rub it in.
I had previously been using their Ocean Mist Shampoo, but there's something about this Thickening one that's a tad more nourishing without making my hair oily and gross at all. Newly stanning!
"I have basic-ass wavy, normal hair, but it will get oily and super flat if I over-wash or over-condition. The Christophe Robin Volumizing Hair Paste is like getting new hair once a week — and it really scrubs your scalp." —Joelle Hyman, photo researcher at Allure/the Creative Group at Condé Nast
"I also love the Kristin Ess Dry Shampoo — it's so lightweight and doesn't do that gross, mattifying thing to dirty hair. It gives no white cast and adds a bit of volume to clean hair, which I like because I am a victim of Too Clean Hair and I like a bit of texture." —Hyman
"If I use Oribe's Gold Lust Shampoo with the Living Proof Dry Shampoo and let it air-dry, it helps with the oiliness and gives it a beachy, textured look. I can then go another whole day without washing it." —Jamie Balder, EA to the creative director of Donna Karan
"This is the best because it doesn't come out white like a lot of other dry shampoos. I am constantly receiving compliments on how it smells, and when I spray it on from root to tip, it gives my whole head volume that is beach-wavy rather than just frizzy." —Balder
"I can seriously vouch for the dry-shampoo section of hair care. I'm a friggin' addict, and I've tried so many. I love the IGK Jet Lag Dry Shampoo: It works well, has no white residue, and lasts for sooooo much longer than most. The Perfect Hair Day Dry Shampoo is okay, but it runs out quickly." —Izzy Kross, video editor and animator