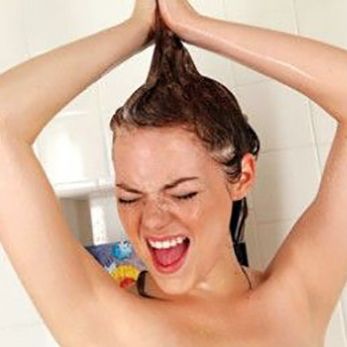 Photo: Tony Kent/Sygma via Getty Images
If you take a walk down the shampoo aisle at CVS — let alone do a search for "shampoo" online — the options can make your head hurt. There are shampoos for dry hair, thinning hair, and color-treated hair, and while we've done deep dives into several of those categories, we were curious to hear what stylists and salon owners would suggest for some overarching favorites. So we reached out to a panel of experts to hear about their old and new standbys, the shampoos they reach for when working with clients and cleaning their own hair alike.
Before we delve into specific products, though, here are a couple of general shampooing tips: If you're wondering how often you should wash, Brooke Jordan, co-founder and master stylist at the Bird House in Gowanus, recommends "no more than twice a week," and when you do shampoo, try her star-shape cleaning method. "I always recommend first making sure your hair is pretty wet," she says, "then putting about a quarter-size drop of shampoo in your hand, lathering it in your hands, and then tapping some on your head at your temples, on the top of your head at the crown, and two at the nape," making what would look like a star of shampoo on your head. Then get to scrubbing. "Do that once, rinse, repeat and do it again," she says. "The pattern is to your pleasure." Now that we have that down, let's go on to the best shampoos.
Best overall
Masami Hosono, creative director of the gender-neutral East Village hair salon Vacancy Project, told us about Malin + Goetz's Moisturizing Shampoo. She uses the shampoo in her salon and has been a fan of the brand for years. "I've been using Malin + Goetz for a really long time — like eight years — at work," she says. "We only use the Moisturizing Shampoo and the Cilantro Conditioner." According to Hosono, the shampoo works well for all hair textures, "curly to straight, thick or thin." Despite its being sulfate free, it's still "very foamy" — though Hosono adds that she "doesn't really care that much" about whether a shampoo is sulfate free. "I like the Malin + Goetz shampoo because it's not 100 percent organic and it's also not 100 percent chemical," she says. "It has both, and you really need both, especially if you have a color or anything chemical in your hair. It's really for any hair type, and it's not too heavy."
Malin + Goetz's Moisturizing Shampoo also receives high praise over at the Cut: "I could tell it was instantly moisturizing, and the touches of neroli and basil had a sophisticated scent that I enjoyed," reports Jessica Prince Erlich. And Stephanie Louis, the chief executive and operating officer of Stylebox Salon in Prospect Heights, is also a fan of the brand. "We totally agree that Malin + Goetz is rock-on awesome," she says. "Nearly everything in the line is really, really good." We heard about the brand when we talked to experts about the best shampoos for dandruff, too. For its effectiveness on all hair types, its balance between organic and nonorganic ingredients, the high praise the brand receives overall, and the shampoo's appeal to both women and men, we're calling this one our best all-around.
Best shampoos for all hair types
"Every Davines Shampoo is my favorite, but Oi is at the top because it is literally perfect," says celebrity hairstylist Clariss Rubenstein. She recommends it for every hair type and says it leaves hair feeling silky, hydrated, and shiny. The shampoo is infused with beta-carotene-rich roucou oil (it has 100 times more of the antioxidant than carrots, for what it's worth), which helps hair produce melanin. Rubenstein also likes the scent, which she describes as "delicious and mild."
Rubenstein also likes this shampoo from Bumble and Bumble, which she says is a classic for good reason. "Hair gets squeaky clean without stripping it, and it's great for all hair types," she says. The mild cleanser is formulated with marine extracts like seaweed, spirulina, and kelp to add shine and support scalp health.
Best shampoo for normal hair
"If I were to talk about my all-encompassing favorite shampoos and conditioners, one of my favorites is Sachajuan Normal Hair Shampoo," says Jordan. "It's so simple and so effective, it smells amazing, and the ingredients are incredibly high-quality." Jordan tells us that while Sachajuan does use sulfates, the shampoo's ingredients are produced in "small batches in Sweden" and that "in Europe, they have so many more regulations for their beauty products then we do, so essentially anything that's made in Europe is sort of automatically going to be a little safer than what's produced here." The brand's products have regularly made our more specific shampoo and hair-product guides — not to mention being a favorite of Rio's mom. And given the effectiveness of the brand's more targeted treatments and Jordan's ringing endorsement, we're calling this one the best for "normal" hair that's right down the middle between not too oily and not too dry.
Best shampoo for frizzy hair
If you've got some frizz you'd like to smooth out, Jordan recommends this shampoo from Davines, a brand she loves "for the quality of their products, as well as their commitment to sustainability." She adds, "They produce everything in this one factory in Italy, and a lot of their ingredients literally come from local farms." One of those ingredients is Minuta-olive extract, which, according to the Davines website, is farmed in Messina, Italy, and is loaded with fatty acids and vitamin E — ingredients that help add moisture to hair and combat frizz. "It's just a really beautiful, yummy shampoo," says Jordan. "It smells amazing, and it does smooth the hair but it's not so heavy that it creates any kind of weight in the hair." She notes that the only hair type she wouldn't recommend this shampoo for is very fine hair — the moisturizing properties won't do much for you in the way of volume — but otherwise, anyone can use this one.
Best (less expensive) shampoo for frizzy hair
Another frizz-fighting option was recommended to us by Louis, who says "any hair type or texture" can use Redken's Frizz Dismiss Shampoo to keep frizzy hair at bay. She notes that the shampoo is both sulfate and "salt" free — and as we've reported before, sulfate- and salt-free shampoos are generally the safest to use on color- or keratin-treated hair. And while the price is still higher than what you might pay for the more common drugstore brands, it's a little lower than the Davines; if you've invested in a color or keratin treatment, it may be worth the extra money to prolong the effects of these often expensive treatments.
Best thickening shampoos