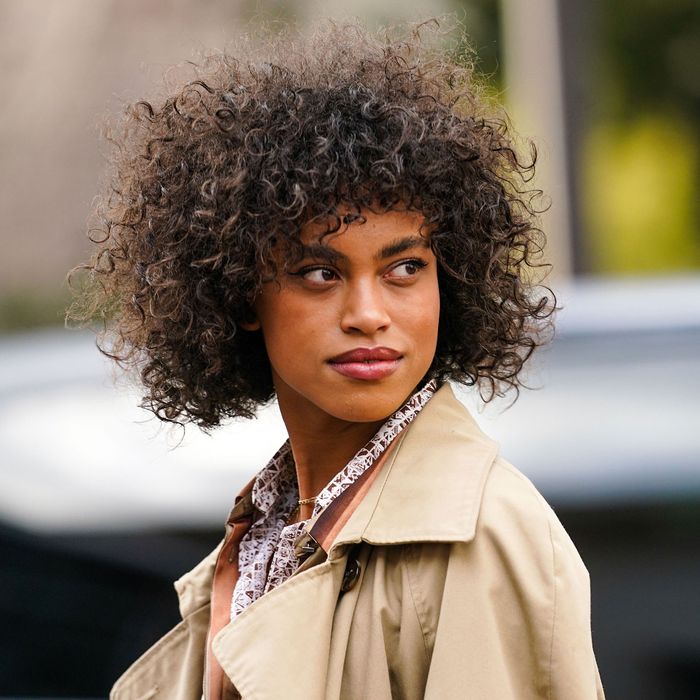 Photo: Edward Berthelot/Getty Images
"There are many different kinds of curls out there," says Ash Fritzler, a master stylist who specializes in cutting and styling curly hair at the Bird House salon in Brooklyn. To figure out how to style yours best, first identify your hair's specific type of tight coils or loose waves or anything in between. Fritzler points to a popular chart as a starting point for seeing where you fall on the spectrum from wavy to kinky (or, according to the chart's labeling, from 2a to 4c). This "helps people find what kind of curls they have so they can come up with the best method of care for them," Fritzler says.
The products that follow, all recommended by Fritzler and nine other stylists, include defining cream, flaxseed gel, and a miracle "custard" for that wash-and-go look. And because styling arguably begins in the shower, we also got their top shampoo and conditioner picks. On that note, it should be said that all these experts stressed that curly hair tends to be on the drier side and less porous, thus requiring less frequent lathering up (the sweet spot for Fritzler is two times a week). Finally, a note back to the point about the variations within this hair genre: We have not designated a "best overall" product among this bunch (as we normally do with our Recommended By Experts stories) because there are lots of bests for lots of different curl types.
Best styling gel for all curly-hair types
Stephanie Louis, owner of Stylebox Salon, says this relatively new gel product works "on every single curl type — loose, wavy, tight curls, tightly coiled, all of it." What she likes about the flaxseed gel is that it can be used for a wash-and-go look (though she notes that you'll have to use some trial and error to find just the right amount of gel to suit your hair type, depending on its thickness). "And one of the best things about this gel is that it won't leave your hair crunchy at all," says Louis. According to CurlMix, this product is designed so you'll have to use it only once a week, after washing, and it counts organic jojoba oil, which is similar to the oil that hair naturally produces, on the ingredient list. The gel helps infuse hair with that oil to give it a more moisturized feel. Leigh Hardges, a stylist at Chicago-based Maxine Salon, is also a fan and says it does a great job of separating, holding, and hydrating curls.
Best styling gel for tight curls
"Soultanicals is another brand that really understands curly hair, especially those with tightly coiled hair at the end of the curl spectrum," says Louis. "This 'Gelly' is a phenomenal curl definer and curl elongator — so the holy grail of double whammies." It has a slight hold, which will keep your hair looking curly but not crunchy, and, according to Louis, "makes frizz invisible." To use it, you apply the gel to wet hair, smoothing it into each section, then let hair air-dry before scrunching your curls (according to Soultanicals' site, it's best not to touch the hair while you let it air-dry; otherwise it may start to frizz). The amount of product you use will depend on the density of your hair, so those with looser, wavier curls should use less, while those with thicker and tighter coils can use more.
Best light-hold styling gel for tight curls
"When curls tend to be tighter, they don't need as much hold," says Dhiran Mistry, a stylist at David Mallett salon. Instead, tight curls need more moisture; that's what helps them hold their shape. This Ouidad gel contains meadowfoam-seed oil and arnica flower to lock in moisture — and cut down on dryness and frizz.
Best mousse for all curly-hair types
The owner of the Brooklyn-based salon Magic Fingers Studio, Stasha M Harris, is a big fan of this lightweight mousse from Design Essentials for achieving definition and reducing frizz without making your hair stiff or flaky. "If there is any existing curl pattern, whether fine curls or tight curls, this mousse will find it," she says. For even more definition, she pairs it with Shine 'n Jam Black Castor Flaxseed Oil Styler, which she says offers good hold with no buildup.
Best styling creams for all curly-hair types
Using ingredients like jojoba and avocado oils, this cream helps with frizz, shrinkage, and definition while nourishing the hair. It's also incredibly versatile and can be used for a wide range of hairstyles (including blow-drying), making it a good option for lots of different types of curls. "It's the perfect balance of moisture and hold," says Hardges of this curl cream, which is her favorite for all curl types. "The consistency is easy to manipulate through the hair when twisting or setting curls." For best results, apply this to super-wet hair and work it through section by section, which will ensure maximum hold and maintenance of definition.
[Editor's note: You can order this composter now, but it is not expected to ship until April 26.]
Celebrity hairstylist Monae Everett likes this cream from Luxju, which she says works well on various hair types and textures. "I love that you can use less if you have finer hair and more if you have thicker hair," she says, adding that it dries down completely flake-free and uses ingredients like coconut oil and almond oil to nourish. This should be applied damp hair, she says; it will help to maintain the hair's shape as it dries, while also imparting moisture onto strands.
Everett also likes this hair milk from Tree Naturals, which she says makes hair feel great (moisturized and bouncy) and smell good. The six-in-one product acts as a leave-in, moisturizer, detangler, definer, refresher, and styler, meaning any hair type can use it to fit specific hair needs.
Celebrity hairstylist Nicole Newland, whose clients include Queen Sugar's Bianca Lawson and Insecure's Amanda Seales, swears by this curl-defining cream that defines, hydrates, and works well on everything from a twist-out to a wash-and-go. The formula contains an array of good-for-hair ingredients like flaxseed oil, which is packed with omega-3's and promotes growth, and shea butter, which helps reduce split ends and has fatty acids and vitamins to boost your hair's moisture.
Best styling creams for loose curls
"Loose curls will typically have a little less hold to them and need more assistance to coil better," says Mistry. "Something a little thicker in substance will help hold those curls in place while drying." His go-to is SheaMoisture's Coconut and Hibiscus Curl Enhancing Smoothie; the ingredients of silk protein and neem-seed oil, he says, help promote hair growth while preventing damage. Louis is also a fan of the brand's products (and recommends its Red Palm & Cocoa Butter Curl Stretch Pudding further down on this list). "There's a reason SheaMoisture has been a long-standing tour de force on the market," she says.
Another product that may appeal to those looking to amp up loose curls is Aveda's Be Curly curl enhancer, which Shirley Hagel, a stylist at Parlor Salon, says "uses hydrolyzed wheat protein and an aloe blend that expands when the hair is wet and retracts when hair is dry to enhance the wave or curl." The expanding effect of wheat protein adds body and volume to hair, and because this protein easily absorbs into the hair shaft, it can help repair damage to the follicle as well.
Best styling creams for bouncy curls
For those with hair that's more curly than wavy, R+Co's Turntable Curl Defining Crème can bring out curls that are "more full, bouncy, luscious, and shiny," says Fritzler. "Turntable has that hold without the crunchy, gritty feeling in the hair, and it also hydrates." To use the cream, she'll work between a nickel- and a quarter-size amount into hair, then finger-coil or two-strand-twist the curls before using a diffuser to dry without deflating or flattening them. Another draw of the Turntable cream is that it "reactivates" when wet: If your curls are starting to lose their shape, you can dampen the hair and the product will have a second life. "For many curly girls, it takes a lot of work to get a desired style, so you don't want to be washing or wetting your hair every day," says Fritzler. "Turntable is really good because on day two or day three after washing, you can use a spray bottle, rewet the hair, and kind of re-form your curls."
Another option for those who either want to shape the curls they have or bring out more shape in their waves is this defining cream, a favorite of Mirjam Bayoumi, who owns a namesake salon on the Upper East Side. "It's a leave-in product to make hair less frizzy," she says. "You put it on after the shower, and it's basically wash-and-go — you can twist your curls a little bit, but that's it." Mistry recommends the Morocconoil cream as well, saying it "works well on wavy hair as well as curly hair by helping smooth and define curls."
Best styling primer for bouncy curls
While we're on the subject of bouncy curls, there's also a primer out there that Fritzler loves right now for bouncy curls specifically. Similar to a primer you might use in a skin-care routine to keep your makeup in place, a hair primer can be useful for preparing hair for styling and protecting it from frizz, oilin