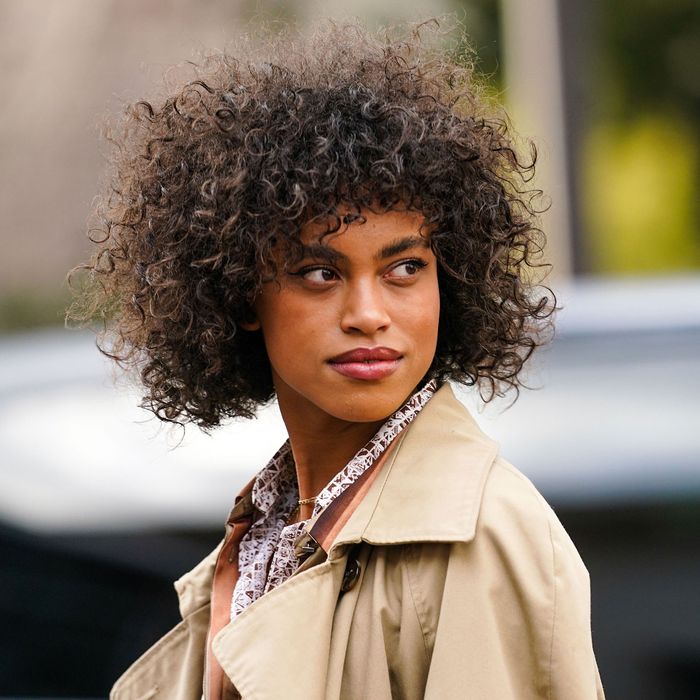 Photo: Edward Berthelot/Getty Images
"There are many different kinds of curls out there," says Ash Fritzler, a master stylist who specializes in cutting and styling curly hair at the Bird House salon in Brooklyn. To figure out how to style yours best, first identify your hair's specific type of tight coils or loose waves or anything in between. Fritzler points to a popular chart as a starting point for seeing where you fall on the spectrum from wavy to kinky (or, according to the chart's labeling, from 2a to 4c). This "helps people find what kind of curls they have so they can come up with the best method of care for them," Fritzler says.
The products that follow, all recommended by Fritzler and nine other stylists, include defining cream, flaxseed gel, and a miracle "custard" for that wash-and-go look. And because styling arguably begins in the shower, we also got their top shampoo and conditioner picks. On that note, it should be said that all these experts stressed that curly hair tends to be on the drier side and less porous, thus requiring less frequent lathering up (the sweet spot for Fritzler is two times a week). Finally, a note back to the point about the variations within this hair genre: We have not designated a "best overall" product among this bunch (as we normally do with our Recommended By Experts stories) because there are lots of bests for lots of different curl types.
Best styling gel for all curly-hair types
Stephanie Louis, owner of Stylebox Salon, says this relatively new gel product works "on every single curl type — loose, wavy, tight curls, tightly coiled, all of it." What she likes about the flaxseed gel is that it can be used for a wash-and-go look (though she notes that you'll have to use some trial and error to find just the right amount of gel to suit your hair type, depending on its thickness). "And one of the best things about this gel is that it won't leave your hair crunchy at all," says Louis. According to CurlMix, this product is designed so you'll have to use it only once a week, after washing, and it counts organic jojoba oil, which is similar to the oil that hair naturally produces, on the ingredient list. The gel helps infuse hair with that oil to give it a more moisturized feel. Leigh Hardges, a stylist at Chicago-based Maxine Salon, is also a fan and says it does a great job of separating, holding, and hydrating curls.
Best styling gel for tight curls
"Soultanicals is another brand that really understands curly hair, especially those with tightly coiled hair at the end of the curl spectrum," says Louis. "This 'Gelly' is a phenomenal curl definer and curl elongator — so the holy grail of double whammies." It has a slight hold, which will keep your hair looking curly but not crunchy, and, according to Louis, "makes frizz invisible." To use it, you apply the gel to wet hair, smoothing it into each section, then let hair air-dry before scrunching your curls (according to Soultanicals' site, it's best not to touch the hair while you let it air-dry; otherwise it may start to frizz). The amount of product you use will depend on the density of your hair, so those with looser, wavier curls should use less, while those with thicker and tighter coils can use more.
Best light-hold styling gel for tight curls
"When curls tend to be tighter, they don't need as much hold," says Dhiran Mistry, a stylist at David Mallett salon. Instead, tight curls need more moisture; that's what helps them hold their shape. This Ouidad gel contains meadowfoam-seed oil and arnica flower to lock in moisture — and cut down on dryness and frizz.
Best mousse for all curly-hair types
The owner of the Brooklyn-based salon Magic Fingers Studio, Stasha M Harris, is a big fan of this lightweight mousse from Design Essentials for achieving definition and reducing frizz without making your hair stiff or flaky. "If there is any existing curl pattern, whether fine curls or tight curls, this mousse will find it," she says. For even more definition, she pairs it with Shine 'n Jam Black Castor Flaxseed Oil Styler, which she says offers good hold with no buildup.
Best styling creams for all curly-hair types
Using ingredients like jojoba and avocado oils, this cream helps with frizz, shrinkage, and definition w