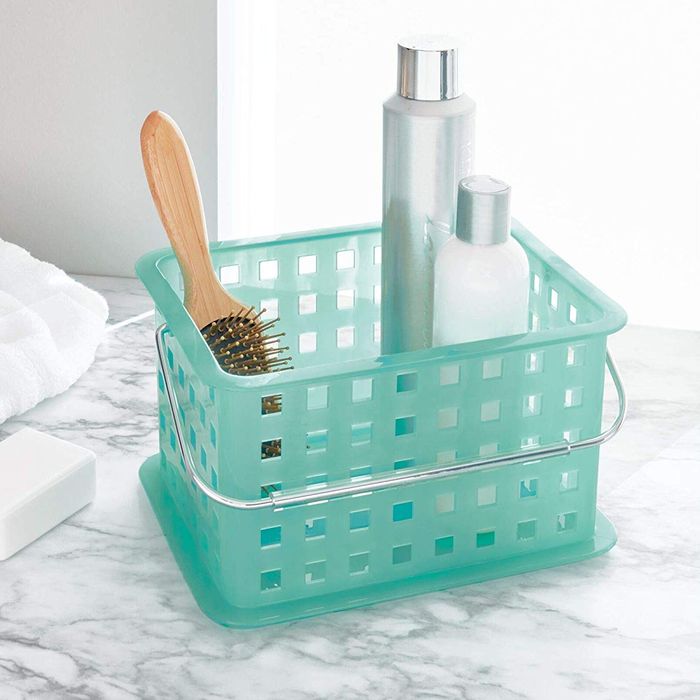 Photo: Courtesy of the retailer
Here at the Strategist, we like to think of ourselves as crazy (in the good way) about the stuff we buy, but as much as we'd like to, we can't try everything. Which is why we have People's Choice, in which we find the best-reviewed products and single out the most convincing ones. (You can learn more about our rating system and how we pick each item here.)
And while we've written about lots of bathroom accessories — including the best shower water filters, the best toothbrush holders, and the best drain doodad — here, we've rounded up the best shower caddies, as praised by the most enthusiastic reviewers on Amazon.
Best-rated shower caddy
In their reviewers, shoppers write about how well-made, quick-drying, and roomy this shower caddy is. One, who bought this before going to college, writes, "I am a beauty junkie so I love all my products with me and this fits EVERYTHING and I still have leftover space. If you are going into college and need a shower caddy look no further, this one is amazing. 10/10 would recommend." Another commenter, who also says they've been using this caddy since they started college, writes, "I love how many pockets it has and how much space it has in it. I can put towels, my loofah, and all of my soap and shampoos in it with room to spare. The sturdy mesh allows it to last a long time, and keeps water from being held in the bag." Others found it particularly useful for travel. "This is perfect for carrying a ton of different bath products (I have a lot!) while traveling on the road and staying at several Airbnbs," writes one customer. "The material is sturdy and it hasn't gotten mildewy or moldy whatsoever. Highly recommended." Another says, "Works well for camping and traveling," and they describe it as having a "Sturdy design and cute color combination. Haven't had a problem with mildew or molding."
Best-rated (less expensive) shower caddy
Those looking for an inexpensive shower caddy loved this one, which many described as being "great value for the price." One shopper calls it a, "Great bag for camp and the price was wonderful! I have already told my friends about it. I would buy it again." Other shoppers used this for travel, as well. One explains that, compared to normal plastic shower caddies, this one airs out and drip dries, "so you don't have to worry about stagnate water and cleaning them out … [I] have used them for camping, traveling, gym showers and church camp." And those who aren't traveling all that far found it to be useful, too: "It's perfect for what I need, which is just traveling from my room to a shared bathroom so it doesn't have to be handled all very much," writes one. "It can hold full size bottles, and has held up so far. With the price I'm super happy."
And now for some micro-picks for every type of shower caddy you might be looking for. 
Best plastic shower caddy


Those who prefer a plastic caddy said this one was a well-designed, sturdy choice. "Quality is great! Plastic seems strong and not weak plastic," writes one. Another describes it as, "Stiff, which makes it sturdy. Handles won't break. Plus, it has compartments so your stuff stays upright. It has holes so that will help it dry faster (no mold). Plus, it's plastic so it wipes up easily." Others praised the caddy's sleek design, and one customer says it's really compact: "It's a cool little tote that has plenty of room for full size toiletries. Plus it has a built-in soap dish which I love. It's a very well thought out shower tote and highly recommended."
Best small shower caddy
Those looking for something to fit in smaller spaces liked this caddy, which many said still fit all of their essentials despite the small footprint. "It's small enough for my gym locker yet big enough to carry my travel size shampoo, conditioner, body lotion and all of my face lotions," one writes. Another says, "Just the right size for shampoo, conditioner, body soap, face soap, and a small loofah. Small enough that it is easy to store. Perfect for college dorms." Shoppers also said that the plastic caddy drained water well, dried quickly, and felt sturdy. "This basket is heavy-duty," writes one. "I mean solid plastic with a great luster finish. It's a good size too, I purchased this for my daughter for overnight camp and it did the job."
Best quick-dry shower caddy
Those in need of a fast-drying shower caddy were pleased with this one. "Very roomy bag made of a quick drying mesh. I use it for my swim classes at the Y to take my products into the shower. When I come out, I just roll the tote in a towel and it's dry enough to pack up in my gym bag." Another says that that caddy, "Drains quickly and doesn't collect water - has a handle to keep off floor as well if you have a hook available. Holds all necessary items to go back and forth to showers from dorm room." Others praised the roominess of the caddy, thanks to a main compartment with pockets all along the outside," as one reviewer describes it. " I was able to fit everything I could possibly need in it. It also seemed very sturdy even with the weight of all my items in it." Another writes, "Very sturdy and works great for carrying all my stuff to the showers in college. Very roomy, highly recommend!"
Best hanging plastic shower caddy
Lots of reviewers commented on how much this caddy can hold and how easy it is to clean. According to one reviewer, that's because, "The plastic buckets are roomy and don't have any nooks or crannies." Another reviewer says this caddy, "Holds way more than any other solution I've seen, and keep everything at a nice, convenient height for easy access." Those with freestanding bathtubs thought this was a good storage solution, too. One customer, who recently moved into a new place with a clawfoot tub, says "There is no room to put anything inside the tub except on the floor which was really problematic, until I saw reviews for this item, and it is perfect. It can hold so much stuff." Another says, "Jackpot! Wow, does the job. Hangs at a great height for my access to items in the shower."
Best hanging mesh shower caddy
"This shower caddy is perfect for hanging from the shower hooks," says one reviewer. "We have a claw foot tub with a shower curtain all the way around, so there is no way to use suction cup shelving or baskets. This was the perfect solution for us." Another shopper, who says that the last two places they lived didn't have built-in shower shelving, writes, "I love the thought behind the design … I purchased 2 of these to ensure ample storage — I find I have more storage than any other system I've used with a GREAT clutter-free feeling." Others liked that this caddy is machine washable. "These are a perfect complement to our super-size surround shower curtain that we use with our clawfoot tub, since the tub has no storage areas. I also love that these can be machine washed for easy clean-up," writes one. Another, who put this in their "NYC- sized" bathtub, says that the caddy "Always stays clean and never gets musty, moldy or black."
Best shower caddy with key holder
This fast-drying mesh caddy has the added feature of a key holder, which shoppers found to be very convenient for dorms and the gym. "Aside from being cute, it's really worth the money. It's made of mesh, so it dries fast. The pockets are perfectly sized and there is even a clip for keys," writes one. Another says, "I love the mesh design, allowing water to drain out and prevent mold. The outer pockets vary in size, and the key clip is super helpful." Reviewers also praised the number of pockets on the caddy, which one describes as "deep enough to securely hold a lot of tubes, bottles and hair brushes, combs and styling tools. It's great to organize my things." Another customer writes that this caddy has "Lots of little pockets to keep things organized. Great for the price. It sits pretty nicely on the table considering all the cups, spray bottles, Bluetooth speaker, etc., I put in it. I love this bag."