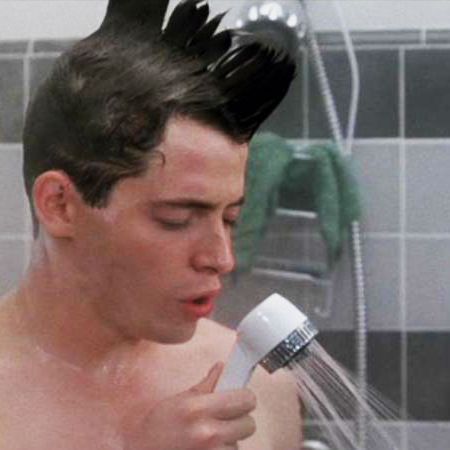 Photo: Courtesy Paramount Pictures
If you filter your drinking water to avoid potentially harmful chemicals, it's not a huge leap to consider a shower water filter. According to Olga Naidenko, Ph.D., a senior science adviser at the Environmental Working Group (EWG), chlorine, a by-product of water disinfection, is commonly found in municipal water supplies, as are hazardous volatile organic compounds (VOCs), including the carcinogenic trichloroethylene. These chemicals don't have to be ingested to cause health problems, she says, as studies have shown that lifeguards and frequent swimmers at indoor pools with high levels of chlorine have experienced problems such as exacerbated asthma symptoms.
There are also aesthetic reasons for filtering your shower water: "Many people notice that their hair is drier when they shampoo with hard water, that it frizzes more easily, and that not as much lather is created," says Anabel Kingsley, a trichologist (hair and scalp specialist) at the Philip Kingsley Clinic. Hard water contains minerals like calcium and magnesium that can dry out the hair and skin. Water softeners and filters can remove these elements to relieve issues like dry skin or dandruff. Luke George, founder of the site Mr. Water Geek, says shower-filter users find that they have "softer hair and skin, hair color that lasts longer and is better able to maintain its gloss and shine."
When selecting a filter, Naidenko recommends first searching your zip code in the EWG's tap-water database to see what substances have been found in your area's water supply, then looking for filters that are certified to remove or reduce those specific contaminants. According to our experts, there are generally two design styles of filters: all-in-one models with a filter built in to a showerhead, and "inline filters" that are made to be installed between your shower arm — the pipe that delivers the water — and the showerhead. Inline models generally have universal adapters, so you should be able to easily attach everything (don't forget the plumber's tape). Below, we've rounded up the filters recommended by our nine experts, and we've also noted which have been certified by third-party testing for targeting common contaminants. Although most are inline filters, there are some all-in-one options as well, depending on your preference.
Best inline shower water filters
In oxidation reduction (or redox) filters like this, a copper-zinc alloy, exchange electrons with contaminants, including metals like lead and mercury, to chemically convert them to harmless substances. The most commonly used type of redox material is the proprietary kinetic degradation fluxion (or KDF) formulation. According to Alexander Venet, the founder of custom-water-filtration company Molecule Project, KDF is the way to go. While carbon filters "absorb" chlorine and other contaminants, KDF works differently. As Venet explains: "It has granular copper and zinc, which work to make an ionic exchange to the chlorine and changes it into a chloride, which is not harmful." He adds that it also helps eliminate bacteria, because "once bacteria touches the copper and zinc, it gets killed off." Venet says Sprite filters are some of the best around. "They do it right. They use KDF-55. Copper is expensive, so if you use KDF-55, you're not cutting corners." This filter is certified by the National Sanitation Foundation, which, according to Stefan Buck, business unit manager for filtration at NSF International, means the filter has met the public health and safety organization's requirements "for chlorine reduction, material safety, and structural integrity." While this "high output" filter also comes with a showerhead, we're including it with the inline models because you can easily swap in your existing head if you prefer. If you're not into the white look, Sprite also makes a chrome version (without the extra head).
Berkey is best known for its countertop water filter, the pricey and frequently-sold-out Big Berkey, which has a rather dedicated fan base. (Trinity Mouzon Wofford, co-founder of the wellness brand Golde, calls hers "the heart of my home" and "a Brita filter on steroids.") According to George, though, the brand's shower filter is "just as impressive." Using KDF-55 filtration, it treats chlorine and reduces microorganisms, lead, hydrogen sulfide, iron, mercury, dirt, and odor in the water.
Many shower filters use carbon to absorb hazardous materials. "Activated carbon is able to bind to all kinds of chemicals, collect VOCs, decrease the levels of chlorine, and reduce — but not remove — various types of metals," says Naidenko, who along with George recommends Culligan filters. According to George, Culligan filters are "easy to install, fit most standard showerheads, and aren't as bulky as some of the others." This NSF-certified inline model works with your existing showerhead and combines activated-carbon and oxidation-reduction technology to filter out contaminants and reduce bacteria.
According to Brian Maffia, director of showrooms at General Plumbing Supply, Inc., Kohler's new "Aquifer" shower filter is a great option from a company with a strong reputation in bathroom and shower fittings. He notes, however, that this one will only work with handheld showers. "It improves the odor of the water, and removes chlorine, which can strip out a lot of the natural oils from your hair," Maffia notes, echoing what other experts told us about the drying effects of chlorine. "When you come out of a chlorinated pool, your skin feels very dry," he explains, adding that filtering the chlorine out of your shower water can leave skin feeling "smoother and less dry. People 100 percent see a difference. The water feels softer." Like the Culligan above, this Kohler model uses carbon and KDF filtration.
One of George's favorite filters, the pH Energize eliminates the need to decide between filtering methods, as it includes eight levels of filtration for water to pass through. "This means that you don't have to worry about what each filter technique does," says George, "and simply focus on what the shower filter is able to remove." The eight stages include tourmaline for absorbing potentially carcinogenic substances, KDF for removing heavy metal, and a steel micro-net for removing any silt or rust that may have transferred into the water from old pipes.
If you want even more stages of filtration, this AquaBliss filter comes highly recommended by Danny Lipford, the host of the nationally syndicated home-improvement TV and radio show Today's Homeowner, who says it's "a great choice for homeowners." As Lipford explains: "A multistage shower filter will eliminate a variety of substances, but most important are chlorine and other minerals which can affect skin, scalp, and hair health." He likes that this model is "easy to install and offers quality filtering at a reasonable price," adding that "as a bonus, it has a special feature to infuse vitamin C and other skin-friendly minerals into the shower's water supply."
Best all-in-one shower water filters
An all-in-one model that comes with a built-in filter and its own shower heads is slightly easier to install than in-line options, and some have more features. The AquaHomeGroup filter has a rainfall shower head that George says "adds a spa-style touch to your showering experience." It offers a 15-stage filtration system (including KDF-55 and activated carbon) and even infuses your water with vitamins C and E, which may offer hair and skin benefits.
Another 15-stage all-in-one filter that comes recommended by George, the Adovel is designed to remove chlorine, heavy metals, and other impurities. "It comes with a large rainfall shower head and promises to soften hard water along with its filtering capabilities," he says. "This is a great option for anyone that suffers from the effects of hard water, fluoride, and chlorine in their water."
Photo: retailer
If your main concern is softening water to make it gentler on your hair and skin, Gretchen Freise, a certified trichologist at BosleyMD, suggests this one from Pelican Water because, as she explains, it "reduces chlorine and chloramines along with other synthetic chemicals," which in the long run will "soften hair and skin while reducing dryness and flakiness." She thinks this filter could be especially beneficial for "those with dandruff or eczema." And to top it off, she adds that it will keep your hair color looking vibrant for longer and eliminate any odors your water may have.
Freise praises the patented technology of this all-in-one filter, which she thinks sets it apart from other filters. The filter includes a "natural coconut shell carbon that filters out chlorine and other harsh chemicals, as well as a copper and zinc element that reduces chlorine even more while enhancing water pH balance." This one here is the less expensive all-white version, but it also comes in a souped-up chrome option, which you can buy here.
Photo: retailer
Anyone "with well and hard water" can benefit from this fairly inexpensive shower head. Unlike the other models, the filter for this runs through the head, so there isn't an additional piece hanging down. It's a bit more aesthetically pleasing, if that's a concern for you, since it isn't as bulky as some other models, and Freise says it "helps increase the pH of the skin to help reduce hair loss."
Hairstylist Kristi Wilczopolski is also an advocate of using shower water filters to improve overall hair health. "Hard water has a ton of calcium and minerals in it that gets built up on the hair over time. A shower filter gets rid of all the extra toxins, chlorine and minerals, and impurities," she says. Wilczopolski personally uses this T3 filter, which simplifies matters since the filter is built into the showerhead itself. "You're not putting all the extra gunk into your hair, you're just getting clean, nice water," she says. It uses a redox filtration system that employs copper, zinc, and calcium sulfide.
The Strategist is designed to surface the most useful, expert recommendations for things to buy across the vast e-commerce landscape. Some of our latest conquests include the best women's jeans, rolling luggage, pillows for side sleepers, ultra-flattering pants, and bath towels. We update links when possible, but note that deals can expire and all prices are subject to change.
Every editorial product is independently selected. If you buy something through our links, New York may earn an affiliate commission.