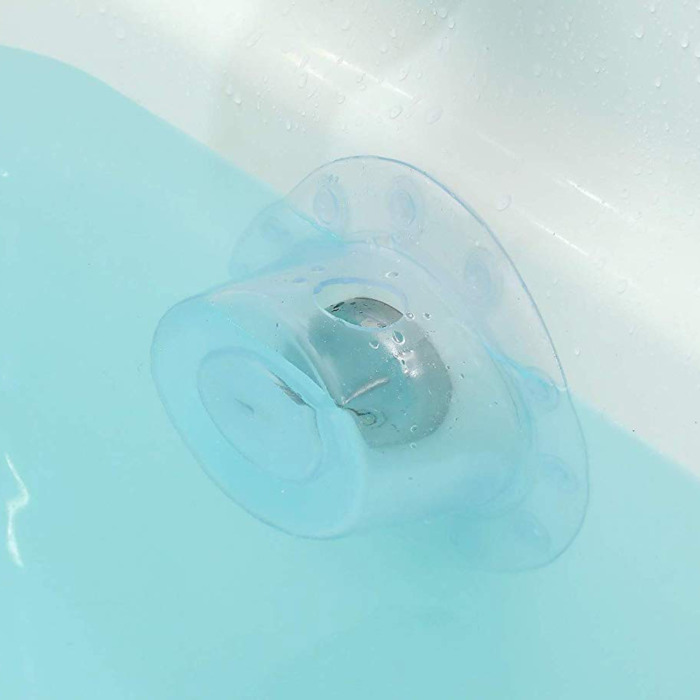 My landlord friends are horrified.
Photo: Courtesy of Amazon
Any time someone wants to talk to me about how cool my job as a costume designer must be, I show them my Fitbit—which clocks anywhere from 12-15 miles of hardcore shopping and fitting actors every single day. That's a full 12-14 hours of standing upright. It's so exhausting I've stopped taking showers completely in favor of baths (even at 3:30 am before a 4:30 am call time). The only problem is that I am cursed with an old, shallow tub that only holds about three inches of water at best. You have to choose which part of your body you want to be warm. I was almost considering going back to (exhaustedly) standing up in the shower every morning when I happened upon a $9 'Bottomless Bath' overflow drain cover on Amazon.
The Bottomless Bath doodad is really just a giant suction cup with a hole at the top that fits over your existing overflow drain, allowing you to trick your tub into filling itself deeper. It attaches to the tub wall with a ring of 12 small suction cups, and I was initially skeptical that such a thing could actually work, but it really does, and what had been a minor chore (getting clean) is now a luxury I look forward to, no matter how early my alarm goes off. If, like me, you start the bath and then mosey off to make coffee and forget the water is running, the hole at the top means any excess water can still drain out without flooding your bathroom.
My pals who are landlords are horrified that such a thing exists, but this little piece of flexible plastic adds a good three to four inches of water in my tub — which doesn't sound like much until you are contentedly (all parts of you) relaxing in it. My bath water now covers my arms and shoulders completely, making my tiny, extremely old bathroom as close to a spa as it will ever be.
More Strategist-approved bath accessories
Writer Verena von Pfetten found a bathtub tray that she adores: "The tray has the naturalistic appeal of an expandable Danish secretary desk (I don't even mind resting it on the bathtub when not in use). It makes me feel almost productive, even if all I'm really doing is lounging, drinking, and catching up on prestige television. Who really needs a fancy table when you can create one out of your tub?"
A bath mat owned by not one but two Strategist editors. Alexis Swerdloff says: "It has changed my entire showering experience. No longer must I step on a sad and flattened terrycloth bathmat, and my bathroom suddenly feels like a spa. I was a little worried about water seeping onto the floor, but it's only a minimal amount that drips, and I'll wipe it up if I remember to (and if I don't, it's no big deal)."