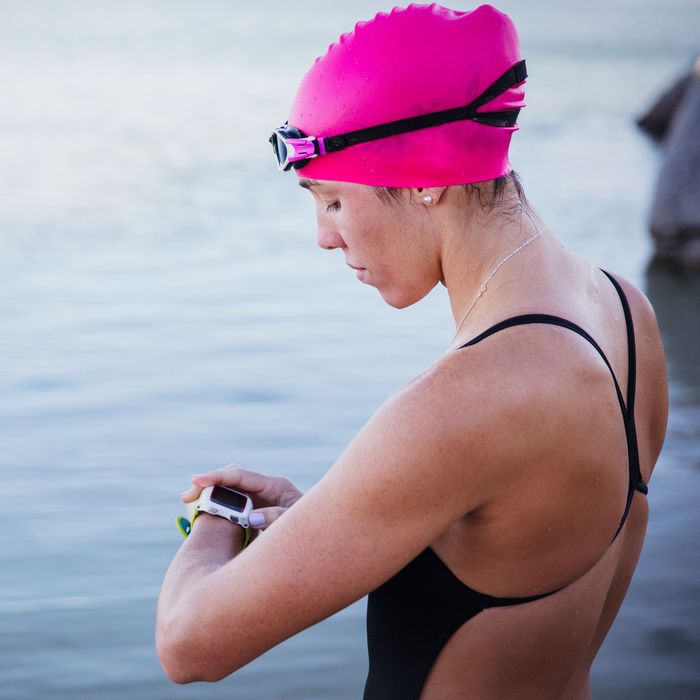 Photo: Caiaimage/Sam Edwards/Getty Images/Caiaimage
Here at the Strategist, we like to think of ourselves as crazy (in the good way) about the stuff we buy, but as much as we'd like to, we can't try everything. Which is why we have People's Choice, in which we find the best-reviewed products and single out the most convincing ones. (You can learn more about our rating system and how we pick each item here.)
And while we've written about lots about running — including the best GPS tracker, sneakers that make you feel like you're running barefoot, and the best running books — here, we've rounded up the best fitness trackers, as praised by the most enthusiastic reviewers on Amazon.
Best-rated (and least expensive) fitness tracker
With over 1,600 reviewers who give it a five-star rating, this fitness tracker is compared by many to name brands. (About 15 percent of those reviewers actually use the word "Fitbit" in their reviews.) "I bought myself one of these to determine if I needed to spend $150 on the brand-name product to get the functionality and quality I wanted," one reviewer writes. They ended up liking it so much, they've since bought two more. "The LETSCOM is well made, nice looking, easy to set up, and has great functionality." Another says, "They pretty much do most of what the expensive trackers do — steps, pulse, bike, run, walk, and sleep mode, calories, time, etc." About 25 percent of reviewers also praise this tracker for how long it holds a charge, with one claiming, "The battery lasts me up to a week." Beyond its fitness uses, it also operates as a regular smart watch, which one reviewer appreciates since their husband "always keeps his phone on silent but now that he can get text alerts and call alerts on his watch, he doesn't miss my calls and texts."
And now for some micro-picks of every type of fitness tracker you might be looking for.
Best fitness tracker for running
"The Garmin watch is meant for a runner," one writes. Other reviewers agree as one third of reviewers reference running in their reviews and another 10 percent actually call themselves runners. Many of them love that this is a no-frills way to track their miles. "I just need it to tell me my distance accurately so that's what it's for," one writes, adding, "Bonus points that it also gives HR continuously and tracks your sleep so to me it's amazing." Another says, "This watch is good for the beginner GPS watch wearer or the beginner athlete," and also anyone "who just want the basics and don't want to get bogged down by a million features." This made our list of expert-recommended GPS running watches and City Coach co-founder and head coach Jonathan Cane confirms this "will certainly do the trick for a new runner, and will be adequate even for a more hard-core athlete."
Best GPS fitness tracker
Reviewers give this fitness tracker top marks because of how well its GPS works. One longtime Garmin customer says this particular model, "connects to GPS a lot quicker than other runners' watches, it's accurate and easy to use." Another writes, "I love being able to set intervals and have the watch vibrate when I've reached a certain mileage or time, it's great to not have to pull my phone out of my running belt to check." It works at the gym, too. "Even inside on the treadmill without GPS this watch stays almost perfectly in sync with my treadmill distance, that's really important to me," one reviewer writes. Customers are also impressed by the display and how much data it holds. "It generates amazing reports, data, and allows you to set training plans and goals that go straight to the Forerunner," one user explains. Sally Bergesen, founder and CEO of Oiselle, even told us that with the accompanying smartphone app you'll get "more data on your running than you can shake a stick at."
Best fitness tracker with heart-rate monitor
"For starters, look how stylish this tracker looks," one reviewer writes. "Secondly, this thing is a life saver. I have many medical problems and this helps me keep watch over my heart rate." Like this user, one fifth of reviewers give this fitness tracker top marks for monitoring their heart rate. One says, "The heart-rate monitor feature on this fitness tracker is accurate, and easy to activate on the display," while another writes it does so "with a graph showing spikes and dips and at what times." While one user appreciates that they can use this "without having to carry my phone around," when it is synced, this fitness tracker has even more capabilities. "It can also be used as a remote control for the camera on your phone," one user notes, adding, "The best part is the message preview function, when connected to your phone it will pop notifications and show you the message." This tracker is so sophisticated that one user with a real smart watch says "I have a smart watch I don't wear much." For them, this gets everything done in a sleeker package: "This is small and light enough it doesn't bother me to keep it on all the time."
Best fitness tracker with blood-pressure monitor
As far as fitness trackers go, it is "Rare to find one that has blood-pressure monitor," according to one user, which is probably why nearly 40 percent of reviewers mention this feature. "This one has a blood-pressure reading as well as the heart rate and calories burned," one user writes. "The blood-pressure readings also show up on the app so you can track them over time." Another reviewer thinks the readings are pretty accurate writing that it is "surprisingly close to my cuff measurement." Another user says it is "consistently accurate to with +/- 3 points," but notes, "The trick is to wear the sensor against the inside of your wrist. If you wear it on the outside of your wrist its accuracy suffers greatly."