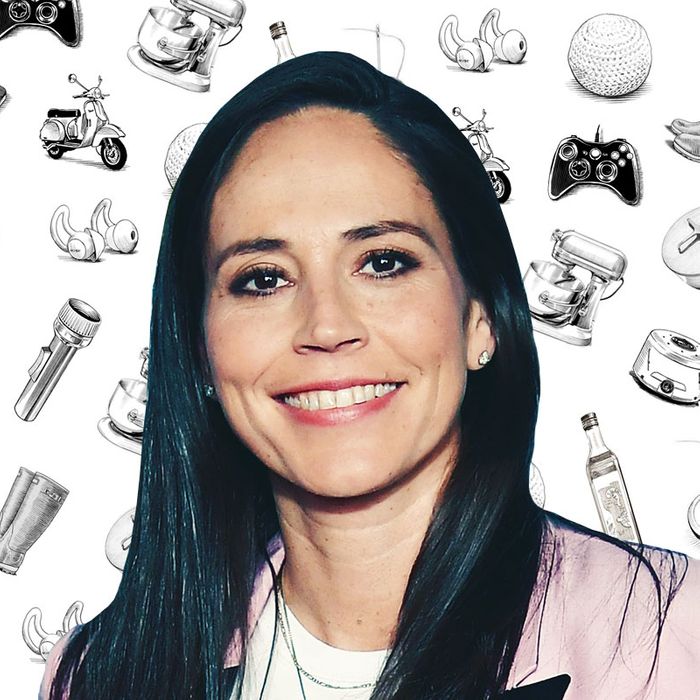 Photo: Neilson Barnard/KCASports2019/Getty Images for Nickelodeon
If you're like us, you've probably wondered what famous people add to their carts. Not the JAR brooch and Louis XV chair but the hairspray and the electric toothbrush. We asked Seattle Storm point guard Sue Bird — a four-time Olympic gold medalist, who has partnered with Mendi, a maker of CBD-infused products, as an athlete ambassador — about the lip balm, hair ties, and anti-aging moisturizer she can't live without.
I've been using Blistex forever. I lived in Russia for 10 years — as a women's basketball player, you usually play in the WNBA in the summer and abroad in the winter. Russia is one of the best countries, so that's why I played there. And Blistex survived Russia, so I know it's legit. It's the one that worked the best. So I'm a big, big, big fan. There's one in my car, one by my bed, and one in my backpack.
If you come to my house, along with Blistex, you're going to find hair ties everywhere. I joke that I always want to be within reach of a couple things: an iPhone charger and a hair tie, because I wear my hair up 90 percent of the time. These are the best ones. They don't rip your hair out. If I'm at home and don't need my hair to be supertight, I just use one and it works. If I don't have one on my wrist or in my pocket, I feel kind of uncomfortable.
As much as I don't want to admit it, I need my phone. I do try to monitor my screen time, but there are things I need it for — like if I don't have Waze, I don't know where the hell I'm going. I also use an app called Band, which is like a shared calendar. My team turned me on to it so they could send us all updated schedules. Now I use it personally with my performance coach, who helps with my workouts and nutrition — we communicate our schedule on Band. Before, she would send it to me in an email but, you know, your inbox gets insane, so it's really nice to have it all in one place.
It's a simple coffee maker, but it does the job. I can't live without it because I'm 100 percent a coffee person. I wake up in the morning thinking about it — like I'm excited for the day because I get to start it with a cup of coffee. Every now and then I'll have a little "afternoon delight," but I'm mostly just a morning coffee drinker. I don't process caffeine well — I get a little too jittery — so I have to limit myself.
This is a big part of my "performance life," if you will. You wear it on your wrist; it doesn't have a screen or anything like that but links up to an app. It measures what they call "strain," which is what you've done during the day, like work out. Based on your strain, it'll tell you how much sleep you should get that night. Then you wear it while you're sleeping, and when you wake up, it tells you how well you've slept: The amount of hours you were asleep, how long you were awake, how long it took you to fall asleep, and just how good your sleep was. My performance coach has access to my Whoop data so she can see how difficult of a workout I've done that day or if I've had a stressful day. Then, based on my sleep, she can see how well I've recovered. She uses it as a tool as she builds out my programming.
[Editor's note: In order to use a Whoop strap, you must first sign up for a monthly $30 subscription.]